What is unattended remote access?
Unattended remote access provided by some remote desktop software allows users to remotely access and take control of a remote computer even without anyone sitting in front of it. The biggest difference between unattended and attended remote access is whether someone else is involved on the other end. In attended remote access, the user of the client computer can send a control request to the user of the host computer. The latter could either allow it or deny it. But in unattended remote access, the user of the client computer can connect to the host computer directly by other means.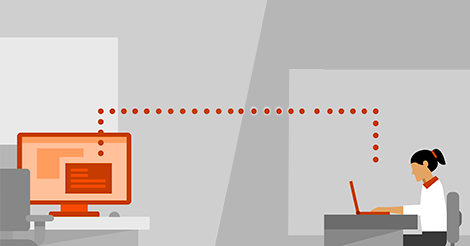 Why do you need unattended remote access?
Unattended remote access could provide great efficiency for your work and life. You may need it under the following situations:
You need to access a file stored on your office computer after work when you're at home, and all your colleagues have left the company.
You need to remotely run a program, for example, a computer game, on your home computer when all your families are not home.
You need to provide your customers remote support when they are not sitting in front of the computer, or when they don't know how to operate a computer at all.
Without unattended remote access, each above-mentioned situation would make you depressed and awkward. Thanks to the unattended remote access software, for example, Chrome Remote Desktop, we don't need to worry about these situations anymore. In the next part, we're going to introduce an easier unattended remote access software for you.
Free unattended remote access software: AnyViewer
AnyViewer is a free and straightforward remote access software that allows you to achieve unattended remote access. Why choose AnyViewer?
It is easy to set up. You only need a few steps to prepare your AnyViewer for remote control. No more tedious setup process anymore.
It supports you to control one or multiple PCs at once from the client computer, making it easy to offer technical support to your customers.
It provides you with two unattended connection methods, which you can choose according to your own situation.
It is developed by a strong technical team, providing you with a stable and fast connection.
It is secured by Elliptic Curve Cryptography (ECC) encryption, protecting your data from leakage during a remote connection.
It is a professional remote control software for Windows. It supports Windows 11/10/8.1/8/7 and Windows Server 2022/2019/2016/2012 R2.
It is totally free.
There are three prerequisites for using AnyViewer:
Firstly, connect both computers to the Internet.
Secondly, download and install AnyViewer on both computers.
Finally, launch AnyViewer and set it to start with Windows.
Method 1. For unattended remote access with one-click
If you log in to the same account on both (or more) devices, then you can achieve unattended remote access between the devices freely. This is pretty suitable when you need to achieve unattended remote access to your own computers.
Step 1. Go to Log in, and then click Sign up. (If you already have signed up on its official website, you can log in directly.)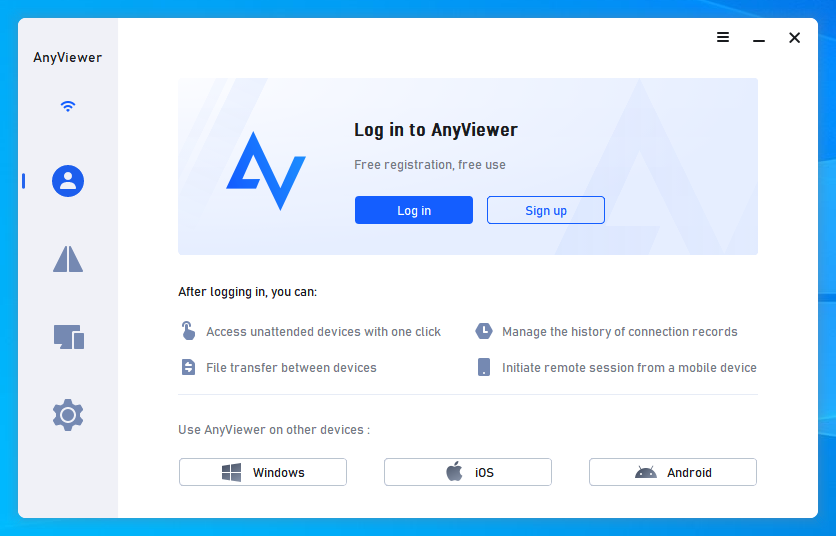 Note: AnyViewer also has an iOS version, you are also able to remotely control your PC from your iPhone or iPad.
Step 2. Fill in the signup information.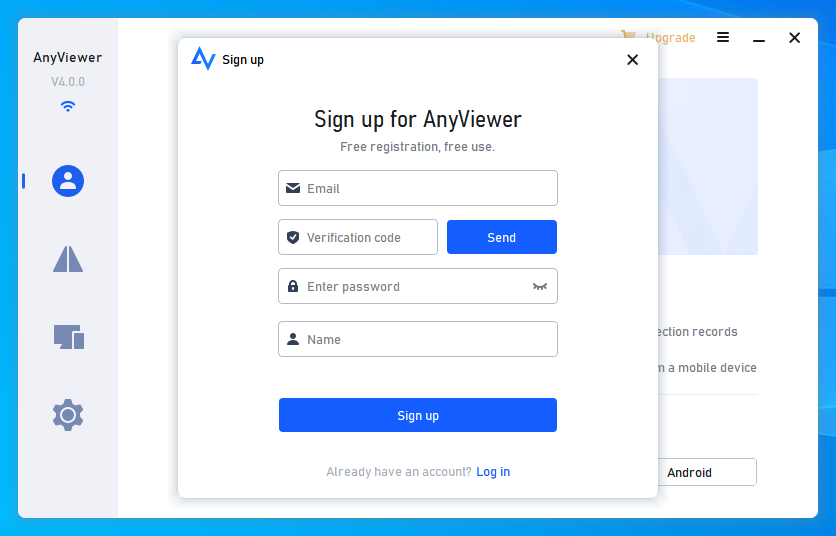 Step 3. Then you can see you successfully logged in to AnyViewer. Your device will automatically be assigned to the account you've logged in to.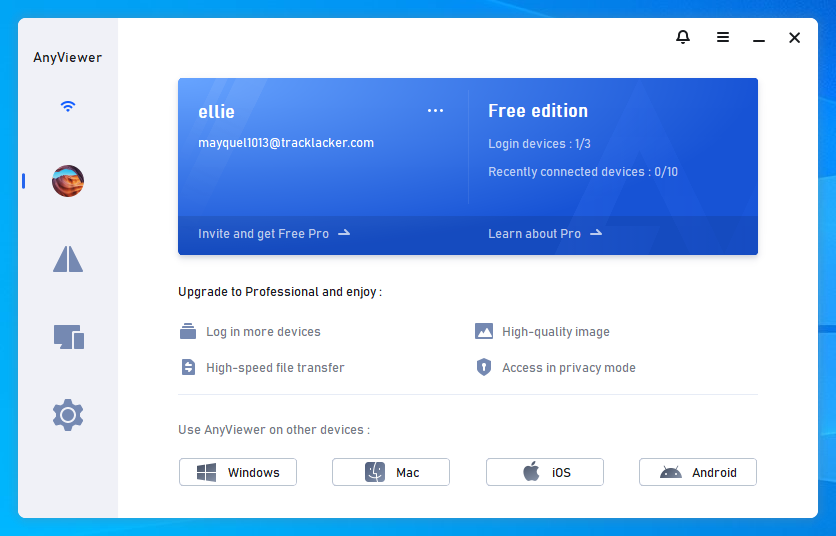 Step 4. Log in to the same AnyViewer account on the two devices, then click One-click control to achieve unattended remote access.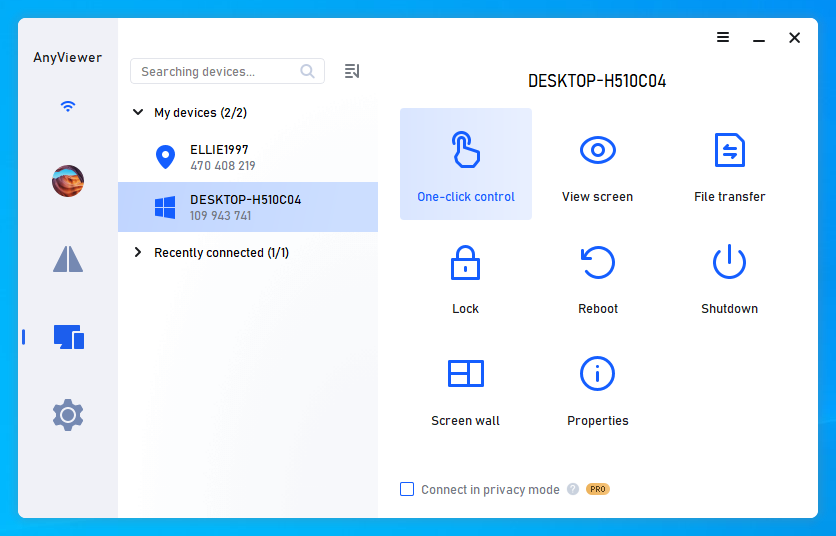 Note: You can also upgrade your account to a Professional or Enterprise plan. Then you'll have the following rights:
You can assign more devices to the same account and then achieve a one-click connection to more computers.
You can connect to another computer in privacy mode, which means you can black the screen and block the mouse and keyboard of the remote computer to protect your privacy.
Method 2. Achieve unattended remote access with a security code
You can also let some to achieve unattended remote access to your computer with a security code. You are able to change the security code whenever you want.
Step 1. On the host computer, click on Setting and then Unattended. Tick the third option. Then set the security code you want in the box. Then click Save to finish the set-up process. Please remember the security code you set, you'll need it later.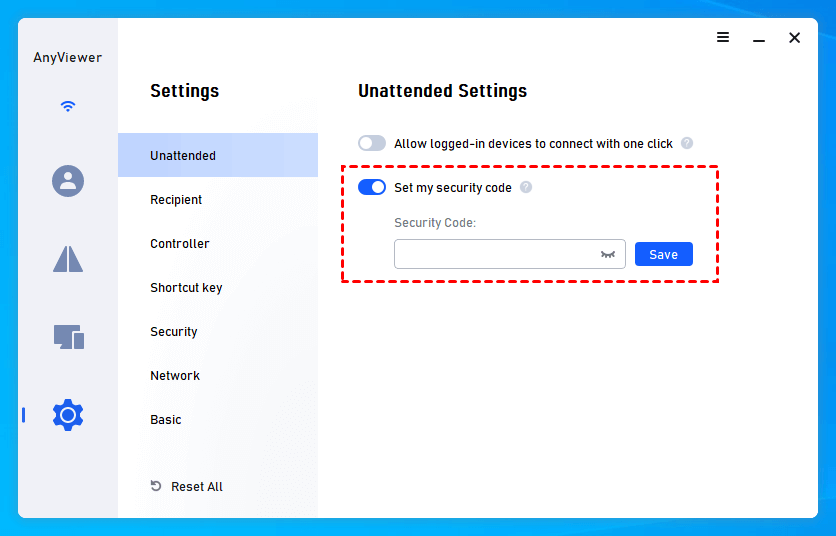 Step 2. On the client computer, enter the device ID of the unattended host computer and click Connect.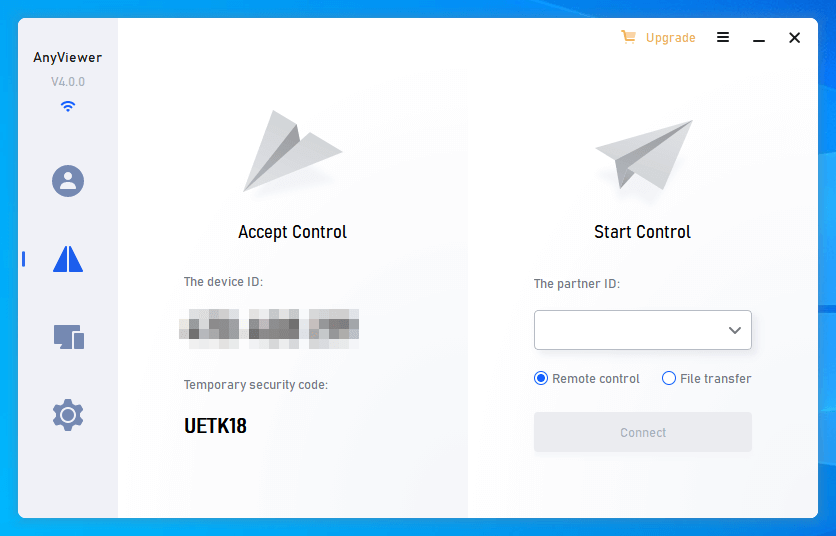 Step 3. Choose Input security code and enter the permanent security code set by you in advance to establish a connection directly.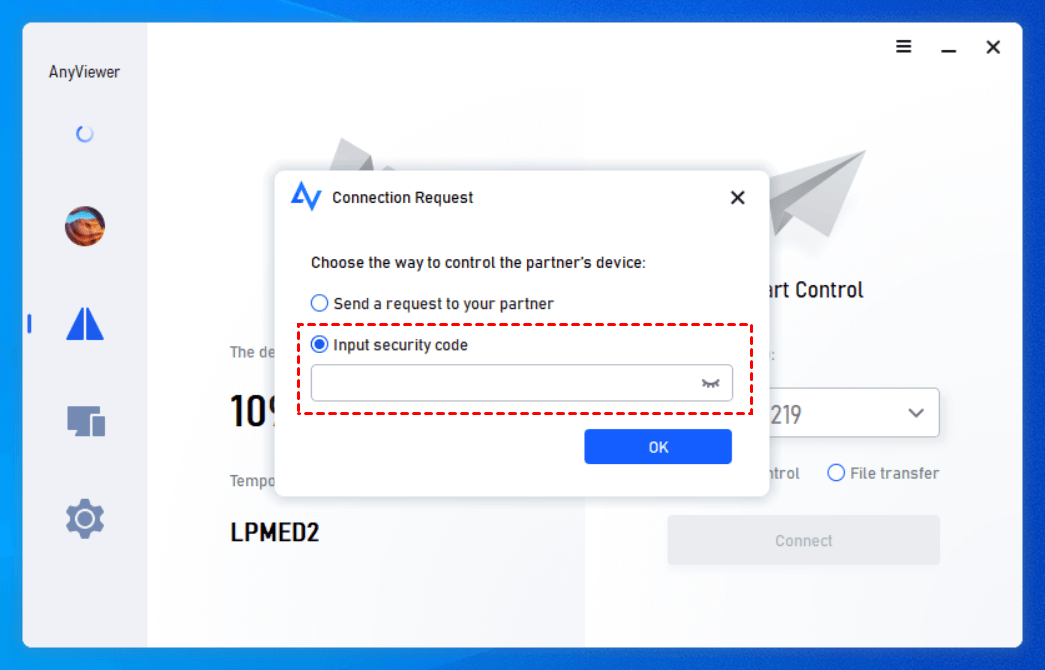 In addition to unattended remote access, AnyViewer also provides you with additional practical functions for remote control after a successful connection. Such as lock, logout, restart, command prompt (cmd), file transfer, etc.

Users can choose image quality according to the network connection speed. If the network connection speed is better, it can provide a higher image quality. The default wallpaper hiding function makes the remote connection smoother.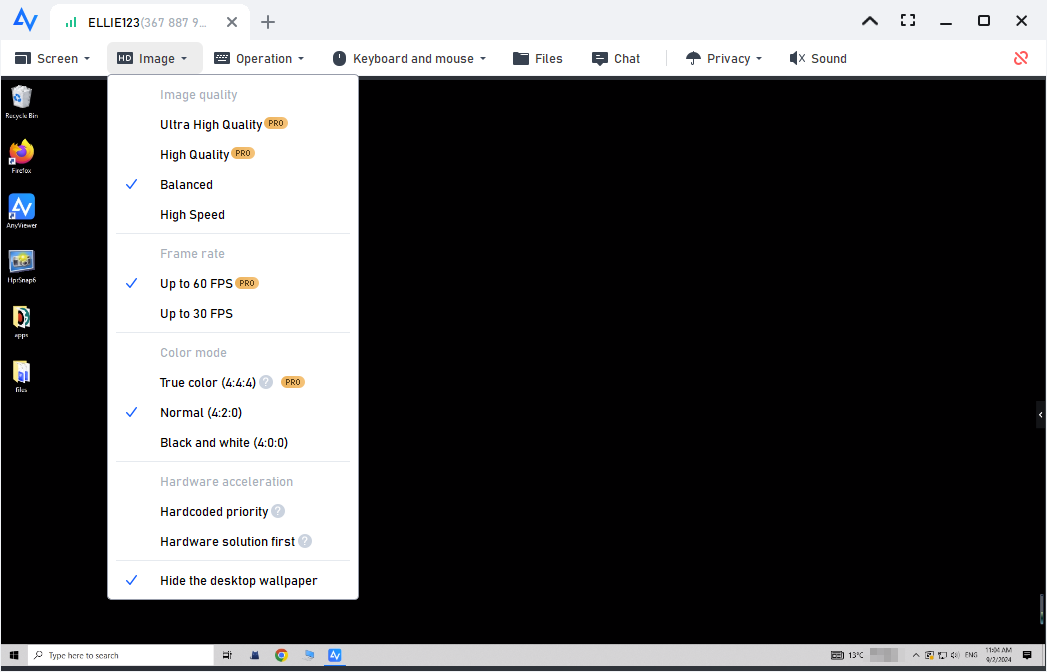 AnyViewer also provides users with different resolutions. Users can choose according to their preferences.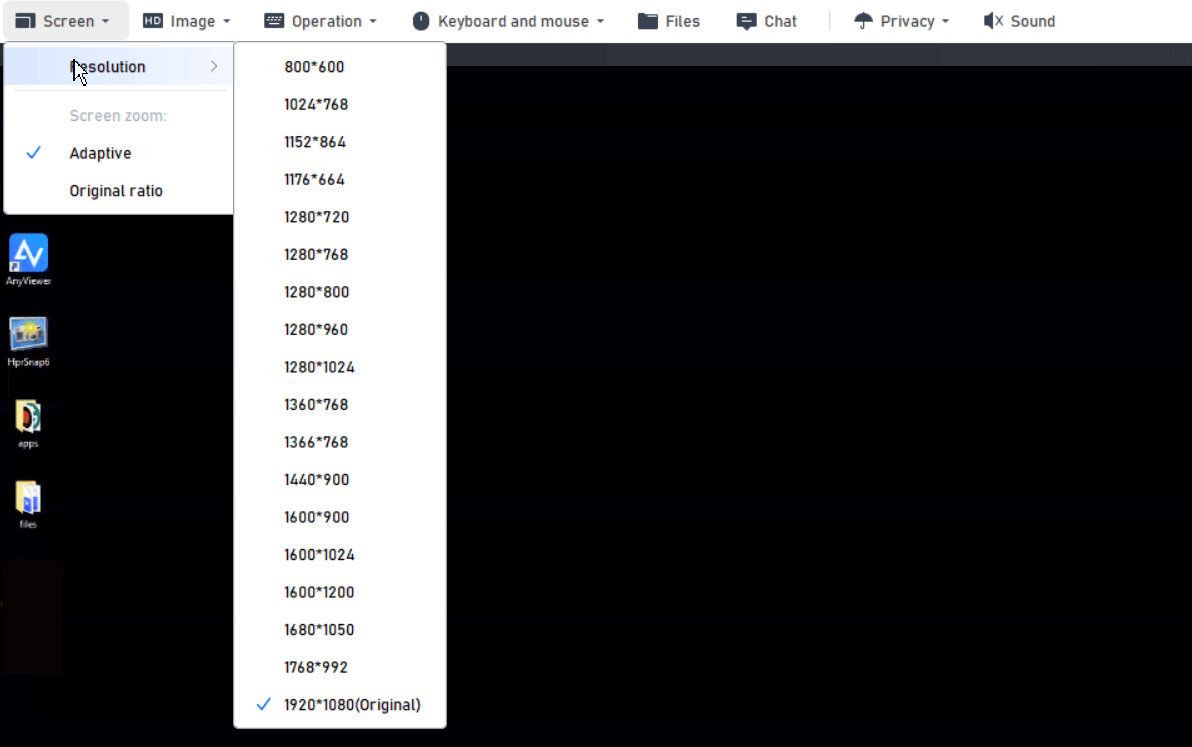 Conclusion
This post mainly introduces how to use the free and easy remote desktop software AnyViewer to achieve unattended remote access. The detailed steps are mentioned here. Check these steps to see how easy and convenient to start unattended remote access with AnyViewer.