What is the best tool for remote access?
Working remotely has become an integral part of more and more people's lives. Then people have more and more requirements for remote desktop software, hoping to find an all-in-one, all-around, reliable remote software. So how do you choose the best all-in-one remote software? This article will reveal that answer for you.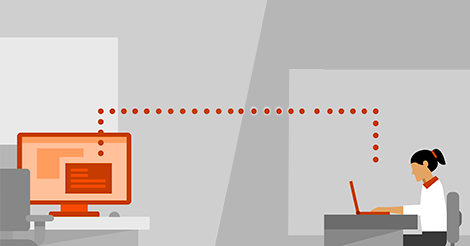 Top 5 best all-in-one remote software
Remote desktop software, also known as remote access software, allows users to seamlessly connect to and interact with a computer in another location via an intranet or the Internet. Remote desktop software enables users to view and control a connected PC or laptop as if they were sitting directly in front of it. Trying to find an all-in-one remote software isn't easy, however, but don't worry, you can decide from the following five options.
Option 1. AnyViewer
AnyViewer is a free all-in-one remote desktop software that provides secure remote access and remote support for almost all versions of Windows (including Home and Standard) as well as iOS and Android.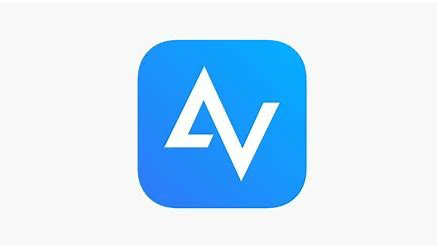 AnyViewer has a simple interface and is easy to use without any complicated setup or learning process. Not only that, AnyViewer provides users with a very comprehensive and excellent set of features.
One-click control. You have one-click control for quick connection and the freedom to lock, shut down, or reboot the remote computer.
Unattended remote access. You can easily make remote unattended connections as long as you log into the same account on different devices.
File transfer. AnyViewer supports file transfer during remote access. You can use drag-and-drop or click-and-click to work on file transfers.
Remote sound. AnyViewer supports the synchronization of remote device sounds during remote access.
Text chat. AnyViewer supports real-time text dialogue chat with remote devices during remote access.
Multi-session. AnyViewer supports multiple simultaneous sessions to view different or multiple remote screens at the same time.
...
Most importantly, AnyViewer offers free plans for both personal use and commercial use, and the free plans have enough complete features for users to use.
Step 1. Install and launch AnyViewer on both of your devices after downloading. Create an AnyViewr account by going to "Log in" and selecting "Sign up."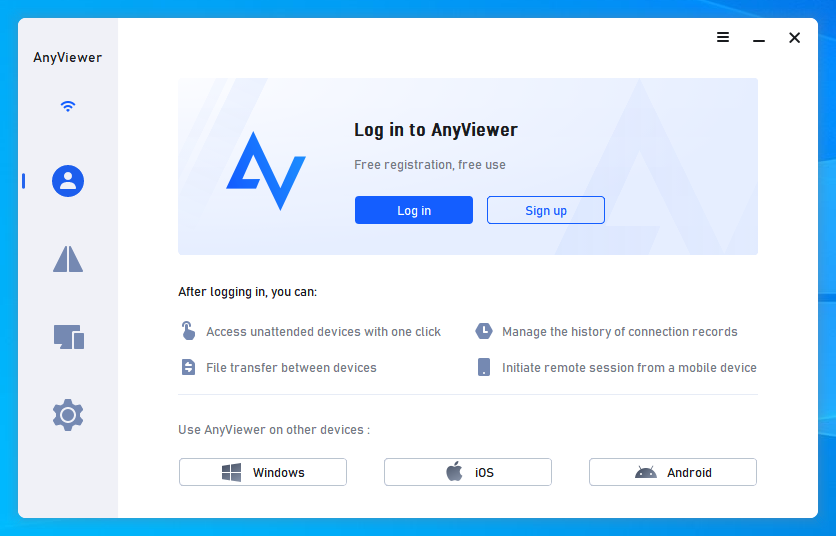 Step 2. Log in to the same account on your different devices. After successfully logging in, your device will be automatically assigned to your account.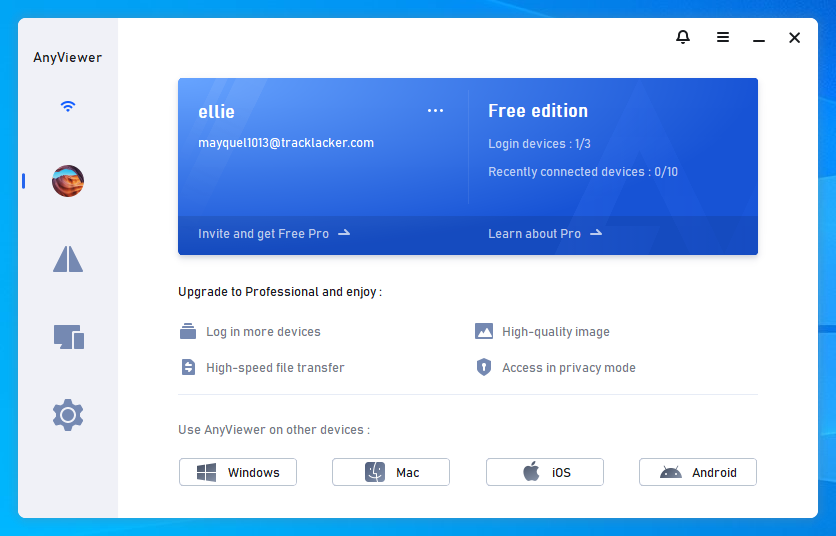 Step 3. On your local device, navigate to "Device" and choose the target device, then click "One-click control" to achieve connection.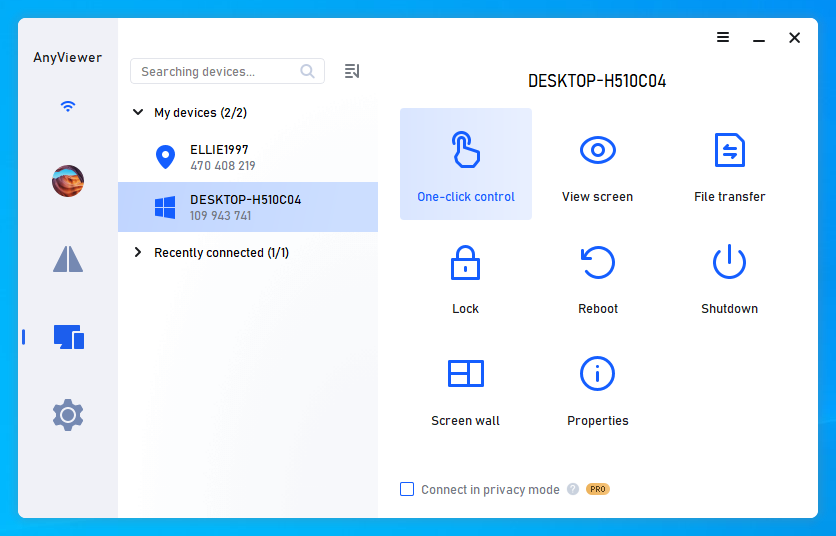 ★Tips: You can upgrade your account to a professional or enterprise plan for faster file transfer speeds, one-click control of more devices, remote connections in Privacy Mode, and many more benefits.
Option 2. TeamViewer
TeamViewer is a remote desktop software that enables users to remotely access and control computers and other devices, it is also an all-in-one remote access software that offers file transfers, remote audio and video chats, and many more features.
Unfortunately, TeamViewer is expensive for commercial use and there is no self-service unsubscription. Users have always had problems with unstable connections. What's more, TeamViewer doesn't support drag-and-drop to transfer files.
Step 1. Download and install Team Viewer on your device and select what you are downloading the software for (business or personal). In this article, we will use the accessible version for human users as an example.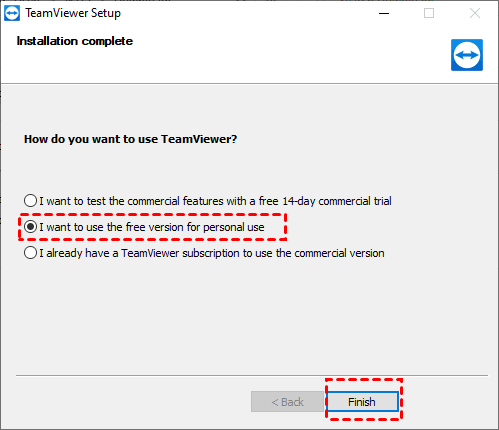 Step 2. After logging in to your account, click "Remote Control" on the left side of the main interface of Team View User on the client computer, and click "Connect" after inputting the host computer's ID under "Partner ID".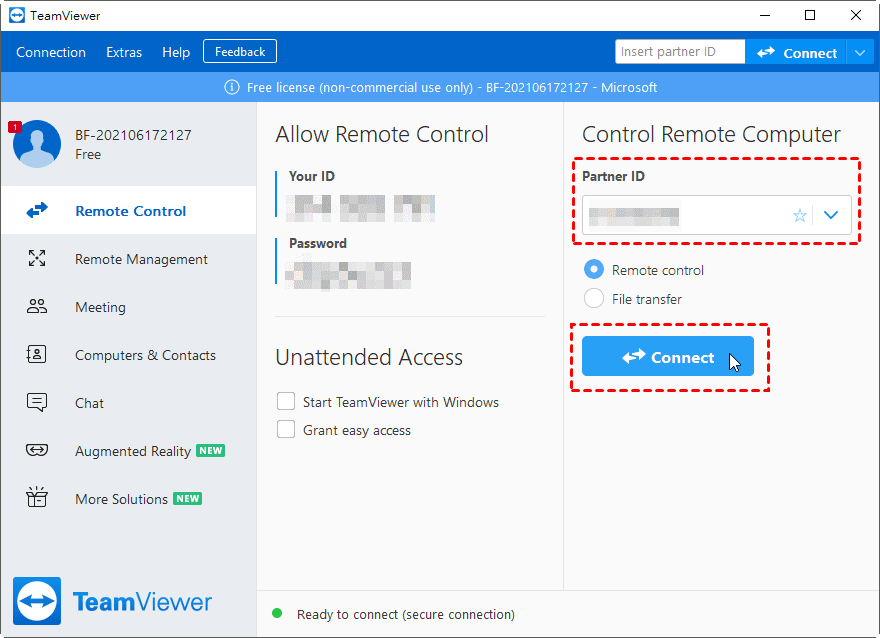 Option 3. RemotePC
RemotePC serves as a reliable remote desktop software, offering you the capability to access your desktop computer securely from any remote device. RemotePC offers all the features that TeamViewer offers and works well, especially when you connect Windows devices to each other. It's also much cheaper than TeamViewer if you only need to access a few of your own devices.
Unfortunately, there is no free version of RemotePC and there is no built-in audio or video chat. It's suitable for small businesses, especially those who only want access to a few computers and don't want to spend too much money. RemotePC also does not support drag-and-drop file transfers and does not have a desktop shortcut to the remote PC.
Step 1. Download and install RemotePC on your device. After launching RemotePC, enter your account and sign in.
Step 2. Enter your personal key and computer name to enable remote access and click "Enable Now".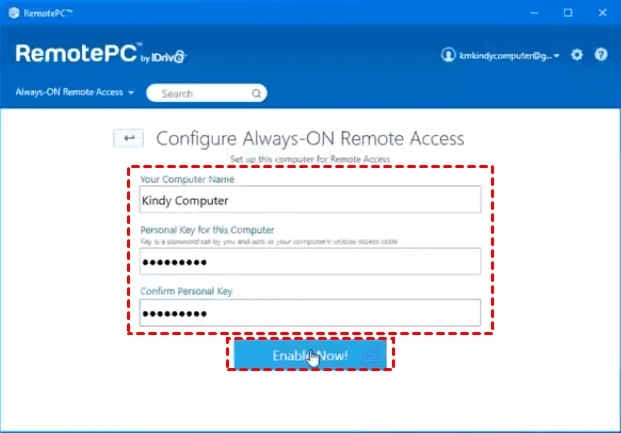 Step 3. On your local PC, launch RemotePC, then sign in to your account. Locate the remote computer you want to connect to and click "Connect". Enter the personal key of the remote computer in the pop-up window below to establish a remote connection.
Option 4. Splashtop
Splashtop is a software solution for remote access and remote help that provides a seamless remote desktop connection experience. It also has a more comprehensive feature set and comes in different versions for different needs and features, so you can choose to buy it according to your needs.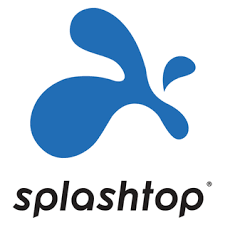 However, Splashtop doesn't offer a free plan and it's a bit complicated to set up and the pricing plans aren't easy to figure out. If you want more advanced features, you'll need to pay more.
Step 1. Download and install Splashtop on your device, then sign in.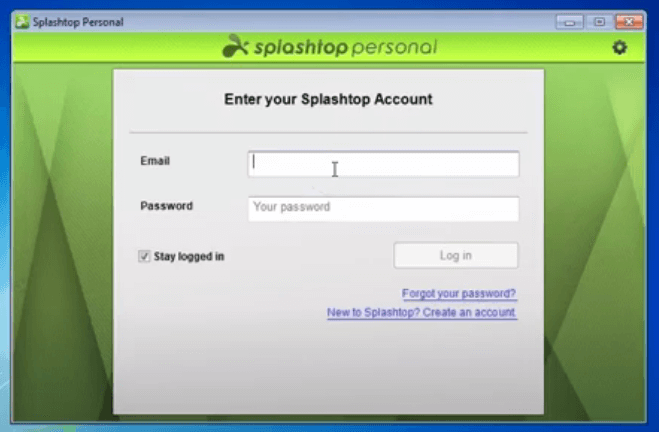 Step 2. After successfully logging in, you will see other devices that also have Splashtop installed. Click "Connect" to successfully connect to the remote device on your home network.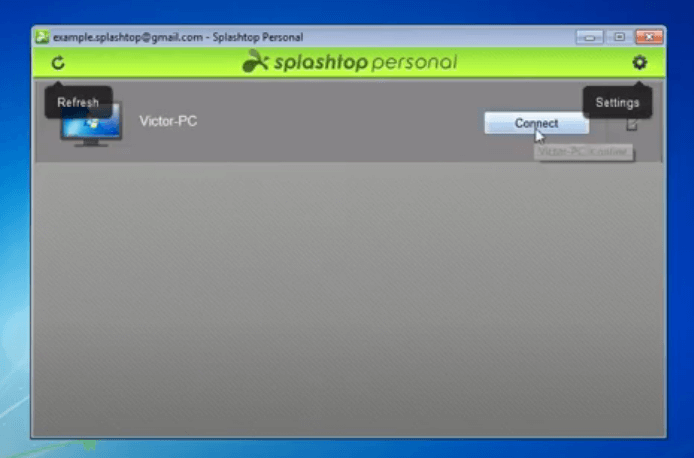 Option 5. Zoho Assist
Zoho Assist is a reliable and secure remote desktop solution that enables you to perform on-demand or scheduled remote connections and provides organizations with simple on-demand remote support to efficiently support their services.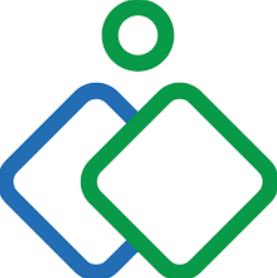 Unfortunately, Apple devices cannot be controlled with Zoho Assist and there are some delays. On top of that, Zoho Assist doesn't support remote audio and drag-and-drop file transfers, and the user interface is confusing and sometimes difficult to navigate.
Step 1. Download, install, and launch Zoho Assist on your device.
Step 2. After logging into your account, enter the address of the remote device and click "Start Now" to open the connection.
Conclusion
Now you must have found the best all-in-one remote software for you. After the comparison in this article, it is easy to see that although the latter software also has more comprehensive features, it is very expensive in terms of price. Overall, if you want to find the best free all-in-one remote software, AnyViewer is the best choice for you. Not only does it offer free plans for both personal and commercial use, but it has a comprehensive range of features for users to use. AnyViewer is the best free all-in-one remote software, download it and start your perfect journey!