What is the safest way to remote into a computer?
Remote access to a computer is important for various reasons, and it offers several benefits in different scenarios. While remote access offers numerous advantages, it's essential to implement strong security measures to protect against unauthorized access and data breaches.
What is the safest way to remote access PC? Many organizations use technologies like remote desktop protocol (RDP) or virtual private networks (VPN) for their everyday tasks. However, some remote access software, like AnyViewer, provides better security than RDP and VPNs, making it a superior alternative.
AnyViewer: The safest way to remote access PC
Using secure remote desktop software makes it easier to shield yourself from potential dangers. A specialized tool can seamlessly integrate with your current systems and typically comes equipped with its own security measures.
Although the market offers numerous secure remote access solutions, their effectiveness varies. AnyViewer, a free and secure remote desktop software, stands out as a highly recommended choice. It ranks among the most secure options available, ensuring robust protection.
What makes AnyViewer the most secure option?
It's important to note that AnyViewer offers several safety features that set it apart from VPN and RDP:
Encrypted remote connections: AnyViewer employs advanced encryption to secure remote connections, using a robust 256-bit Elliptic Curve Cryptography (ECC) algorithm.
Two-factor authentication. AnyViewer demands a two-factor authentication process before granting access, guaranteeing that only authorized individuals can connect to your remote desktop.
Device authentication. When you need to step away or share your machine with others, you can simply lock AnyViewer interface. This prevents anyone from making unwanted alterations to your computer's settings, ensuring your preferences remain intact.
Privacy mode. You can blacken the physical screen and disable the physical keyboard of the remote device. As a result, nobody can snoop on your activities, guaranteeing the utmost privacy and security for your remote sessions.
How to securely access a remote computer with AnyViewer
At this point, you should have a significantly improved comprehension of how AnyViewer enhances the security of your remote desktop connections. Hopefully, you've come to recognize that AnyViewer stands out as a top-tier solution in terms of safeguarding your remote connections. Now, let's delve into the steps for securely accessing a remote computer using AnyViewer.
Step 1. To get started, install AnyViewer on your respective devices.
Step 2. Next, sign up and log in using the same credentials on both of your devices.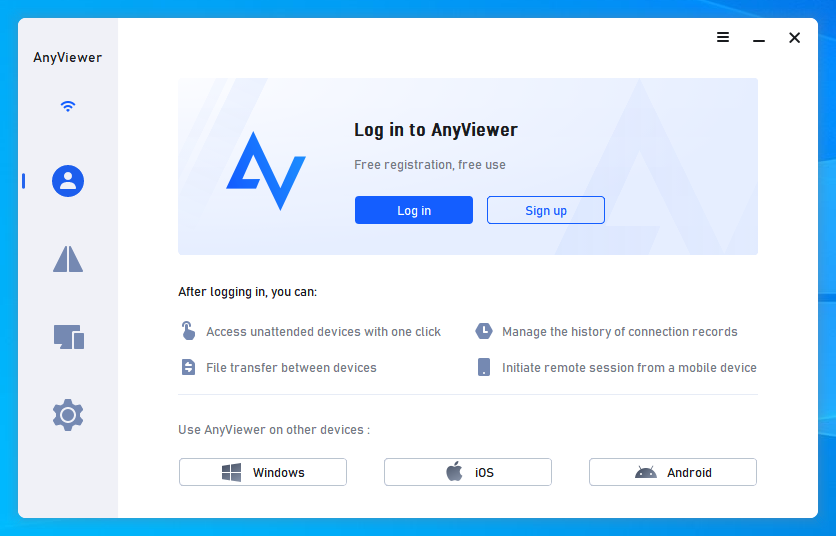 Step 3. Within the "Devices" section on your local device, locate the remote computer you wish to connect to. Simply click on "One-click control" to establish a secure connection.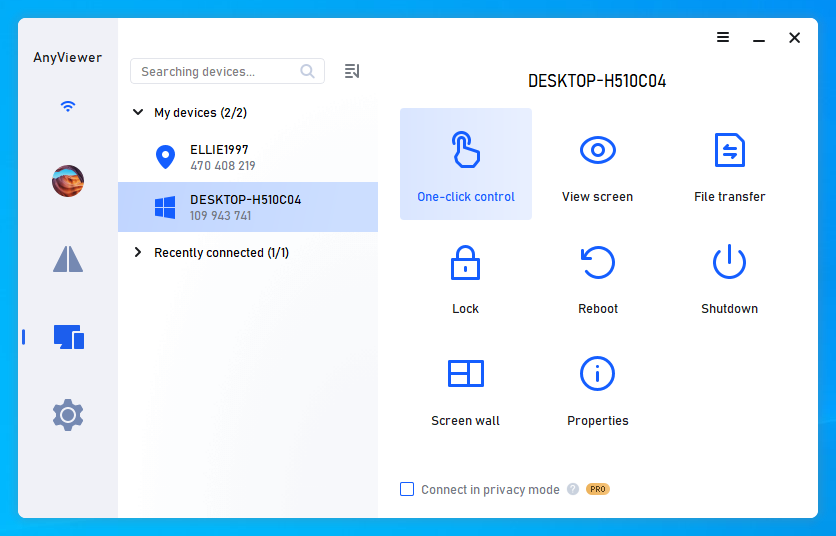 Step 4. If you want to lock the AnyViewer screen, lick Menu > Lock AnyViewer.
Step 5. Then, the program will be locked. To use it again, you need to input the AnyViewer account password to unlock the interface.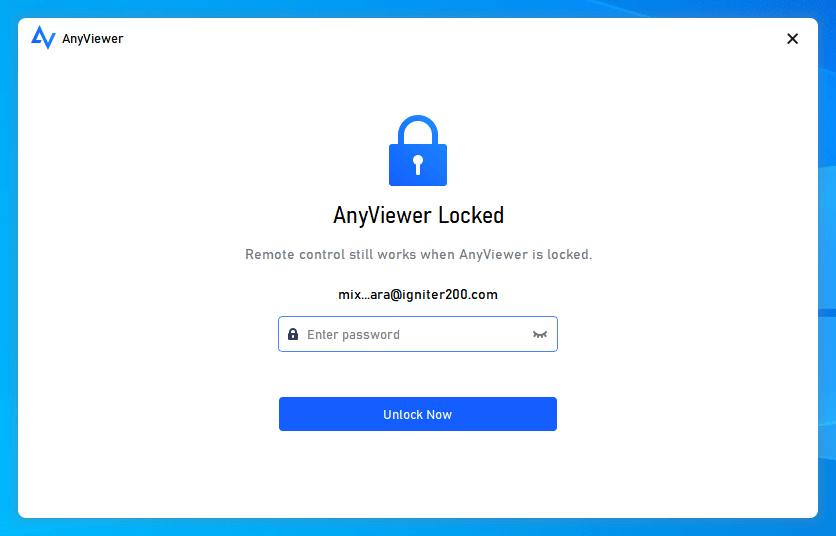 ★Tips:

To enhance your user experience even further, consider the option of upgrading to a Professional or Enterprise plan. This upgrade provides access to a wide range of advantages, including:

Managing an expanded array of devices: Gain the capability to oversee a larger number of devices effortlessly.
Expedited file transfer: Enjoy faster file transfer, saving you valuable time.
Augmented security with privacy mode: Enhance your security measures with the added privacy mode feature.
Elevated visual fidelity: Experience improved visual quality during remote sessions.
Simplified administration tailored for enterprise configurations: Streamline administrative tasks, specifically designed to meet the needs of enterprise setups.
The bottom line
In summary, when it comes to the safest way to remote access PC, AnyViewer shines as the safest option. With advanced encryption, two-factor authentication, device authentication, and privacy mode, ensuring robust protection for remote sessions.