TeamViewer not showing second screen
I've just installed TeamViewer on a new Dell Optiplex 7040 PC with dual monitors. But, when I connect to it, TeamViewer only detects and displays one monitor. Unlike other dual monitor setups I've used, there's no button to switch to the second screen. How can I fix this issue?"
- Question from TeamViewer Community
How to fix TeamViewer not detecting second monitor [3 solutions]
If TeamViewer not detecting second monitor, here are three effective solutions to tackle this issue.
Solution 1. Check the Monitor tab in the toolbar
In case you've configured TeamViewer to display Monitors as individual tabs and enabled the "Show session in tabs" option, your multiple monitors will appear as separate tabs. To view the second or third monitor, simply click on the corresponding monitor symbol. For instance, if you want to access the second monitor, click on the tab labeled with the number 2.

Solution 2. Make sure the second monitor is not turned off
In situations where the monitors are powered off, Windows essentially treats them as disconnected devices, much like when you unplug a USB device. Consequently, when you establish a TeamViewer connection, the system recognizes only a single display. This limitation arises because Windows no longer acknowledges the presence of multiple monitors when they are turned off.
To address this issue, it's advisable to ensure that the second monitor remains powered on, even if you leave the PC running. By doing so, you can maintain the proper recognition of multiple displays when using TeamViewer for remote access.
Solution 3. Try a TeamViewer alternative
TeamViewer dual monitor not working may, at times, be attributed to technical glitches. In such cases, a viable solution is to consider switching to a TeamViewer alternative that supports multi-monitor configurations. One such alternative is AnyViewer, which provides a robust solution to this problem.
AnyViewer, a free remote desktop software compatible with Windows, iOS, and Android platforms, is developed by a highly proficient technical team, ensuring a smooth and efficient remote access experience. With AnyViewer, you have the flexibility to view all connected monitors simultaneously or focus on a specific target monitor.
Notably, AnyViewer is entirely free for both personal and commercial use, in contrast to TeamViewer, which is free only for non-commercial purposes. If your needs involve connecting to a work computer with multiple monitors from your home setup, AnyViewer emerges as the superior choice as a free solution.
To embark on your journey with AnyViewer, follow these simple steps:
Step 1. Begin by downloading and installing AnyViewer.
Step 2. Launch AnyViewer and sign in using your account credentials.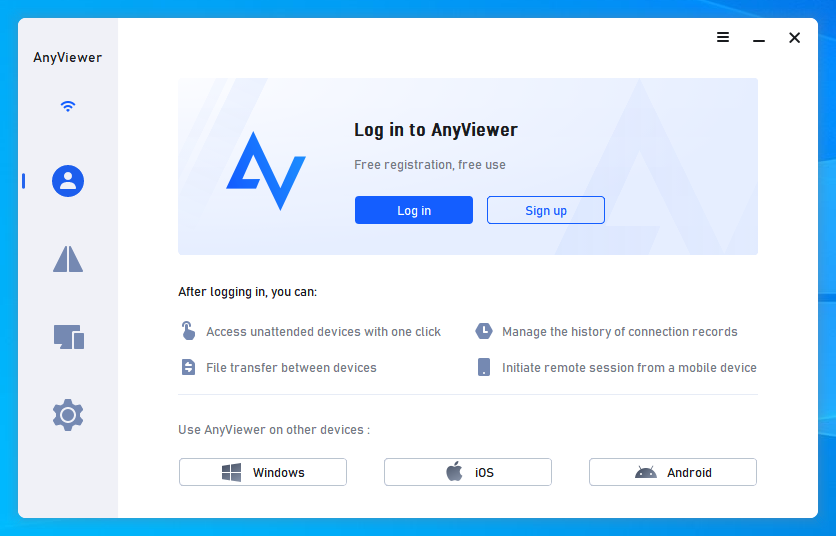 Step 3. Once logged in, you'll find yourself in the user interface.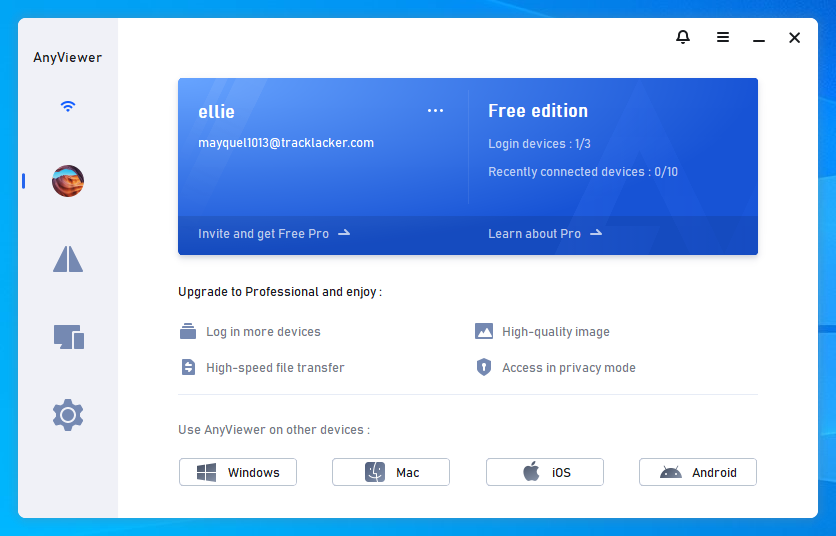 Step 4. On your client computer, navigate to the "Device" section. There, you can pinpoint the PC you intend to control and initiate an instant remote connection by clicking "One-click control."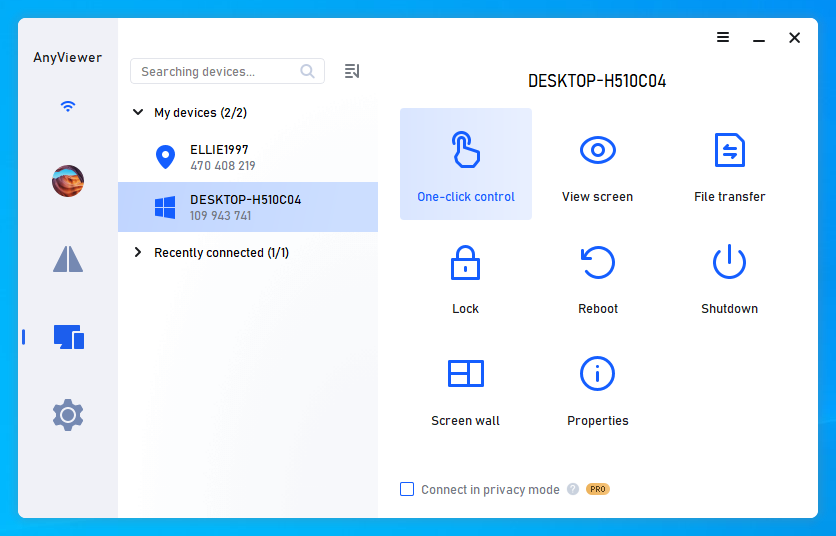 Step 5. With the connection established, you can now access and view multiple monitors on the remote computer within your local window. Should you prefer to view a single screen, head to the controller toolbar, click on "Screen," and select the specific screen you wish to display.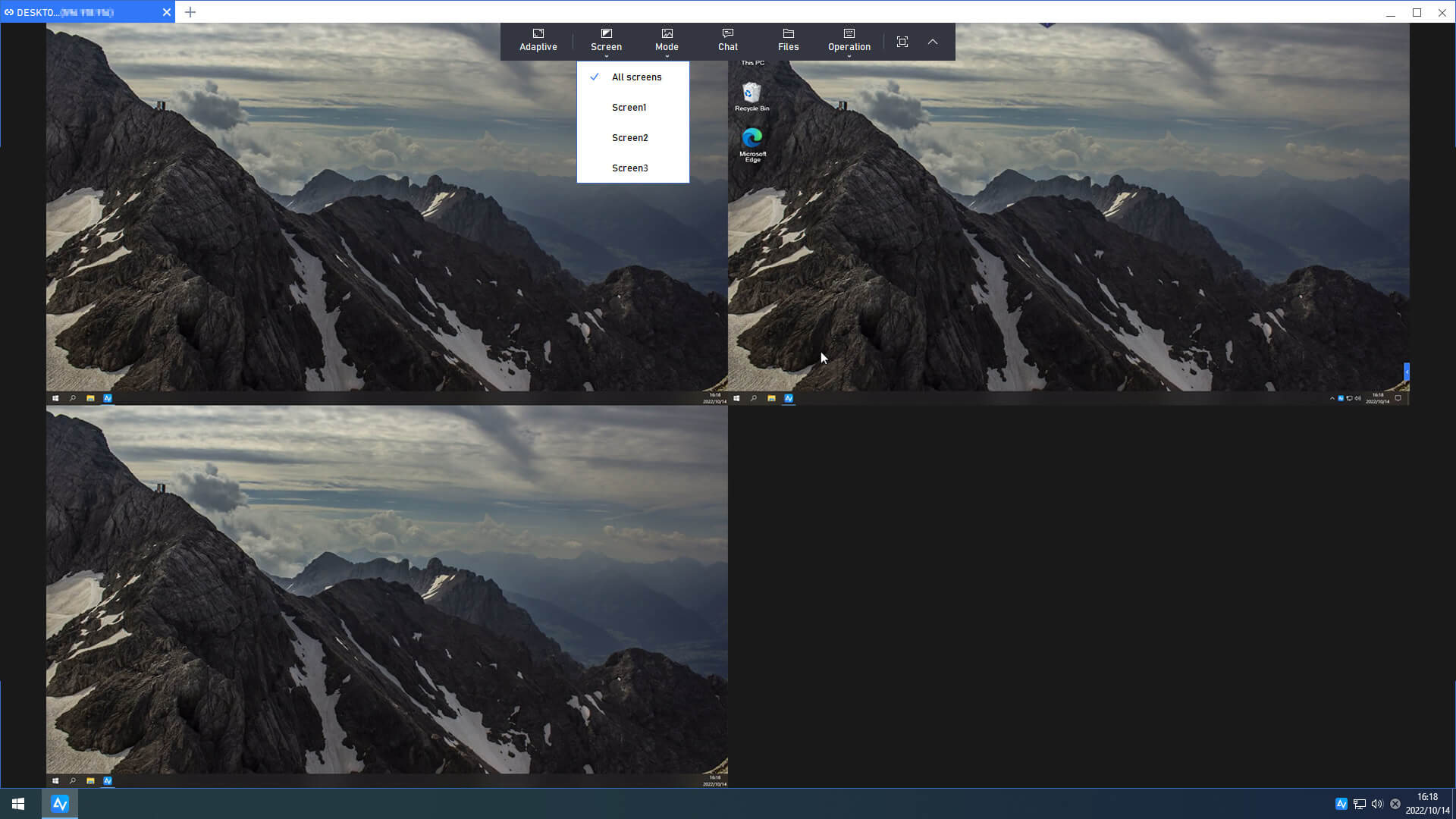 ★Tips:

For an even more enriching remote desktop experience, consider upgrading to a Professional or Enterprise plan with AnyViewer. Here's what you'll unlock:

Enhanced device control: Effortlessly manage multiple unattended access devices with precision.
Seamless multi-tasking: Juggle several remote sessions concurrently, making multitasking a breeze.
Rapid file transfers: Swiftly transfer large files between devices, ensuring efficiency throughout.
Privacy mode: Access remote devices while keeping the screen darkened and the keyboard disabled for heightened privacy.
...
The bottom line
In conclusion, this guide offers three practical solutions to address the problem of TeamViewer not detecting the second monitor. By configuring TeamViewer to display monitors as individual tabs, ensuring the second monitor remains powered on, or considering an alternative like AnyViewer, users can effectively resolve this issue.
These solutions empower users to make the most of their remote desktop experience, ultimately ensuring seamless access to dual-monitor setups. In the world of technology, multiple paths to success exist, and these recommendations aim to provide flexibility and efficiency for those encountering this common challenge.