TeamViewer keyboard input not working
I find myself facing an issue while attempting to connect to my PC from my laptop. The remote connection used to work perfectly, but in recent days, I am unable to type anything. Strangely, neither the physical keyboard nor the Virtual Keyboard registers any keys sent. Despite this, I observe that mouse gestures remain functional and responsive."
- Question from StackExchange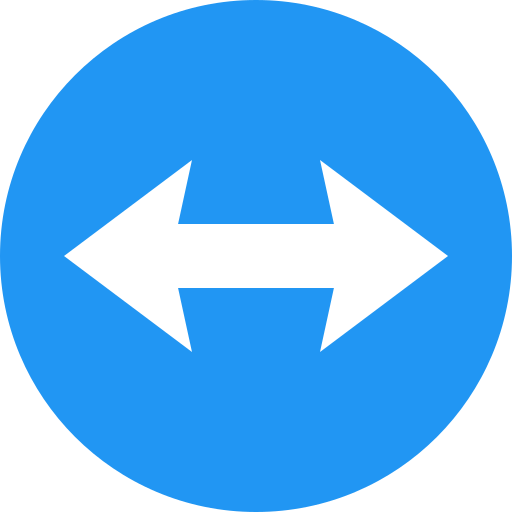 How to fix the TeamViewer keyboard not working [6 solutions]
Should you encounter an issue with the TeamViewer keyboard not working as expected, fret not, as there are six potential solutions you can explore to rectify the situation. It's worth noting that the first four solutions are applicable to TeamViewer mouse malfunctions too. Let's see how to fix TeamViewer keyboard and mouse not working.
Solution 1. Disable UDP
Step 1. Click on the Options button located at the top right corner of TeamViewer.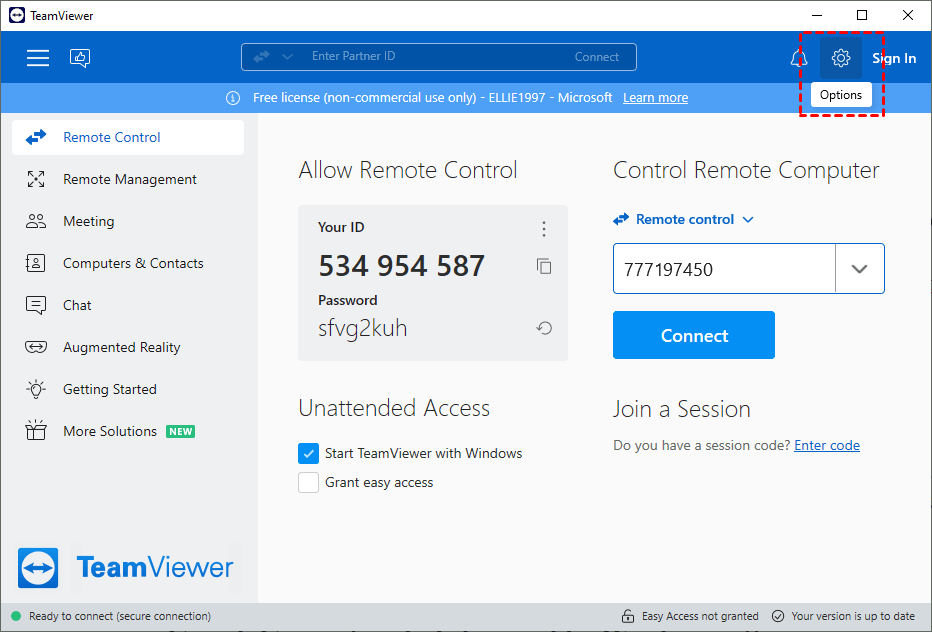 Step 2. Access the Advanced section and search Use UDP under Advanced network settings.
Step 3. Untick the Use UDP option to disable it.
Solution 2. Enable remote input
During a TeamViewer remote control session, ensure that the Disable remote input option is not checked. To do this:
Step 1. In the remote session, navigate to the Actions menu in the menu bar.
Step 2. Verify that the Disable remote input box is unchecked.
Solution 3. Check Full access is granted
Step 1. Access Options from the top right corner of TeamViewer.
Step 2. In the Advanced section, check the settings for connections to this computer and select Full Access.
Step 3. Also, ensure that Full access control when a partner is connecting to the Windows login screen is enabled.
Solution 4. Upgrade TeamViewer
Step 1. Click the menu icon and select Check for new version.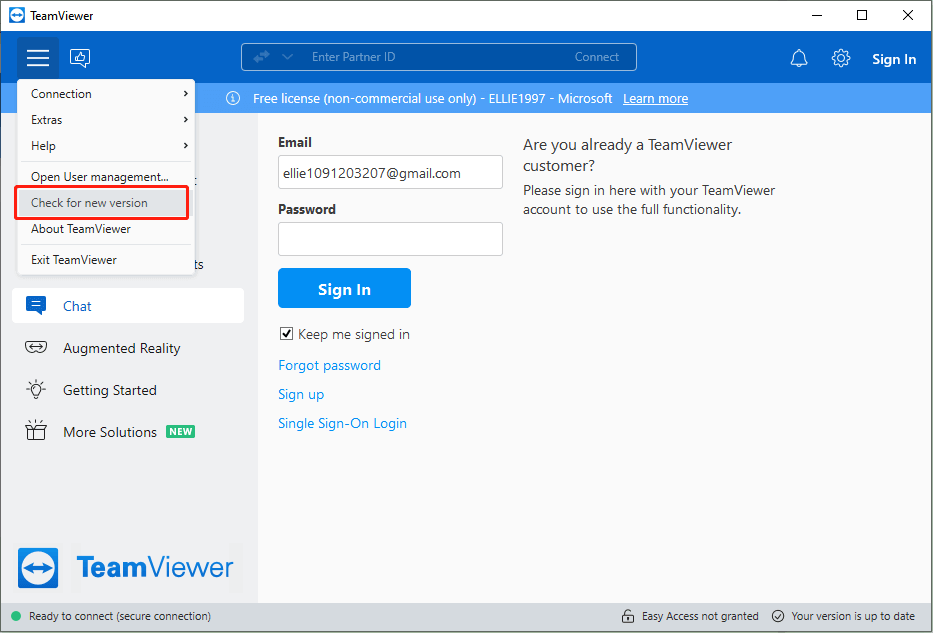 Step 2. Confirm if your TeamViewer is up to date, and if updates are available, proceed to install them.
Solution 5. Restart the Windows Explorer process
Step 1. Press Win + R on the remote PC and enter "taskmgr.exe" in the Run dialogue box, then press Enter.
Step 2. Locate and click Windows Explorer in the Task Manager.
Step 3. Click Restart in the lower right corner to refresh the Windows Explorer process.
Solution 6. Reinstall keyboard drives on both sides
Step 1. Right-click the Start and select Device Manager.
Step 2. In the Device Manager window, expand the Keyboards section and select your keyboard from the list.
Step 3. From the menu bar, choose Uninstall Device.
Step 4. Confirm the removal by clicking Uninstall in the confirmation message that appears on the screen.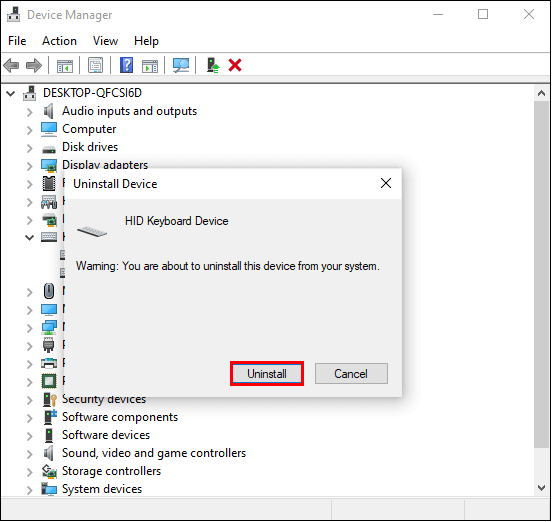 Step 5. After uninstalling the driver, restart your PC.
AnyViewer: The best TeamViewer alternative with keyboard works perfectly
If you still can't fix the TeamViewer mouse and keyboard not working, it is wise to find a TeamViewer alternative. For those seeking a reliable alternative to TeamViewer, AnyViewer stands out as an excellent choice, ensuring seamless keyboard functionality during remote sessions. Much like TeamViewer, AnyViewer is a free remote desktop tool that offers an exceptional user experience. When connecting to a remote computer through AnyViewer, you can rest assured that the keyboard and mouse interactions will work flawlessly, without encountering any issues. This ensures a smooth and enjoyable remote connection experience for users.
The best part is that AnyViewer is entirely free for both personal and commercial use. Users can take advantage of various features, including unattended remote access, efficient file transfer, multi-session connections, and more, all without incurring any costs. Embracing AnyViewer as your go-to remote desktop solution guarantees a hassle-free and practical experience with a fully functional keyboard, setting it apart as an excellent alternative to TeamViewer.
Step 1. Install and Launch AnyViewer
Begin the process by installing AnyViewer on both computers you wish to connect. Access the login page and click on Sign up. If you already have an account, you can simply log in.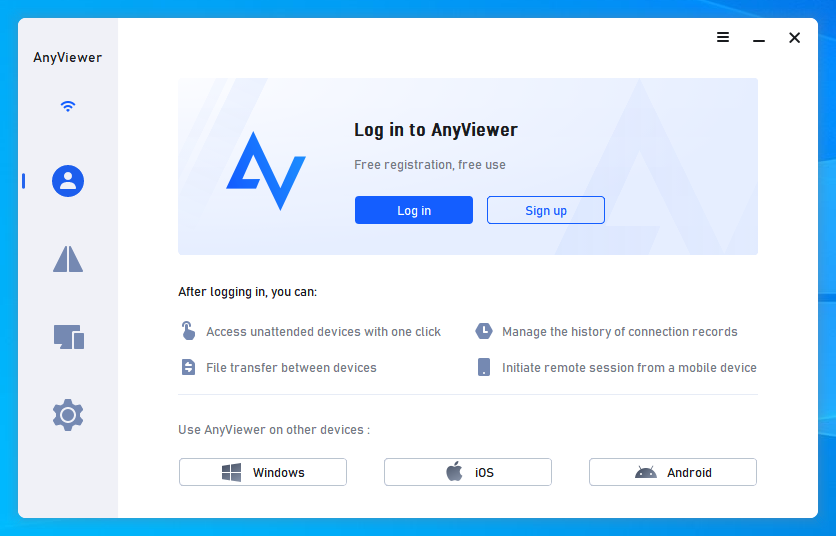 Step 2. Create Your AnyViewer Account
Provide the required sign-up information and click on Sign up to create your AnyViewer account.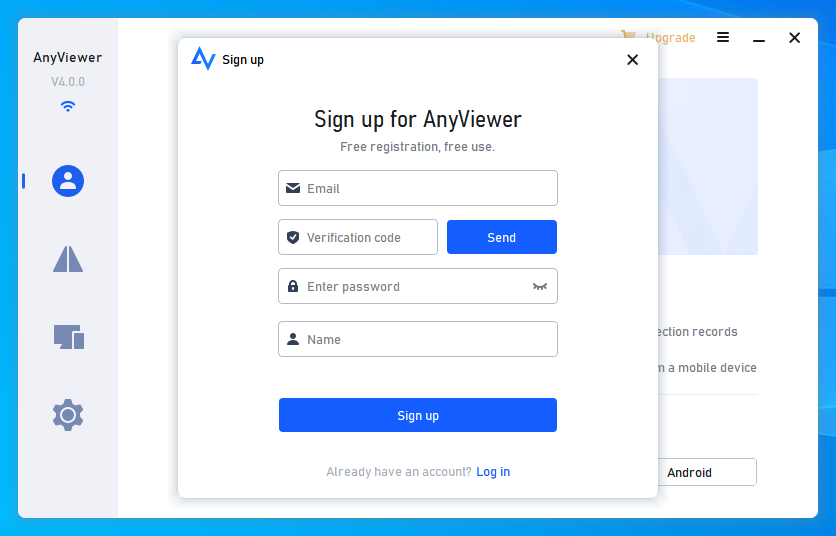 Step 3. Successful Login Confirmation
After a successful login, you'll receive a confirmation of your access to AnyViewer. Your device will automatically be associated with your account.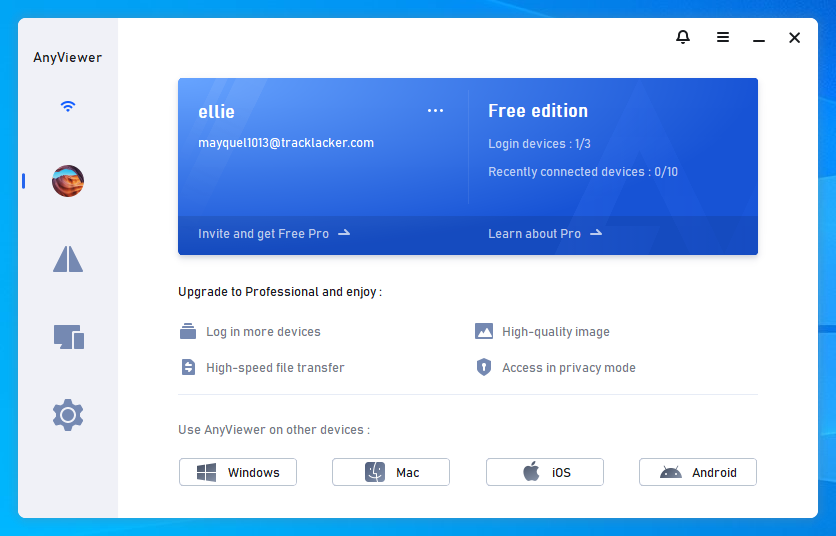 Step 4. Establish Connection
Log in to the same AnyViewer account on both computers. In the Devices section, select the computer you want to access remotely. Simply click on One-click control to initiate the connection effortlessly.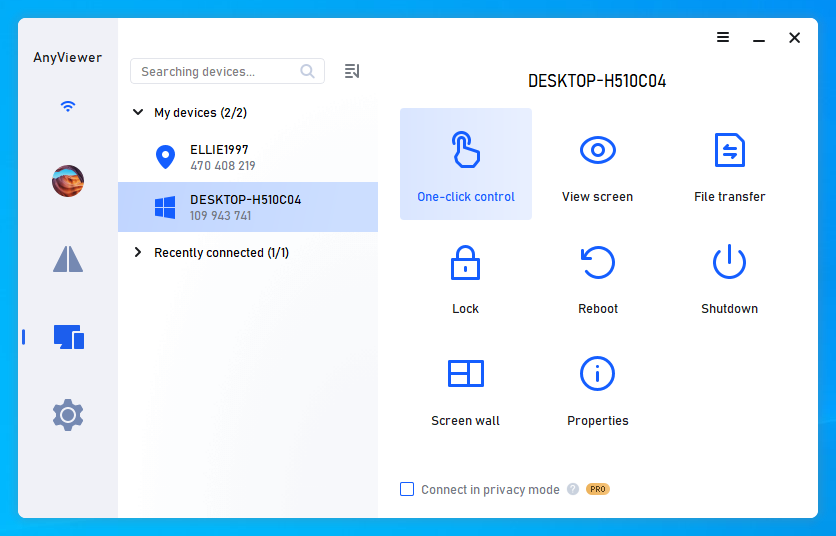 ★Tips: Please note that upgrading your account to a Professional or Enterprise plan offers additional privileges and benefits:

Increased Device Assignment: You gain the ability to assign more devices to the same account for unattended remote access.
Concurrent Remote Sessions: Initiate multiple remote sessions concurrently, managing multiple connections at once.
Faster File Transfer Speed: Experience accelerated file transfers for quicker and more efficient exchange during remote sessions.
Privacy Mode: Connect to another computer in privacy mode, allowing you to black out the remote screen and block mouse and keyboard access for a private and secure connection.
...
The bottom line
In conclusion, addressing the issue of "TeamViewer keyboard not working" is crucial for ensuring efficient remote access. By considering alternative solutions like AnyViewer, users can enjoy a seamless and hassle-free remote connection experience with fully functional keyboard and mouse interactions. Embracing reliable tools like AnyViewer can enhance productivity and streamline remote operations, making it a worthy choice for those seeking a robust TeamViewer alternative.