What is the best remote assistance software?
What is the best remote assistance software? Many users are looking for the answer to this question, especially businesses that need IT support. Over the past few years, remote IT support has evolved into a pivotal component of IT Service Management (ITSM). With a substantial rise in remote work across various industries, the demand for support from and to diverse locations has become imperative.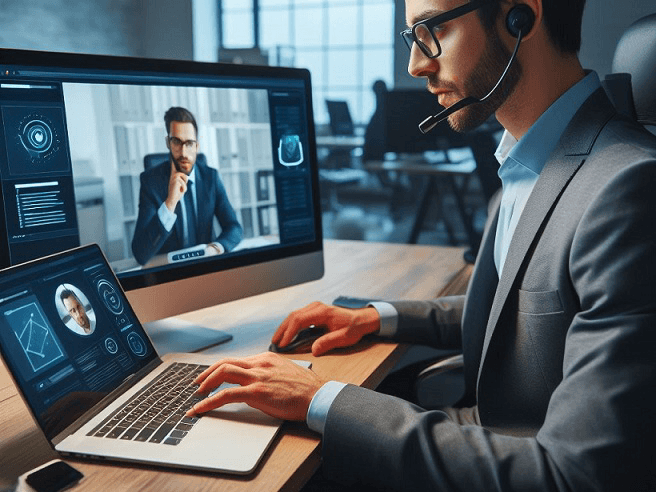 This necessity is particularly pronounced for enterprises experiencing growth in both personnel and facilities. In this scenario, a remote support solution becomes instrumental for organizations to enhance employee productivity and guarantee business continuity, especially when overseeing remote workers or teams spanning different locations and time zones. So, what is the best remote IT support software? Next, this article will find you the best remote IT software by remote IT support software comparison.
Top 7 remote IT support software
What is the IT remote support software? There are two types of remote IT support, attended remote support and unattended remote support.
Remote IT support software is critical for you to provide both attended and unattended remote support because it allows you to access and control users' computers regardless of where the agent is located, saving time and making it easy to provide real-time support and troubleshooting. Next, you will see remote IT support software comparison. Here are 7 software suitable for remote IT support, let's take a look.
Option 1. AnyViewer
Businesses requiring IT remote support services for their clients should consider AnyViewer as the optimal choice. It is a secure and fast, free remote support software for IT support and management. AnyViewer caters to a range of IT professionals, accommodating everyone from experts and leaders to novices, empowering them to enhance efficiency and achieve their objectives with ease.
Not only does it offer a free version for both personal use and business use, but it also offers an enterprise plan for businesses with advanced remote support needs.
Pros:
Effortless Group Management: AnyViewer simplifies the process of adding devices to different teams through deployment codes, streamlining the management of a large number of devices.
High Security: AnyViewer prioritizes security, utilizing a robust 256-bit Elliptic Curve Cryptography (ECC) algorithm to ensure end-to-end encryption. Two-factor authentication is also implemented, bolstering security for both data and remote connections.
Improved Performance: AnyViewer ensures swift and seamless remote access with low latency and an impressive frame rate of up to 60 FPS.
User-Friendly Interface: AnyViewer boasts an intuitive design that minimizes training time, facilitating quick adaptation for your employees.
Mass Deployment with MSI: AnyViewer supports effortless mass deployment through an MSI package, streamlining large-scale implementation.
Exceptional and Comprehensive Features: As an all-encompassing software, AnyViewer offers users a multitude of outstanding and comprehensive features. These encompass one-click control, real-time remote sound synchronization, text chat, iPhone screen mirroring, multi-monitor switching, and an array of other capabilities meticulously crafted to enhance your remote control experience.
Affordable Options: AnyViewer caters to small businesses with a free version and offers a competitive Enterprise plan at $199.00 per year, providing cost-effective solutions in the market.
Cons:
Limited Compatibility: AnyViewer is currently limited to Windows, Android, and iOS platforms.
AnyViewer will be the best IT remote support software, to use AnyViewer for remote IT support services, please follow the detailed steps below:
On the remote computer:
Step 1. Once you've downloaded, installed, and launched AnyViewer on your remote computer, proceed to the "Log in" section, and click on "Sign up" to create your AnyViewer account.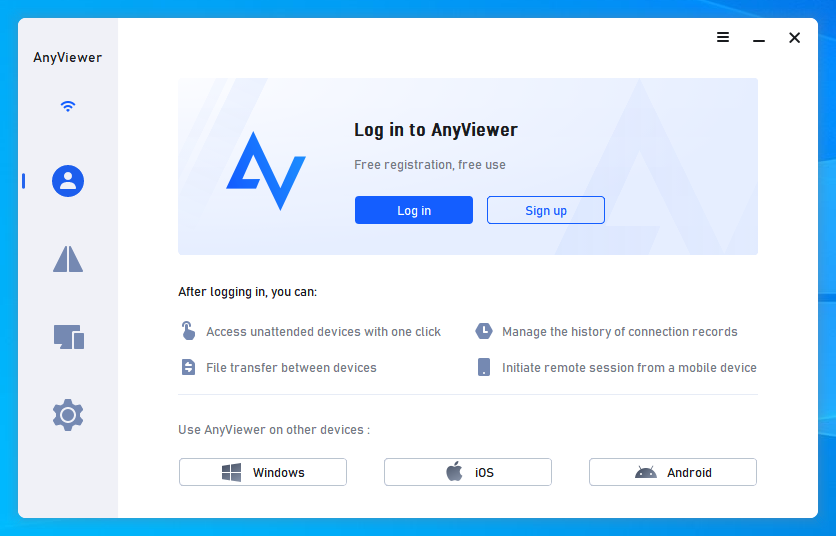 Step 2. Upon successful login, your device will automatically link to your AnyViewer account.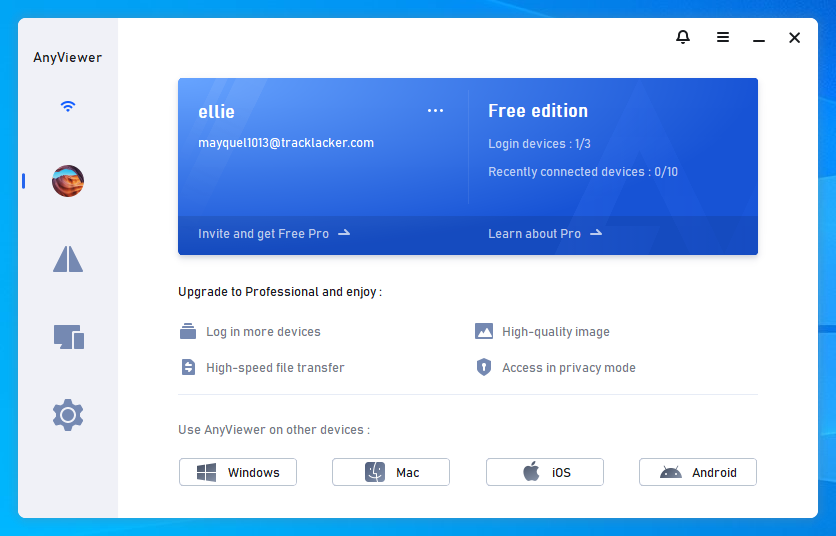 On the local computer:
Step 1. Download AnyViewer on your local computer, and log in using the identical account credentials from the remote computer.
Step 2. Start a remote support session by selecting the remote computer you want to connect to and clicking "One-click control".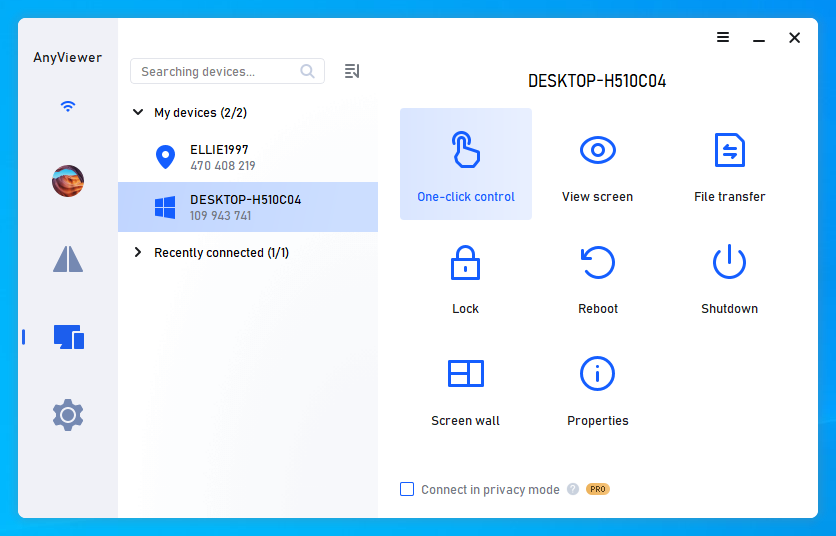 Option 2. TeamViewer
TeamViewer stands as a well-known remote support and access solution, providing secure connections and a variety of features for IT support, collaboration, and remote desktop control. Tailored for larger organizations, TeamViewer Tensor extends beyond the offerings of TeamViewer's free and individual user versions, providing additional features and capabilities.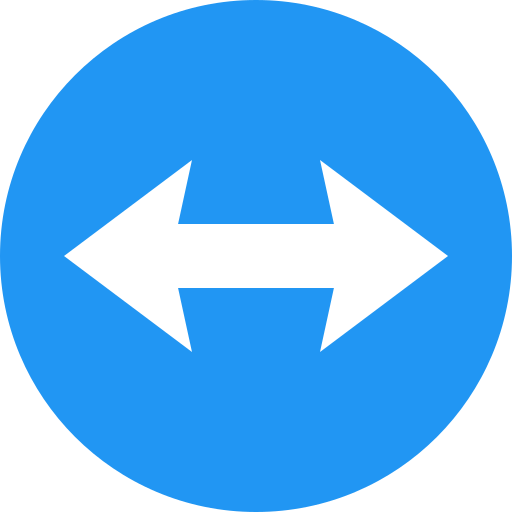 Pros:
Cloud Convenience: TeamViewer Tensor simplifies remote connectivity through the cloud, allowing device support from any location with an internet connection. And TeamViewer doesn't have a self-service unsubscribe option.
Scalability: Designed to expand alongside larger organizations, TeamViewer Tensor accommodates a growing number of users and devices.
Strong Security: TeamViewer Tensor prioritizes security with end-to-end encryption, two-factor authentication, and access controls to safeguard sensitive data during remote sessions.
Multi-Platform Support: Compatible with various operating systems, TeamViewer Tensor ensures adaptability across diverse IT setups.
Centralized Management: IT administrators can streamline and effectively supervise remote support operations using user access control, centralized management, and reporting and monitoring tools.
Effortless Deployment: Streamlining network deployment, TeamViewer Tensor facilitates easy management of remote support sessions for IT teams.
Cons:
Cost Concerns: TeamViewer Tensor can be costly for business use, particularly for smaller organizations, as licensing fees may escalate with additional users and features.
Complex Setup: Due to its numerous features and customization options, TeamViewer Tensor may pose a challenge in terms of configuration, requiring meticulous planning and expertise.
Internet Reliance: As a cloud-based solution, TeamViewer Tensor is dependent on a stable internet connection, and interruptions in connectivity can potentially disrupt remote support sessions.
Step 1. Download and install TeamViewer on both the remote device and your device, and then select the purpose for which you are downloading the software (Enterprise).
Step 2. Upon logging into your account, navigate to the left side of the TeamViewer User main interface on the client computer and click "Remote Control." Enter the host ID in the "Partner ID" field, then click "Connect" to establish remote access.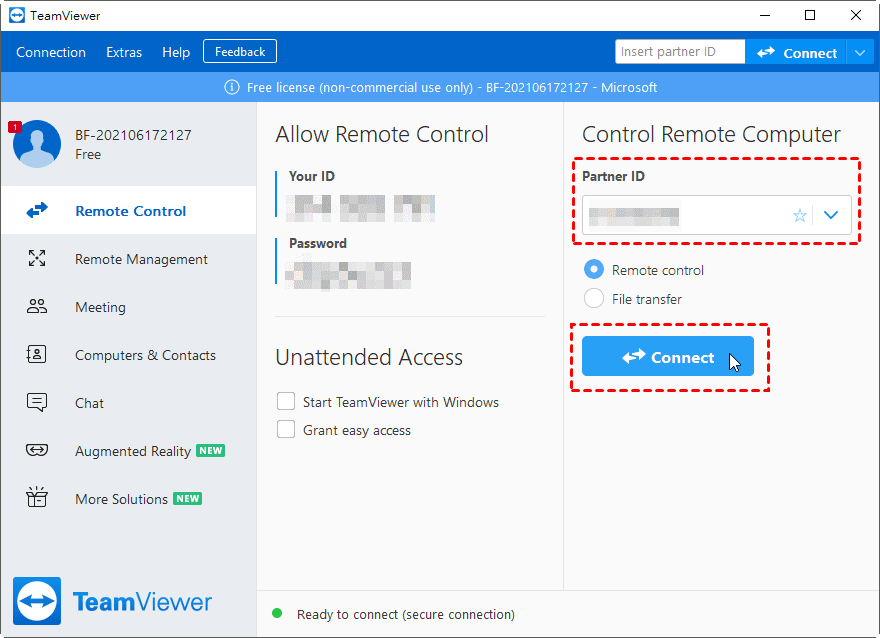 Option 3. AnyDesk
AnyDesk is another remote support and remote desktop software commonly used in corporate environments that is feature-rich and available on multiple platforms. Tailored for substantial businesses and organizations with specific requirements, AnyDesk offers a premium remote desktop solution known as AnyDesk Ultimate.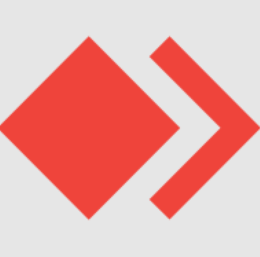 Pro:
Easy User Management: Effortlessly organize users into groups aligning with your organization's structure. Assign distinct roles corresponding to different responsibilities.
LDAP Compatibility: Streamline user data synchronization between Active Directory and my.anydesk II for efficient administration.
Single Sign-On (SSO): Simplify user access and bolster security through Single Sign-On.
User Permissions: Exercise control over user actions on my.anydesk II by assigning specific permissions to their roles.
User Accounts: Heighten security with individual user accounts for the Windows client and the my.anydesk II management console.
Quick Deployment: Save time by easily deploying AnyDesk through MSI deployment.
Cons:
Cost: AnyDesk may incur significant expenses for enterprises, especially when acquiring multiple licenses for a sizable user base or simultaneous connections, which could be a drawback.
Limited Advanced Features: AnyDesk might lack some advanced IT management and reporting features compared to other enterprise solutions, potentially making it less suitable for organizations with complex needs.
Step 1. Download, install, and launch AnyDesk on remote computer and local computer.
Step 2. To establish a connection, on the local computer, input the connection password of the remote computer you wish to connect to, and then click "Connect."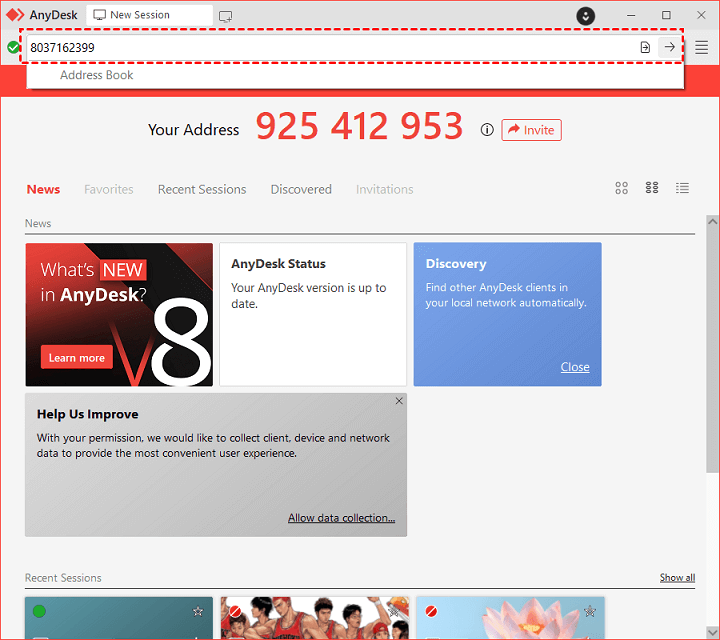 Step 3. On the remote computer, permit the remote control connection to establish successfully, granting access and control over the computer.
Option 4. RemotePC
RemotePC enables you to access your computer from any device, anytime, and anywhere. It provides the capability to manage files, print documents, and transfer data remotely.
RemotePC is an ideal choice for small businesses, especially those seeking access to a limited number of computers without incurring substantial costs. It offers a budget-friendly alternative, significantly more affordable than other applications while delivering comparable performance.
Pros:
Grouping Computers: Add computers, categorize them into groups, and easily view the most recently accessed computers.
Security: Remote access is safeguarded with TLSv 1.2/AES 256 encryption. Additionally, there is an option to establish a unique Personal Key for computers, serving as a secondary password for enhanced security.
Cross-Platform Compatibility: It supports various operating systems, providing flexibility across different devices.
User Management: Establish new user accounts, organize them into groups, assign access permissions, and perform additional management tasks.
Mass Deployment: Install the RemotePC application on multiple target PCs and Macs remotely in a single operation.
Enterprise-based APIs: Execute actions related to users and devices within your account through enterprise-based APIs.
Cons:
Cost: Depending on the plan selected, pricing considerations may influence certain users.
Feature Set: Although extensive, some advanced features may only be accessible in higher-tier plans.
Learning Curve: Users who are new to remote support tools might encounter a learning curve as they adapt to the platform.
Step 1. Download and install RemotePC on both the remote and local computers. Once RemotePC is launched, enter your account details and sign in.
Step 2. Input your personal key and computer name to activate remote access, then click "Enable Now."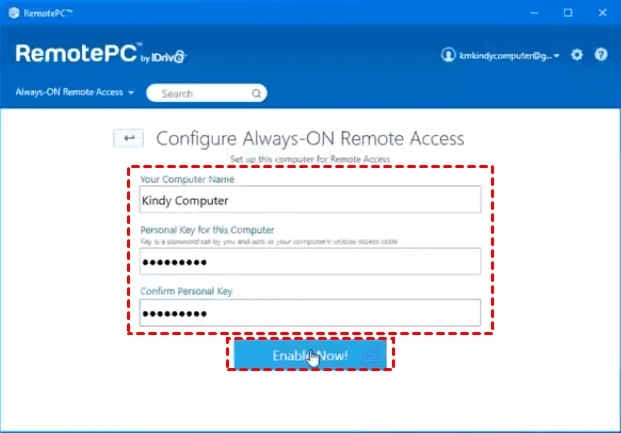 Step 3. On your local computer, open RemotePC, sign in to your account and find the desired remote computer. Click "Connect" and enter the personal key of the remote computer in the pop-up window to establish a remote connection.
Option 5. Splashtop
Splashtop Business Access serves as a remote desktop software solution tailored for businesses and professionals, providing seamless remote access and control of computers and servers from virtually any location. With a host of features and capabilities, Splashtop Business Access aims to enhance the efficiency and security of remote access and management for organizations.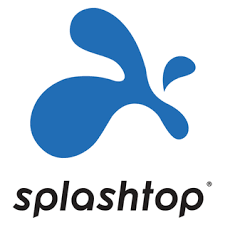 Pros:
High-Performance: Splashtop ensures smooth 4K streaming at 60fps, supports Retina 5K streaming, and provides high-quality audio for an immersive remote access experience.
SSO/SAML Integration: Conveniently authenticate using Single Sign-On (SSO) and Security Assertion Markup Language (SAML), with support for various identity providers.
Advanced Access Management: Exercise precise control over user access through granular permissions and scheduling. Manage users based on groups, roles, and individual levels.
Broad Device Support: Establish connections with a diverse range of devices, spanning Windows, Mac, Linux, Android, and even unattended Android devices for comprehensive remote support. Enjoy accessibility from a variety of devices.
Endpoint Monitoring & Management: Keep tabs on and manage endpoints effectively with background diagnostics, alerts, scheduled commands, and a host of additional features.
Service Desk: Utilize advanced on-demand support features, encompassing technician grouping, service channel management, and robust security with encryption.
Cons:
Lack of Advanced Features: Splashtop Business Access may not provide as many advanced features as some enterprise solutions dedicated to IT service management and support.
Limited Integration: Integration options could be more restricted compared to other remote desktop solutions, potentially posing a challenge for organizations with intricate IT environments.
No Free Version: In contrast to some competitors, Splashtop Business Access operates as a paid service without a free version available for personal or small business use.
Step 1. Download and install Splashtop on both the remote and local computers, and proceed to sign in.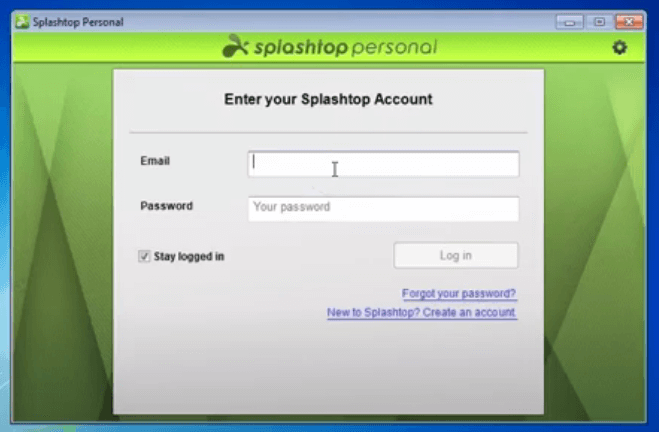 Step 2. Upon successful login, you'll encounter a list of other devices with Splashtop installed. To establish a successful connection to the remote device, simply click on "Connect."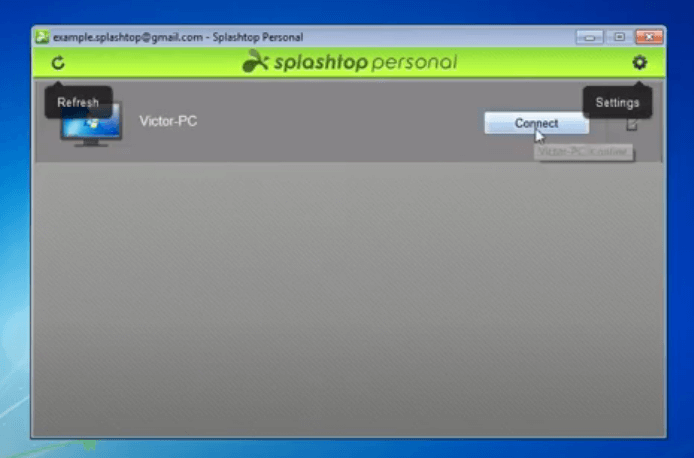 Option 6. Zoho Assist
Zoho Assist provides a free solution for remote support, screen sharing, and remote access, enabling users to access the remote desktops of customers, share screens, and manage unattended computers. For eligible Zoho Assist customers, there is also an enterprise support plan available as an additional paid support option.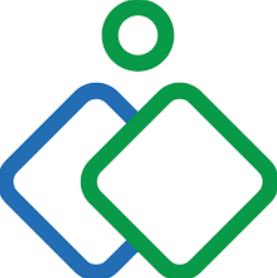 Pros:
Custom Branding: Tailor your remote support experience with your company's name, logo, and more, ensuring a cohesive brand representation. Create a personalized portal to enhance the branding.
Organizational Management: Streamline the management of your technicians by organizing them into departments, fostering efficient team coordination.
Single Sign-On: Ensure secure user authentication by utilizing your existing identity provider, aligning with corporate policies through Single Sign-On.
Multifactor Authentication: Heighten security measures with multifactor authentication, adding an extra layer of protection to your account.
Easy Deployment: Zoho Assist facilitates swift agent deployment to numerous devices, catering to various network setups for a hassle-free deployment experience.
Dedicated Technical Support: Access 24/7 technical support from skilled engineers, ensuring prompt assistance in addressing any issues that may arise.
Cons:
Licensing Limits: Certain licenses may impose restrictions on the number of simultaneous sessions, potentially posing challenges for larger enterprises.
Additional Cost for Premium Support: Access to premium technical support may necessitate additional payment, potentially impacting overall costs.
Unreliable Wake on LAN: The Wake on LAN functionality may exhibit unreliability, leading to potential issues in waking up devices.
Incorrect Online Status: Clients might inaccurately appear offline, creating confusion even when they are online.
Copy/Paste Issues: Inconsistencies in copy and paste functionality may arise, impacting the seamless transfer of information.
Step 1. Download, install, and launch Zoho Assist on both the remote and local computers to initiate the remote support or access process.
Step 2. Upon logging into your Zoho Assist account, enter the address of the remote computer and click "Start Now" to establish the connection.
Option 7. LogMeIn
LogMeIn is a company that provides remote access and collaboration solutions, enabling individuals and businesses to access and manage computers and networks from anywhere. The company offers a range of products and services designed to facilitate remote work, IT support, and collaboration.
Pros:
Remote Access and Control: LogMeIn allows users to access and control their computers remotely from various devices, providing flexibility and convenience for remote work or support.
Security Measures: LogMeIn emphasizes security with features such as encryption and multi-factor authentication, ensuring the protection of remote access sessions and sensitive data.
User-Friendly Interface: LogMeIn products typically feature user-friendly interfaces, making them accessible to a wide range of users with varying technical expertise.
LastPass Integration: The integration of LastPass, a popular password management solution, adds an extra layer of security for users managing multiple passwords.
Collaboration Tools: For products like GoToMeeting and GoToWebinar, LogMeIn provides collaboration tools such as screen sharing, chat, and interactive features, facilitating effective communication and teamwork.
Cons:
Cost: Some users find LogMeIn's pricing to be relatively high compared to other remote access and collaboration solutions. The cost can be a significant factor for individual users or small businesses.
Dependency on Internet Connection: Remote access solutions like LogMeIn are dependent on a stable internet connection. If the internet connection is slow or unstable, it can affect the performance of remote sessions.
Feature Complexity: While LogMeIn products are generally user-friendly, some users may find certain features or settings to be complex, especially if they are new to remote access or collaboration tools.
Step 1. Download and install LogMeIn on the remote and local computers.
Step 2. On your local computer, go to the login page and log into your account.
Step 3. Next, you'll be directed to a page where you should click "Add computer."
Step 4. Click on "Download installer" to initiate the installation process on the remote computer.
Step 5. Following that, you'll encounter a list of two computers. Click on the computer you wish to access remotely.
Step 6. Input the username and password to successfully achieve remote access.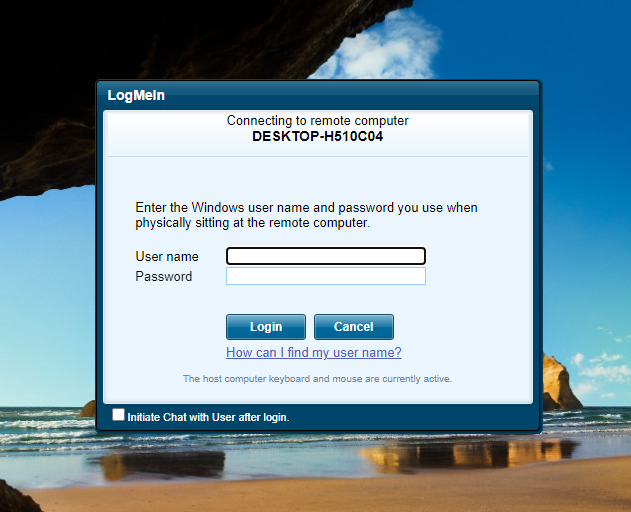 Conclusion
To sum up, this article provides a foundation for selecting the optimal remote IT support software, with AnyViewer emerging as the top solution. It offers robust security, flawless performance, and a user-friendly interface. Whether you're an individual, a small business, or a large organization, AnyViewer caters to diverse needs, ensuring efficient and secure remote IT support.