My Remote Desktop not saving credentials
"I don't know why when I use Remote Desktop on Win 10, I have to keep entering my user and password every time. This is really annoying even though I checked the "Remember my credentials" box and I connect with the same computer every time. What can I do?"
Why won't RDP save my credentials?
We may meet with various problems when we use Remote Desktop. According to what the above user said and the feedback of many users, they found that RDP does not save the credential, leading them to enter the credentials again and again when they connect remotely. Although this does not affect the process of RDP, it wastes a lot of time and makes the experience worse.
Actually, it seems that the credential manager on your computer has the wrong entry, so it is recommended to set the system to save credentials. Apart from that, if options like "Allow delegate saved credentials" are selected to be disabled, the users will encounter the problem.
How do I save my credentials for Remote Desktop?
We just clarify the possible reasons for the problem, now let's troubleshoot the problems together.
Method 1. Allow delegating credentials
Step 1. Press Win + R to run box and then type in "regedit", hit OK.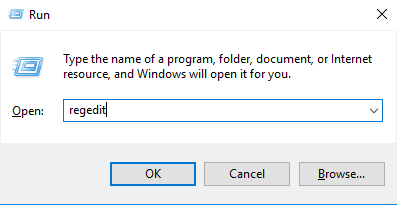 Step 2. Navigation:
Local Computer Policy > Computer Configuration > Administrative Templates > System > Credentials Delegation
Step 3. Double-click the policy "Allow Delegating Default Credentials with NTLM-only server Authentication".
Step 4. Click on "Enabled" and select the "Show..." button.
Step 3. Type "TERMSRV/*" in the "Add servers to the list" box. Click "OK", then "OK" again.
Step 4. Scroll down the list and found the following and then enable them respectively :
Allow Delegating Default Credentials
Allow Delegating Saved Credentials with NTLM-only server Authentication
Allow Delegating Saved Credentials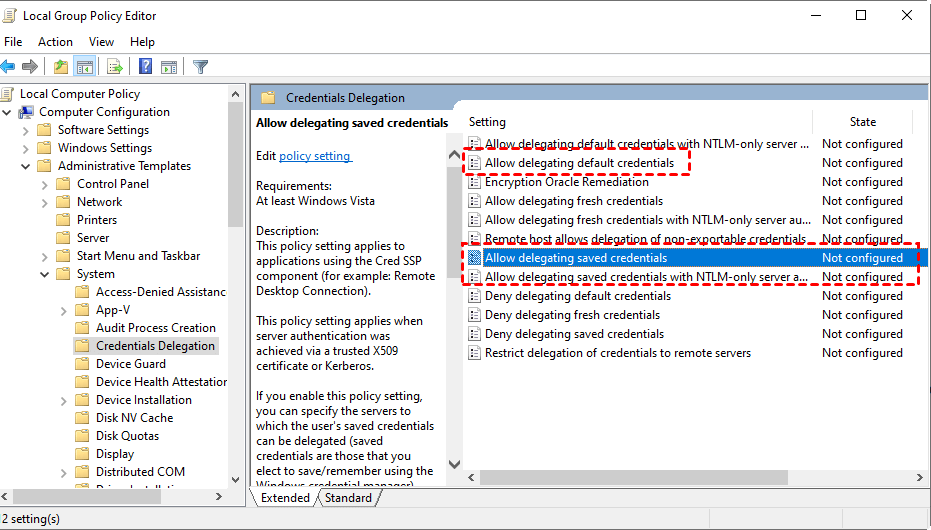 Step 5. Once these policies have been set, the username and password should now save in RDP.
Method 2. Set System in Credential Management
Step 1. Search "Credentials Management" in the search box and then open it.
Step 2. Click on "Windows Credentials" and choose "Add a generic credential"
Step 3. Type the network address, user name, and password, and then click on "OK".
Method 3. Check Group Policy Editor
Step 1. Press Win + R to run box and then type "regedit" and hit "OK'.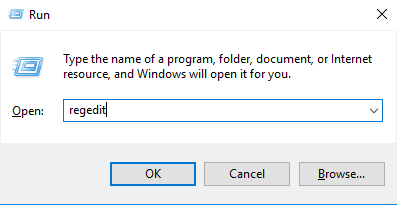 Step 2. Navigation:
Computer Configuration > Administrative Templates > Windows Components > Remote Desktop Services > Remote Desktop Connection Client
Step 3. Check the "Do not allow passwords to be saved" and "Prompt for credentials on the client computer" is Not configured or Disabled.
Free and easy-operated remote access software: AnyViewer
Are those solutions listed above that can help you? If they are, I'm glad that your problem has been fixed and you can connect in an easier way. But if it's not, how about trying free remote access software, like AnyViewer, to help you remotely connect.
Without wasting too much time to input IP address, User name, password, etc., and being confined to the same LAN, AnyViewer makes it possible to connect with easy operation and no limitation. 
Supported by a trustworthy team, AnyViewer is supported for Windows 11/10/8.1/8/7 and Windows Server 2022/2019/2016/2012 R2, enabling you to remote into PCs or Servers at any time, anywhere. Now, let's see how it works.
Step 1. Install and run AnyViewer, the device ID, the temporary code and Settings are listed.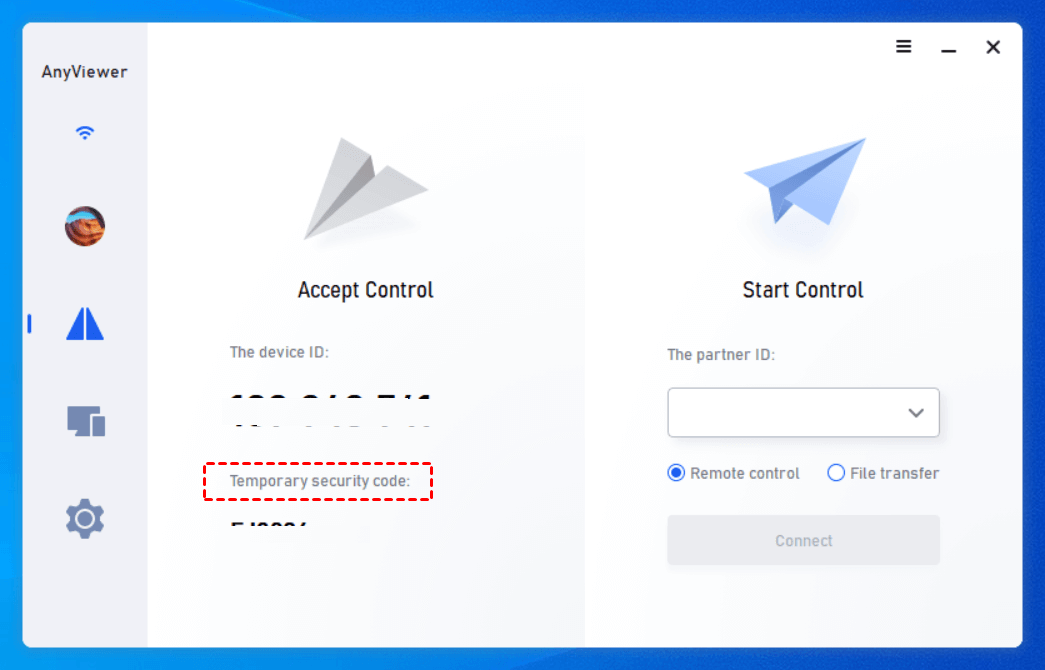 Step 2. On the remote PC, click on Settings > Recipient, and then choose the third option "Set my security code", type the security code you want then.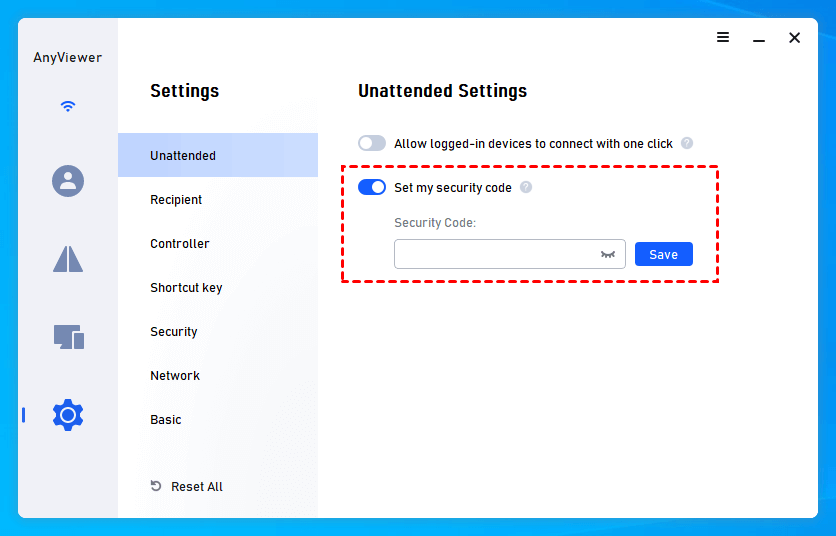 Step 3. Still on the remote PC, locate on Controller on the left, turn on the option "Save the security code" and then return to the main interface.
Step 4. On the local PC, enter the device ID of the remote PC in the partner ID box. And then click on "Connect".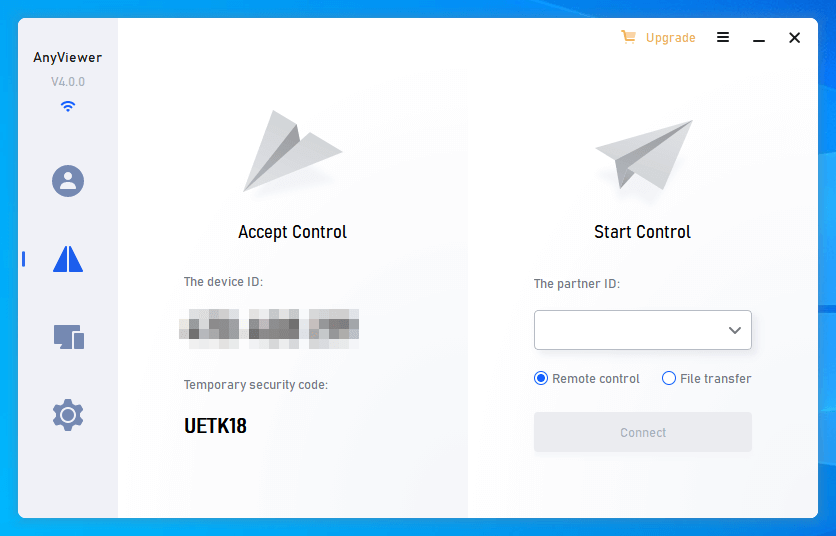 Step 5. On the local PC, there will be two options on the local PC, choose the Second one "Input security code", input the security code click on OK.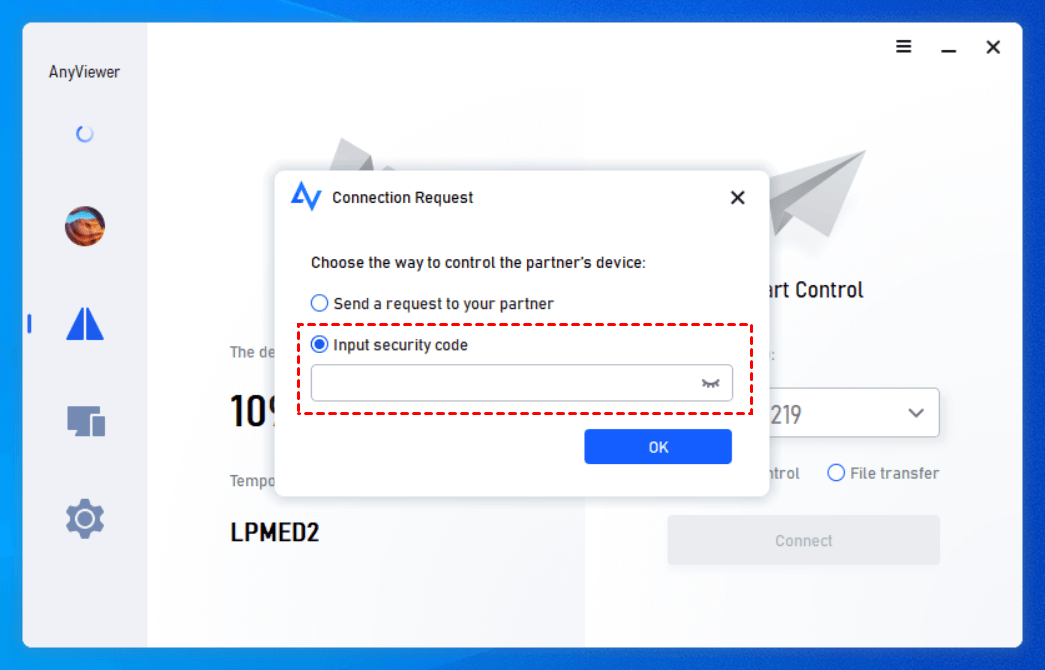 Step 6. The connection is established successfully.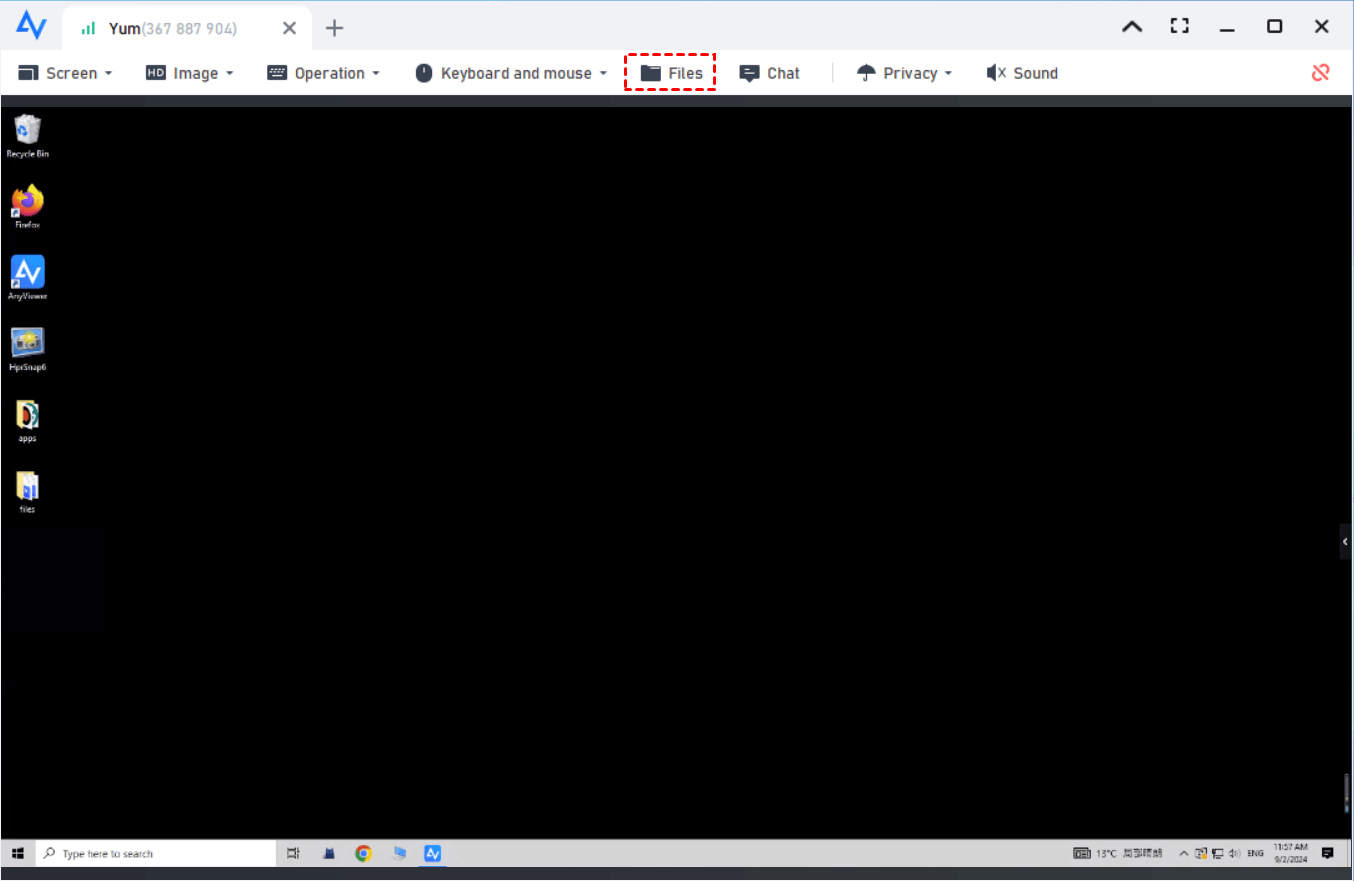 Note: Choosing "Send a control request" is also accessible to complete the remote session.       
Conclusion
To fix "Remote Desktop not saving credentials", there are 4 solutions provided for you. If the solutions do not work for you or seem too time-wasting to take into practice one by one, it's advisable to choose a 3rd party remote access software, like AnyViewer.