Remote Desktop Gateway vs VPN: Which is more secure?
Remote Desktop Gateway vs VPN are two different tools used for remote access. Nowadays, remote access has become a part of our life, and its security has become a high priority. In this post, we will introduce Remote Desktop Gateway and VPN in detail to help you make the best decision.
Part 1. Information about Remote Desktop Gateway
This part provides detailed information about Remote Desktop Gateway.
What is Remote Desktop Gateway?
A Microsoft Remote Desktop Gateway (RDG or RD Gateway) is a Windows Server role that allows specific users to perform a secure and encrypted connection to a remote server via Remote Desktop Protocol (RDP). It improves control security by replacing all remote user access to a system with a point-to-point remote desktop connection.
How secure is Remote Desktop Gateway?
Is RDP Gateway secure? Since RDP is highly risky when exposed directly to the Internet, Microsoft released Remote Desktop Gateway to alleviate some security issues by keeping the RDP endpoint servers behind a firewall and exposing just the RDG server to the Internet to forward the RDP connections. However, applying RDG alone does not eliminate all dangers. Even when well implemented, RDG might be vulnerable to attack due to the following two key factors:
RDG and RDP are easy to set up and use but difficult to safeguard.
RDG is a Microsoft product, making it a popular high-value target for hackers.
You can improve security by putting your RDG server behind a VPN with MFA, enabling MFA directly on RDG, using a least privilege authorization scheme, appropriately segmenting your network, placing all RDP-enabled servers behind a properly configured firewall, and centralizing logging and alerting.
The pros and cons of Remote Desktop Gateway
Here are the pros and cons of RDP Gateway:
✔ Pros:
Relatively inexpensive. Since Microsoft Remote Desktop service is free, you can experience cybersecurity comfort when connecting overRemote Desktop protocols and reliable HTTPS.
Completely location independent. Technically, you can remote desktop into your computer to complete your work wherever you want.
Cost-saving. You can save money on technology costs by using a lower-spec access device than the one that runs the desktop you're accessing. Also, if your desktop or access device is compromised on its own, they won't necessarily infect one another, which can lower the repair cost.
✖ Cons:
Unstable. If you do not have a good RDG connection, you may suffer latency issues that make working extremely difficult.
Risky. RDG is not strictly a security or privacy solution in and of itself. It will not offer you the full level of cybersecurity you require to eliminate data breach concerns.
Complicated setup. It is complicated to set up RDG. You could make mistakes if you are unfamiliar with computers. Also, you need to install a valid SSL certificate to use RDG.
Part 2. Information about VPN
This part provides detailed information about VPN.
What is VPN?
A VPN allows you to connect to another network over the Internet safely. For instance, if you work in a coffee shop and your connection is detected as unsecured, a VPN would secure that connection through its virtual private network.
These networks employ numerous levels of masking and encryption, making it incredibly difficult for hackers, thieves, and even your government to gain access to your data as it transits around the Internet. It is, therefore, a well-liked option for enhancing privacy and cybersecurity.
How secure is VPN?
A VPN provides a secure connection between your device and the Internet. It is an excellent way to secure your Internet traffic and browsing activities, conceal your location, and ensure your privacy when surfing the web. When you access the Internet, this disguises your IP address, making its location invisible to everyone and protecting you from external attacks. Free VPN, however, is less reliable and secure than paid VPN. It may expose you to numerous privacy risks and unethical advertising tactics.
The pros and cons of VPN
Here are the pros and cons of VPN:
✔ Pros:
Safe. Perhaps it is the most private-focused and secure solution for hiding your activity. It employs numerous layers of protection to conceal the destination and origin of your data packets, preventing third parties from tracking you. Furthermore, powerful VPNs often use 256-bit encryption, a level trusted by the world's major financial institutions.
Compatible. A VPN can be used on your smartphone, tablet, Macbook, Windows Computer, and any other device you can think of.
Get around Geo-locked Content. Many prominent entertainment websites have varied content available in different locations. You may enjoy your favorite entertainment no matter where you are by utilizing a VPN to make your connection appear coming from the region where the content is available.
✖ Cons:
Slow Connection Speeds. The VPN requires a certain amount of bandwidth to set up and maintain, which reduces connection speeds.
VPN Blocking Software Exists. Some e-commerce companies deploy VPN blockers, which detect and restrict customers from using VPNs.
Complicated Set Up. Setting up a VPN is more complex than simply connecting to the Internet. Leaks may occur if the VPN is incorrectly configured. These leaks are far more harmful than accessing the web without a VPN because the leak indicates that you are attempting to hide information using a VPN, attracting the attention of others.
Remote Desktop Gateway vs VPN: Which is better for you?
Remote Desktop Gateway vs VPN, which is better for you? Regarding security, a reliable VPN connection is less accessible to threats than a Remote Desktop Gateway. For this reason, VPN is often considered more secure than Remote Desktop Gateway.
However, VPN prices can vary widely based on location, speed, and length of service contract. Configuring a VPN may not be the most affordable option for individuals if you only need to access home computers via Remote Desktop Protocol over the same network. Businesses can apply VPNs to encrypt the connection across the Internet when remote access corporate computers.
Bonus tip: Secure & Fast remote desktop software for Windows
Suppose you are still struggling to make a decision. In that case, we recommend using the professional remote desktop software AnyViewer, which is protected by ECC encryption, allowing secure remote access without configuring Remote Desktop Gateway or VPN.
★AnyViewer offers many advanced features as follows:

Unattended remote access. Remotely manage an unattended computer without authenticating the request on the remote side.
Share screen. Solely view the remote computer's screen without controlling it.
Flexible file transfer. Several different ways to transfer multiple files between devices with fast speed.
Remote lock/reboot/shut down. Remote lock/restart/shut down with only one click.
Multi-sessions. Control multiple computers simultaneously and conveniently switch to each session.
Multi-monitor navigation. Connect a remote computer with multiple monitors.
Chat. Exchange messages in the chat box with your partner in a remote session.
Download, install, and launch AnyViewer on your devices:
Step 1. On the host computer, click Sign up for registration.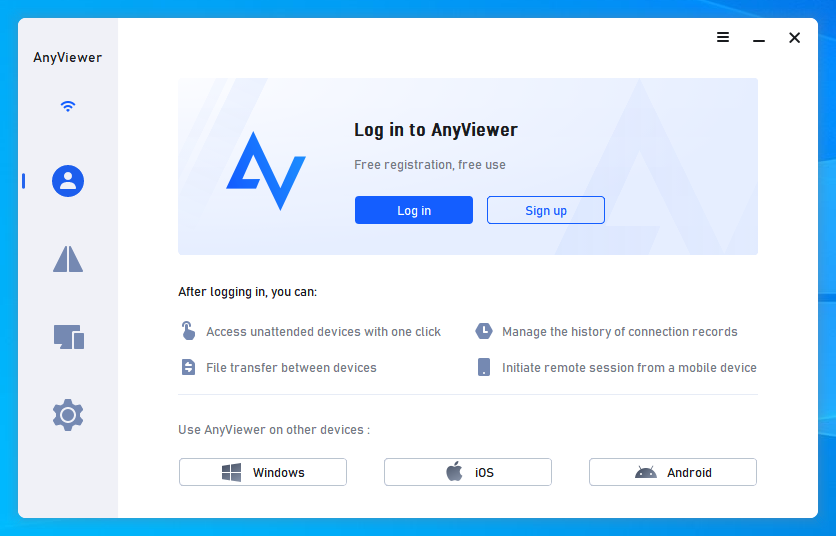 Step 2. Enter the information and click Sign up.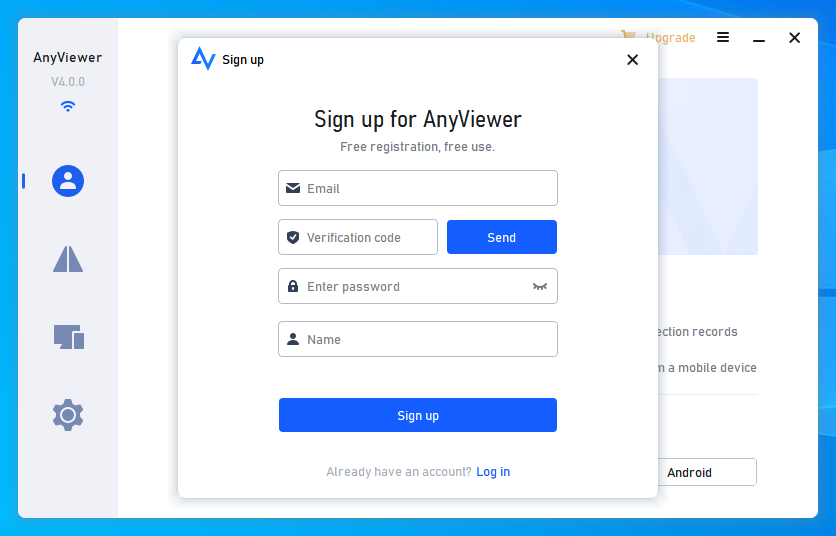 Step 3. Log in to the account you registered before on the client computer, and the device will automatically assign when you log in.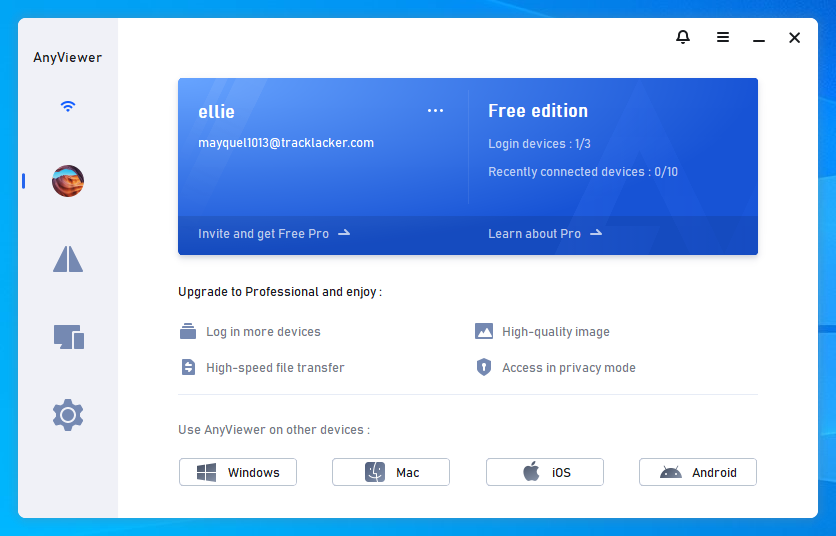 Step 4. Go to Device. Click the computer you want to take control of, and click One-click control to start unattended remote access.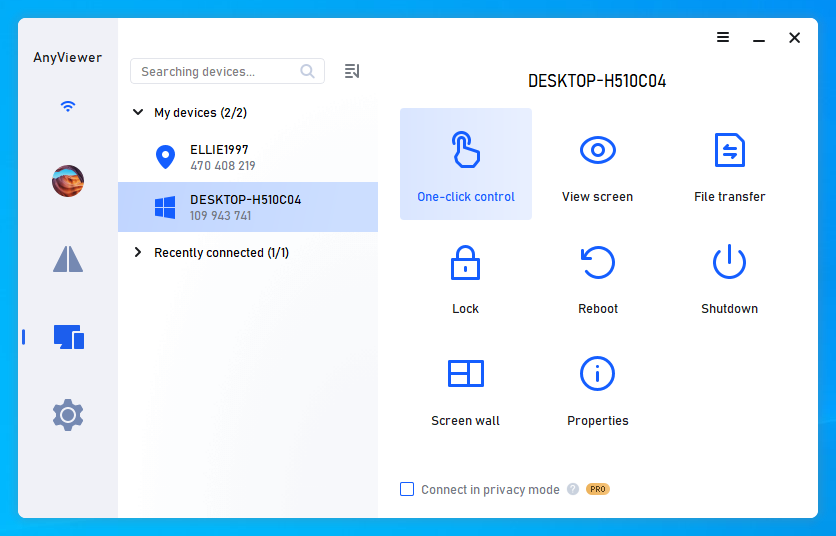 You can then control your computer as if sitting in front of it. In addition, the upper toolbar contains numerous features, such as adjusting the resolution, transferring files, opening Task Manager, and so on.
Notes:✎... AnyViewer offers budget-friendly plans for business use. You can subscribe to the Professional or Enterprise plan to gain more rights!

More concurrent channels for connections.
More simultaneous connections. (the Enterprise plan supports 10 simultaneous sessions)
More assigned devices. (the Enterprise plan can assign 100 computers)
Connection in privacy mode to well-enough protect your data and privacy.
Best performance with high-image quality.
Conclusion
Remote Desktop Gateway vs VPN are good tools for accessing your remote desktop. VPN is a nearly perfect choice for everyone when it comes to general security and privacy requirements, but it costs more. We recommend you use the safe and easy setup remote desktop tool AnyViewer for free.