Why is my keyboard not working while using RDP?
Help! I connected to another PC over LAN using Remote Desktop (RDP). My mouse works well. But why isn't my keyboard not working over RDP? How can I use my keyboard to send commands to the remote PC over Remote Desktop?
-
Keyboarding is an initial part of our daily use with computers, and it is very inconvenient to work with a computer without using the keyboard. It not only helps user type but also allows different types of combinations, for example, CTRL+C and CTRL +V for copy and paste, TAB +ALT for switching task, SHIFT+ALT for changing language. These are common keyboard shortcuts that are very useful in computer use. It's very frustrating to find that the RDP keyboard not working, especially when you need to help others to solve computer issues. 
Six  confirmed ways to fix Remote Desktop keyboard not working 
Generally speaking, RDP keyboard not working can be caused by inappropriate Remote Desktop Connection settings. If only Ctrl C + Ctrl V command doesn't respond, RDP clipboard monitor malfunction can be the cause.  "Ctrl + Alt +Del"not working over RDP is the result of Del command is captured by the local computer and you can use an on-screen keyboard or use "Ctrl + Alt+ End" to replace the combination. Based on different situations, employ different methods. 
Method 1. Change Remote Desktop Connection settings
This way is suitable for the situation where all keys on the keyboard over RDP are not working. 
Step 1. Press Windows key and R to open Run box, and type "mstsc" to open Remote Desktop Connection.
Step 2. Click Show Options and go to Local Resources tab. Under Keyboard, choose "On this computer" in "Apply Windows key combination list".
Method 2. Restart RDP clipboard monitor
This way and the next five ways are for "Ctrl+ C" and  "Ctrl +V" not working. 
Step 1. On the local PC,  press "Ctrl"+"X" and click Task Manager to open it. 
Step 2.  On the Task Manager window,  find and right-click it RDP Clipboard Monitor under Processes tab. Then, choose End task
Step 3. Click File which is on the top of the Task Manager, choose Create new task. Enter "rdpclip.exe" in the new window and click OK. Then the RDP clipboard monitor is successfully restarted.
Method 3. Restart Windows Explorer
Step 1. Open the Task Manager first, go to Processes tab and find Windows Explorer.
Step 2. Right-click it and choose Restart.
Method 4. Change RDP client settings
Step 1. Press Windows key and R to open Run box, and type "mstsc" to open Remote Desktop Connection.
Step 2. Click Show Options and go to Local Resources tab. Make sure Clipboard is checked. Click More…, make sure Drives checkbox is also checked.
Step 3. Click OK and see if the problem is solved.
Method 5. Enable clipboard redirection and drive redirection via Local Group Policy Editor
Step 1. Press Windows key and R to open Run Box, and type "gpedit.msc" in the entry bar to open Local Group Policy Editor
Step 2. Go to Computer Configuration > Administrative Templates > Windows Components > Remote Desktop Services > Remote Desktop Session Host > Device and Resource Redirection. Find "Do not allow Clipboard redirection" and "Do not allow drive redirection" in Device and Resource Redirection window.
Step 3. Double-click those two items respectively, and check Enabled and click Apply.
Method 6. Change file value via Registry Editor
Step 1. Hold Windows key and press R to open Run box, and type"regedit" to open Registry Editor.
Step 2. Follow this path:
Computer>HKEY_LOCAL_MACHINE>SYSTEM>CurrentControlSet>Control>Terminal Server>WinStations>RDP-Tcp and double-click fDisbleClip.
Step 3. In Edit DWORD(32-bit) Value window, set the Value data to 0 and click OK.
Get a free alternative to Remote Desktop Connection
If those six methods can't fix Keyboard not working over RDP, or you get tired of those expatiatory steps, why don't you choose another free remote desktop software, AnyViewer? The free but stable software, helps you control a computer anywhere and anytime. It gets high praise from users for its stable connection and easy-to-use operating system. After connected to another computer via it, you can easily run operations like opening Task Manager, running CMD, restarting the remote computer, and so on. 
Please feel free to download it.
Let's see how to use it:
Step 1. Install and run AnyViewer on the two computers you want to connect. In the main interface, you can see the temporary code and device ID of the computer.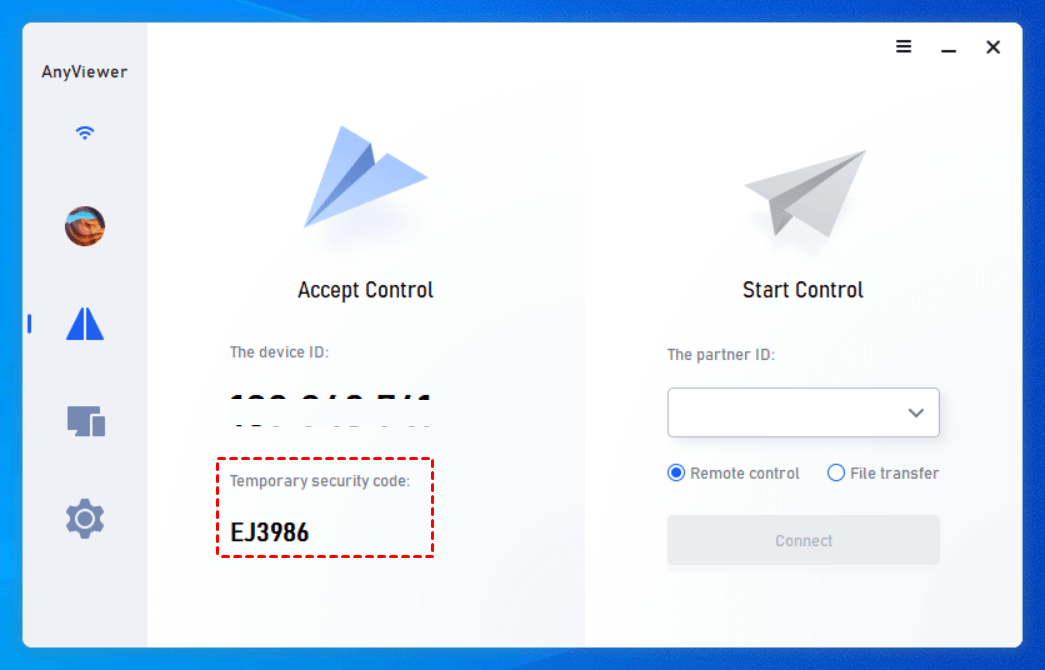 Step 2. On the host computer which is the computer you want to control, go to Settings>Recipient to enable "Set my security code" and set your security code. 
Note:  The two options "Allow to accept remote control" and "Allow temporary security code" are enabled by default. 
Step 3. On the client computer (the computer that controls another computer), type the device ID of the host computer and click "Connect".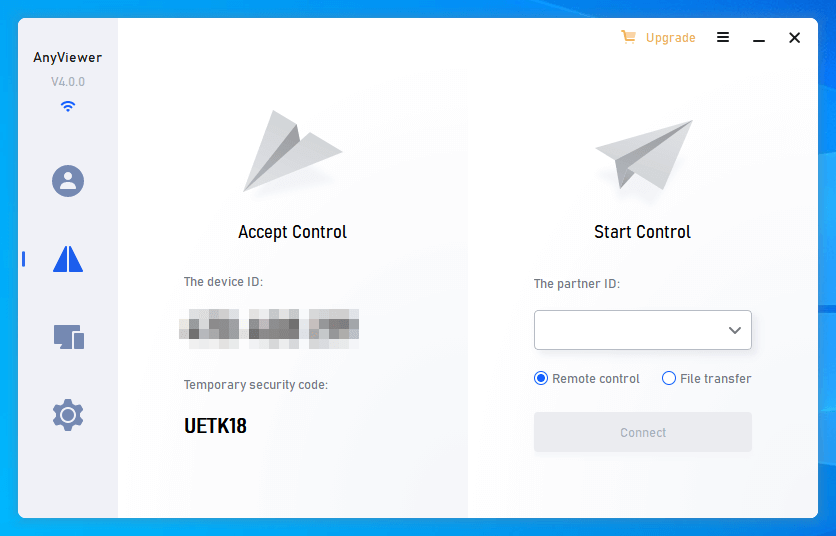 Step 4. Then, you can see a window where two options to connect are available. To remote into an unattended computer, choose the second option, and type the security code. Then, click "OK".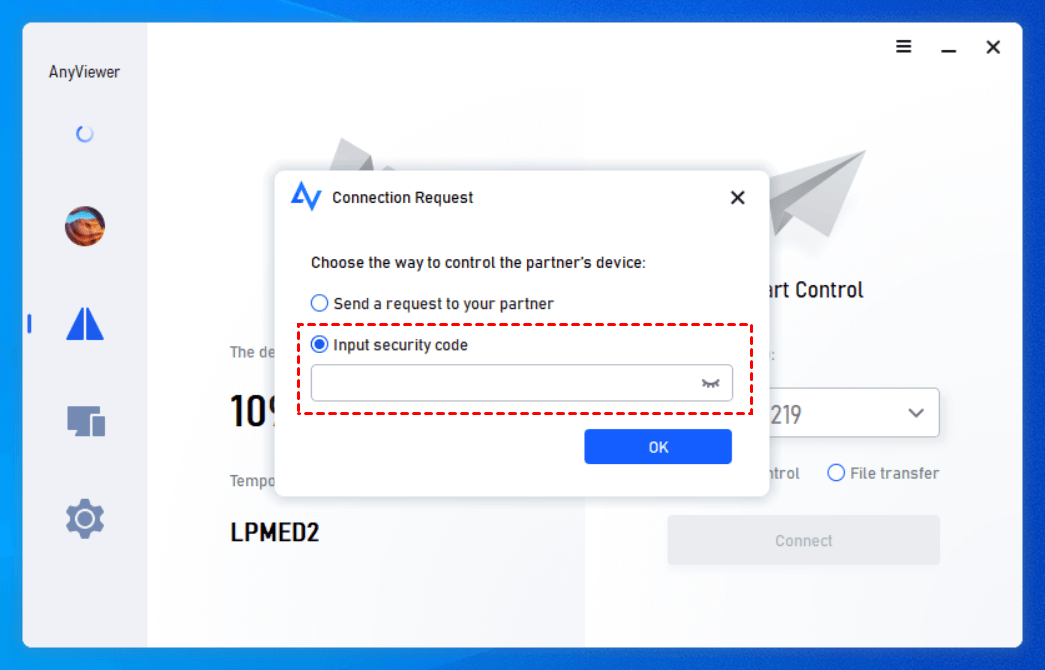 To offer remote support for your friend, you can choose the first option and ask your friend to allow request.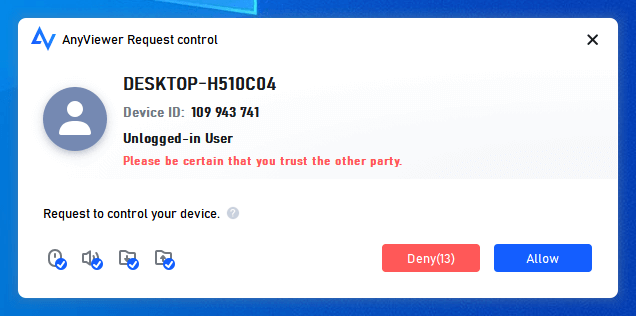 Conclusion 
This post tells you why RDP keyboard not working and six methods to solve this issue. If the five methods are not working, you can use a third-party remote access application-AnyViewer to establish a remote connection.