pcAnywhere: unable to attach to specified device
I'm trying to connect to a PC in the network using pcAnywhere v12.5 quick connect, and I'm getting the error 'unable to attach to specified device'. Please note that I can remotely access that PC successfully since it is in the same company network. Please tell me how to troubleshoot this error."
- Question from Reddit
How to solve pcAnywhere unable to attach to specified device
Before learning how to solve pcAnywhere unable to attach to specified device on Windows and macOS, you need to know that Symantec pcAnywhere was stopped permanently in May 2014, and no replacement product was introduced, which means you're not able to use pcAnywhere now. So there's no point in solving this problem as pcAnywhere is no longer available. The simplest option for you is to use a pcAnywhere alternative.
The simplest option: Use a pcAnywhere alternative
The best pcAnywhere alternative is AnyViewer. It is a free remote desktop application for Windows, iOS, and Android. If you need to remotely access a Windows computer from a Windows, an iPhone/iPad, or an Android, AnyViewer is your best choice.
✔ ✍Quick remote access. It uses an optimized connection algorithm and automatically connects to the best server to provide a faster and smoother remote control experience.
✔ ✍Unique tools and features. It includes tools for expediting work, such as file transfer, remote reboot, real-time chat, clipboard sync, etc.
✔ ✍Several remote sessions. It enables you to access multiple devices at the same time, which improves work efficiency.
✔ ✍User administration. You can add users to your account, assign their devices, and access their computers without permission.
✔ ✍High-level security. Elliptic Curve Cryptography (ECC) encryption and other industry-standard security features protect all remote sessions. Every connection, file transfer, and management event is safeguarded.
Step 1. On both computers, download, install, and launch AnyViewer. Go to Log in on the Controller computer, and then click Sign up (if you have already signed up on its official website, you can log in directly).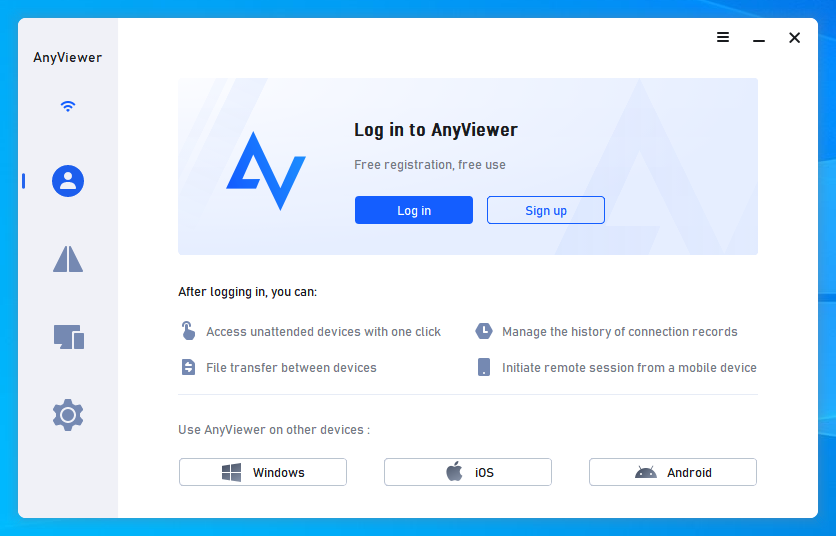 Step 2. Fill out the signup form.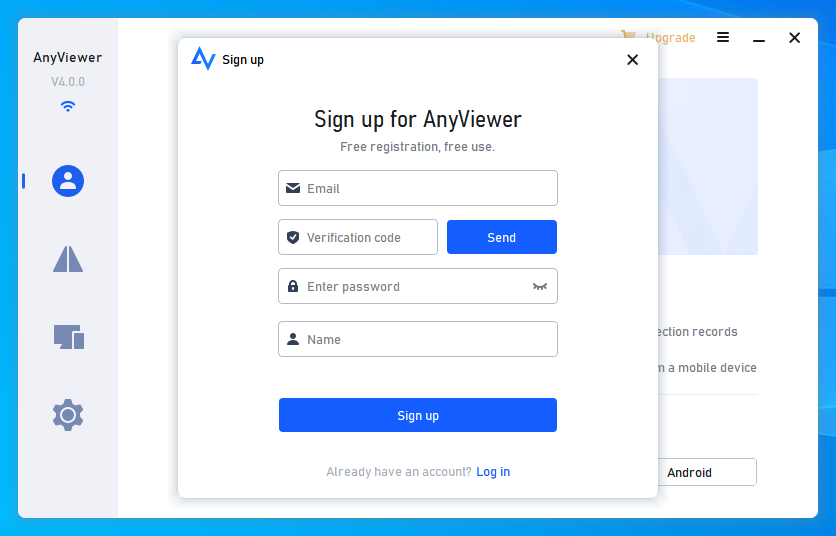 Step 3. You should now see that you have successfully logged into AnyViewer. Your device will be assigned to the account to which you have logged in automatically.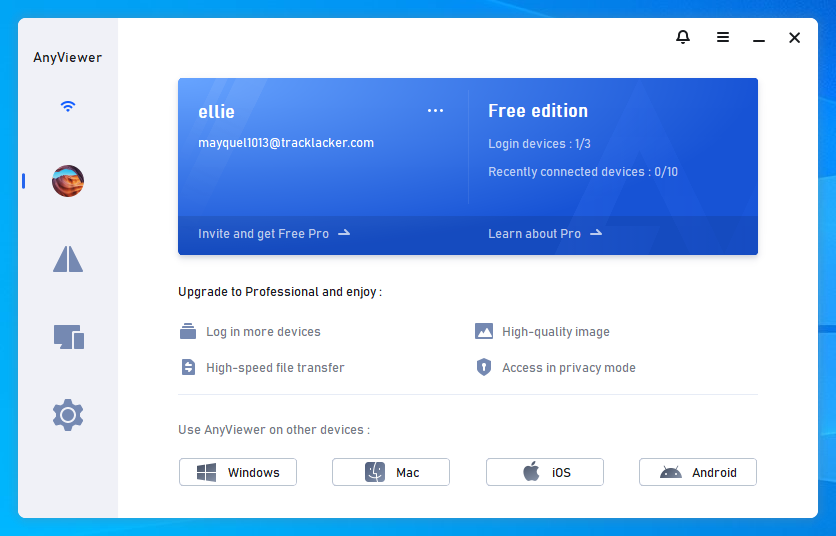 Step 4. Sign in with the same AnyViewer account on both computers, then click the One-click control for unattended remote access.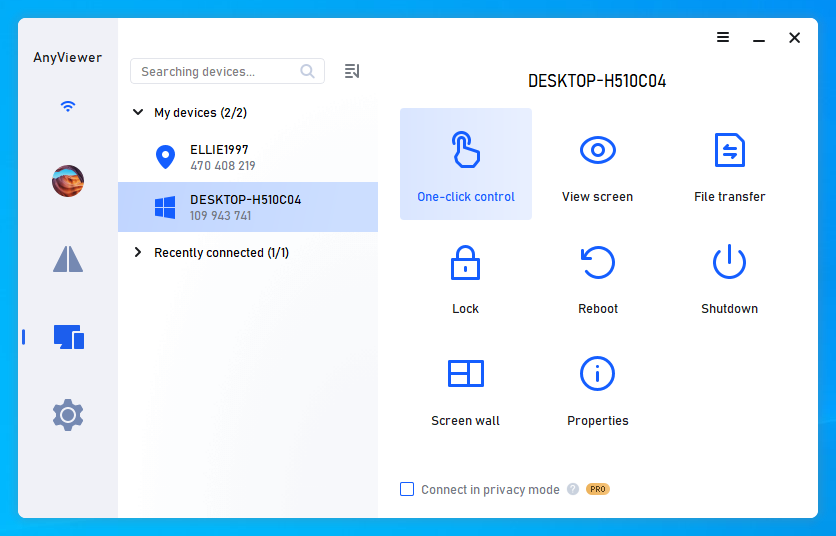 Notes:✎...

It is recommended to upgrade your account to a Professional or Enterprise plan. What can a professional or enterprise plan brings to you:

More devices will be allowed to assign to the same account for unattended access.
More connection channels for more devices to be able to start remote connection at the same time.
One device can connect to more devices simultaneously.
Black the remote PC screen and disable the remote keyboard & mouse click to protect privacy.
Transfer 1TB files at 10 MB/s.
Other cross-platform alternatives
Of course, AnyViewer is not the only cross-platform remote desktop software. It is favored for its performance and impressive features. Still, it has some limitations. For example, Linux and macOS are not supported at present. Therefore, you can choose other cross-platform alternatives if you are not a Windows user.
You can use the free Chrome Remote Desktop if you need to connect from a ChromeOS device. If you connect from a Linux computer, you can use tools like RealVNC and TeamViewer. However, you should note that everything is flawed. For example, Chrome Remote Desktop doesn't support multiple sessions, and TeamViewer is only free for personal use. So you need to choose the suitable tool according to your needs.
The bottom line
This post primarily answers how to solve pcAnywhere unable to attach to specified device. The simplest option is to use the best pcAnywhere alternative AnyViewer. AnyViewer provides more useful features to serve remote access and remote support. With it, you can quickly get started. Try it right now.