How's pcAnywhere now?
Symantec's pcAnywhere is a defunct suite of computer programs that allows a user of a computer running the pcAnywhere remote program to connect to another computer running the host if both computers are connected to interconnected networks and the password is known. Symantec pcAnywhere was discontinued in May 2014, and the FAQ states, "At this time, Symantec has no plans to introduce a replacement remote control product."
Can I still use pcAnywhere file transfer?
So is pcAnywhere still available? Can you still use pcAnywhere file transfer? Unfortunately, the answer is NO. Users used to be able to move any file from one machine to another. You can copy one or multiple files in either direction, either from the host PC to the remote PC or from the Remote PC to the Host PC. But now, as pcAnywhere is now discontinued, you cannot perform pcAnywhere file transfer on Mac OS X, Windows, Linux, or any other platforms.
How to transfer files between computers: Get a pcAnywhere alternative
If you want to transfer files between computers, you are advised to use a pcAnywhere alternative. AnyViewer is a free remote desktop software with a file transfer feature. Here are the advantages of AnyViewer file transfer:
Fast file transfer speed. AnyViewer's max file transfer speed is 10 MB/s. And it has five threads of the file transfer.
Large file transfer. AnyViewer allows the max size of a single file to be 1 TB, and the max number of files at one time is unlimited.
Flexible file transfer ways. AnyViewer transfers files by moving files through a file manager or dragging and dropping.
Secure file transfer. AnyViewer is based on Elliptic Curve Cryptography (ECC) encryption and fulfills the latest security standards, protecting your files safely.
Note: Some of the above benefits are for users of professional and enterprise plans only.
Next, you'll learn how to transfer files via AnyViewer in different ways. Before that, you'll need to set up AnyViewer on both computers. Follow the steps below.
Step 1. Download, install, and run AnyViewer on your devices.
Step 2. Create an AnyViewer account and sign into it on both devices.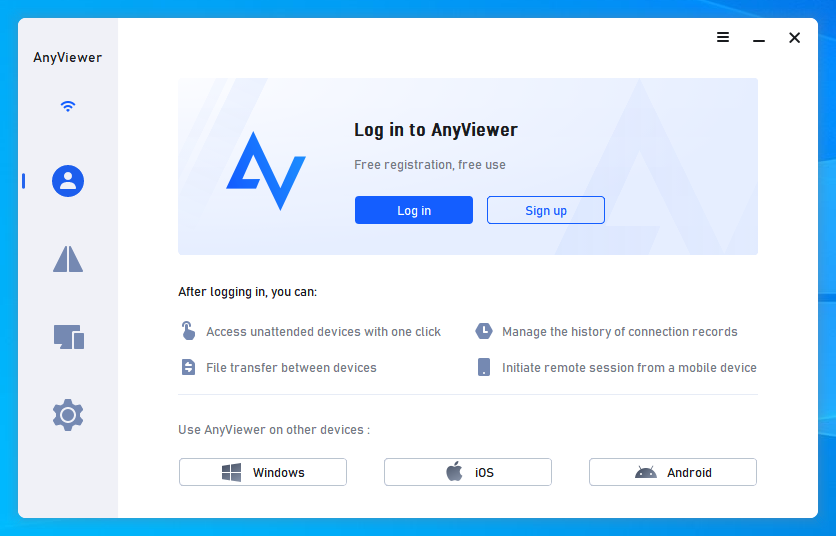 Step 3. On your local device, go to Device, and you'll see the devices here.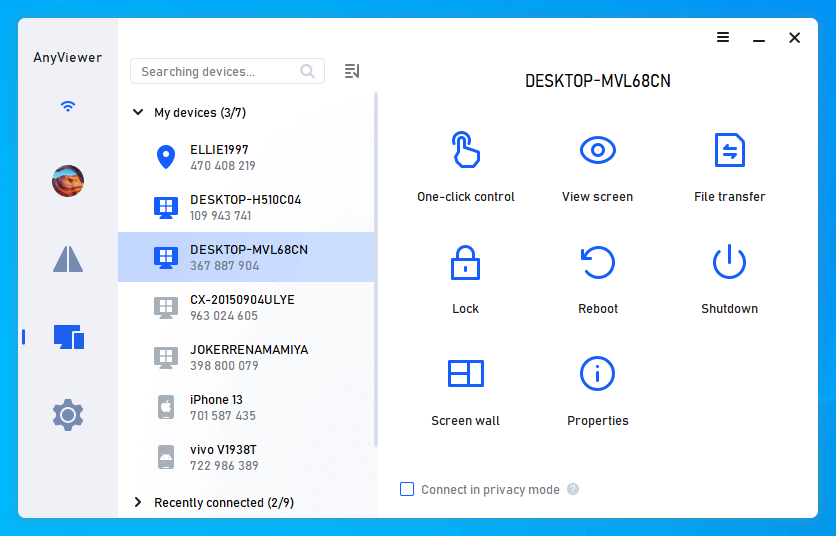 Method 1. Transfer files directly
To transfer files directly, select your destination computer and click File Transfer to open the file manager.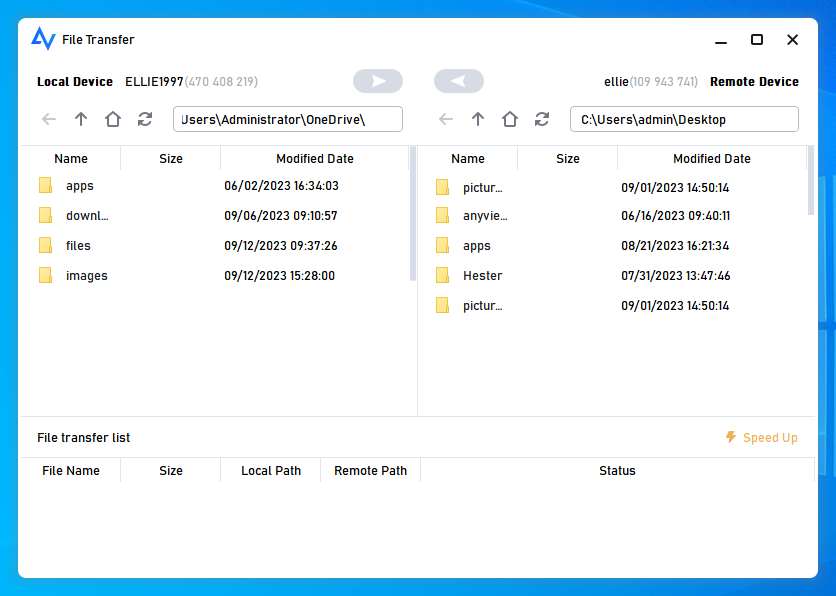 The file path of the local computer is shown on the left pane, and the file path of the remote computer is shown on the right. You can freely transfer files between devices by clicking the arrows after selecting the target files.
Method 2. Transfer files during a remote session
During a remote session, AnyViewer also allows you to transfer files. Select the One-click control to gain unattended remote access to the remote computer. Then, click the Files button in the menu bar whenever you need to transfer files.

You can also drag and drop files during a session to transfer them.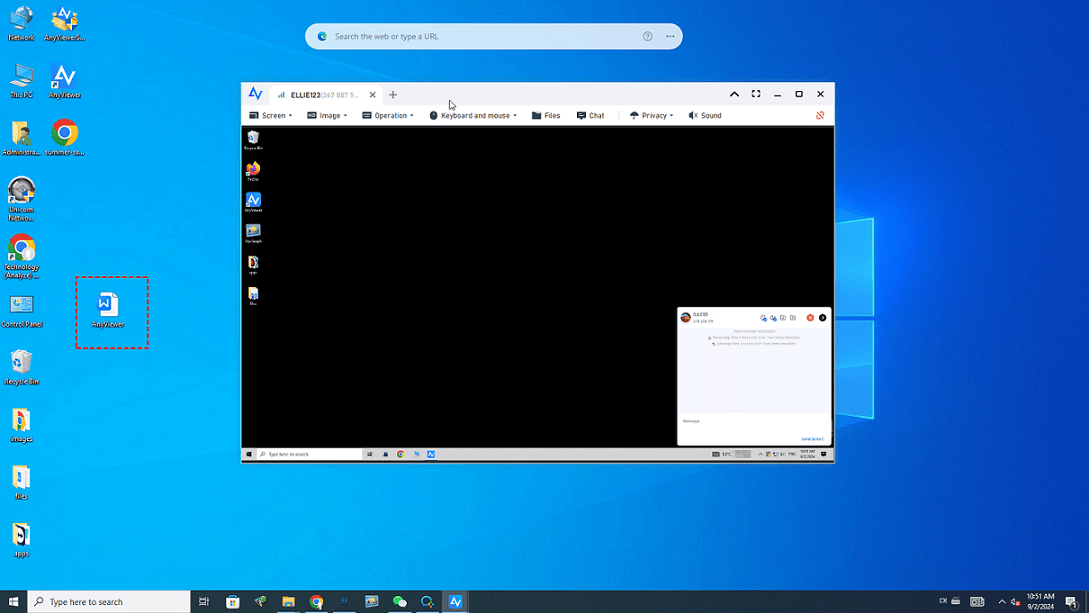 Bonus tip: AnyViewer is more than a file transfer tool
AnyViewer is not just a file transfer tool but a professional remote desktop tool. File transfer is just one of its valuable features. So what else does AnyViewer provide as one of the market's most popular remote desktop software? Let's take a quick look.
Mobile support. AnyViewer Mobile is compatible with both iOS and Android devices.
Multi-session. AnyViewer allows users to have two remote sessions open at the same time.
Multi-monitor. AnyViewer supports multiple monitors as well as monitor switching.
Clipboard sync. AnyViewer allows users to copy and paste text between devices using the shared clipboard.
Instant chat. AnyViewer allows users to chat via text during remote sessions.
Remote management. AnyViewer allows users to control an unattended computer remotely, such as locking, restarting, or shutting it down.
The bottom line
Is pcAnywhere file transfer still available? The answer is NO. As pcAnywhere is discontinued, pcAnywhere file transfer is not available now. But don't worry. We provide you with the best pcAnywhere alternative, AnyViewer. With it, you can transfer files between computers without limitations.