Does LogMeIn allow file transfer?
Does LogMeIn allow file transfer? Absolutely YES! LogMeIn Inc. offers lots of remote access and support solutions, including LogMeIn Pro, LogMeIn Rescue, LogMeIn Central, etc. Here we'll focus on LogMeIn Pro.
LogMeIn Pro is a remote access and control software that allows users to securely connect to and manage their computers from anywhere, facilitating remote work and remote troubleshooting. It offers a range of features, such as file transfer, remote printing, and multi-monitor support, allowing seamless access to important files and applications.
How to use LogMeIn file transfer
There are two ways to use LogMeIn file transfer. The first is using File Manager, and the second is using File Sharing.
What are the differences between File Manager & File Sharing?
File Manager allows you to move files and folders easily from your remote desktop to your local computer, while File Sharing lets people download files right from your desktop with simple-to-share links.
When should you use File Manager?
In situations where there is a need for immediate and rapid file transfer during a remote session.
When you specifically aim to transfer files to a designated individual, ensure targeted delivery.
When should you use File Sharing?
In situations where the file you intend to share exceeds the email attachment size limitations.
When you desire to have control over the number of individuals who can access and download your file.
For instance, when you wish to make a file accessible for a specific duration, after which access is restricted.
When you want the ability to track and monitor whether the shared file has been successfully downloaded.
In cases where you want the flexibility to revoke or withdraw the file-sharing privileges.
How to transfer files between computers using File Manager
Moving files between computers is a seamless process involving simple selection and drag-and-drop action. Alternatively, you can utilize the suitable functionalities provided on the toolbar of the File Manager to accomplish the task efficiently. Let's see how to transfer files with LogMeIn using File Manager.
Note: Drag-and-drop does not function when either the host or client computer is a Mac. Use the toolbar buttons instead.
Step 1. To gain access to the File Manager, you can initiate the process by clicking on the File Manager icon located either on the Computers page or within the Pro left menu. This option becomes available once you establish a connection with the host.
Step 2. Then the File Manager will appear, and you can use LogMeIn transfer files between computers.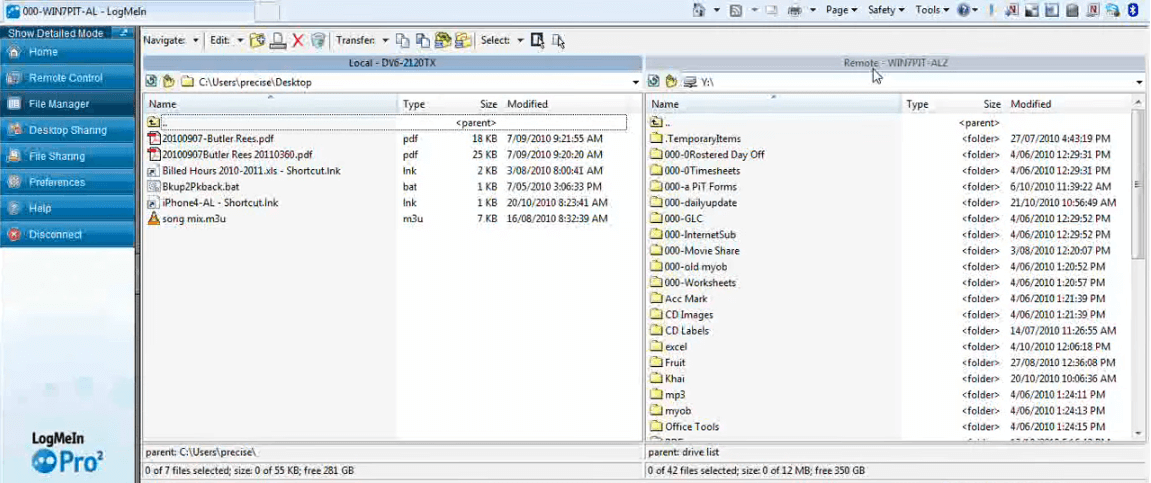 How to transfer files between computers using File Sharing
You can also share files without sending email attachments or relying on portable drives. You can conveniently ensure secure file download by effortlessly sending an auto-generated link, allowing the recipient to access and retrieve the file directly from your computer.
Note: Others can only download shared files from your computer when it is powered on and online.
Step 1. Open the folder containing the large file and right-click on it. From the context menu, navigate to Send To > LogMeIn - Sharing.
Step 2. Upon selecting LogMeIn - Sharing, you will be prompted to enter a description for the file (which defaults to the file name) and specify limitations on the number of downloads and the duration of the sharing period. The significance of these options will become clear shortly.
Step 3. After clicking OK, a window will appear displaying a lengthy URL. To store it in your clipboard, click on the Copy button.
Step 4. Open an email message and proceed to compose your message. To include the URL, click on the Paste button, which will insert the link into the message.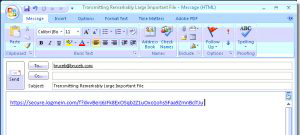 Step 5. When the recipient receives the email, they can simply click on the "Download Your File" button, which will prompt a standard Save/Cancel dialog. From there, they can save the file onto their own computer securely.
AnyViewer: Best LogMeIn file transfer alternative
LogMeIn file transfer is not free, it only provides users a 14-day free trial. If you would like a permanently free way to transfer files between computers, it is recommended to use AnyViewer, the best free LogMeIn alternative for file transfer.
AnyViewer is a free remote desktop software with file transfer features. You can transfer files using File Manage and drag-and-drop. You can also transfer files either outside of a remote session or during a remote session.
Before transferring files via AnyViewer, it is essential to set up AnyViewer on both computers. Please follow the steps outlined below:
Step 1. Download, install, and launch AnyViewer on your devices.
Step 2. Create an AnyViewer account and sign in to it on both devices.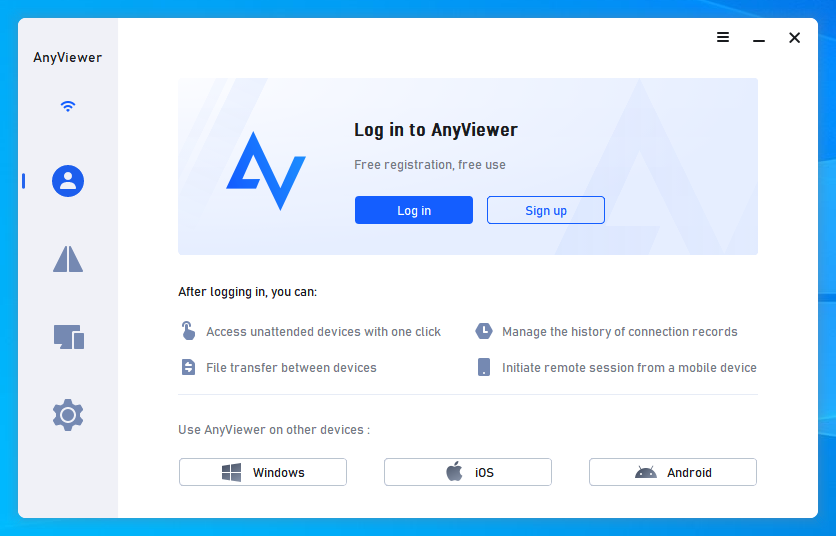 Step 3. On your local device, navigate to the "Device" section to find the list of available devices.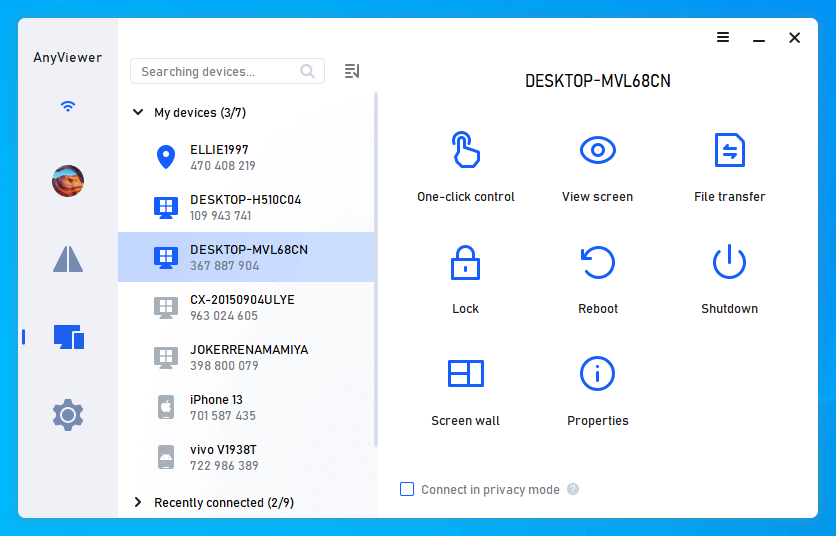 Way 1. Transfer files outside of the session
Step 1. Select the destination computer from the list to transfer files directly and click "File Transfer". This will open the file manager.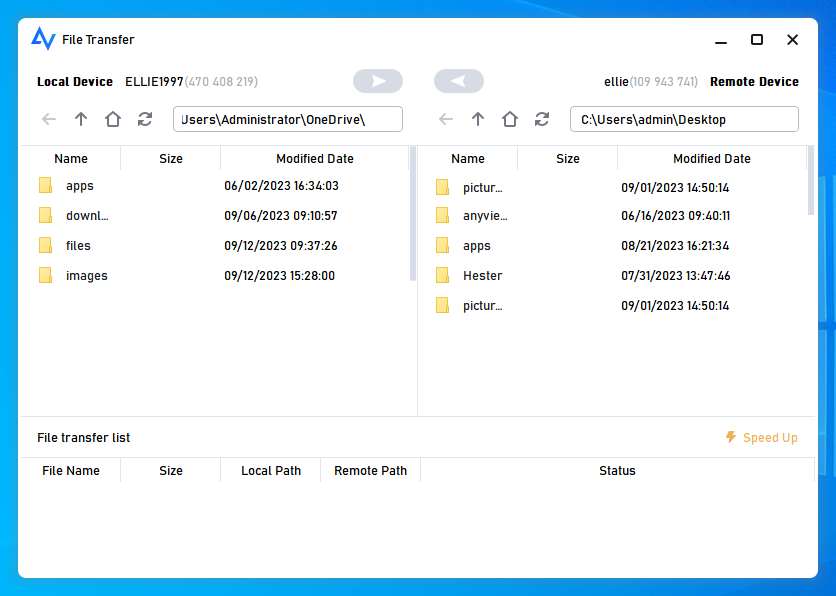 Step 2. The left pane of the file manager displays the file path of your local computer, while the right pane shows the file path of the remote computer. You can transfer files between devices by selecting the target files and clicking the arrow buttons.
Way 2. Transfer files during a remote session
Step 1. During a remote session, AnyViewer allows you to transfer files as well. To gain unattended remote access to the remote computer, select "One-click control".
Step 2. Click the "Files" button to transfer files in the menu bar.

Alternatively, you can perform file transfers by dragging and dropping files during the session.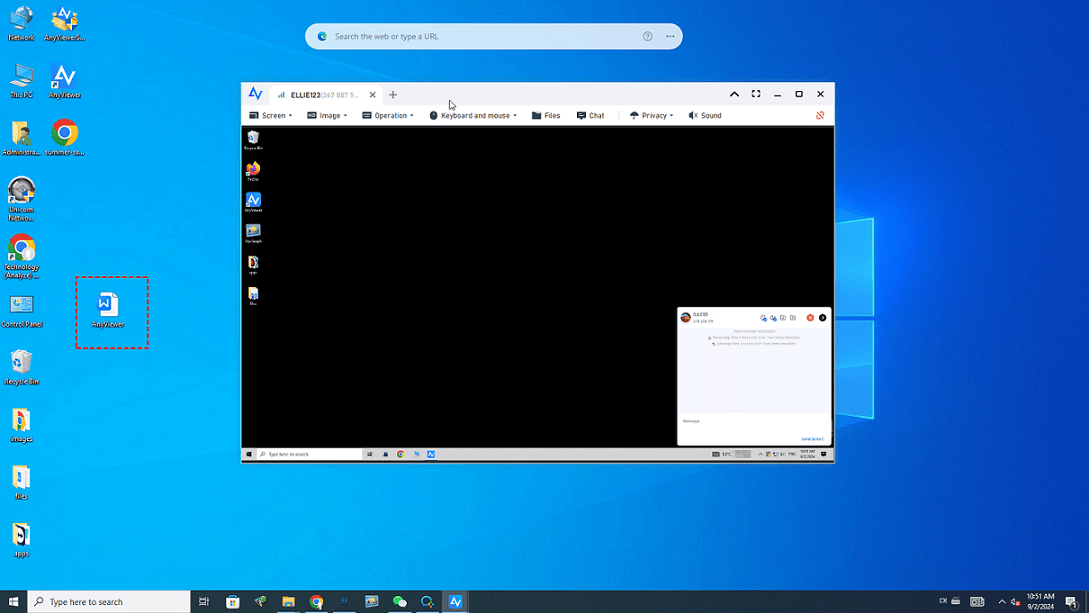 Notes:✎...

To transfer files freely, it is highly recommended to upgrade your account to a professional or enterprise plan. Here are what a professional or enterprise plan can bring to you:

Faster file transfer speed. Transfer speed for a free account is 500 KB/s, and for a paid account is up to 10 MB/s.
Increasing numbers of files are being transferred at once. For a free account, 100 files can be transferred at a time; for a paid account, this number is unlimited.
Larger size of a single file that can be transferred. The maximum size of a single file that can be transferred for the free account is 100 MB, and for a paid account is 1 TB.
The bottom line
In conclusion, LogMeIn file transfer offers a convenient solution for transferring files remotely. However, for an even better alternative, AnyViewer is highly recommended. AnyViewer offers free file transfer services. Besides, its flexible file transfer methods make it even more convenient to use.