How can I share files between two computers remotely?
Hi, I have a PC and a laptop; they are far from each other; how can I transfer and access files efficiently between them? Can anybody tell me how to share files remotely? Thanks"
- Question from a user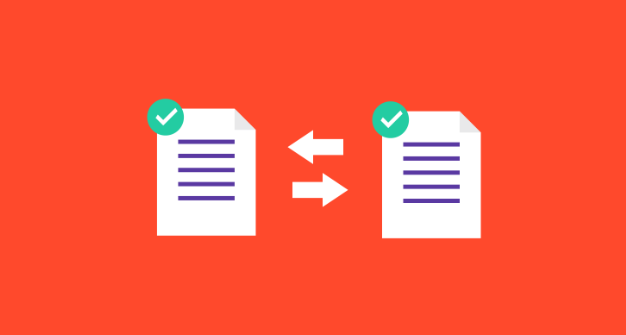 How to share files remotely over the Internet [4 ways]
If you're part of the growing mobile workforce, having remote access to your work computer or other resources from anywhere means you never have to worry about forgetting something important. You can do business from anywhere as long as you have an internet connection.
There are several ways to share and access your files remotely from wherever you are, the method you choose depends on how you plan to access the files when you are away from your desk.
Way 1. Transfer files using remote desktop tool
We recommend the professional remote desktop software AnyViewer as the ideal solution for accessing files remotely from anywhere.
AnyViewer supports flexible file transfer methods. You can evoke the file transfer window with only one click, and move files back and forth between two PCs. You can also set up unattended remote access to both manage your computer remotely and perform the remote file transfer.
Download, install AnyViewer on your computers, and keep reading to see how to share files remotely.
Step 1. On the host computer, go to Log in, and click Sign up.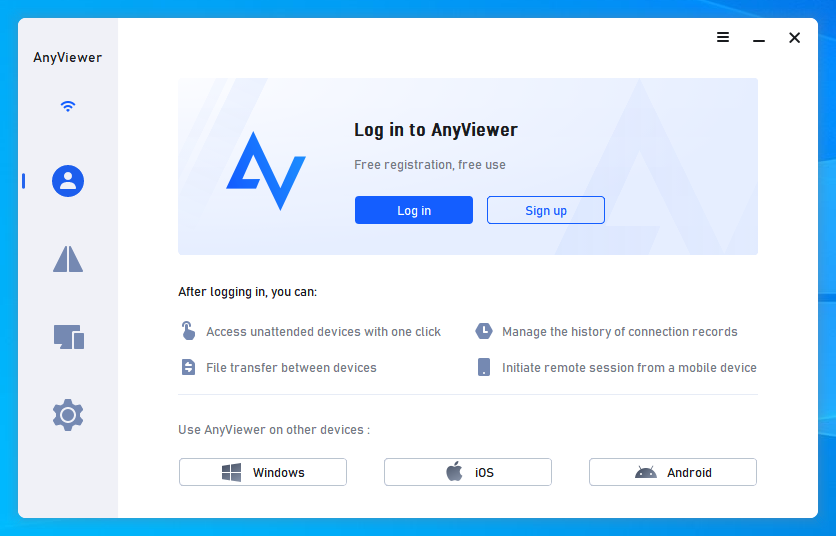 Step 2. Fill the information and click Sign up.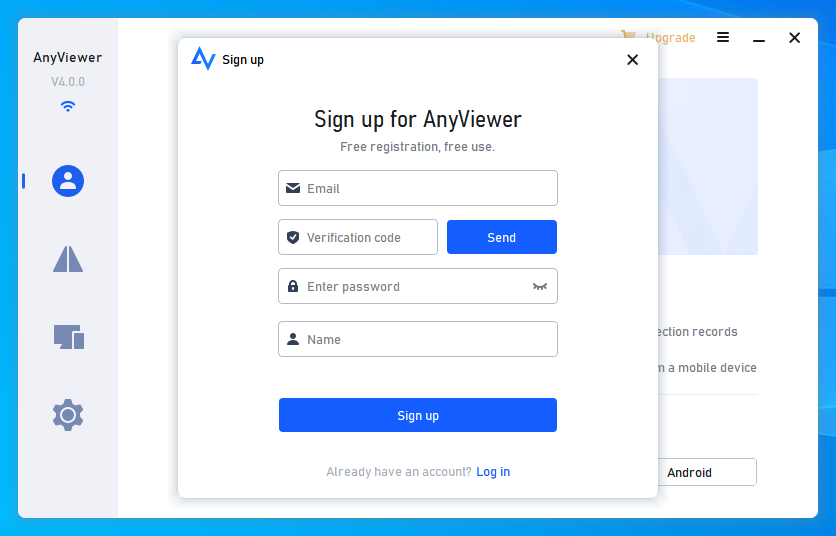 Step 3. On the client computer, log in to the same account, and it will be automatically assigned to the account.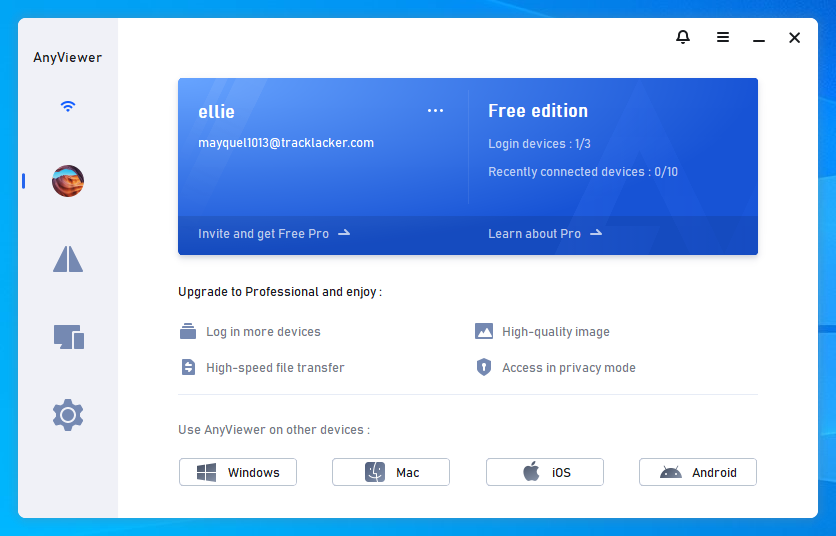 Step 4. Go to Device, select the computer you want to share files with, and click File transfer.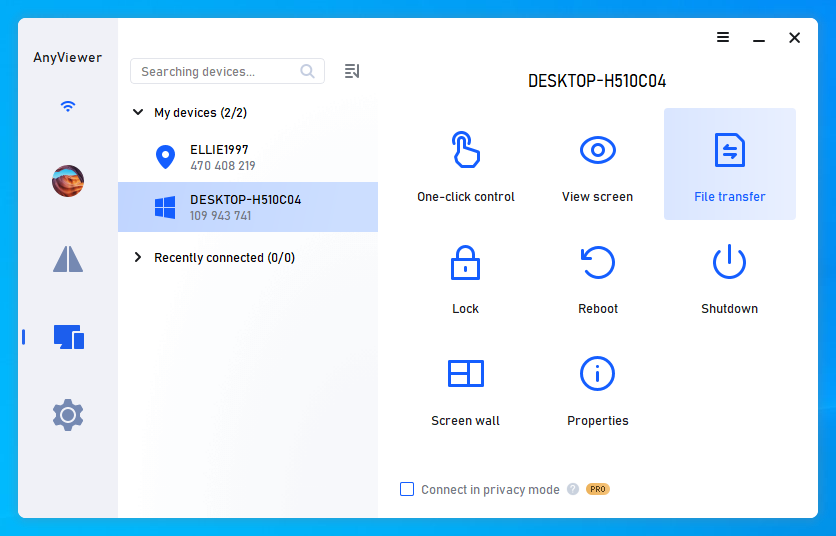 Step 5. A File Transfer window will appear then. The host PC is displayed on the left, while the client PC is on the right. To send the selected files to the client PC, click the right arrow, and vise versa.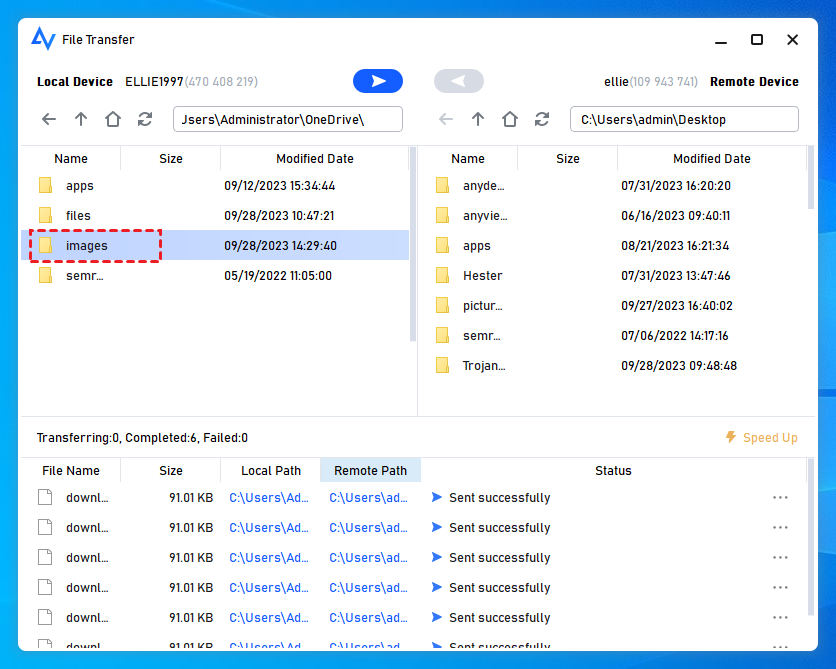 The related status is at the bottom of the box. You can right-click it to manage transfer process.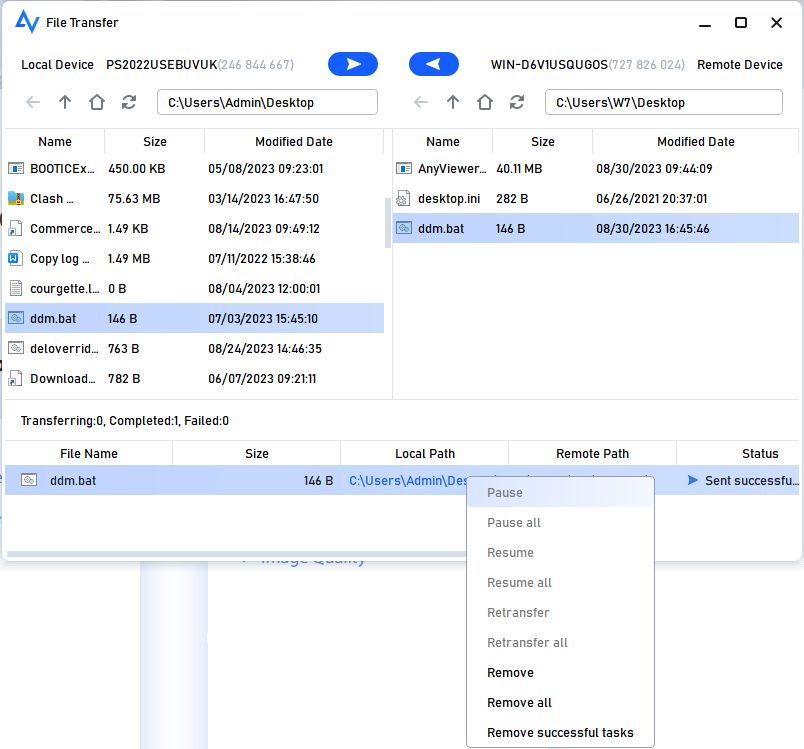 As we said , you can also transfer files in a remote session. If you want to both manage your remote PC and access files, back to Device interface and click One-click control. To transfer files, drag and drop the file or click Files from the toolbar.

Way 2. Upload/download files via cloud storage service
You can also turn to could storage service to remotely access files from anywhere, which can backup and sync your files to keep them accessible wherever you go. There are a lot of could drive apps you can choose from, here we will take Google Drive as an example.
Step 1. Go to Google Drive website and log into your Google account. In My Drive interface, click the upper My Drive icon and click Upload files or Upload folder.

Step 2. In the pop-up window, select the files or folder you want to upload, and click Open.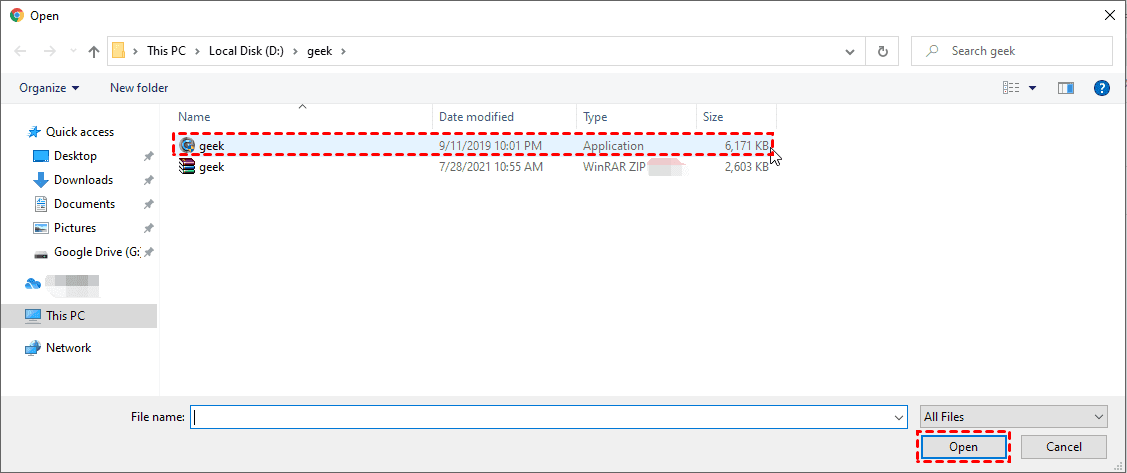 Step 3. When the upload process is completed, you can find the file in the main interface.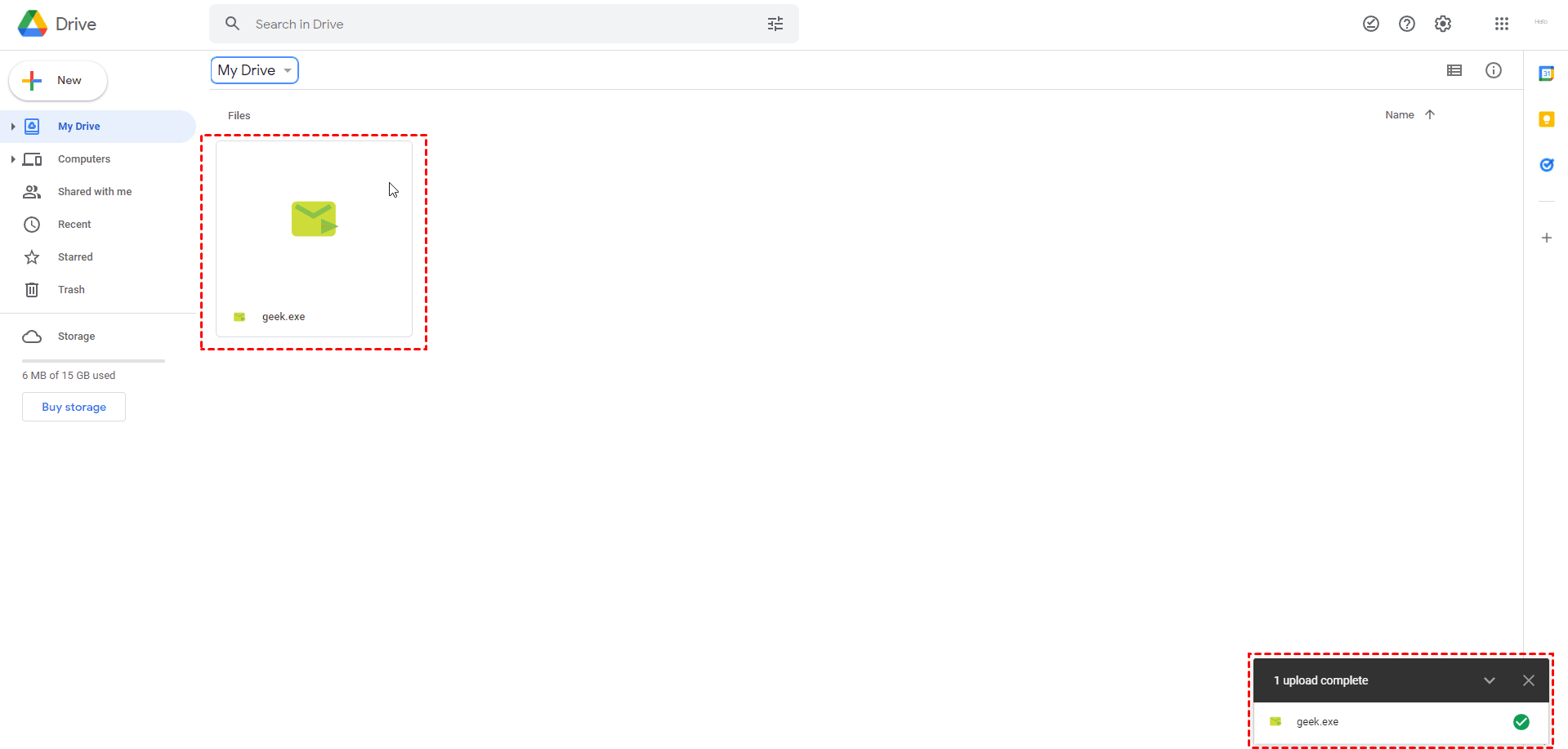 Step 4. Whenever you want to access files using another computer, log in to your Google Drive, locate and right-click the file, then click Download.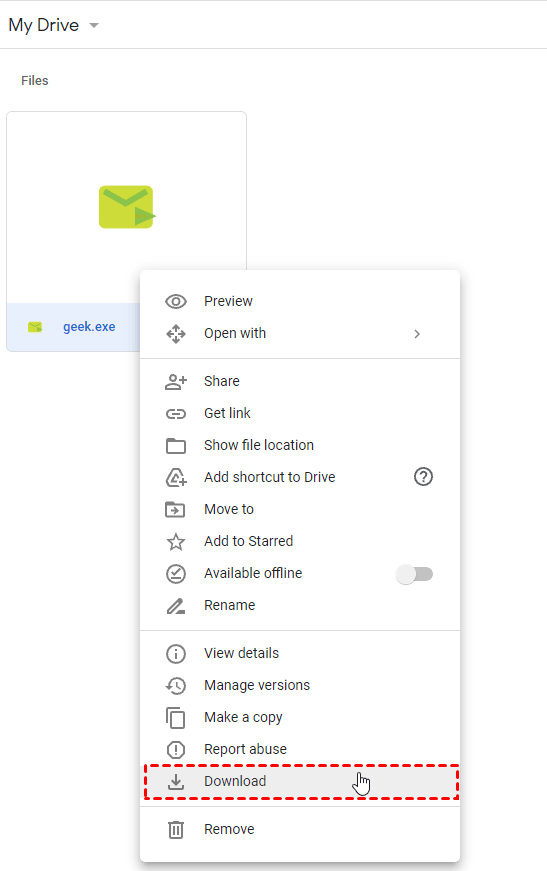 Way 3. Access files from dedicated NAS devices
Use a Network Attached Storage (NAS) device can also help you access shared files over the Internet. It is a mini remote file server that connects to a home network. They work great for file sharing and backups across several computers, and they typically offer remote file access over FTP or a web browser, depending on the device.
The configuration process may vary from device to device, but there are 10 basic steps to set a NAS device up and running.
Step 1. Prepare the hardware
Step 2. Configure administrative accounts
Step 3. Perform a diagnostic check
Step 4. Configure the storage architecture
Step 5. Create volumes
Step 6. Configure access permissions for the volumes
Step 7. Configure network access
Step 8. Configure notifications
Step 9. Configure advanced options
Step 10. Configure the backup
Way 4. Share files with external hard drive
External hard drive can also be used to keep files and you can access files from it no matter where you are.
Step 1. To store important files in your external hard drive, connect the drive to the computer.
Step 2. Go to File Explorer, locate and open the drive, and copy files to it.
Step 3. Whenever you want to access the files using another computer, plug it in, and you can go to File Explorer to find the files.
Conclusion
This post introduces how to share files remotely over the Internet, we offer you several methods to remotely access files from anywhere. You can choose the one that fits you most. If you are desired an all-in-one tool to help you work remotely, AnyViewer could be the best choice for you.