Don't know how to right click on the iOS RD Client
"I have installed on my iPhone the Microsoft Remote Desktop application (RD Client). I've successfully connected to my PC from my iPhone, and now I have a really, really basic question - RD Client how to right click?"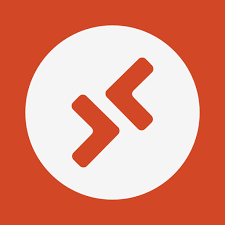 Concrete steps to right click on RD Client
To know how to right click in iOS Microsoft Remote Desktop application, here in this part, we'll show the concrete steps to get it.
Step 1. Enable the Remote Desktop of the Windows PC. Press "Win + I" simultaneously and then find "System" and "Remote Desktop". Toggle the button to the "On" position to enable RDP.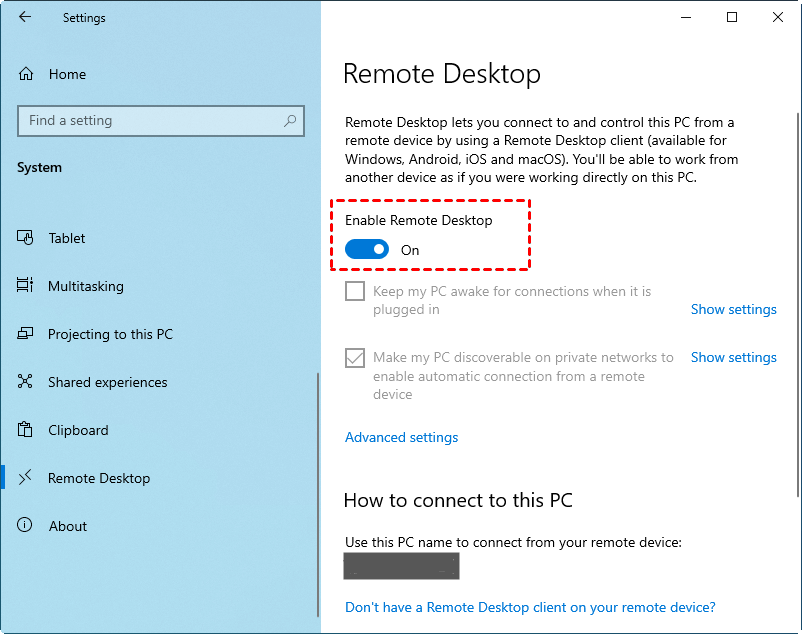 ✎ Note: On Windows 7, you need to do as follows: Press Win + R to run the dialog box and then input "sysdm.cpl". Hit "OK". Locate the "Remote" tab, and then click on "Allow connection from computers running any version of Remote Desktop". Click on "OK".
Step 2. Download and open RD Client on iPhone.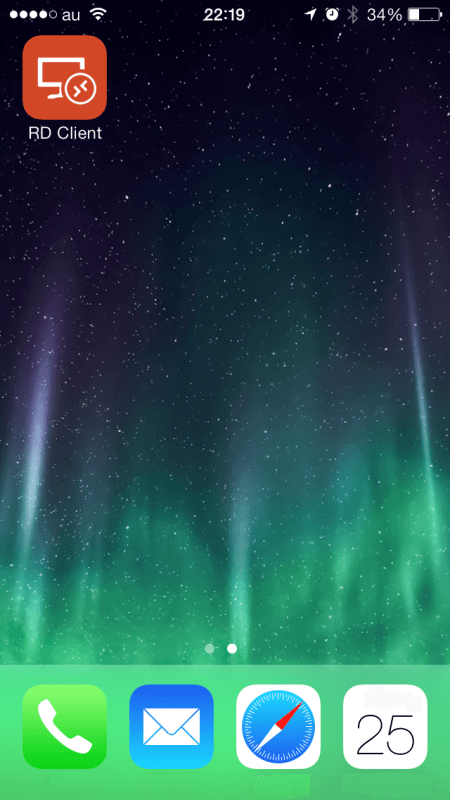 Step 3. Click the "+" sign in the upper right corner of the interface, and select "Add PC" in the pop-up window.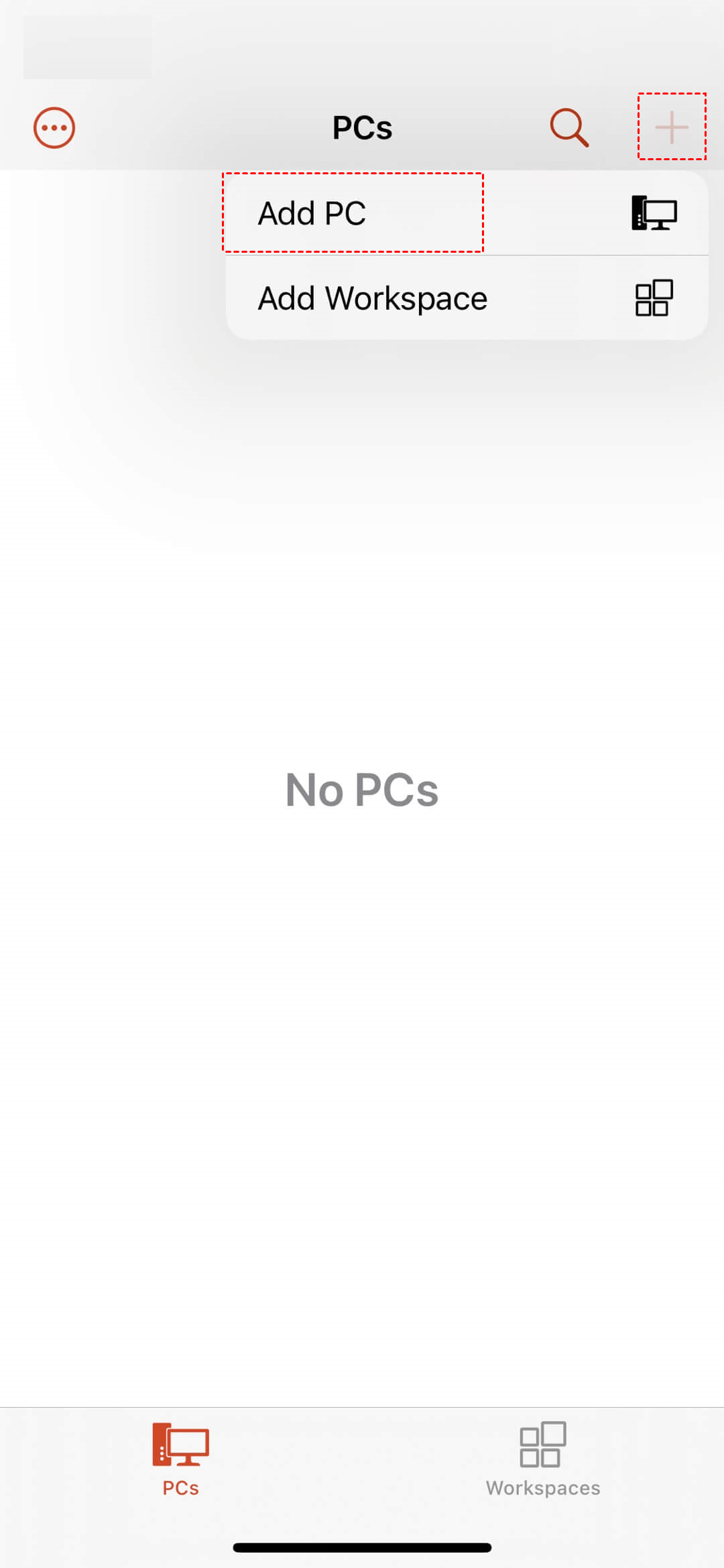 Step 4. Click "PC name". Enter the hostname or IP address of the Windows.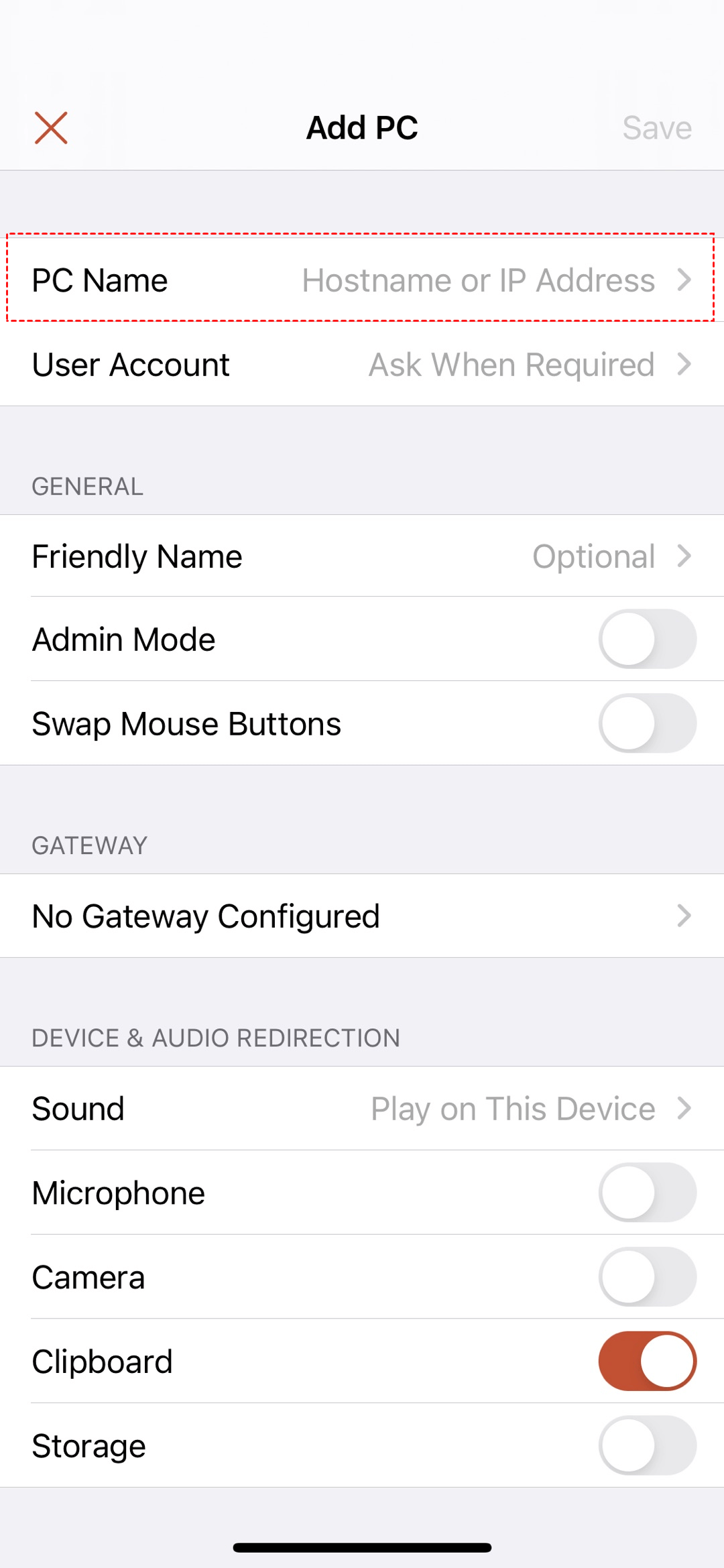 Step 5. Click "User Account". If you often need to remotely control a PC from iPhone, it is recommended that you select "Add User Account".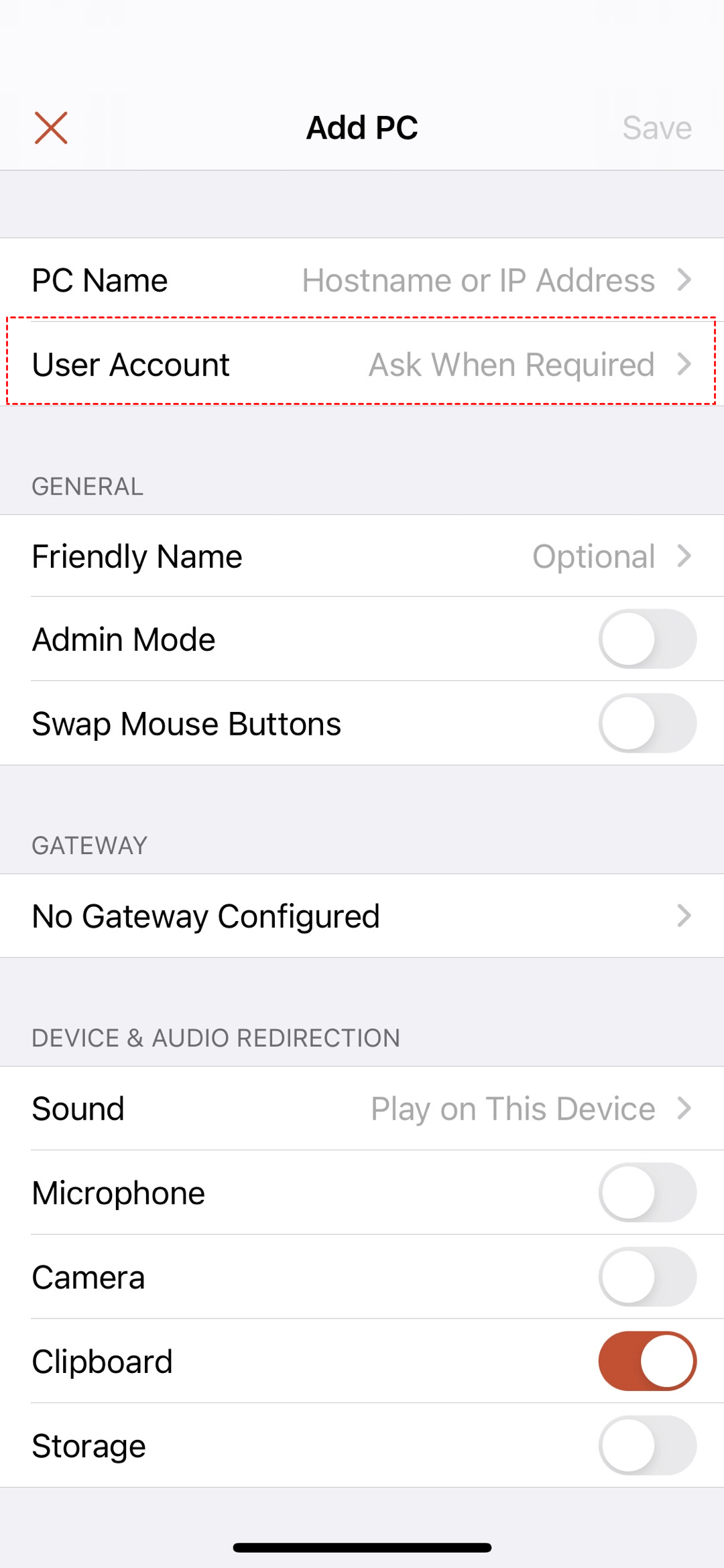 Step 6. Back to the main interface and click the IP address icon just created, enter the credentials of the Windows in the pop-up window, and click "Continue".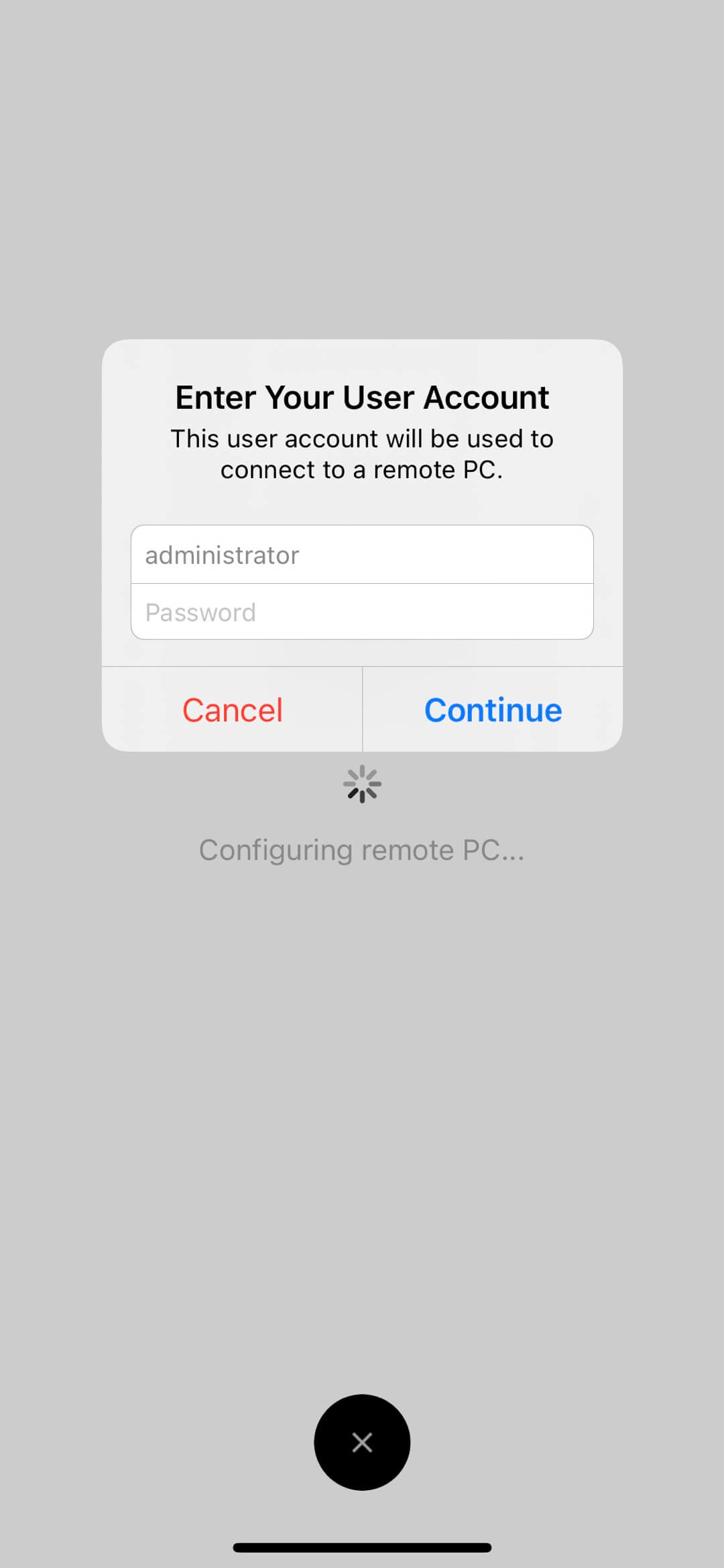 Step 7. Then you can control your PC with iPhone successfully. Now you can simply get right click with 2 different mode.
Mouse mode: In Mouse mode, you can double-tap and hold with two fingers, then drag to right click.
Touch mode: In Touch mode, tap and hold with one finger then tap with another to right click.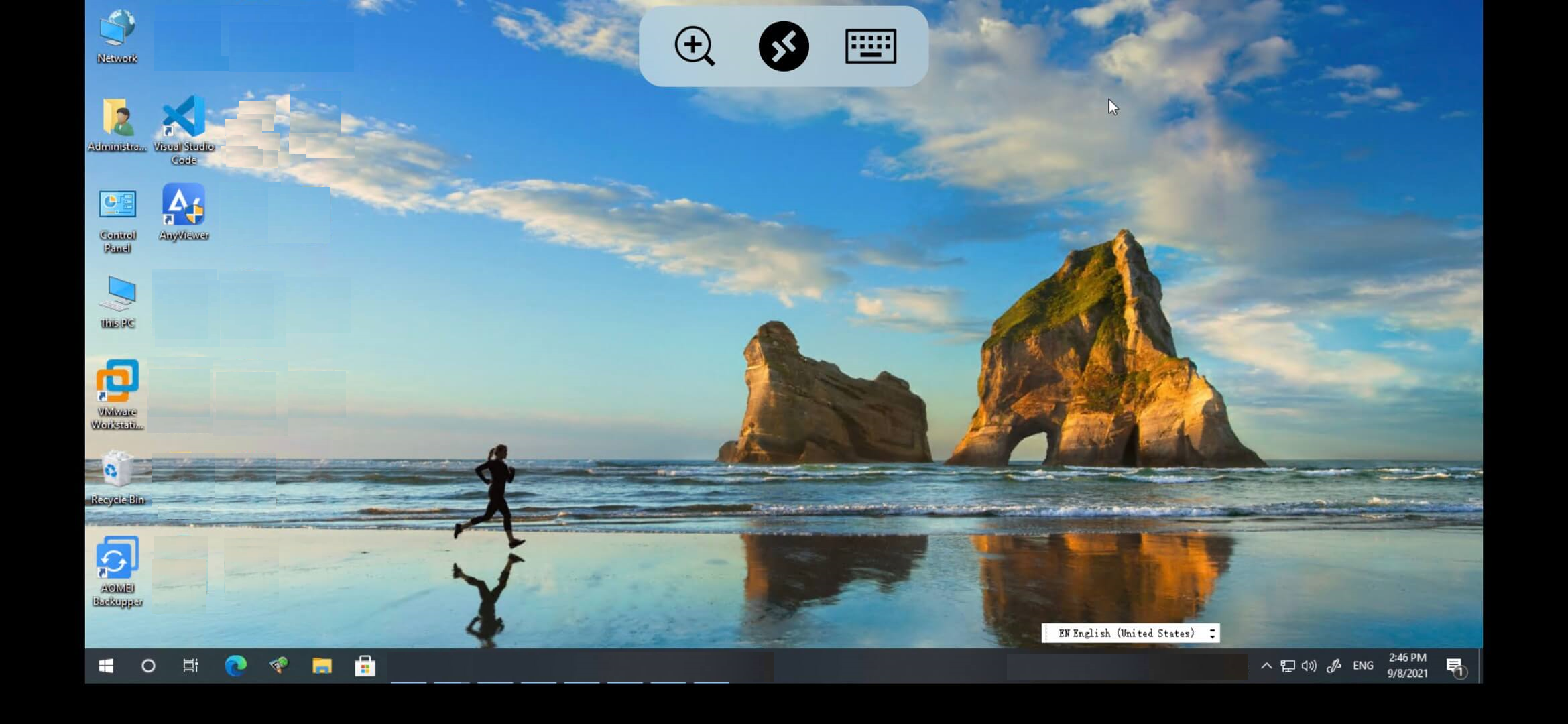 AnyViewer--- Get right click with one tick
Now you must know RD Client how to right click. If you are not working it out or you think it's kind of troublesome, we recommend a professional alternative to RD Client-- AnyViewer, to help you remotely access to iPhone or iPad and get right-click with one tick, which is fairly simple and convenient.
Being appraised by many users for the fast connection speed and flexible methods, AnyViewer is more and more popular. With it, you can realize right-click in 2 ways, which provide you with more choices. Follow me to know how to operate.
Part 1. Set up AnyViewer on Windows PC
This part is about how to set up AnyViewer on Windows.
Step 1. Download AnyViewer for Windows on your PC.
Step 2. Install and run it, you'll see the following interface. Click "Settings".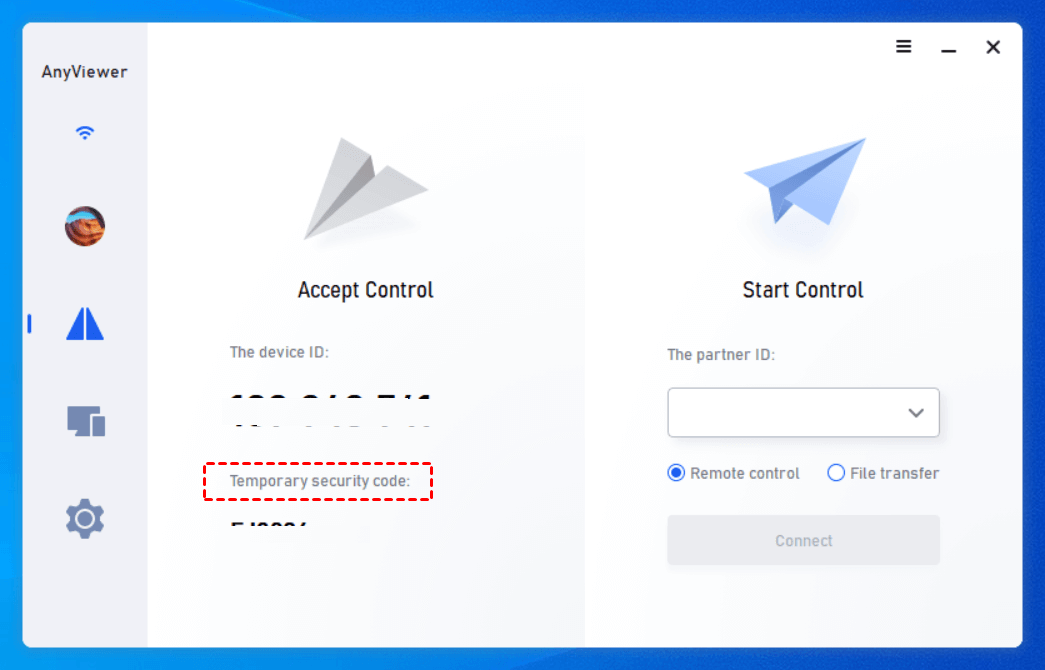 Step 3. Then click "Recipient". Tick the third option and then set your permanent security code. Click "Save".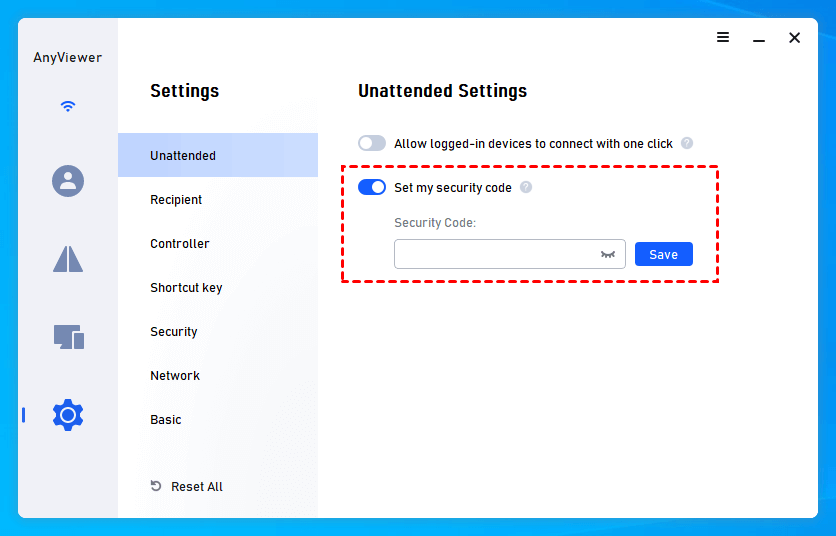 ✎ Note: Here the permanent security code is used to help you achieve an unattended remote connection.
Part 2. Connect to your Windows with your iPhone
This part is about how to connect to Windows with iPhone.
Step 1. Download AnyViewer for iOS on your iPhone.
Step 2. Open it and then go to the "Connect" tab.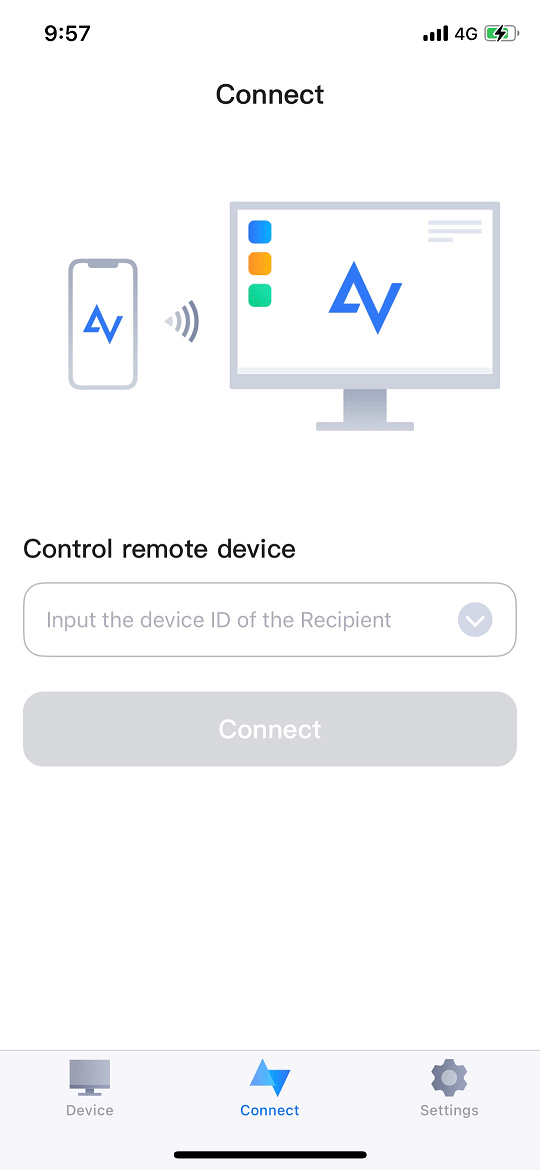 Step 3. Enter the device ID of Windows and then click "Connect". Then you'll be given two options.
Option 1. Send control request
If you choose "Send control request" on your iPhone, there will be a pop-up message on the computer. Click "Allow" to receive the connection.
Option 2. Security code
If you choose "Security code" on your iPhone, you need to input the security code you've set before on Windows and then click "Connect" to achieve a direct connection.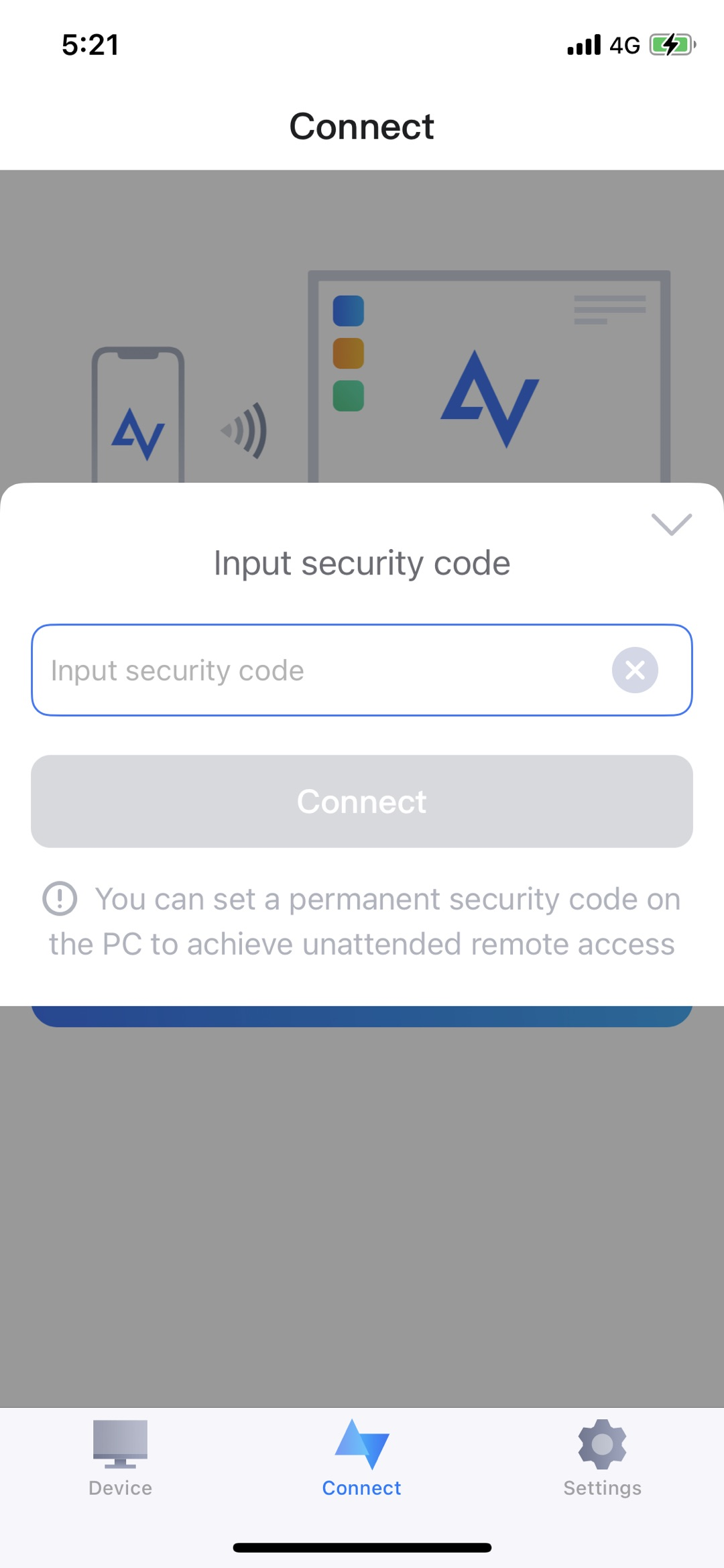 No matter which options you choose, you can connect to the remote PC successfully. And now you can see there are 2 virtual mouses. The right one can be used to right click. And you can also scroll down, use the keyboard.
✎ Note: If you want to use mouse click in Touch Mode, click on the menu icon and then choose Touch Mode.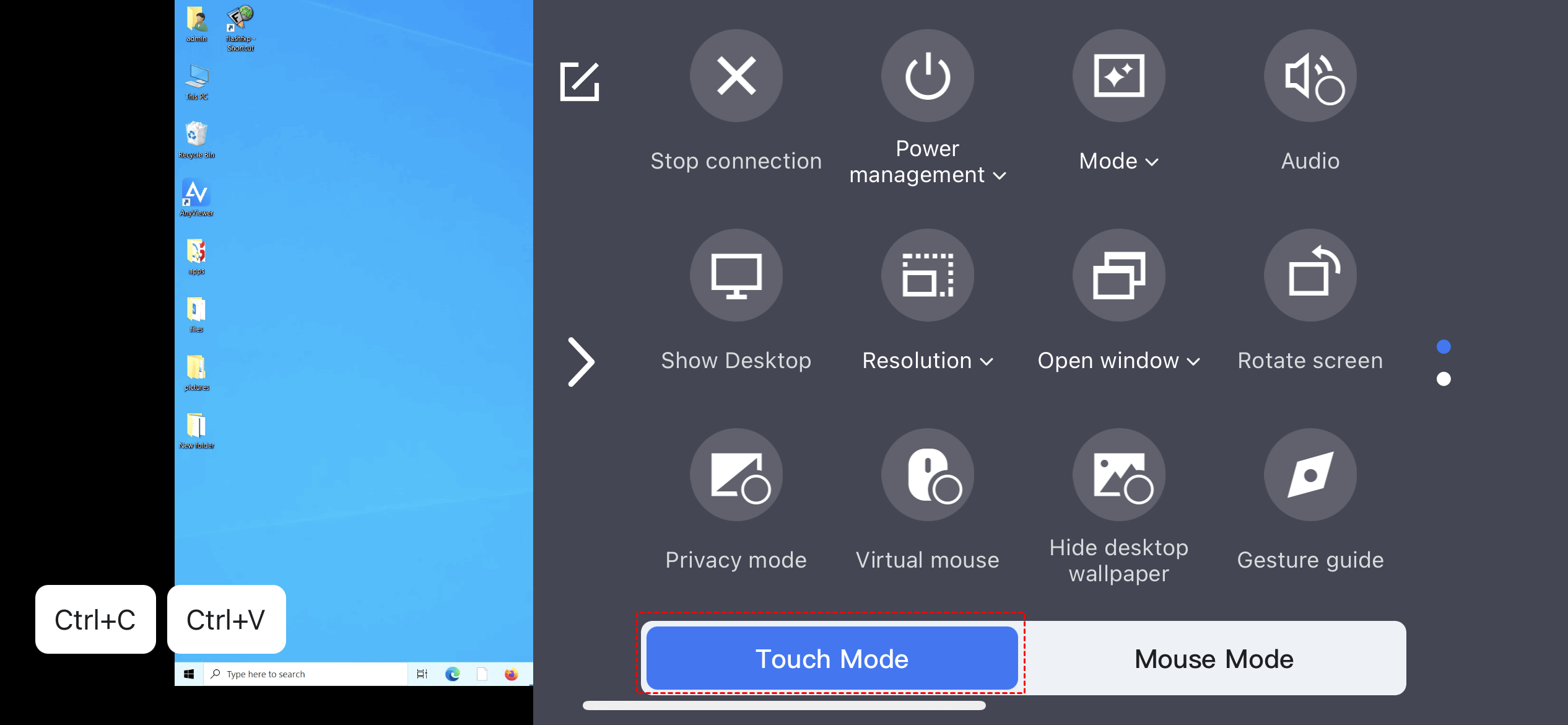 After that, click on the Virtual Mouse. You can see a mouse on the screen. With this mouse, you can right and left-click. At the same time, you can scroll down your browser or file with the middle one.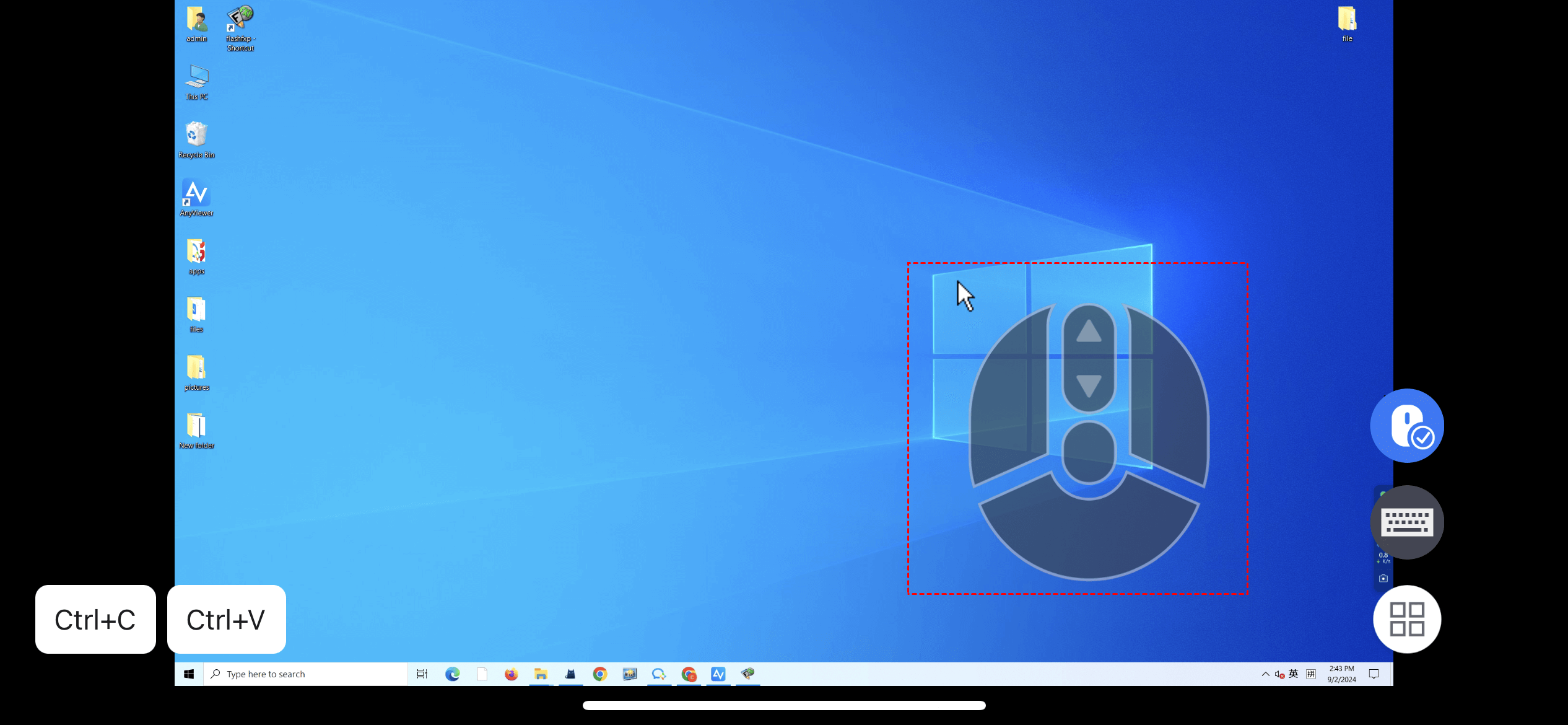 Isn't it convenient? Get one and have a try.
Conclusion
After successful connection, taping and holding with one finger then taping with another so that we can right click in RD Client. But if you think it's a little bit troublesome, you can use an RD Client iOS alternative-- AnyViewer to easily realize right-click.