What is the maximum frame rate for Remote Desktop?
Although the actual frame rate in the remote session depends on other factors such as application and computer hardware resources, Microsoft's Remote Desktop Protocol (RDP) in its various versions, including the one used in the Remote Desktop client, typically supports frame rates of up to 30 FPS by default in most scenarios.
How to achieve high frame rate in Remote Desktop
A low frame rate may result in Remote Desktop lagging. Is it possible to achieve a high frame rate in Remote Desktop? Of course, it is. Here are three effective ways to increase the Remote Desktop frame rate on Windows 10 and 11.
Way 1. Use a high-speed network connection
Ensure you have a high-speed and low-latency network connection. Here are several actions you can consider:
Minimize network congestion by limiting other bandwidth-intensive activities on your network while using Remote Desktop.
A wired Ethernet connection frequently provides greater stability in comparison to Wi-Fi. Whenever possible, use a wired network connection instead of Wi-Fi to reduce latency and increase stability.
Way 2. Turn off unnecessary features
Another way to improve performance is by simply turning off unnecessary features and reducing the intensity of others. When you have Remote Desktop open, click the Show Options button. This will make the window bigger, and you'll find several tabs. These tabs are the ones you should focus on to make your system work better:
In the "Display" tab, you can shrink the remote desktop view size to improve performance. Just ensure text and tasks remain easily readable. Adjust the color settings as well—256 colors work for text, but if you need richer visuals, try 15 or 16-bit colors if 256 isn't enough.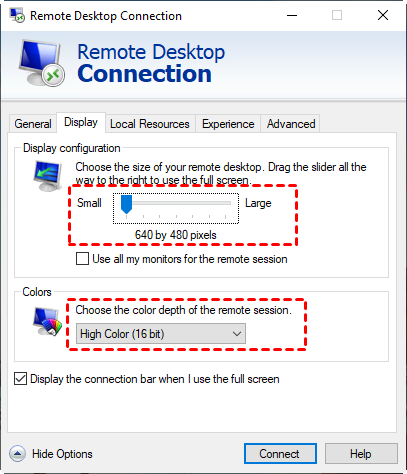 The "Local Resources" tab
In this tab, the primary bandwidth hog is remote sounds. If you don't require sound from the remote computer, it's advisable to disable it entirely.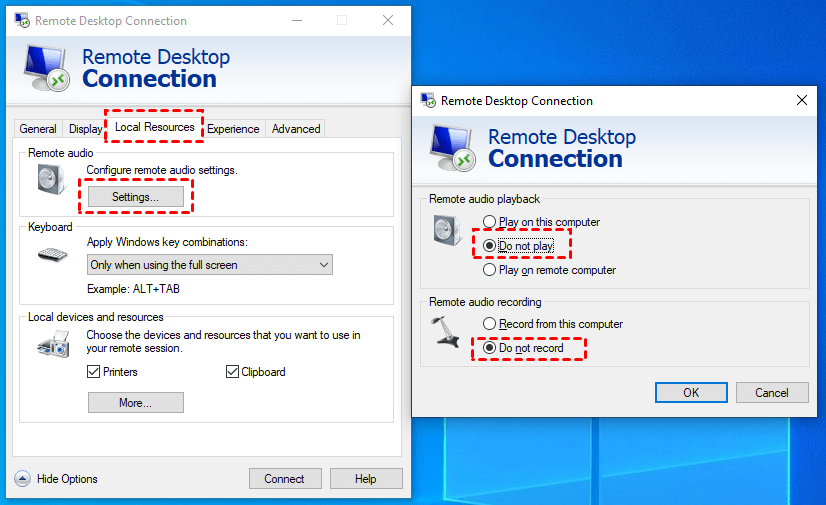 For optimal performance, consider unchecking all checkboxes except for "Persistent bitmap caching." Bitmap caching downloads frequently used images, like the start menu or system tray, and stores them on your local PC. This benefits users with limited bandwidth since these screen portions won't be repeatedly transmitted with each refresh.
Way 3. Change GPO settings
The third way is to change your GPO settings. Follow the steps below:
Step 1. Press Windows + R, and then type in "gpedit.msc".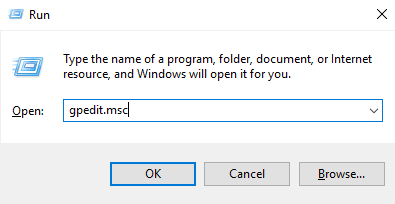 Step 2. Go to Computer Configuration > Administrative Template > Windows Component > Remote Desktop Services > Remote Desktop Session Host > Remote Session Environment. Find the following two settings.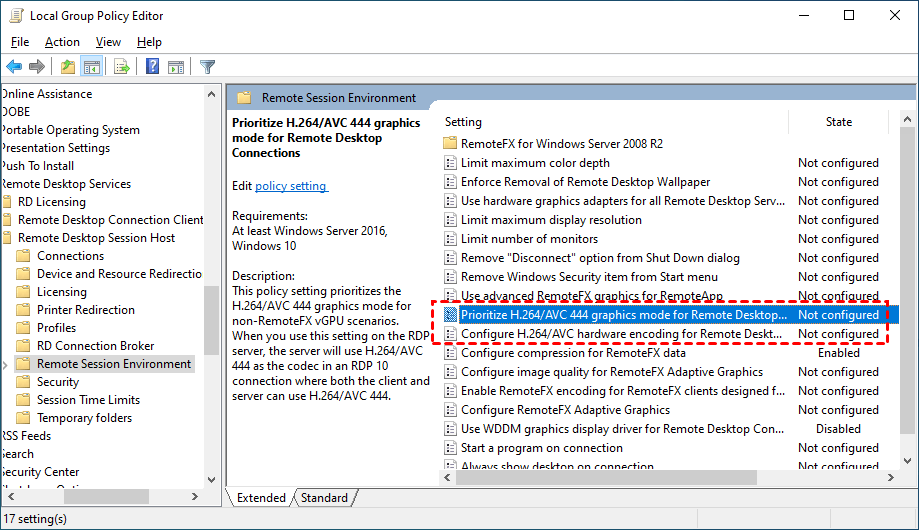 Step 3. Double-click them one by one, and set them to Enabled.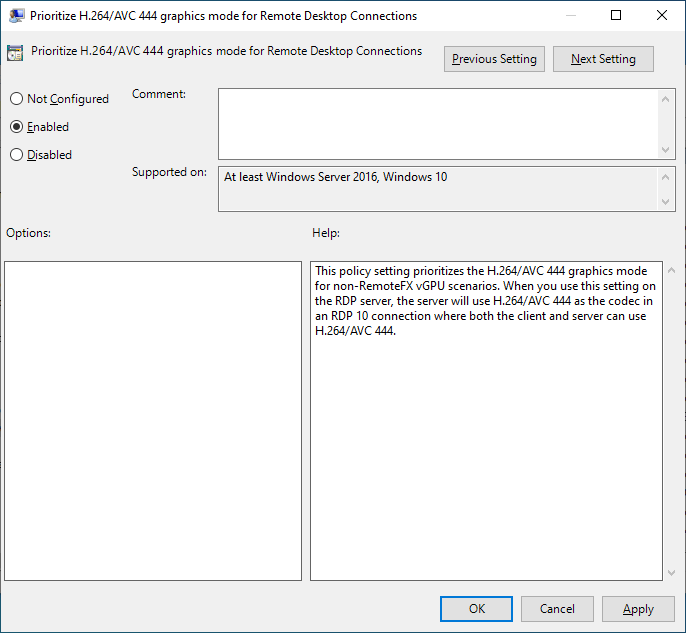 Bonus tip: High frame rate Remote Desktop alternative
If you're looking for a high frame rate Remote Desktop alternative that provides a smoother and more responsive remote desktop experience, consider AnyViewer. AnyViewer is one of the best free remote desktop software that is known for its fast and responsive remote desktop capabilities, making it suitable for tasks that require low latency and high frame rates of up to 60 FPS.
Besides, it also supports remote sound. It can not only be used for general remote desktop purposes but also for remote gaming or remote video editing.
Getting started with AnyViewer is a breeze:
Step 1. Begin by installing AnyViewer on your respective devices.
Step 2. Sign up and log in using identical credentials on both devices.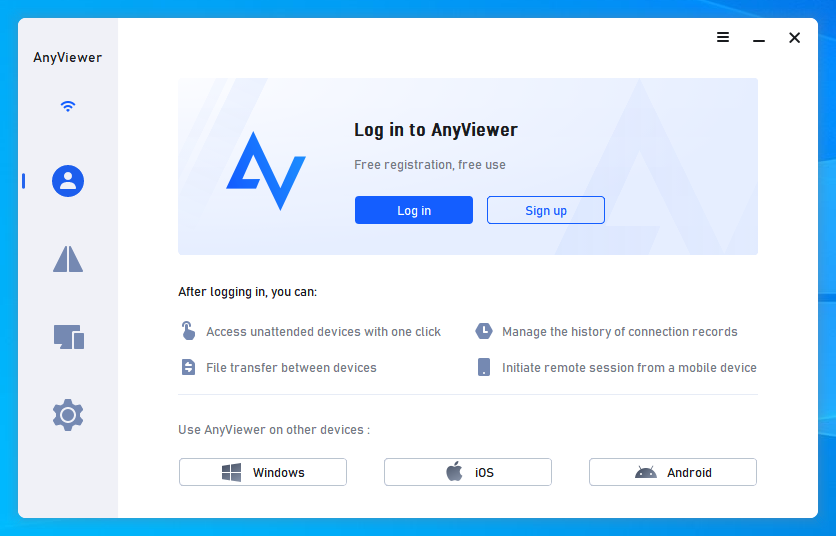 Step 3. In your local device's Devices section, pinpoint the remote computer you intend to connect to. Click on One-click control to establish a connection.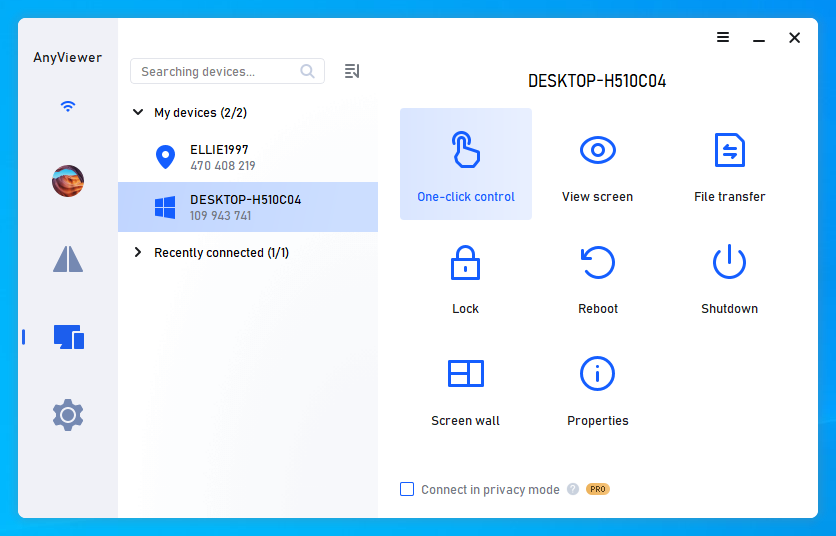 Step 4. After connecting successfully, you can change screen resolution and image quality in the toolbar.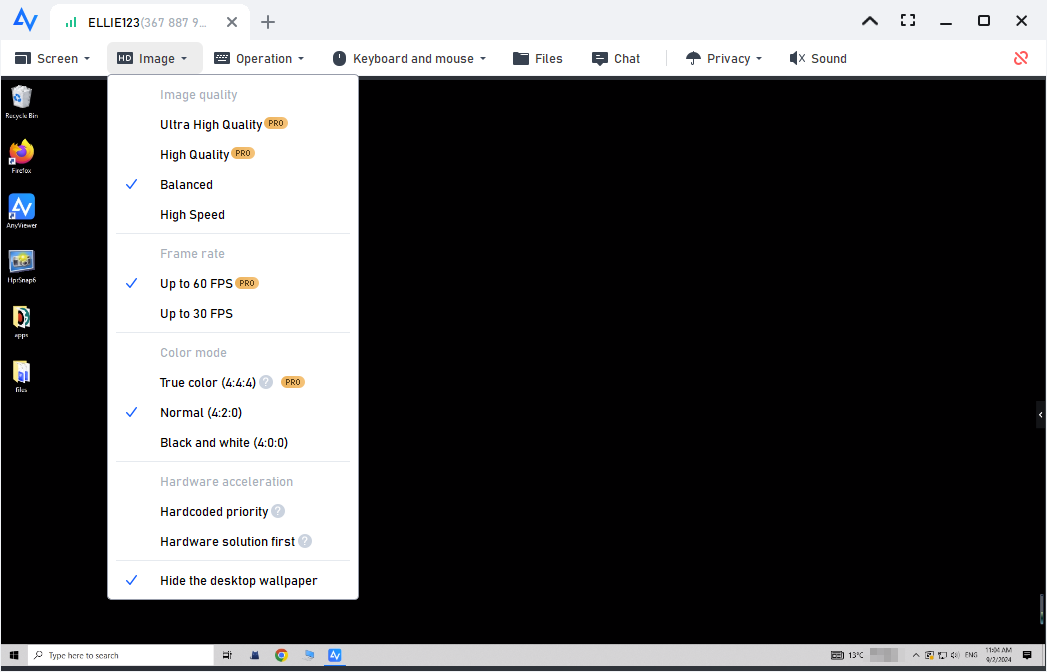 ★Tips:

For an even richer user experience, contemplate the option of upgrading to a Professional or Enterprise plan. This enhancement unlocks a multitude of benefits, encompassing the capacity to:

Manage an expanded array of devices.
Expedited file transfer.
Augmented security via privacy mode.
Elevated visual fidelity.
Simplified administration tailored for enterprise configurations.
The bottom line
In conclusion, Microsoft's Remote Desktop Protocol (RDP) typically supports a maximum frame rate of 30 FPS, with actual performance influenced by factors like network quality and settings. To achieve high frame rates in Remote Desktop on Windows 10 and 11, prioritize a high-speed network connection, adjust display and feature settings, and consider modifying Group Policy Object (GPO) settings.
Alternatively, for an enhanced experience with frame rates of up to 60 FPS, explore AnyViewer, a responsive remote desktop solution suitable for various tasks, from gaming to video editing. It is known for its smoother performance and potentially higher frame rates, which can provide an improved user experience for a wide range of tasks.