How do I fix error code 10004 in Zoom?
I got issue to open my zoom, present error code 1004 to install the new update. I don't know what to do."
- Question from JasonG16
Zoom is a popular video conferencing software that allows you to host and participate in online meetings and webinars, and chat with your colleagues and friends. However, sometimes you may encounter some errors, such as screen sharing not working or sound not working, etc. These errors can prevent you from using Zoom smoothly.
However, sometimes users encounter an annoying issue right after installation such as error code 10004 Zoom. Don't be concerned if you're having the same issue. In this tutorial, we will explain how to fix this error code 10004 Zoom updates. Keep reading and learn more.
What is error code 10004 in Zoom?
Before we talk about the error code 10004 Zoom fix, let's briefly discuss what error code 10004 Zoom is. Error code 10004 Zoom is an error that users usually encounter when they try to open the Zoom application for the first time after installing it on their computer.
Why this error was caused:
Zoom serves problems
Internet connection problems
Third-party applications interference
Zoom client auto-update error
Next, this article will introduce the solution of error code 10004 Zoom.
8 methods to fix error code 10004 Zoom
Below, we will tell you about the simple and effective ways to fix error code 10004 Zoom.
Method 1. Check your system
Before trying other fixes, it is important to check the status of your Zoom service. This is critical because if you find that all Zoom services are running fine, the problem may be on your system. You can do this as follows:
Step 1. Open Google Chrome.
Step 2. Type "status.zoom.us" in the search field and press the "Enter" button.
Step 3. If you see that all systems and features of the Zoom application are working well, you will see the message "All systems are operational".
Step 4. Further, ensure that there are no error code 10004 issues on the company side. Scroll down to see the different drop-down menus, such as "Zoom Support" or "Zoom Meetings". You can click the "+" icon to view the status.
As you scroll down, look for the error message, which will be displayed in "red". If all systems are working correctly and are in an operational state, this means that the Zoom server is not causing the 10004 error.
So keep this fix and try the rest of the fixes below.
Method 2. Manual update Zoom
If you are unable to launch the Zoom application after installing it, manually update the Zoom client.
Step 1. Open the Zoom app. Navigate to the top right corner of the screen and click on your profile icon.
Step 2. Then, select "Check for Updates" to see if any new updates are available.
If a newer version of Zoom is available for download, please update and download the latest version before restarting Zoom.
Method 3. Allow Zoom to pass through the Windows Defender firewall
If your Windows Defender firewall is preventing Zoom from passing through, you should do the following:
Step 1. Press "Win+R" simultaneously to open the Run prompt. Type in "firewall.cpl" and click "OK".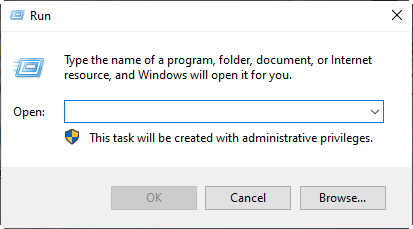 Step 2. Then select the "Allow an app or feature through Windows Defender Firewall" option.
Step 3. Then click "Change settings".
Step 4. Find "Zoom Video Conferencing" and check the "Private" and "Public" checkboxes.
Step 5. If you can't find "Zoom Video Conference", click "Allow other applications" and then "Browse".
Step 6. Search for the Zoom folder again and press OK. Next, allow public and private networks to access the Zoom video conference.
Method 4. Clear Zoom cache and cookies
Corrupt cache files and cookies may cause Zoom to malfunction and display connection problems. You can easily clear the Zoom cache and cookies by doing the following:
Step 1. Exit the Zoom application (if open) and start Run by pressing "Win+R" simultaneously. Type in "AppData", and click "OK".
Step 2. Open the Zoom folder.
Step 3. In that folder, find another folder named "data" and delete it.
Step 4. When finished, start Zoom again.
Method 5. Reinstall Zoom
After performing the previous fixes, if you are still experiencing the error code 10004 Zoom updates, try uninstalling and reinstalling the scaling application.
Step 1. Press "Win+R" simultaneously to open the Run prompt. And type "appwiz.cpl" and press "OK"
Step 2. Right-click Zoom and select "Uninstall".
After uninstalling, visit the official Zoom website and reinstall the Zoom application on your computer.
Method 6. Check your Internet connection
The reason for triggering error code 10004 zoom updates could also be a network-related issue. You can test your internet connection to see if it is steady and fast enough.
Step 1. Locate "Network and Internet" in the Windows Settings program.
Step 2. In the "Status" tab on the left, you can check the current connection status.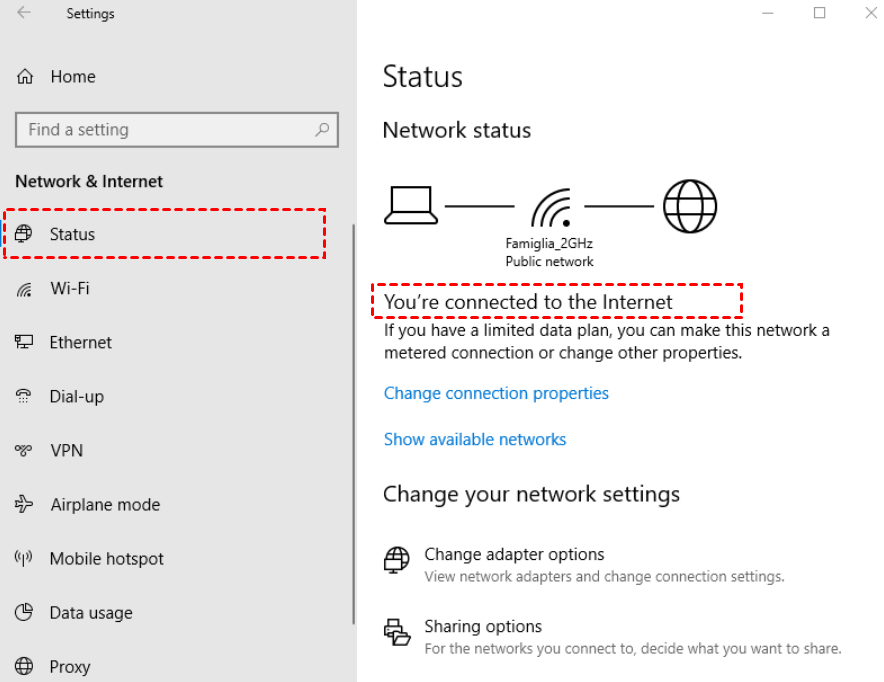 Step 3. If you encounter any network-related obstacles, scroll down the Status screen until you find the Network Troubleshooting option. When you choose this option, Windows will use its diagnostic tools to find and address any issues with your network connection.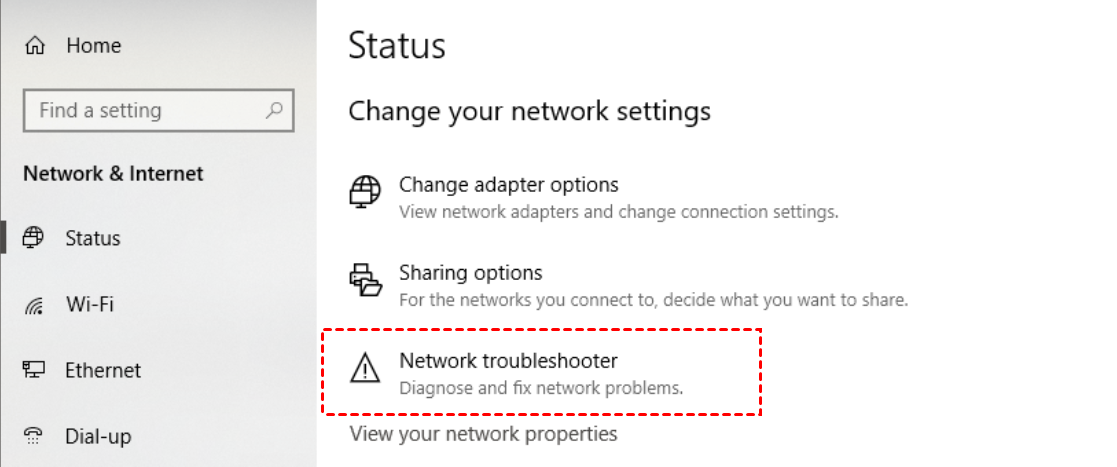 Method 7. Restart the computer
If you try the above methods and none of them work, you can try restarting your computer. You need to open the Start menu, click on the Shutdown button, and then select Restart.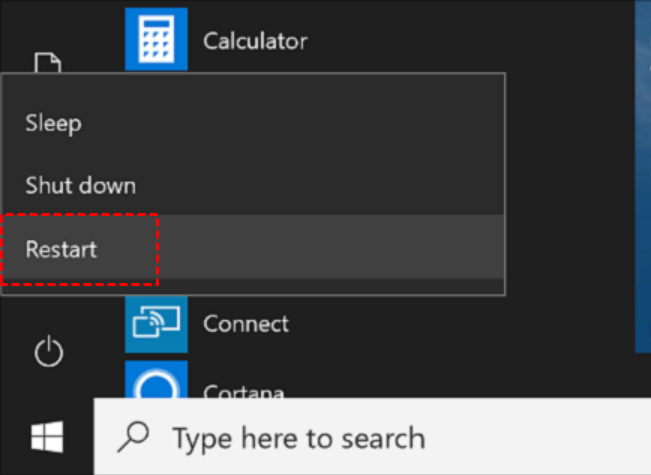 Method 8. Contact the Zoom support Team
Finally, if none of the above solutions work, contact Zoom Support and ask them to fix the problem. You need to tell them:
The computer operating system you are using.
Where are you, and what are you doing when you get this error.
What methods of operation have you tried to fix this issue.
AnyViewer: The best Zoom alternative for remote control
Did the above eight methods help you resolve error code 10004 Zoom? If not, then it is recommended that you use an alternative to Zoom for remote control.
AnyViewer is a free remote control software that provides fast and stable remote access. It is available for Windows, iOS, and Android and allows unrestricted connectivity from a wide range of devices. It employs upgraded connection technologies to connect to the best servers automatically, resulting in a faster and smoother remote control experience.
In addition, AnyViewer has convenient features such as file transfer, screen sharing, text chat, and multi-session support, making it a fully integrated solution for efficient remote collaboration.
Step 1. Download, install, and start AnyViewer on both of your devices.
Step 2. Navigate to "Log in" on both computers and then"Sign up" (if you have already joined its official website, you can log in immediately).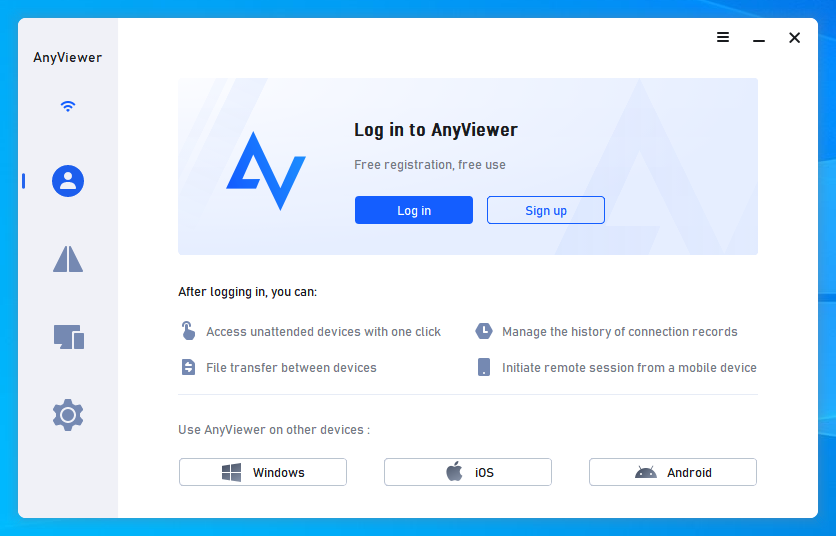 Step 3. To create an AnyViewer account, fill out the sign-up form and press the "Sign up" button.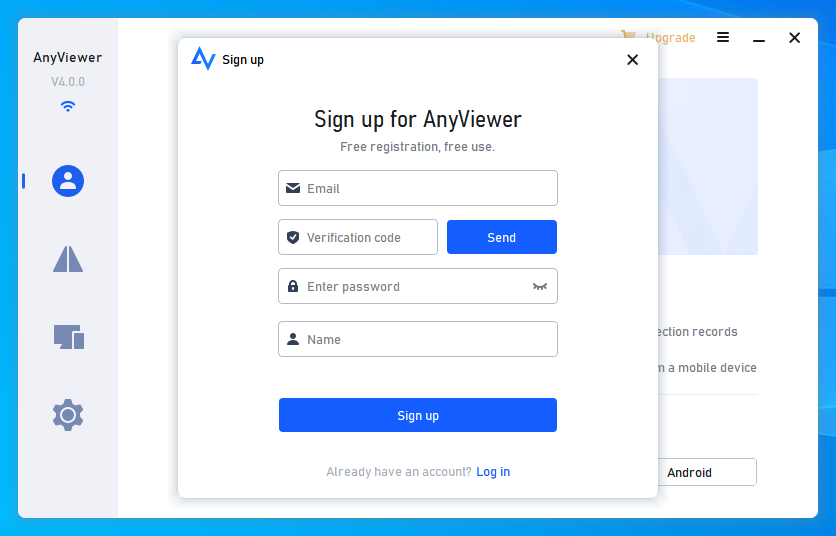 Step 4. Your device will be instantly linked to your AnyViewer account after a successful login.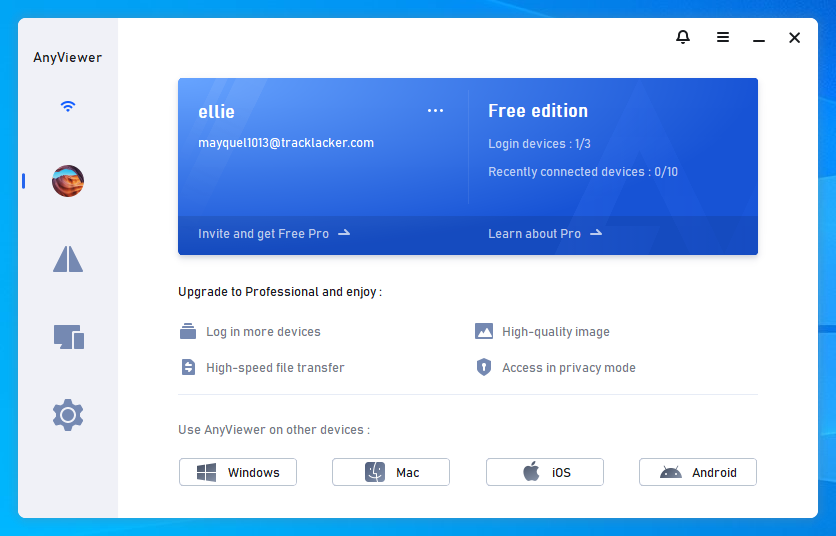 Step 5. On the other device. log in with the same AnyViewer account and select the remote PC you want to control. click "One-click control" to establish unattended remote access immediately.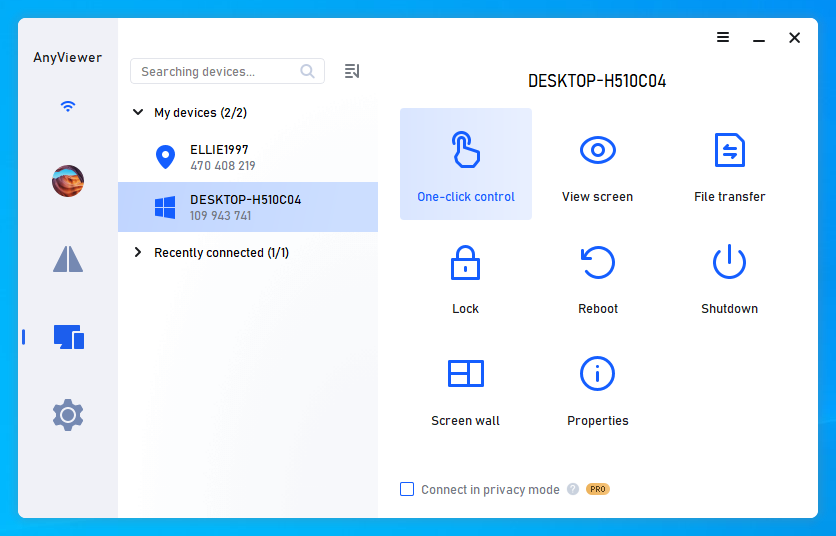 ★Tips: It is highly recommended that you upgrade your account to a professional or enterprise plan. Then you'll have the following rights:

For unattended access, other devices can be added to the same account.
Multiple devices can be connected to the same device at the same time.
You can transfer an unlimited number of huge files (1TB each) at once.
Enjoy numerous handy features, such as Privacy Mode, which lets you deactivate the keyboard and mouse on the remote PC and black out the remote screen.
Enjoy high-image quality.
...
​​
Conclusion
In conclusion, the frustration of encountering the error code 10004 Zoom problem can be effectively resolved by implementing the four proven methods described above. By manually updating Zoom, allowing Zoom to pass through the Windows Defender firewall, clearing Zoom cache and cookies, and reinstalling Zoom, users can fix error code 10004 Zoom. Additionally, explore AnyViewer as a viable Zoom alternative that provides users with advanced remote control capabilities for a quick and easy-to-use experience. With these solutions, participants can perform operations such as remote control smoothly without being limited by faults.