Disable file sharing on AnyDesk?
Our small organization currently relies on AnyDesk as our remote desktop control solution. However, I am facing a concern regarding its file-sharing feature. The issue is that AnyDesk permits the transfer of files from our organization's computers to external computers outside our network. Is there any way to disable file sharing on AnyDesk?"
- Question from Reddit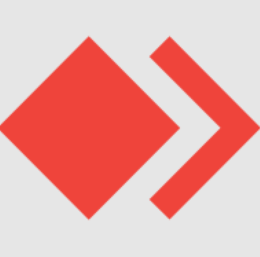 How to disable file transfer AnyDesk [2 ways]
Before learning how to disable file transfer AnyDesk, you'll need to know how to transfer files from AnyDesk to another computer. There are two ways of AnyDesk file transfer, via File Manager or clipboard file sharing.
Therefore, to disable file transfer AnyDesk, you must disable File Manager and clipboard file sharing. Follow the steps below.
Way 1. Disable file transfer using File Manager
On the remote endpoint, File Transfer can be temporarily enabled or disabled in the Accept Window.
Step 1. When receiving the session request on the remote endpoint, click the File Transfer button. When it turns gray, it means file transfer has been disabled.
Step 2. During the session, go to Browse Files on the local endpoint; you'll see Feature not available on the remote device side.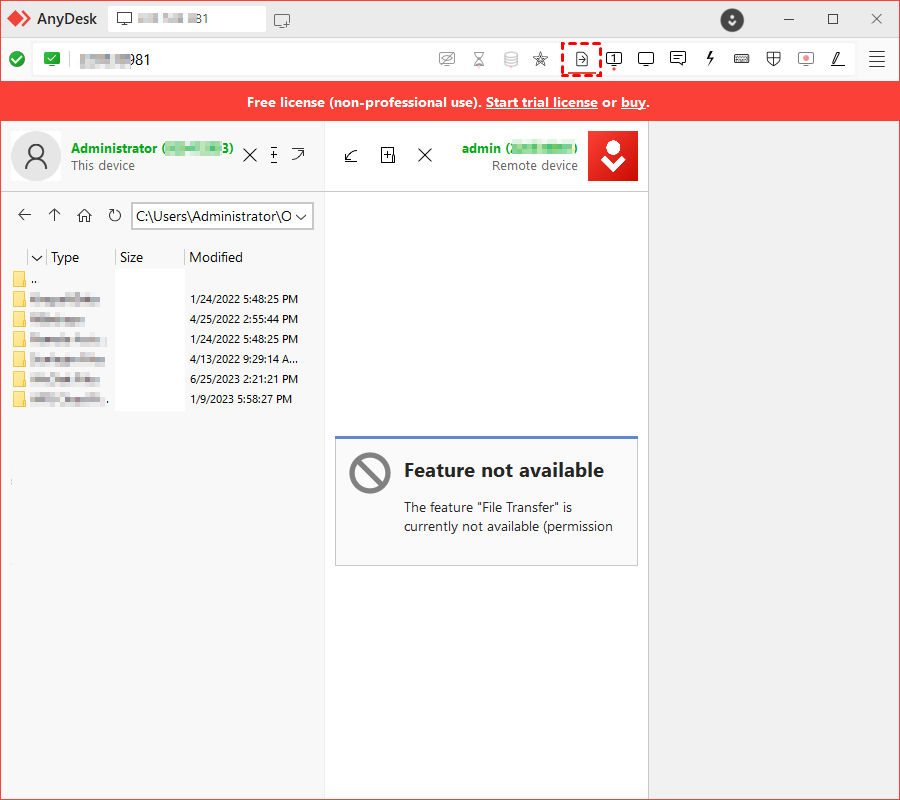 Way 2. Disable file transfer using clipboard
On the remote endpoint, File Transfer can be disabled by disabling the clipboard transmission.
Step 1. Go to Settings.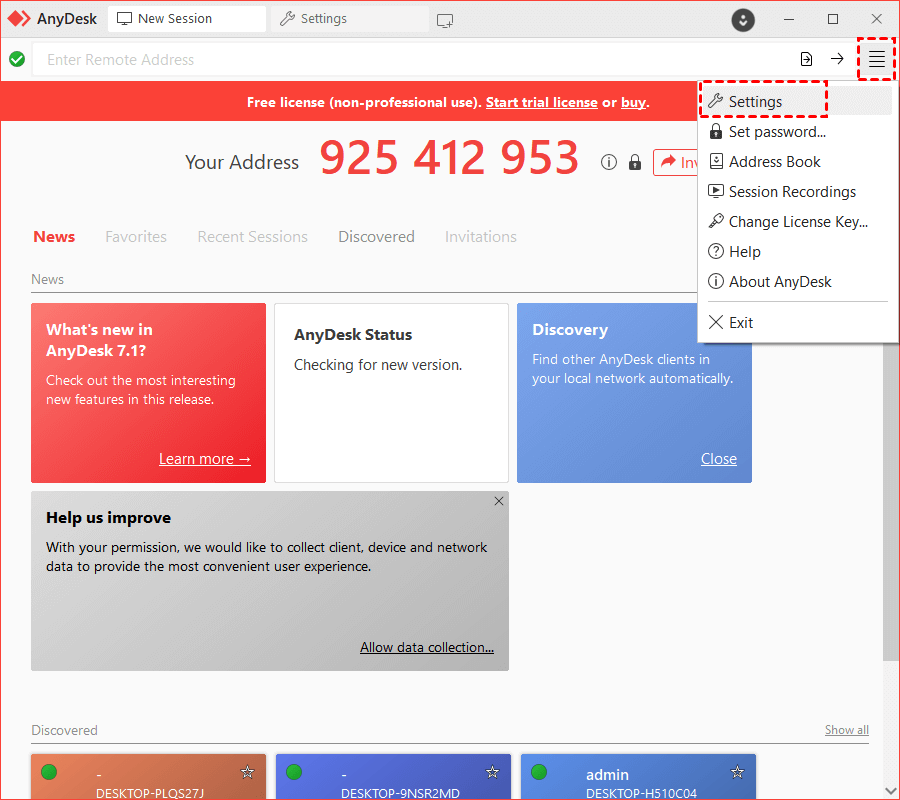 Step 2. Go to Security > Unlock Security Settings > Permissions > Permission Profile. Disable "Access my computer's clipboard" and "Access my computer's clipboard to transfer files".
The first option ensures that the clipboard contents are not shared between the local and remote computers. The second option is to specifically disable file transfer via the clipboard while still allowing the synchronization of text.
AnyViewer: Free AnyDesk file transfer alternative for commercial use
If you want a free way to transfer files within companies, you are recommended to use the free AnyDesk alternative for file transfer - AnyViewer. AnyViewer is a totally free remote desktop software with file transfer features. Whether you're using it for personal or commercial purposes, it is free.
Besides, it is easier to disable file transfer during a remote session. Here are the steps.
Step 1. Download, install, and launch AnyViewer on both devices.
Step 2. Create an AnyViewer account and sign in to it on both devices.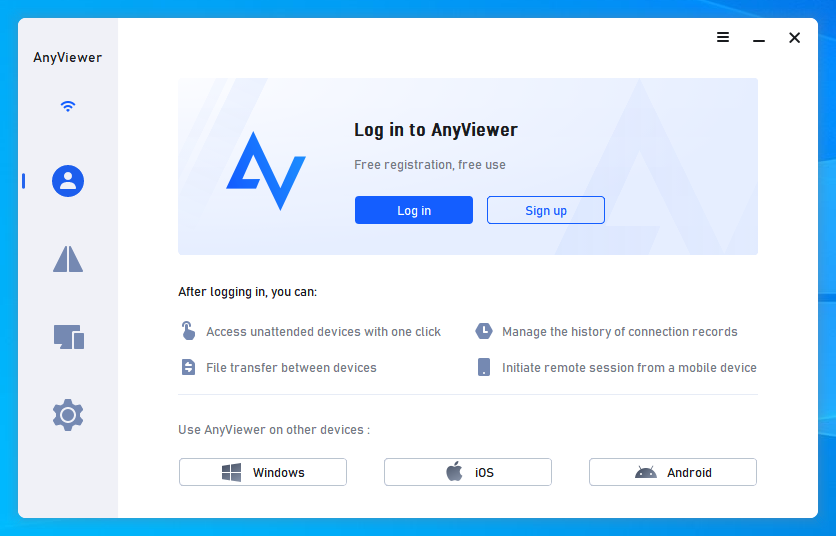 Step 3. On your local device, navigate to the "Device" section, where you will find the list of available devices. Select "One-click control" to gain unattended remote access to the remote computer.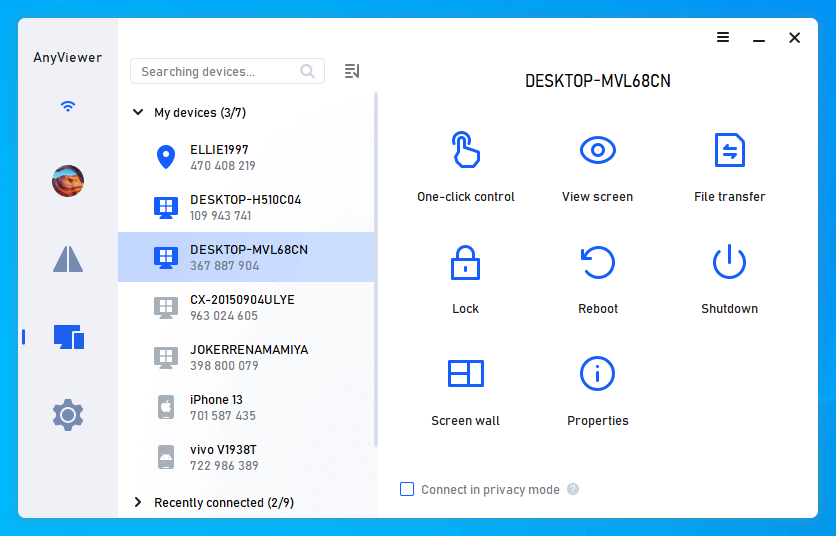 Step 4. On the remote device, open the chat box; here, you can disable or enable both sending files to and receiving files from the controller easily.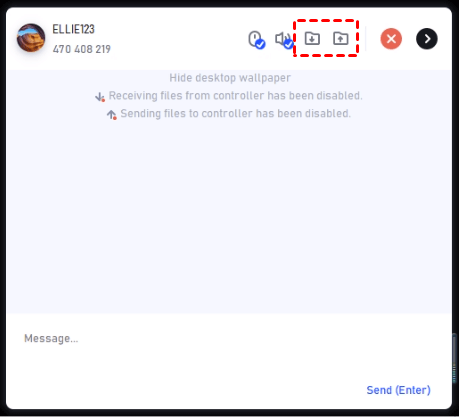 Notes:✎...

To transfer files freely, it is highly recommended to upgrade your account to a professional or enterprise plan. Here are what a professional or enterprise plan can bring to you:

Faster file transfer speed. Transfer speed for a free account is 500 KB/s, and for a paid account is up to 10 MB/s.
Increasing numbers of files are being transferred at once. For a free account, 100 files can be transferred at a time; for a paid account, this number is unlimited.
Larger size of a single file that can be transferred. The maximum size of a single file that can be transferred for the free account is 100 MB, and for a paid account is 1 TB.
AnyViewer is more than a file transfer tool
Apart from its file transfer capabilities, AnyViewer offers a range of valuable features as one of the leading remote desktop software in the market. Here's a brief overview of some of its notable features:
Mobile support: AnyViewer Mobile is compatible with iOS and Android devices, allowing users to access remote desktops from their smartphones or tablets.
Multi-session: With AnyViewer, users can have two remote sessions open simultaneously, enabling efficient multitasking and seamless switching between different desktops.
Multi-monitor: AnyViewer supports multiple monitors, allowing users to work across multiple screens during remote sessions. The software also supports monitor switching for enhanced productivity.
Clipboard sync: AnyViewer facilitates the copying and pasting of text between devices through its shared clipboard feature, streamlining data transfer and collaboration.
Instant chat: During remote sessions, AnyViewer enables text-based communication through its built-in instant chat functionality, facilitating real-time collaboration and support between users.
Remote management: AnyViewer empowers users to manage unattended computers remotely. This includes performing actions such as locking, restarting, or shutting down the remote computer, providing convenience and control over the targeted device.
With these features and more, AnyViewer stands out as a comprehensive and versatile remote desktop solution for efficient and secure remote access and control.
The bottom line
This post introduces how to disable file transfer AnyDesk. By disabling file transfers in AnyDesk, organizations can effectively address security concerns associated with unauthorized data transfers. When seeking a dependable and free alternative to AnyDesk, AnyViewer emerges as a top free recommendation. With its robust features for remote desktop control, AnyViewer provides a reliable solution that enhances Security and enables efficient remote access.