Why is my Citrix Workspace not working?
Hi. I use Citrix Workspace with multiple catalogs. They are all functioning ok. However, I recently created a new catalog on Windows 10, and when I try to launch it, I receive an error notice that reads, 'The resource is unavailable. Try againlater.' Why is it failing? How can I resolve the Citrix Workspace the resource is currently unavailable error?"
- Question from Citrix Forum
With the help of the software Citrix Workspace, you can safely access another remote computer from anywhere at any time. This application is partially faultless, though. You could occasionally get problems like "The resource isunavailablecurrently." This problem is generally brought on by an out-of-date Citrix installation, a user account with insufficient rights, blocked firewalls, etc. Please continue if you're looking for solutions.
How to fix Citrix Workspace error "The resource is unavailable currently" [4 solutions]
Here are four solutions to fix Citrix Workspace error "The resource is unavailable currently."
Solution 1. Allow Citrix Workspace in Windows Firewall
Sometimes Windows Firewall may block the Citrix connections over the Internet, and you can follow the next steps to check your Firewall settings.
Step 1. Go to System and Security > Windows Defender Firewall in Control Panel. Select Allow an app or feature through Windows Defender Firewall.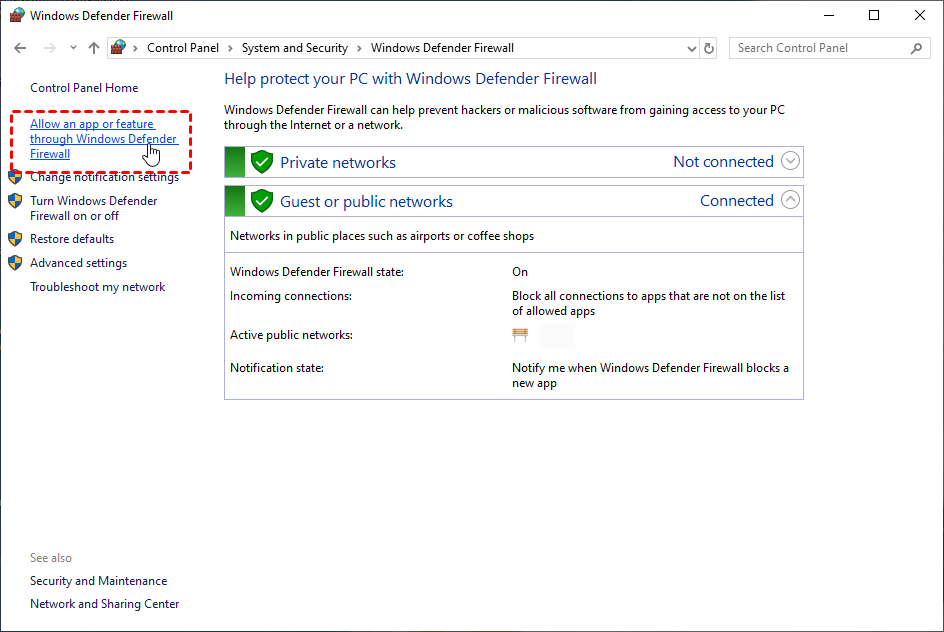 Step 2. Click the Change settings option, and check Citrix Workspace. Then click OK.
Solution 2. Change the user permissions
Users sometimes cannot log into Citrix successfully because they don't have permission. You can change the program to unlimited use and try again.
Launch the app, go to the Application Settings > Studio > Delivery, tick Allow unlimited use, then click Apply > OK.
Solution 3. Reset Citrix Workspace
Sometimes a Citrix Workspace reset is necessary to resolve problems with Citrix Workspace not working.
Step 1. Select the up arrow and right-click the Citrix Workspace icon in the lower right corner. Then click Advanced Preferences.
Step 2. Click Reset Citrix Workspace and select Yes in the next prompted window.
Step 3. You will need to add an account once more after the reset. Then you can try to connect to another device again.
Solution 4. Reinstall the latest Citrix Workspace
This problem is generally brought on by improperly installed or corrupted plug-in installation files. We recommend reinstalling Citrix and trying again.
Step 1. Click Uninstall a programin Control Panel.
Step 2. Right-click Citrix Workspace and click Uninstall.
Step 3. Press Win + R keys, type in "regedit", and hit Enter.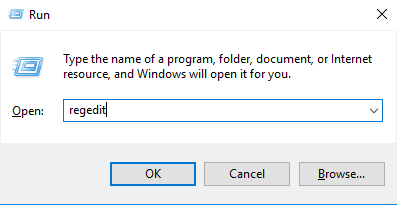 Step 4. Navigate to HKey_Current_User/software/Citrix and delete the Citrix folder.
Step 5. Restart your computer and re-install the latest Citrix Workspace.
Bonus tip: How to avoid Citrix workspace issues
If you usually encounter Citrix problems, the best way is to select a reliable Citrix alternative. AnyViewer is an error-free remote PC access software that offers easy, safe, and stable remote connections.
Compared to Citrix, AnyViewer has the following advantages you cannot miss:
More reliable. AnyViewer is developed by a strong technical team, and you won't encounter the same problems as Citrix when using AnyViewer.
Easier to use. AnyViewer has intuitive interfaces and easy operations. After downloading AnyViewer and creating an account, you can access the remote computer with only one click.
Free. AnyViewer offers a completely free version for personal use. Several free features include unattended remote access, remote desktop file transfer, concurrent sessions, multi-monitor navigation, instant chat, and more.
Download and install AnyViewer on your computers to experience its superior performance!
Step 1. On the host device, open AnyViewer, sign up for an account by selecting Sign up, and log in.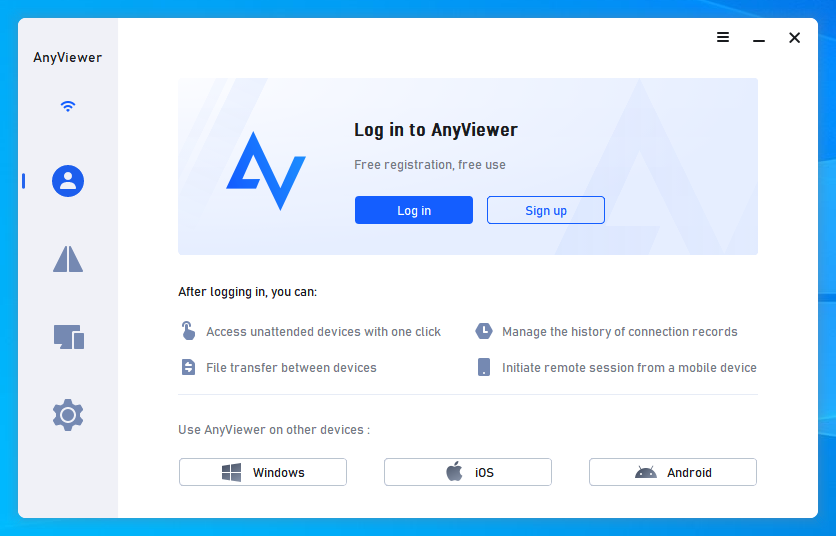 Step 2. Utilize the same login credentials as the host to sign in to AnyViewer on the client device.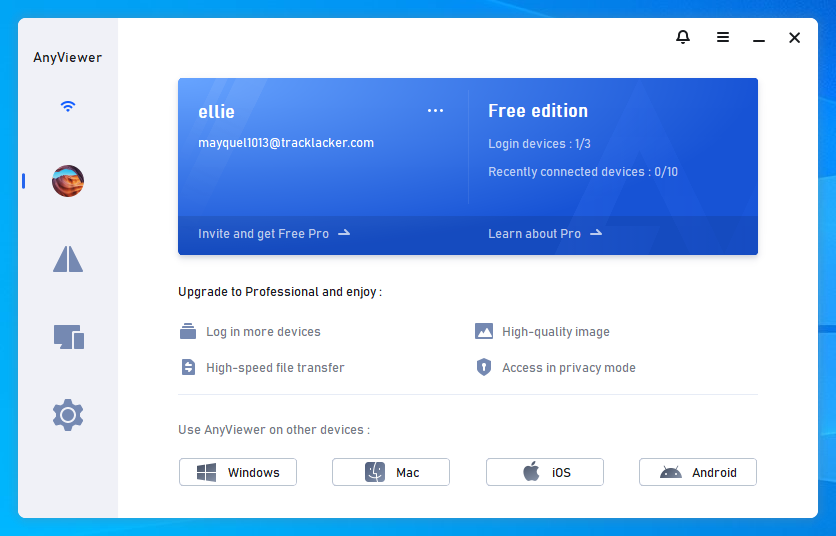 Step 3. Go to the Device interface. From here, you can see the list of your assigned devices. Then, select the remote device to which you want to connect, and then select One-click control.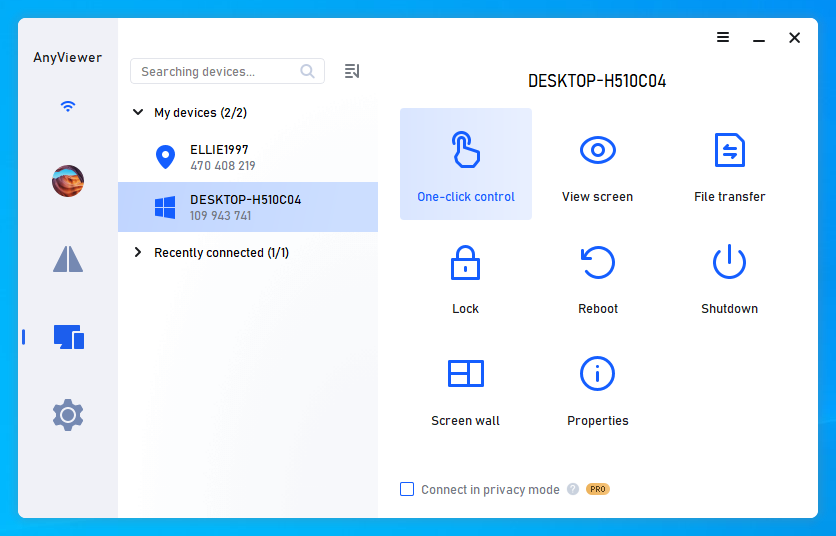 Tips:
We advise
upgrading your account
if you have over two remote PCs. After that, you can utilize up to 100 unattended devices and connect to up to 10 devices simultaneously for an affordable cost.
Final words
This post introduced how to fix Citrix Workspace "The resource is unavailable currently." error. There are four ways you can use to solve this problem. If you want to avoid Citrix problems, we recommend using a reliable Citrix alternative. For example, AnyViewer offers stable and fast remote connections without errors.