Can you use Chrome Remote Desktop without Chrome?
Hi, everyone. I've been using Chrome Remote Desktop for several years, which has been a reliable tool for accessing my remote computers. Recently, I've been wondering if there's a way to use Chrome Remote Desktop without Chrome. Has anyone come across a solution or alternative method for this?"
- Question from a user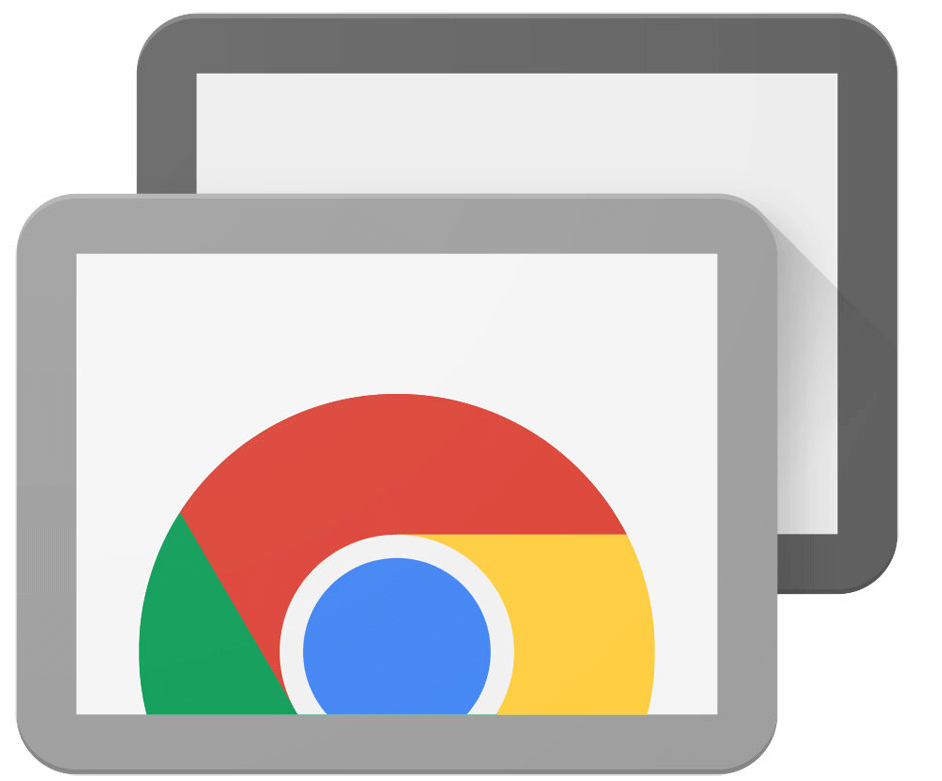 In fact, there is yet to be an official way to use Chrome Remote Desktop without Chrome browser.
Why can't you use Chrome Remote Desktop without a Chrome browser?
Chrome Remote Desktop is an extension for the Google Chrome browser that allows you to access and control another computer over the internet remotely. Chrome Remote Desktop does indeed Chrome need to be running since it is specifically designed to work with the Chrome browser. It utilizes the underlying infrastructure and features provided by Chrome to establish the remote connection.
To use Chrome Remote Desktop, you need to have the Google Chrome browser installed on both the computer you want to access remotely (the host) and the computer you want to use to connect to the host (the client). You also need to install the Chrome Remote Desktop extension from the Chrome Web Store on both computers.
Once the extension is installed and set up, you can establish a remote connection between the host and the client using the Chrome Remote Desktop application within the Google Chrome browser.
Best Google Remote Desktop alternative without using a specific browser
If you're looking for Chrome Remote Desktop alternatives that don't require the Google Chrome browser, several remote desktop options are available. The most popular remote access software AnyViewer could be your top selection. It provides similar functionality to Chrome Remote Desktop and can be used independently of a specific browser.
AnyViewer offers several key benefits that make it a compelling alternative to Chrome Remote Desktop:
Easy setup and intuitive interface. AnyViewer offers a hassle-free setup process, allowing you to establish remote connections quickly. Its intuitive interface makes navigating the application effortless, enabling users of all technical levels to connect and control remote devices with ease.
Secure and private. AnyViewer employs end-to-end encryption via strong 256-Bit Elliptic Curve Cryptography (ECC) algorithm, ensuring your data remains protected during remote sessions.
Seamless performance. AnyViewer leverages optimized data transfer and advanced compression algorithms to deliver exceptional performance, even over slow or unstable connections. Experience smooth remote access with low latency and high-quality visuals, ensuring a frustration-free remote desktop experience.
Advanced features. AnyViewer sets itself apart by offering a rich set of advanced features. You can effortlessly perform unattended access, directly transfer files between devices, collaborate in real-time using chat functionality, and even access multiple computers simultaneously.
Try AnyViewer now and experience the next level of remote desktop access!
Step 1. Start AnyViewer on the host computer, choose Sign up to create a personal account, and then log in.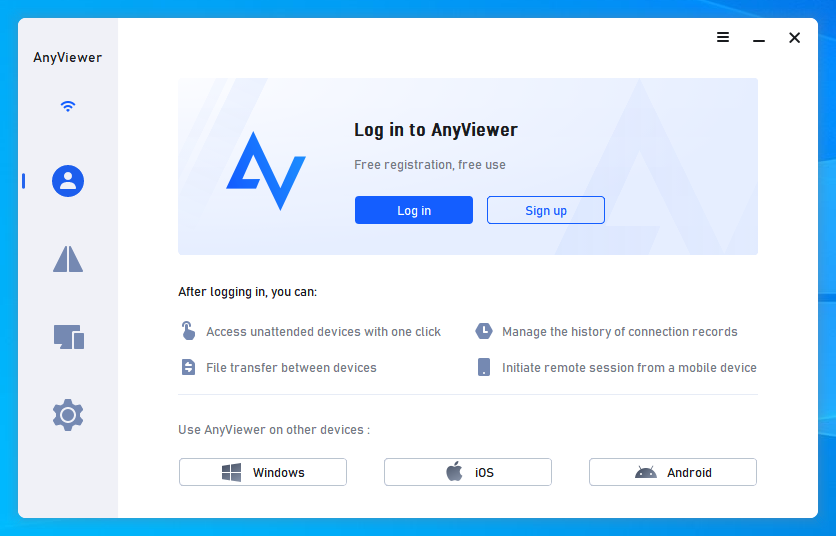 Step 2. Open AnyVieweron the client, then sign in using the same credentials. When you log in, the client computer will immediately be assigned to the account.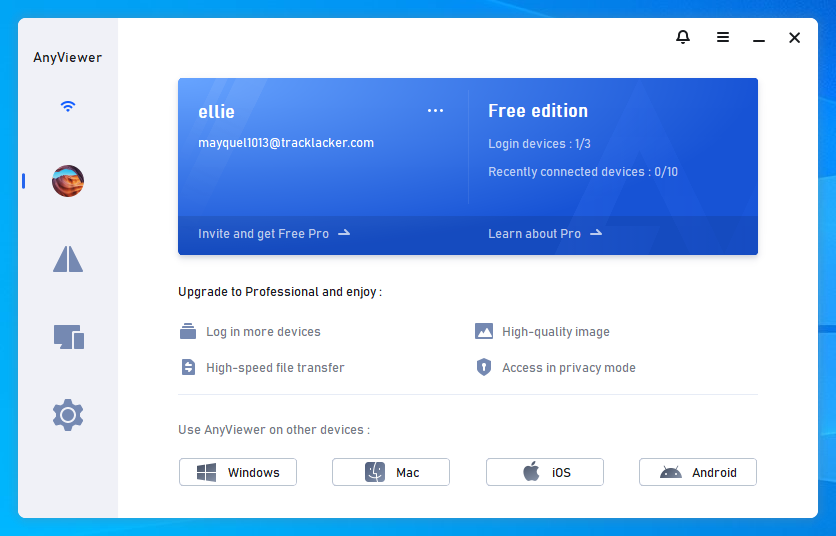 Step 3. Go to Device, select the device you want to connect, and click One-click control to start a connection.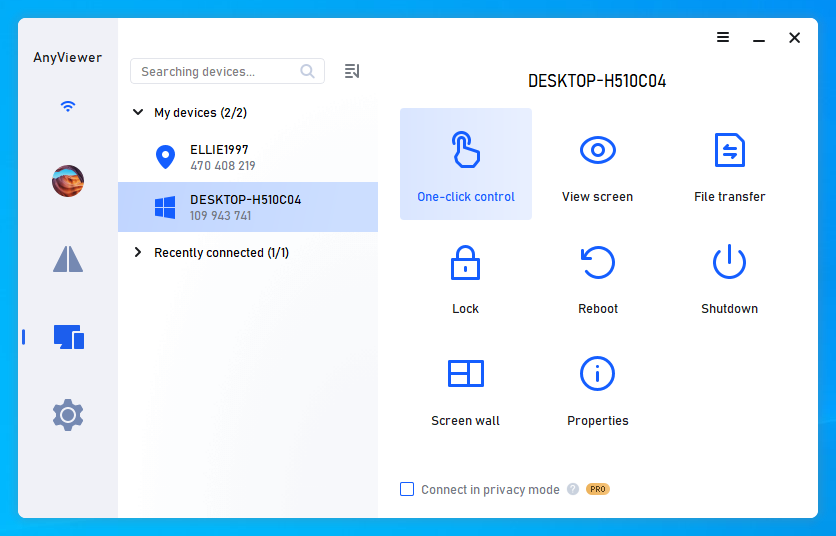 Notes:✎...AnyViewer provides flexible and cost-effective licensing options for personal and commercial use. Whether you're accessing your home computer remotely or seeking a reliable remote support solution for your business, you can pay little for more rights as follows:

Manage up to 100 devices for one-click control.
Connect to up to 10 devices simultaneously. Transfer unlimited large files (1TB per file) simultaneously.
Create a connection in privacy mode to protect your privacy by blackening the screen and disabling the keyboard & mouse of the host PC.
Enjoy high-quality image performance.
...
Conclusion
Can you use Chrome Remote Desktop without Chrome? No. Chrome Remote Desktop is tightly integrated with Chrome, and there is no official way to use it without the Chrome browser. However, other remote desktop applications are available that don't require a specific browser. For example, try AnyViewer, and you will get a similar or even better user experience as Chrome Remote Desktop.