Does Bomgar allow file transfer?
The answer is obvious. Bomgar is now called BeyondTrust Remote Support. It specializes in providing secure remote support services. It enables support staff to quickly and securely access any remote device, anywhere, on any platform. At the same time, it allows users to perform file transfer functions during this time. So is there a Bomgar file transfer size limit? Don't worry, this article will reveal the answer for you.
Bomgar file transfer size limit
File transfer with Bomgar is very simple, so what are the Bomgar file transfer size limits? Bomgar does impose a limit on the file transfer size, which makes sending larger files difficult. According to the information searched, the maximum file size supported by Bomgar for transfer is 4GB. And Bomgar's file storage limit is only 25 MB.
This is not enough for users, and it is not good for your file transfers. Bomgar file transfer limitations increase user file transfer workload and lengthen file transfer time.
You need to keep in mind that Bomgar does not offer a free plan and that Bomgar's pricing has not been fully disclosed. You will need to contact their sales team for more information on pricing, to request a custom quote, or to make a technical inquiry about your deployment requirements. However, Bomgar offers a trial period where you can test the solution before becoming a premium member.
How to use Bomgar file transfer
Bomgar transfers files the same way on all systems. The next section will show you how to use Bomgar File Transfer.
You can transfer files using the convenient upload and download buttons or by dragging and dropping files. Alternatively, you can use right-click on a file and choose to open or download it directly.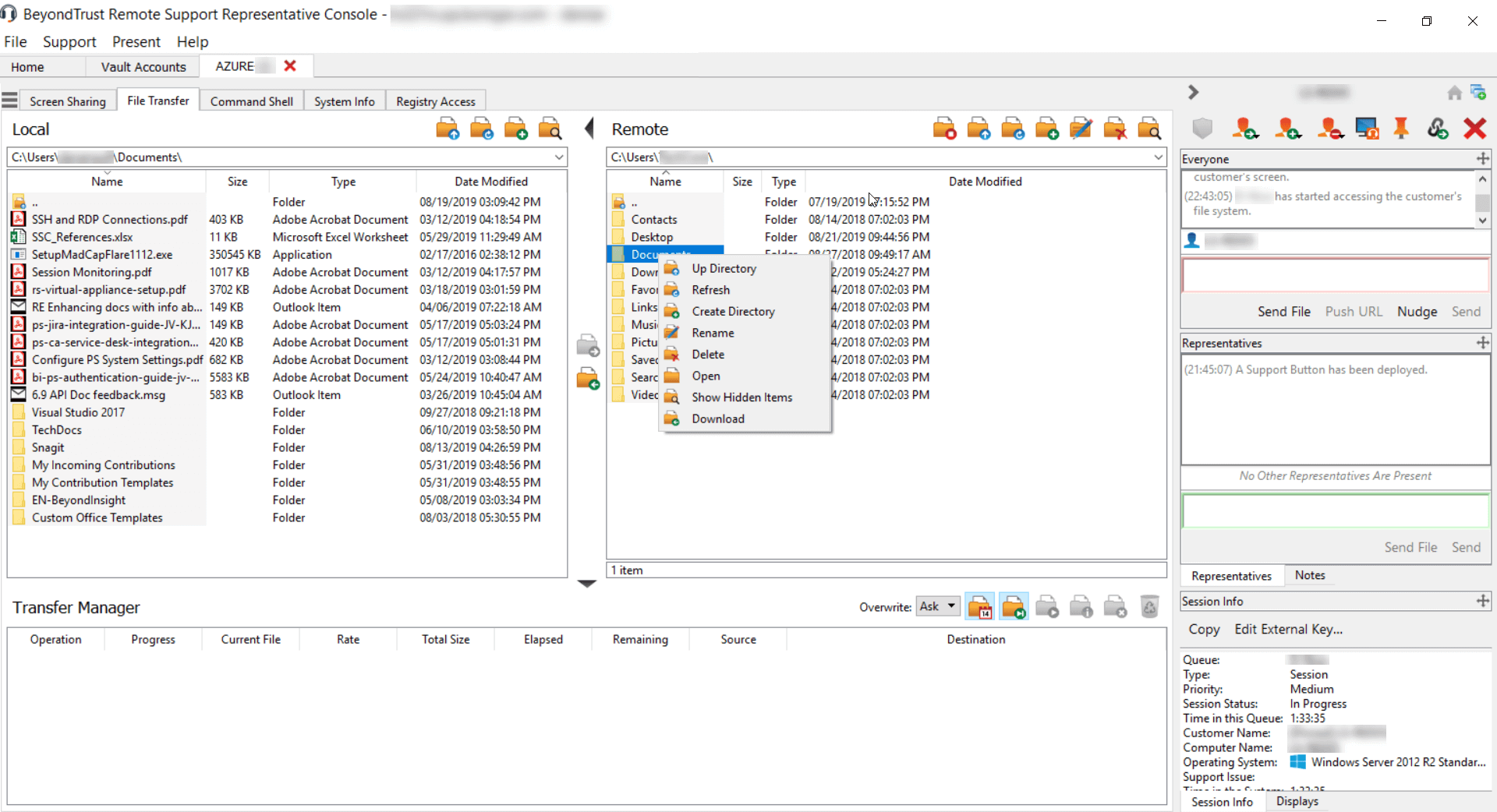 For macOS Catalina (10.15)+ systems, you may need to grant file transfer permissions first.
Step 1. Click the banner at the top of the File Transfer tab and you will be prompted to grant file transfer permissions.
Step 2. Once prompted, you can grant access and you will be directed to the right pane in Settings to update the necessary Bomgar file transfer permissions.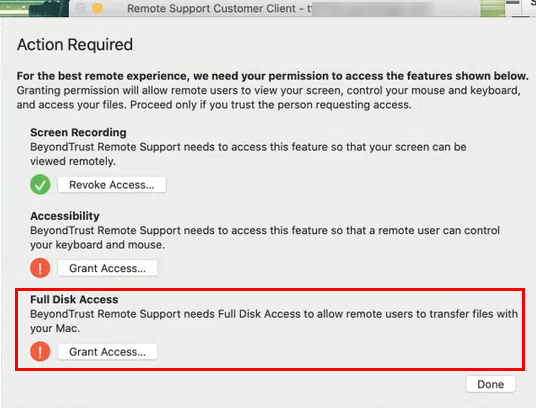 In addition, you can use the privileged Web Console to transfer files.
Step 1. Click the File Transfer tab at the top of the screen to begin the file transfer process.
Step 2. Choose a browsing starting point by selecting a location from the volume column. The breadcrumb at the top will show your current location. To access the folder, double-click it.
AnyViewer: The best free Bomgar alternative for large file transfer
Now you have got the answer to the Bomgar file transfer limit. However, Bomgar does not offer a free plan and has a large file transfer limit. It is recommended that you look for the perfect alternative to Bomgar. AnyViewer is highly recommended as it is an all-in-one, free file transfer software with file transfer feature. You can transfer files externally or during a remote session by using file management and drag and drop.
AnyViewer has the following file transfer advantages over Bomgar:
AnyViewer offers a free plan.
The AnyViewer free plan allows users to upload up to 100 files at the same time, with a maximum file size of 100MB for transferring files.
AnyViewer free plan has two file transfer threads for fast file transfer. This makes the file transfer time much shorter and reduces the user's file transfer workload and process.
As you can see, AnyViewer compares very favorably with Bomgar, which not only offers a free plan and supports file transfers, but also has a faster and more convenient feature.
Step 1. On both of your devices, install and launch AnyViewer after you download. Go to "Log in" and select "Sign up" to fill out the signup form to create an AnyViewer account.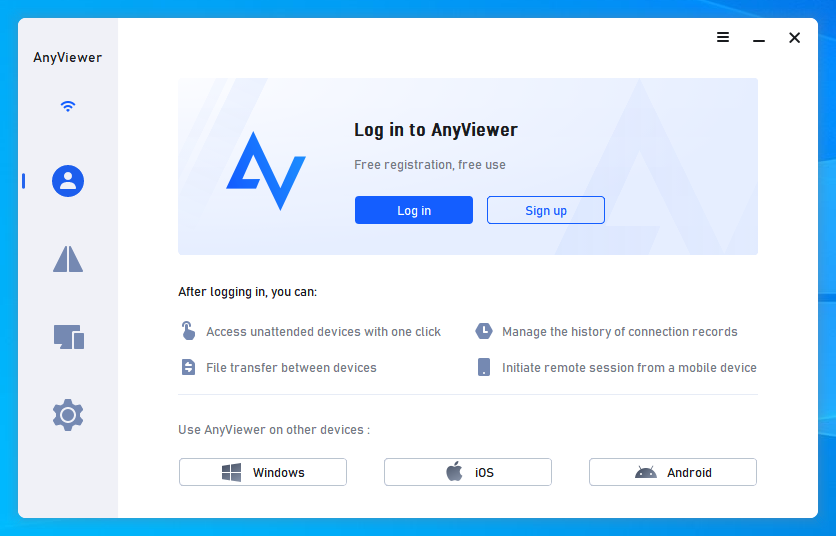 Step 2. Then log in to your newly created account. After successfully logging in, your device will be automatically assigned.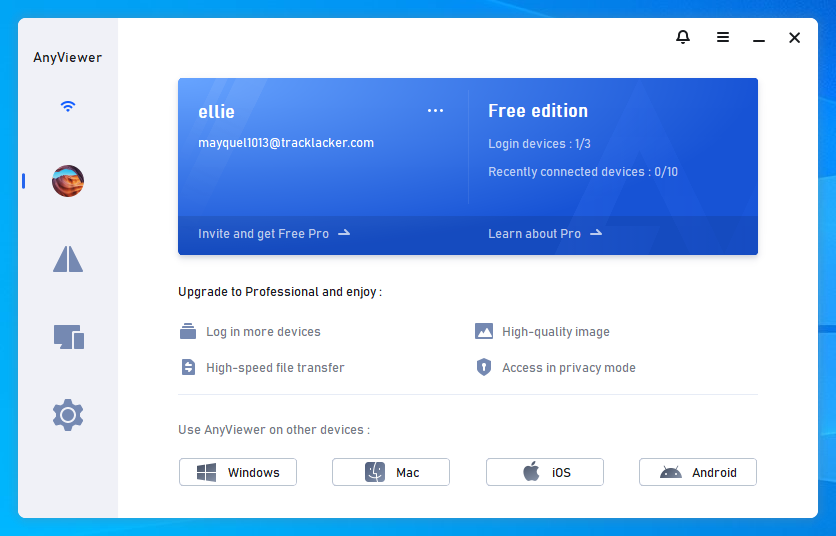 Step 3. Navigate to "Device" and choose the device you want to connect, then click "File transfer".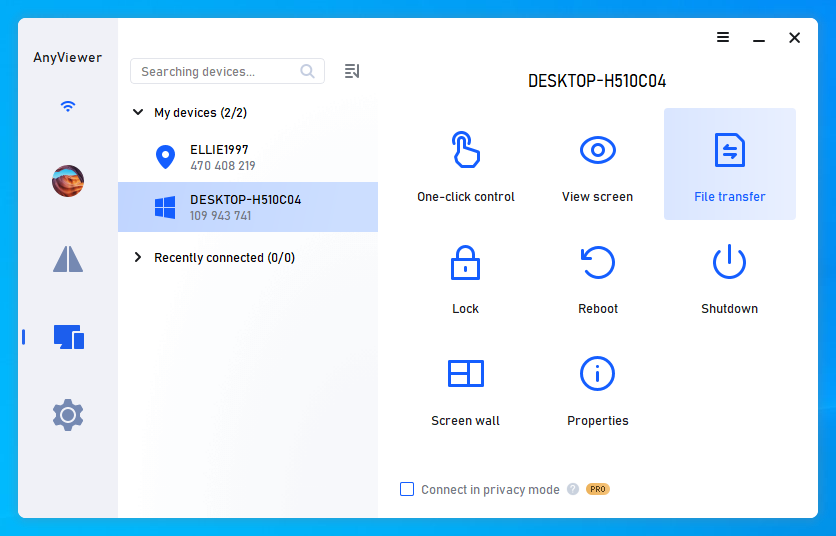 Tips: you can also allow unattended remote access by clicking "One-click control" to connect to another device. During a remote session, you just need to simply click the "File" button in the menu bar to transfer files.

Step 4. Next, you see the File Transfer dialogue box. On the left side of the box is the road to the controller computer, and on the right side is the path to the receiving computer. After selecting the destination file, click the arrow to transfer the file freely between devices.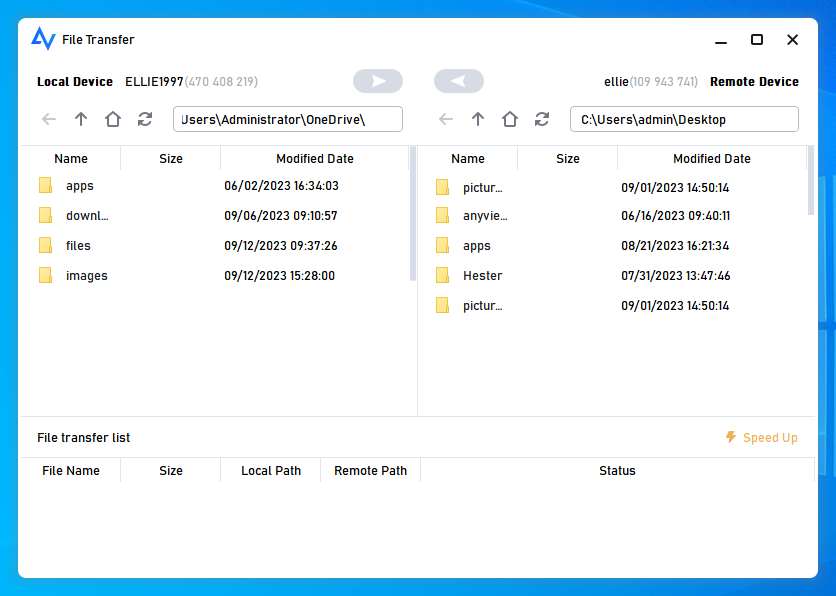 ★Tips: If you want a larger transfer file size, you can upgrade your account to a professional or enterprise plan:

The unlimited number of files to transfer at the same time.
Upload a single file with a maximum file size of 1 TB.
Faster file transfer speed.
Multiplexed file transfer threads. You can perform multiple file transfer tasks simultaneously.
...
​​​​​​
Conclusion
Is there a Bomgar file transfer size limit? You've got the answer in this article. However, since Bomgar does not offer a free plan and file transfers are more restrictive, it is recommended that you explore Bomgar alternatives. AnyViewer is worth your while as it offers you a free plan and gives you a faster, safer, and easier file transfer experience. Hurry up to download and use AnyViewer to enjoy a more convenient, faster, and safer experience and service!