Secure file transfer for BeyondTrust Remote Support
BeyondTrust, previously known as Bomgar, offers a highly regarded product called BeyondTrust Remote Support. This solution allows IT administrators to remotely control and troubleshoot unattended computers, providing effective remote desktop support. It also facilitates convenient file transfer capabilities between connected devices.
When dealing with support incidents, transferring files between computers is often necessary. BeyondTrust ensures secure file transfer by employing their award-winning BeyondTrust Appliance, which utilizes robust 256-AES SSL encryption. This encryption guarantees that file transfers are safeguarded against external threats. BeyondTrust's on-premise appliance also ensures that all data remains internal to your company, ensuring data privacy and control.
How does Bomgar file transfer work?
The process of Bomgarfile transfer is straightforward. Whether you need to transfer files between remote computers, tablets, or smartphones during remote support sessions, Bomgar provides a simple solution. Here are the steps to transfer files.
Transfer files from Windows to Mac to Ubuntu and back
Regardless of the operating system, you're using on your computer or the remote desktop, file transfer functionality in BeyondTrust remains consistent. BeyondTrust offers support for Windows, Mac, and various Linux distributions with comparable capabilities. This ensures a consistent support interface, even when working with unfamiliar systems.
You can utilize the convenient upload and download buttons or drag and drop files to initiate file transfers. Additionally, you can right-click on a file and choose to open or download it directly.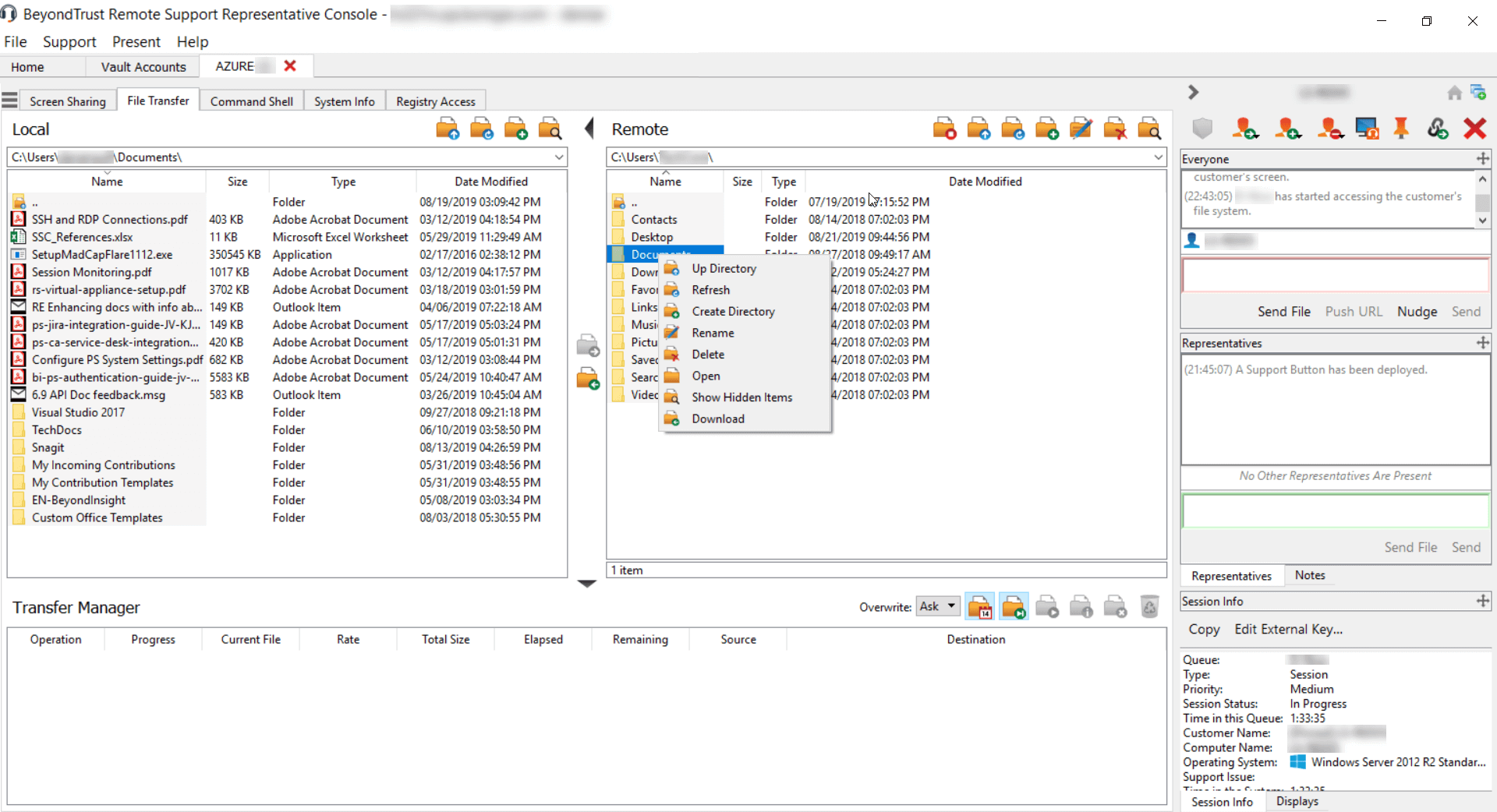 For macOS Catalina (10.15)+ systems, in cases where screen sharing is not enabled, you can click on the banner at the top of the File Transfer tab. This action prompts the customer to grant permissions for file transfers.
Once prompted in the customer client, the customer can grant access, and the representative will be guided to the right panes in Settings to update the necessary Bomgar file transfer permissions.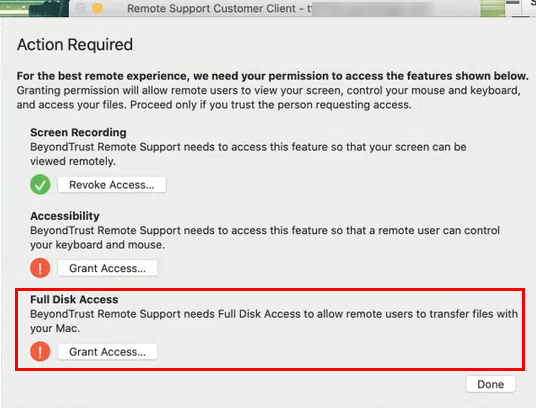 File transfer for Android and iOS devices
BeyondTrust simplifies the process of transferring files to mobile devices you support. During remote support sessions, it allows you to transfer files from Windows, Mac, or Linux systems to Android and iOS devices. When assisting with Android or iOS devices, you can browse limited areas of the remote file system and transfer files.
Administrators have granular control over access permissions for representatives supporting users remotely. File transfer permissions can be customized, granting full access to supported systems or defining specific permissions for files and directories. Additionally, administrators can restrict file transfer privileges to upload or download, preventing representatives from having complete control over the remote file system.
File transfer to and from the Android device
Representatives with the necessary privileges can quickly transfer files and directories to and from the remote device in a session. The Android file system can be accessed with read privileges, while the SD card allows for read/write privileges. It is important to note that complete control of the customer's device is not required for file transfers.
Transferring files is a straightforward process. You can utilize the upload and download buttons or drag and drop files to initiate the transfer. Additionally, right-clicking on a file provides a context-sensitive menu that offers various options, such as creating a new directory, renaming, opening, deleting the file, or directly downloading it to your machine.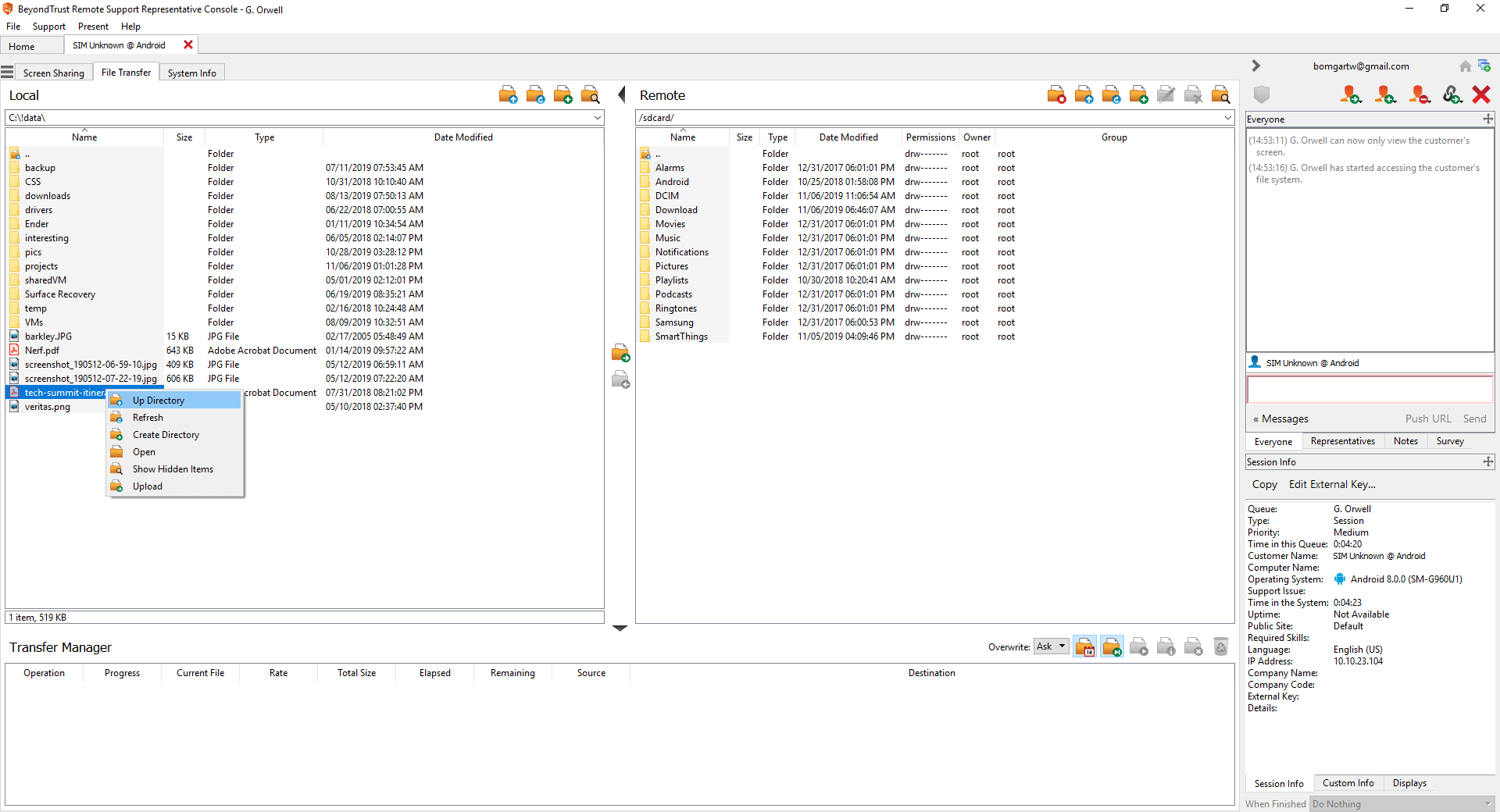 File transfer to and from the iOS device
In the iOS customer client, representatives can access an integrated file system through the File Transfer tab in the representative console. From there, representatives can upload files to the remote device or download files already present in the customer client's file system.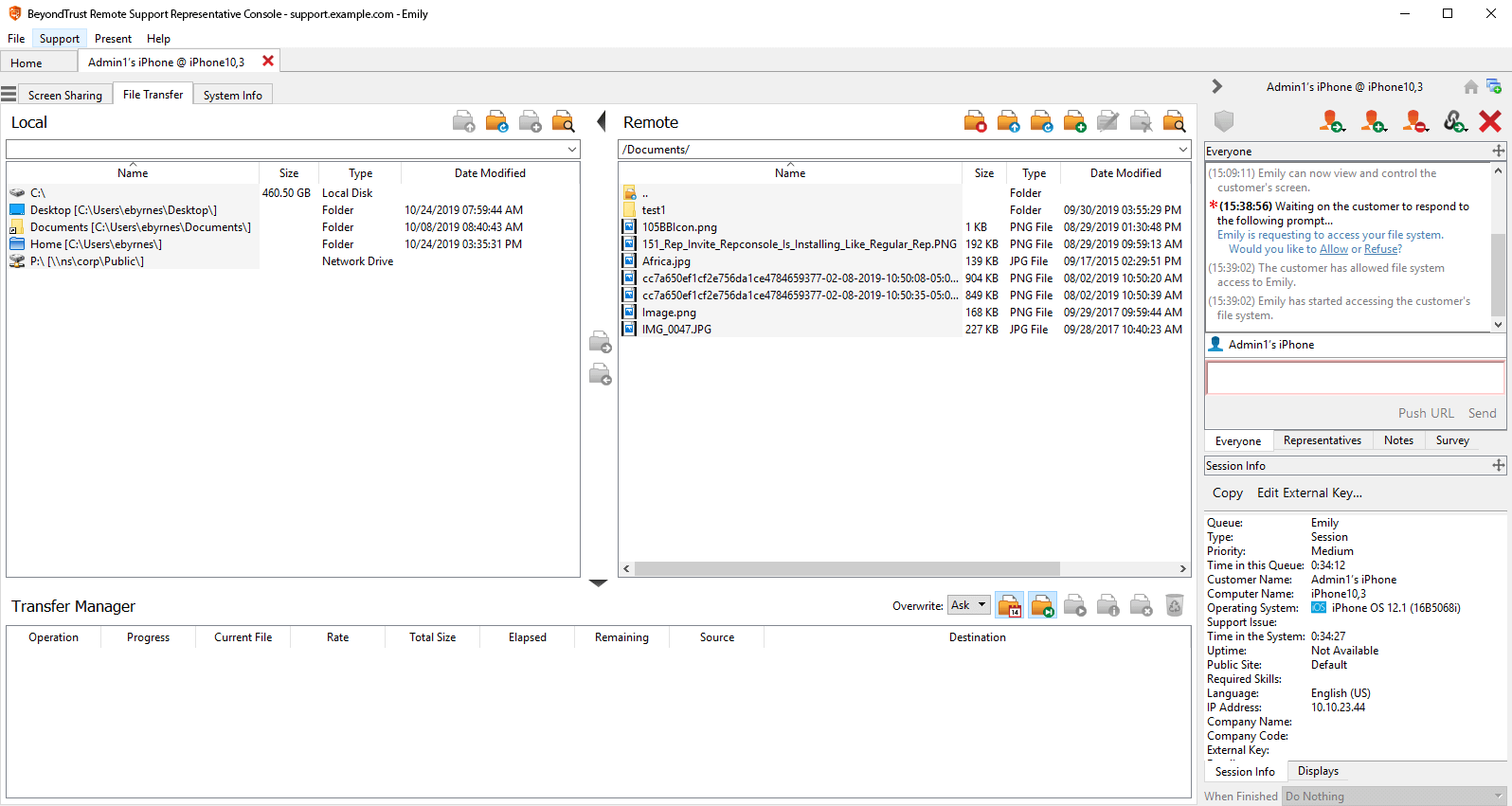 On the customer side, they can view the list of files from the Files tab within the customer client. It's important to note that representatives cannot switch between tabs within the iOS customer client app, so it is the customer's responsibility to select the appropriate tab to access the file list.
File transfer using the privileged Web Console
You can also transfer files using the privileged Web Console. Let's see how the Bomgar Web Console file transfer work.
Step 1. Begin the file transfer process by clicking on the File Transfer tab at the screen's top.
Step 2. Choose a starting point for browsing by selecting a location from the Volumes column. The breadcrumbs at the top display your current location. To access a folder, double-click on it.
AnyViewer: Free & secure Bomgar file transfer alternative
Currently, Bomgar does not offer a free version of its software. However, if you are looking for a reliable and permanently free alternative for file transfer between computers, it is highly recommended to explore AnyViewer. AnyViewer is considered the top choice as a free alternative to Bomgar, specifically for file transfer purposes.
Like Bomgar, AnyViewer is a remote desktop solution with a file transfer feature. But AnyViewer is free to use. Moreover, AnyViewer ensures security for all remote sessions and file transfers. End-to-end encryption is employed using robust 256-Bit Elliptic Curve Cryptography (ECC) algorithm, providing high data protection.
Now, let's delve into securely transferring files using AnyViewer.
Step 1. Download, install, and launch AnyViewer on your devices.
Step 2. Create an AnyViewer account and sign in to it on both devices.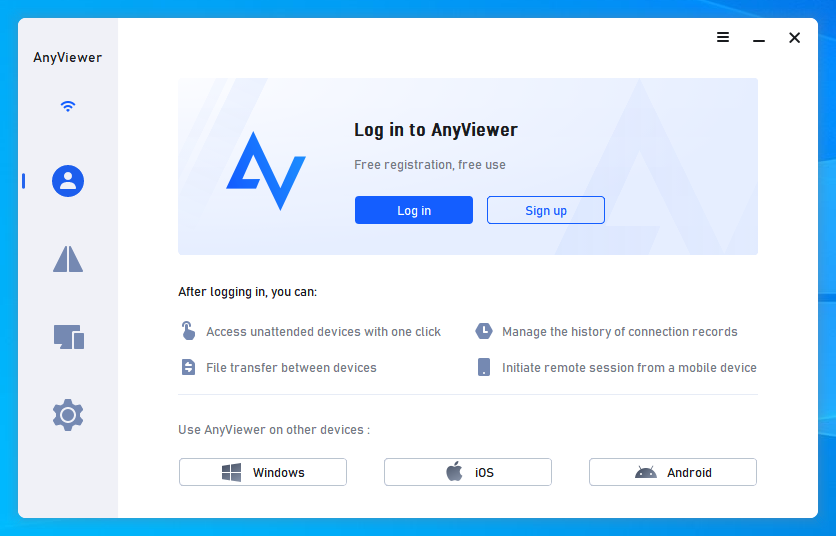 Step 3. On your local device, navigate to the "Device" section to find the list of available devices.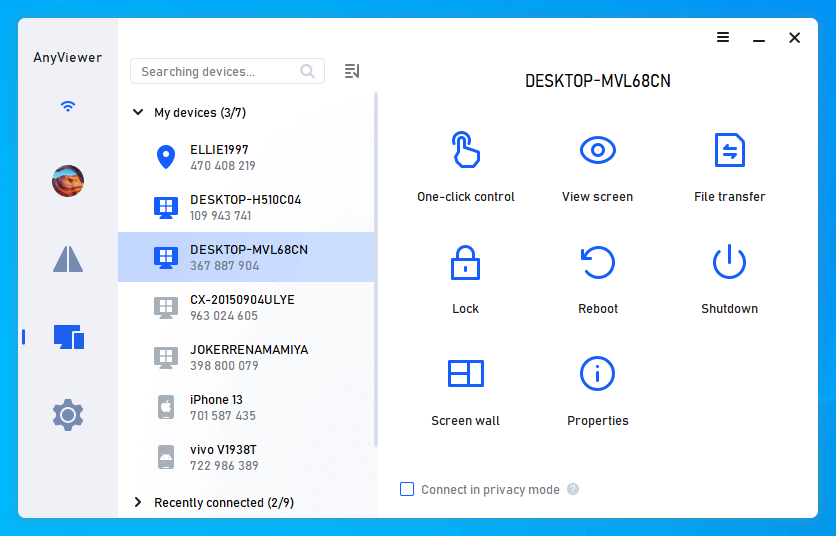 Way 1. Transfer files outside of the session
Step 1. Select the destination computer from the list to transfer files directly and click "File Transfer". This will open the file manager.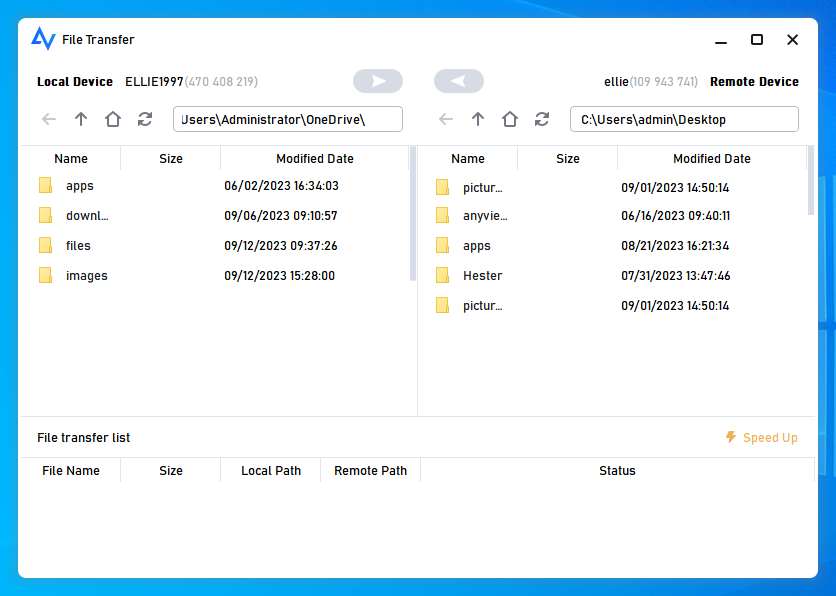 Step 2. The left pane of the file manager displays the file path of your local computer, while the right pane shows the file path of the remote computer. You can transfer files between devices by selecting the target files and clicking the arrow buttons.
Way 2. Transfer files during a remote session
Step 1. During a remote session, AnyViewer allows you to transfer files as well. To gain unattended remote access to the remote computer, select "One-click control".
Step 2. Click the "Files" button to transfer files in the menu bar.

Alternatively, you can perform file transfers by dragging and dropping files during the session.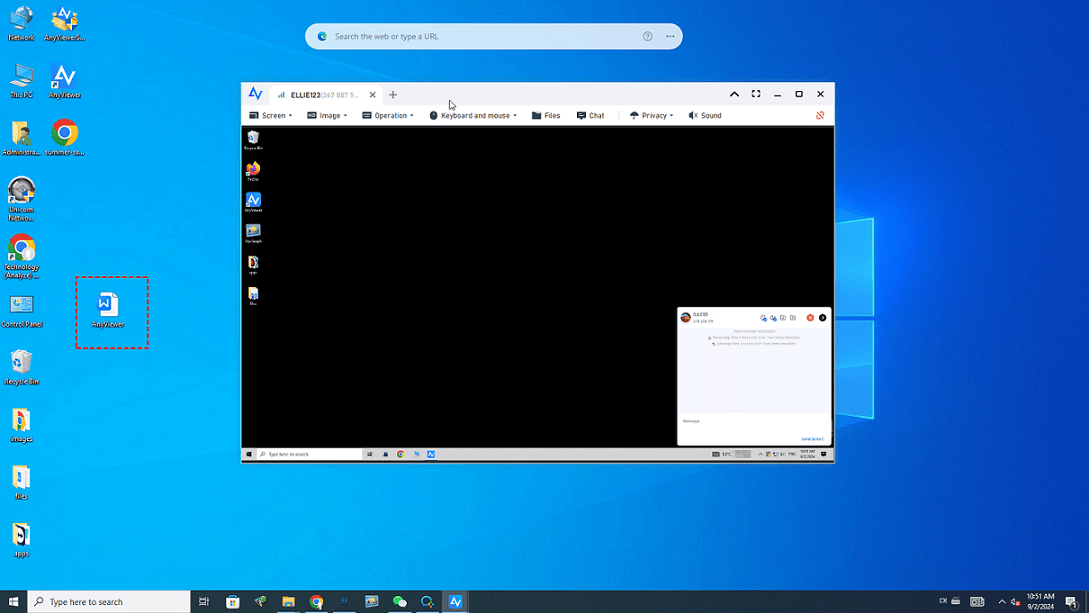 Notes:✎...

To transfer files freely, it is highly recommended to upgrade your account to a professional or enterprise plan. Here are what a professional or enterprise plan can bring to you:

Faster file transfer speed. Transfer speed for a free account is 500 KB/s, and for a paid account is up to 10 MB/s.
Increasing numbers of files are being transferred at once. For a free account, 100 files can be transferred at a time; for a paid account, this number is unlimited.
Larger size of a single file that can be transferred. The maximum size of a single file that can be transferred for the free account is 100 MB, and for a paid account is 1 TB.
The bottom line
This post serves as an introduction to the functionality of Bomgar file transfer. Additionally, it presents AnyViewer as a viable and free alternative for file transfer. AnyViewer offers a secure file transfer service that is both cost-free and reliable. You should download and try AnyViewer to experience its features firsthand.