The issue: AnyDesk waiting for image
I use Anydesk to connect to a remote host. The connection has been made, but there is no visible image, and a message says, 'Waiting for image.' Any solutions for AnyDesk waiting for image?"
- Question from a user
How to fix AnyDesk stuck on waiting for image on Windows 10, 11 [4 solutions]
AnyDesk is a well-known remote access software that enables you to connect to another device and see its screen and files from anywhere in the world. Users might occasionally run into problems during a remote session, though. For instance, the client computer may experience AnyDesk connected but waiting for image due to the unstable Internet connection, blocked Firewall, or monitor connection. Thankfully, there are a couple simple fixes for this issue.
Solution 1. Check the Internet connection
If you encounter AnyDesk stuck on waiting for image, you may have an unstable Internet connection. We recommend checking your Internet connection first.
Step 1. Press Win+ R keys, input "cmd", then click OK.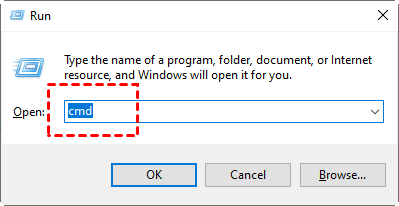 Step 2. Runthe command "ping -t 8.8.8.8" and check the time value. If the data indicate considerable swings, your Internet connection needs assistance.
Step 3. If you're having issues with your Internet, close the computer, unplug the router or modem, wait 30 seconds, then plug it back in.
Step 4. Re login to the router and modem, and restart your computer to try again.
Solution 2. Configure AnyDesk in Windows Firewall
A weakly constructed Firewall may also be the source of the error message. The Windows Firewall on both the local and remote sides should not interfere with the AnyDesk connection. Therefore, you have to make sure that AnyDesk is whitelisted in Windows Firewall.
Step 1. Go to System and Security > Windows Defender Firewall in Control Panel. Click Allow an app or feature through Windows Defender Firewall.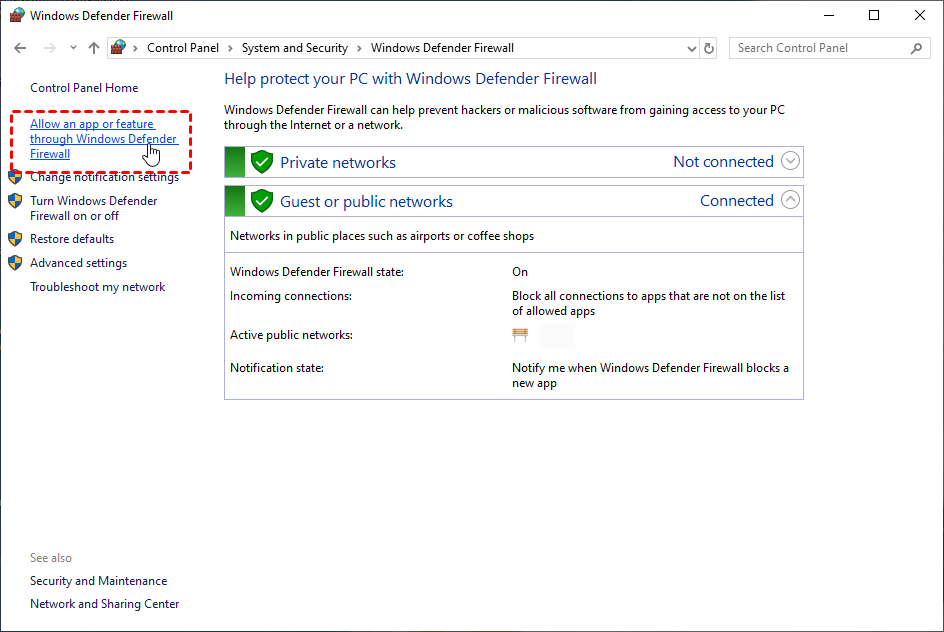 Step 2. Click the Change settings button, find and check the Private and Public boxes for AnyDesk, then click OK.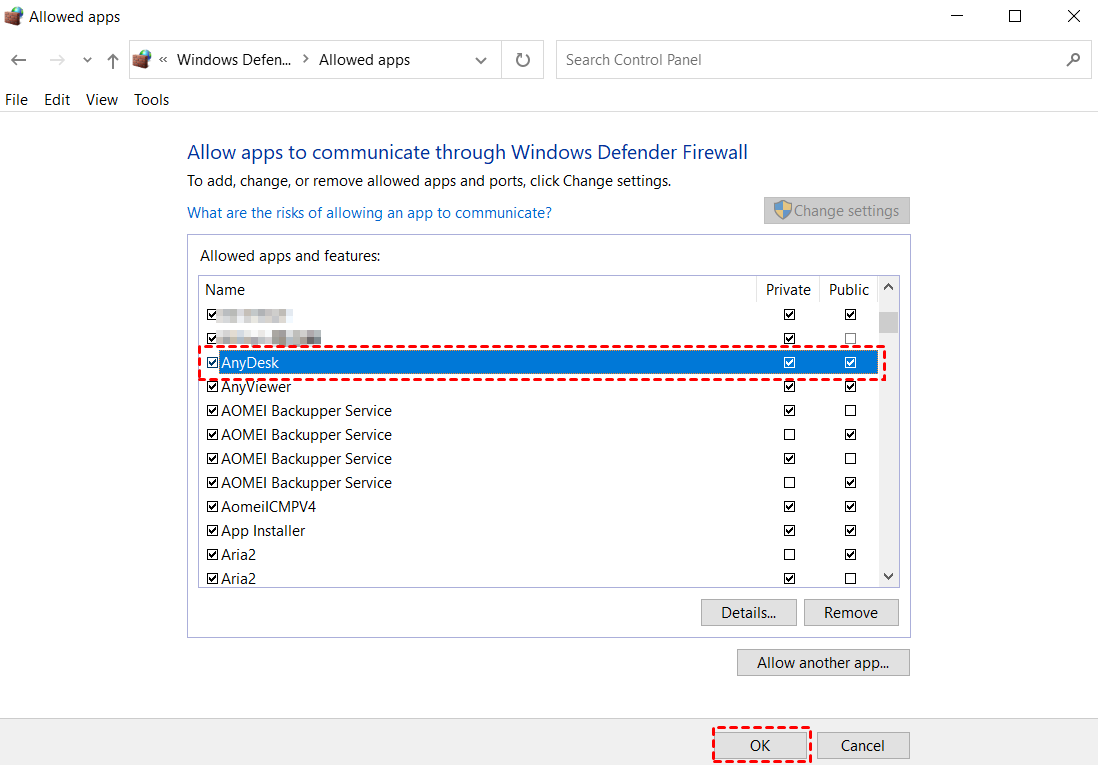 Solution 3. Use Ctrl + Alt + Del keys to evoke the display settings
Sometimes you'll find AnyDesk waiting for image when you connect to a pc without a monitor. The following steps can help you let AnyDesk start working again.
Step 1. In the session window, click the Actions button on the upper toolbar, and click Ctrl + Alt + Del.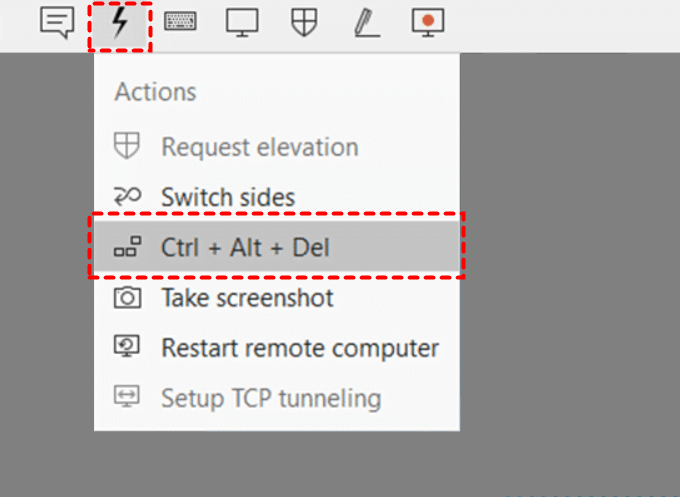 Step 2. Click Cancel if something shows up.
Step 3. Then screen will be frozen again. Click the View Mode option, and select Auto-Adapt resolution.Then everything will start working again.
Solution 4. Use a reliable AnyDesk alternative
The effective way to solve the display errors is by using an AnyDesk alternative. Thus you won't face these problems anymore. Many remote access tools are on the market, and our top selection is the powerful and safe software AnyViewer.
As the best remote access software, AnyViewer offers the most stable connections without interruptions and errors. Besides, it is an effective all-in-one solution. All of the features are free to use, including unattended access, remote desktop file transfer, multiple sessions, multiple monitor navigation, and remote reboot.
AnyViewer is very easy to use. Download it on your computer, and let's get started.
Step 1. On the host device, launch AnyViewer, sign up for an account by clicking Sign up, and log in.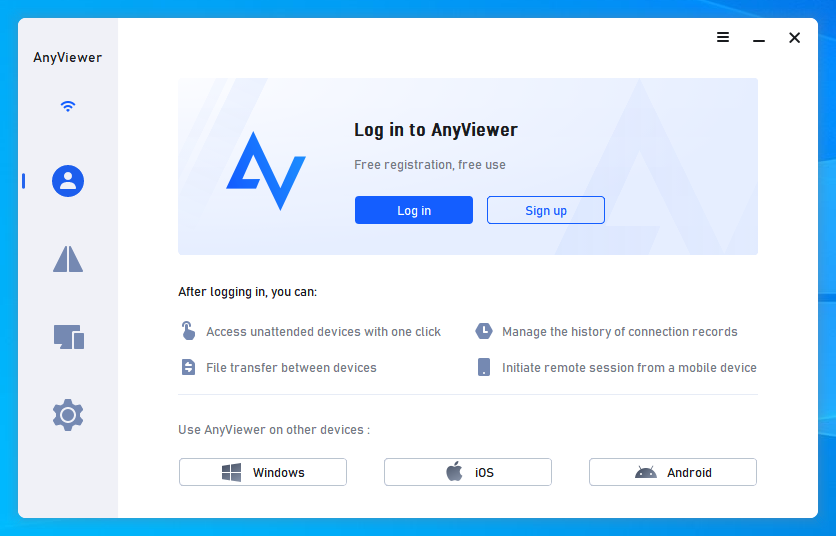 Step 2. Utilize the same login credentials as the host to sign in to AnyViewer on the client device.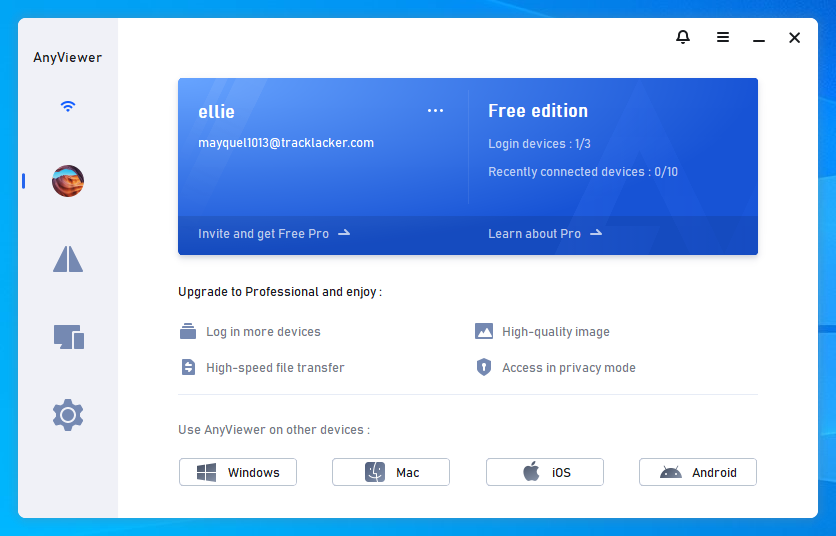 Step 3. Navigate tothe Device interface to see a list of your assigned devices. Click the remote device you want to connect to, then click One-click control.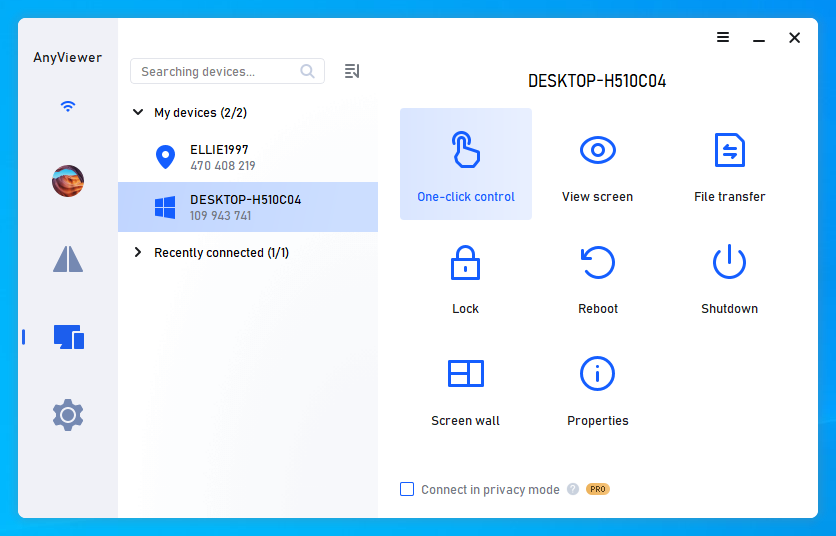 If you don't want anyone else to be able to see what you're doing on your remote computer, instead of disconnecting the remote computer from a monitor, you can upgrade your account to black the remote screen or disable the remote mouse and keyboard in the session. In this way, your colleagues or roommates cannot view content on your remote PC.
Bonus tip: Other common issues and fixes in AnyDesk sessions [3 cases]
User complaints about AnyDesk problems with the audio, mouse, and keyboard are also frequent. Continue to the subsequent steps to fix the issues.
Case 1. AnyDesk audio not working
Make sure you enable the Transmit audio output of this desk option in the audio settings.
Open AnyDesk Settings and go to the Security tab > Unattended Access > Permissions for remote users > check Hear my device's sound output.
Case 2. AnyDesk mouse not working
Activating the Control my computer's keyboard and mouse option and launching AnyDesk as an administrator on the remote side may resolve this issue.
Open AnyDesk Settings and go to the Security tab > Unattended Access > Permissions for remote users > check Control my device's keyboard and mouse.
Case 3. AnyDesk keyboard not working
If you can't perform hotkeys in a session, follow the next steps to enable the related options.
Open AnyDesk Settings and go to the Security tab > Unattended Access > Permissions for remote users > check Access my device's clipboard and Access my device's clipboard to transfer files.
Conclusion
We offered several ways to fix AnyDesk waiting for image. This error frequently happens when you connect to a remote computer that does not have a monitor. If you don't want the remote monitor to show your actions, we recommend using AnyViewer which supports black the remote screen in a session to protect your privacy.