AnyDesk vs RemotePC
Remote access software is crucial for many enterprises and individuals who need to access computers from different locations remotely. Numerous software offers this kind of capability, but finding a fast, secure, trustworthy, and affordable one takes time.
In this post, we'll compare AnyDesk vs RemotePC to assist you in selecting the best available remote desktop software. We'll look at compatibility, security, features, ease of use, support, and pricing.
Compatibility
There is a comparison of the systems supported by AnyDesk and RemotePC.
| | | |
| --- | --- | --- |
| Operating system | AnyDesk | RemotePC |
| Windows | ✔️ | ✔️ |
| Windows Server | ✔️ | ✔️ |
| macOS | ✔️ | ✔️ |
| Linux | ✔️ | ✔️ |
| Raspberry PI | ✔️ | ✔️ |
| FreeBSD | ✔️ | ❌ |
| ChromeOS | ✔️ | ✔️ |
| Fire OS | ❌ | ✔️ |
| Android | ✔️ | ✔️ |
| iOS | ✔️ | ✔️ |
Security
AnyDesk
AnyDesk uses multiple levels of encryption and data security to guarantee the safety of user data. It also features several privacy settings that let users choose who and how to access their devices.
However, the most severe security risk linked with AnyDesk is hackers accessing users' computers via social engineering techniques. They take the user's login information to hack into their accounts by posing as a member of a reputable company's support team. The user has the highest obligation to maintain their safety in such circumstances.
RemotePC
Is RemotePC safe? RemotePC provides numerous levels of protection, including industry-standard TLS v1. 2 and AES 256-bit encryption, personal user-defined keys, two-factor authentication, trusted devices, and the ability to blackout the host screen so no one can see what you're doing on a remotely accessed machine.
Interface and ease of use
Both AnyDesk and RemotePC have intuitive interfaces. The remote access function is easy to find. We'll show you how to perform unattended access on AnyDesk and RemotePC. You can thus choose the way that suits you better.
►How to perform AnyDesk unattended access
Step 1. Download and install AnyDesk on your computers.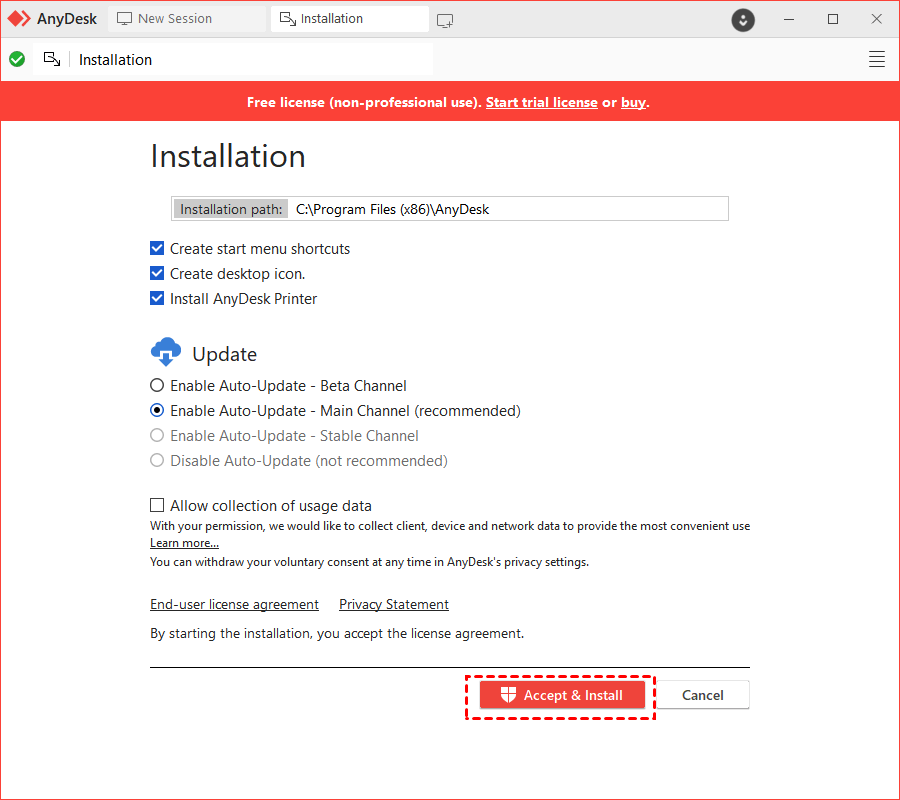 Step 2. Click Register to create an AnyDesk account. (Log in if you have one.)
Step 3. Fill in the information and click Register Account.
Step 4. On the remote computer, click the menu icon and click Settings.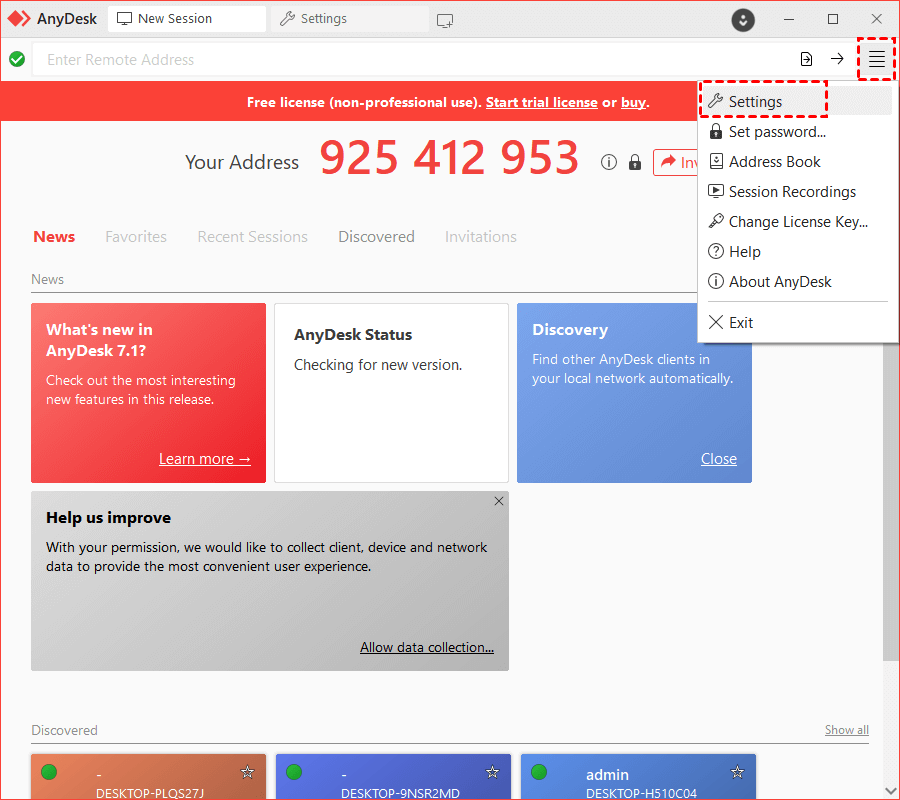 Step 5. Go to the Security tab, and click Unlock Security Settings.
Step 6. Click Set password.
Step 7. Set a password for receiving unattended access. Select Unattended Access under Permission Profile, and click Apply.
Step 8. On the local computer, enter the remote address of the remote computer and select the device.
Step 9. Enter the password for unattended access and click OK. You can tick Log in automatically from now on to remote into the device without entering the password in the next time.
►How to perform RemotePC unattended access
Step 1. Download and install the RemotePC on your computers.
Step 2. Open the software and click Signup Now to create a RemotePC account.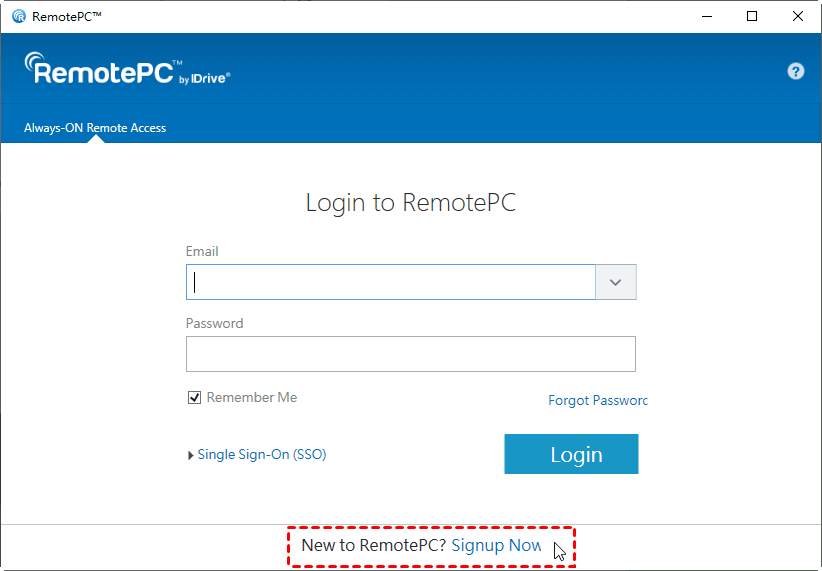 Step 3. You need to purchase a license to enjoy RemotePC's functions since it is only available for a 7-day free trial. Please choose a plan that meets your needs, enter your billing and account information, then click Create My Account.
Step 4. Go back to RemotePC and sign in using your credentials.
Step 5. Enter your computer's name and personal key, and then click Enable Now! to enable remote access.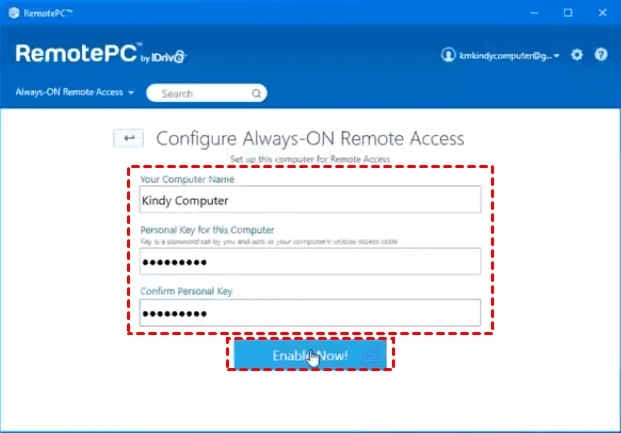 Step 6. Open RemotePC on the local computer and log in to the account. You can see the list of your devices, find the remote computer you want to connect to, and click Connect. Enter the personal key of the remote computer in the following pop-up window to establish a remote connection.
When accessing RemotePC vs AnyDesk, we can find that AnyDesk is easier to set up, while RemotePC is easier to use.
Features
AnyDesk and RemotePC both offer several features as follows.
| | | |
| --- | --- | --- |
| Features | AnyDesk | RemotePC |
| Unattended remote access | ✔️ | ✔️ |
| File transfer | ✔️ | ✔️ |
| Remote reboot | ✔️ | ✔️ |
| Concurrent sessions | ✔️ | ✔️ |
| View multiple monitors | ✔️ | ✔️ |
| Drag and drop | ✔️ | ✔️ |
| Chat | ✔️ | ✔️ |
However, most of the above features are designed for paying customers. For instance, AnyDesk free license only allows unattended access, file transfer, and chat. You need to pay for other advanced features. While RemotePC does not have a free version, you have to sign up for a paid plan.
Plans and pricing
AnyDesk comes in four plans (billed annually): Free, Solo, Standard, Advanced, and Ultimate. Here is the detailed infoabout AnyDesk pricingplan.
RemotePC has five plans (billed annually): Consumer-one computer, Consumer-two computers, SOHO, Team, and Enterprise. Check the detailed info below.
When comparing the pricing of AnyDesk vs RemotePC, We can draw the following conclusions:
AnyDesk is relatively expensive.
While RemotePC better accommodates commercial needs than AnyDesk, it is not user-friendly for private use.
RemotePC is better in terms of ongoing product support caliber.
AnyDesk is superior for feature updates and strategies.
Looking for a free RemotePC vs AnyDesk alternative for Windows?
If you need an all-in-one remote access solution but AnyDesk vs RemotePC are far beyond your budget, we recommend you use the reliable alternative AnyViewer that allows user to enjoy all the features we mentioned above for free, including unattended access, large file transfer, concurrent sessions, multi-monitor navigation, remote lock/reboot/shut down, drag and drop, chat, etc.
Besides, it has easier operations, and you can start a one-click unattended remote access without entering the password.
Download AnyViewer on your computer and see how easy it is to use.
Step 1. On the host server, click Sign up to create a new account and then login.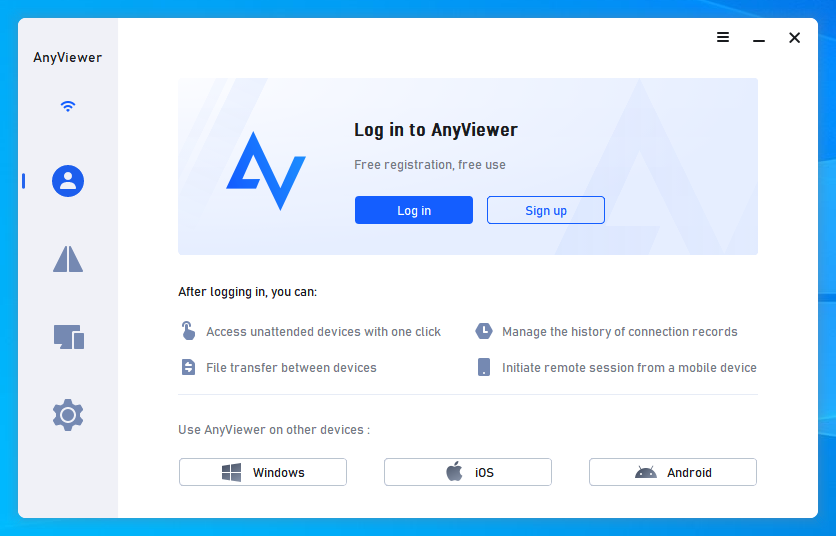 Step 2. On the client computer, log in to the same account as on the host. You device will assign to the account when successfully logged in.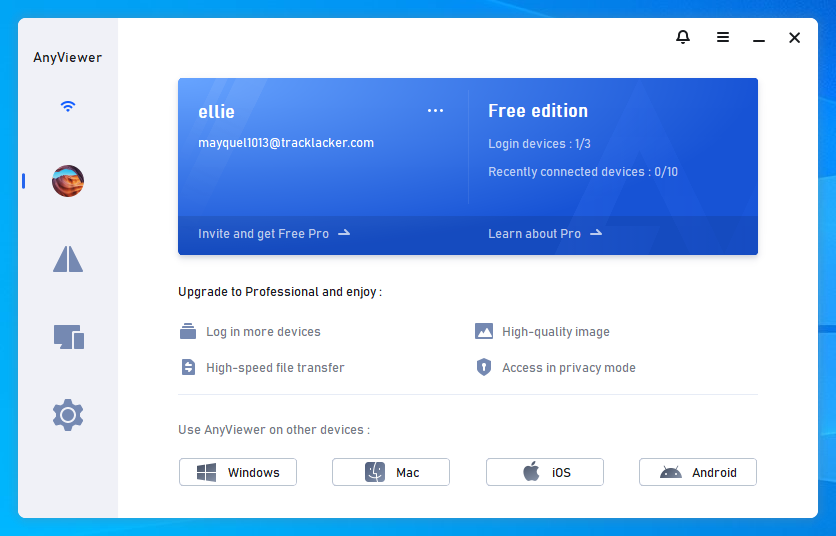 Step 3. Go to the Device interface, and you can see the list of assigned devices. Click the machine you want to connect to and click One-click control.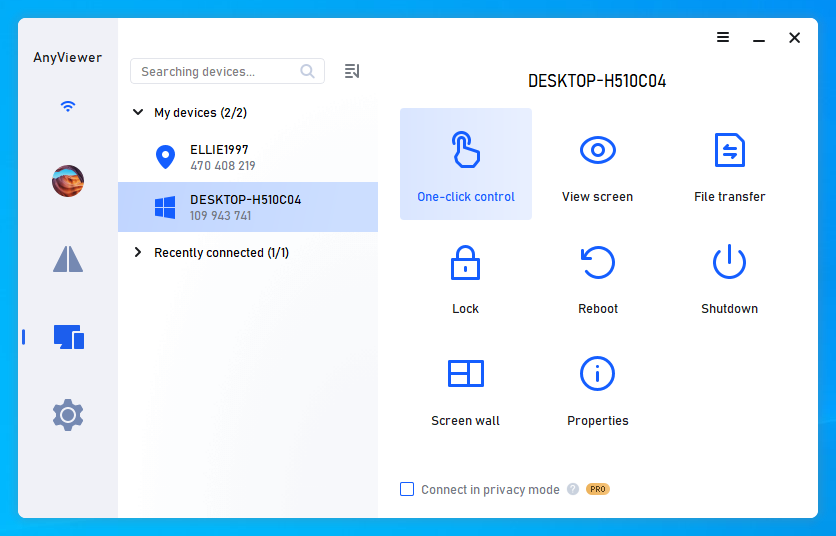 You can now use the computer from a distance as if you were in front of it. The upper toolbar contains a lot of valuable options. For example, you can transfer files, chat with your partner, hide the wallpaper, change the screen resolution, etc.
★Tips: Additionally, AnyViewer offers budget-friendly subscriptions for commercial use. You can subscribe to the Professional or Enterprise plan to gain more rights!

Set up to 100 assigned devices for one-click control.
Create more concurrent sessions.
Access in privacy mode allows blacking the physical screen and disabling the physical keyboard of the remote device.
Enjoy high-image quality.
Conclusion
AnyDesk vs RemotePC, which is better for you? The solution you choose would depend on your needs. AnyDesk is more suitable for personal use due to its free plan but it offers few features. RemotePC offers more business choices, but it is not friendly for individuals. Therefore, if both solutions can not meet your demands and you are looking for an all-in-one plan to enjoy the most features at the lowest cost, try AnyViewer.