Is RemotePC safe?
Is RemotePC safe? RemotePC remote access is very secure. The system offers numerous levels of security, including industry-standard TLS v1.2 and AES 256-bit encryption, personal user-defined keys, two-factor authentication, trusted devices, and the ability to blank the host screen so no one can see what you're doing on a remote PC. Additionally, the program complies with HIPAA, GDPR, PCI, SOC 2 Type, and FIPS regulations.
In addition to RemotePC security, this post will have a comprehensive RemotePC review of its tutorial, pros & cons, and alternative. Please keep reading.
How to set up RemotePC
Is RemotePC secure? Yes! Besides, RemotePC is very straightforward to download and configure. Here is how to set up RemotePC.
Step 1. Download and install the RemotePC on your computers from its official website.
Step 2. Open the software and click Signup Now to create a new account.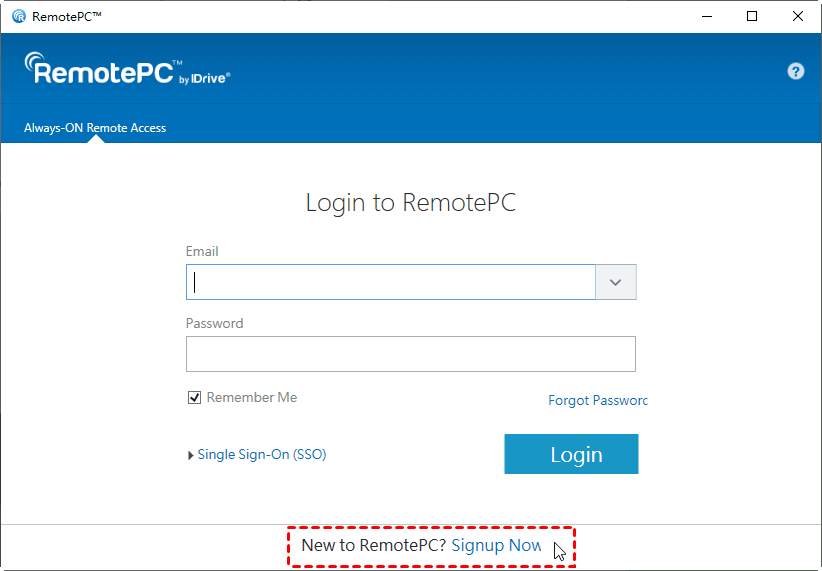 Step 3. Since RemotePC only offers a 7-day free trial, you need to buy a license to use its features. Please select a plan according to your demands, fill in the account and billing information, and click Create My Account.
Step 3. Return to RemotePC and log in with your account.
Step 4. Enter the computer name and personal key for your computer, and click Enable Now! to enable remote access.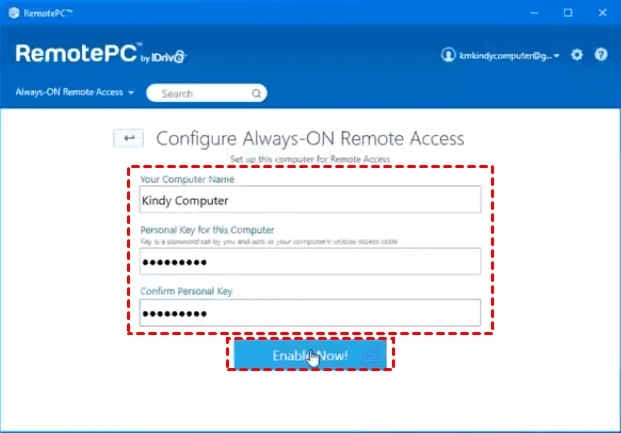 Step 5. Open RemotePC, log in to the account on the client computer, locate the host computer, and click Connect. Enter the personal key of the host computer in the next pop-up window to achieve a remote connection.
RemotePC pros and cons
Here are the pros and cons of RemotePC to help you make a choice.
Pros
RemotePC is ideally suited to business needing to manage their remote desktop connections for the following advantages:
►Easy to use.
►Secure.
►Universally accessible and support Windows, Mac, Linux, iOS, and Android devices.
►Rich features: unlimited remote access, unlimited current access, file transfer, remote reboot, etc.
Cons
While RemotePC has proved its worth to many customers, some shortcomings need improvement.
►No free version, and the plans are available only with an annual subscription.
►Remote access features are limited for some operating systems.
►May cause problems with security software.
►Unstable and lags a bit during remote support.
The best free & safe RemotePC alternative
Finding a RemotePC alternative that is budget-friendly, scalable, flexible, and simple to use is difficult since the market for remote desktop solutions is becoming increasingly monopolized. Fortunately, there is a notable RemotePC alternative - AnyViewer, that serves intuitive interface, high-level secure connections, and comprehensive features.
There is a quick overview of the pros and cons of AnyViewer.
Pros:
Completely free version without any in-app payment.
Easy to install and operate.
Quick and stable connection.
High-level security with end-to-end encryption via strong 256-Bit Elliptic Curve Cryptography (ECC) algorithm.
Rich features: unattended remote access, fast file transfer, concurrent sessions, muti-monitor navigation, remote reboot, instant chat, etc.
Cons:
Does not support Mac and Linux machines at present.
You need to install AnyViewer on your devices, and then you can follow the next steps to enjoy its excellent features.
Let's move on to how to start a remote session via AnyViewer.
Step 1. Start AnyViewer on the host computer, and click Sign up to create a new account.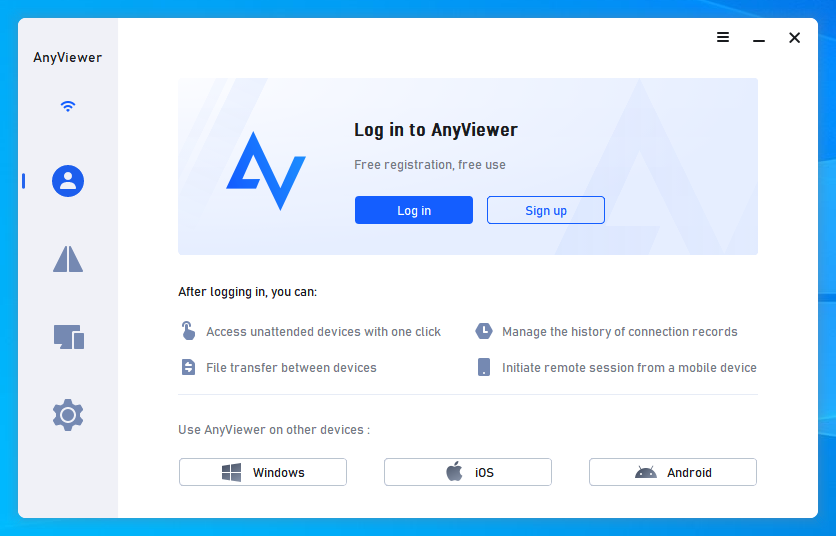 Step 2. Start AnyViewer on the client PC, and log in to the account you just created.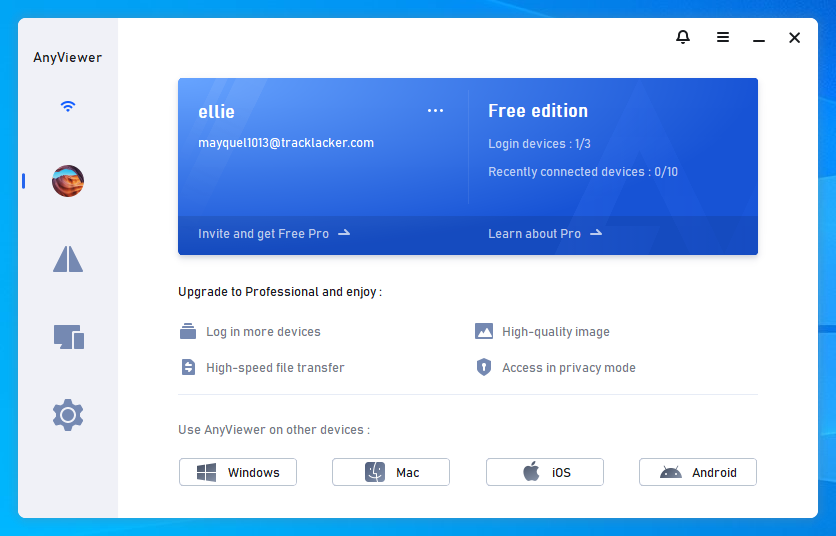 Step 3. Go to the Device interface, select the computer you want to connect to and click One-click control.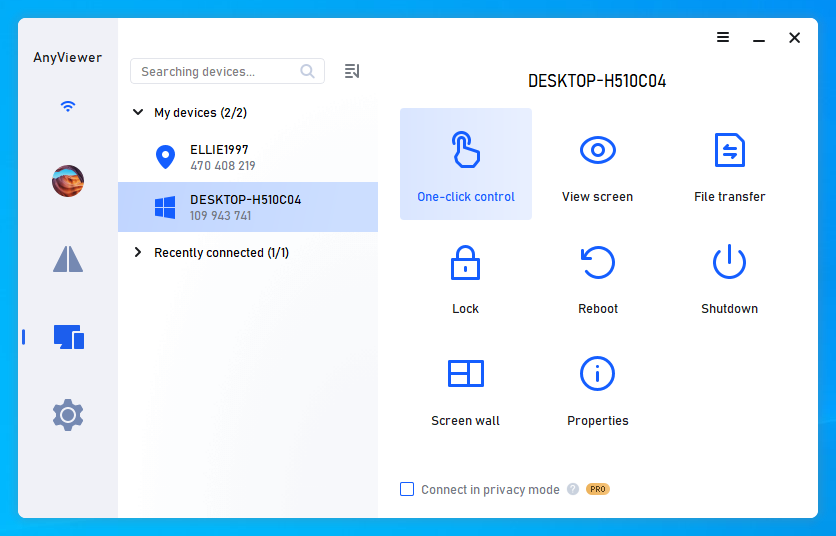 Now you can control the remote computer as if sitting in front of it, andthere are many considerate options in the upper toolbar. For example, you can transfer files, chat with your partner, remote reboot the computer, etc.
Notes:✎... AnyViewer also has advanced plans for businesses. We recommend you upgrade to the cost-effective Professional or Enterprise plan for more rights:

Assign up to 100 devices for one-click control.
Establish more concurrent sessions.
Access in privacy mode with blacking the physical screen and disabling the physical keyboard of the remote device. Enjoy high-image quality.
The bottom line
Is RemotePC safe? Yes! RemotePC is very secure with its numerous security features. However, it is not so friendly for personal use since there is no free version and you have to pay for a user license. Therefore, you can use the free RemotePC alternative AnyViewer to enjoy the same features.