Does AnyDesk have a time limit?
Does AnyDesk have a time limit? It is glad to tell you that there's no AnyDesk session time limit. Unlike many free remote access solutions with a session limit, AnyDesk's free license features no time restrictions or pop-up timers.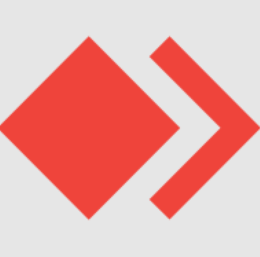 How do I stop AnyDesk from automatically disconnecting?
The session may occasionally disconnect at regular intervals, for example, every 10 minutes, etc.), even if the AnyDesk free session duration limit is not in effect. Why does this happen? The local or remote endpoints may have security software that periodically scans all current connections and disconnects any from "unknown" or "untrusted" IP addresses.
Here are four tips you can try to stop AnyDesk from automatically disconnecting anymore:
Please check to see if the firewalls on your local and remote computers and any networking devices like routers are interfering with AnyDesk's connection.
Please confirm that AnyDesk has received the exceptions from other security programs, such as antivirus software, on local and remote systems.
Try turning off "Allow direct connections" in Settings > Connection and then "General" on both PCs.
Try ending the AnyDesk-ID/Alias you're attempting to connect to with "/np". For instance, "000111222/np" or "test@ad/np".
AnyDesk free version limitations
There's no AnyDeskfree session time limit, but the AnyDesk free version has other limitations. Let's explore.
Limited features
Not having access to advanced capabilities that are frequently present in other free remote desktop programs is one of AnyDesk's free license restrictions. For instance, the free license cannot remotely restart or record sessions.
Limited device access
The number of devices that can be accessed remotely under the free AnyDesk license is likewise restricted. One limitation of the free license is that you can only access one device at a time, which can be a problem for companies or people who need to access several devices remotely. Otherwise, you'll be warned, "AnyDesk Session limit reached".
For non-commercial uses only
Only AnyDeskpersonal users are eligible for the free license, which is only for non-commercial use. You must buy a commercial license to use AnyDesk for business purposes. If not, you can repeatedly see the notice "Anydesk commercial use detected" and immediately lose a connection. This restriction may disadvantage individuals or small organizations on a low budget who must utilize AnyDesk for business purposes.
AnyViewer: The best AnyDesk alternative
Like AnyDesk, AnyViewer is a free remote desktop software providing users with stable and consistent connections. Besides, it has many advantages over AnyDesk, so it is the best AnyDesk alternative.
AnyViewer has no time limit; you can connect as long as you want. Besides, it won't automatically disconnect.
You can enjoy most of AnyViewer's features with AnyViewer's free version, including remote restart.
AnyViewer's free version allows two concurrent remote sessions.
AnyViewer is free for both personal and commercial uses.
Step 1. Install and launch AnyViewer on both computers. Go to Log in, and then click Sign up. (If you already have signed up on its official website, you can log in directly.)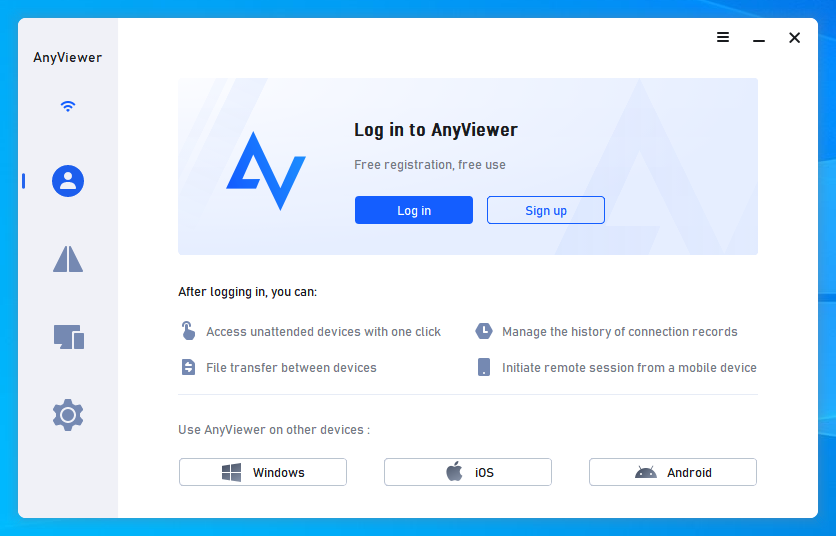 Step 2. Fill in the signup information and click Sign up to create an AnyViewer account.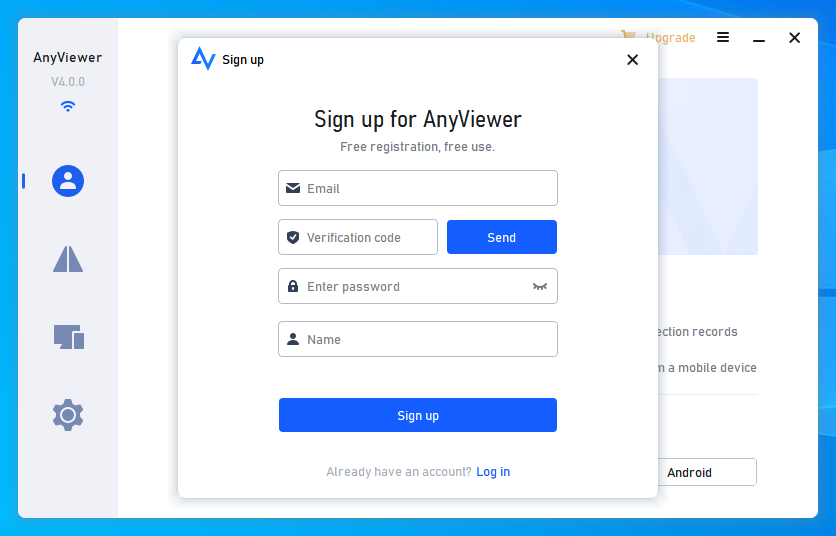 Step 3. Then you can see you successfully logged in to AnyViewer. Your device will automatically be assigned to the account you've logged in to.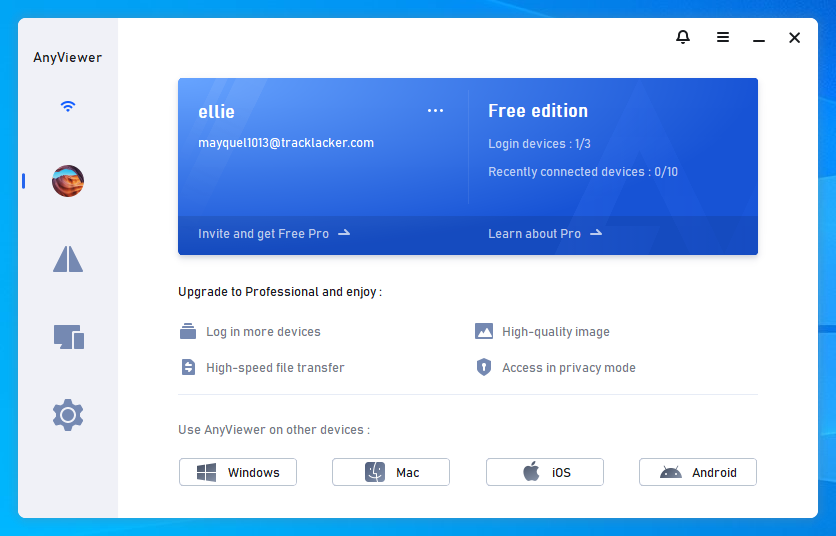 Step 4. Log in to the same AnyViewer account on the two computers. Then you can achieve an unattended remote connection by clicking One-click control after going to Device and clicking the computer that you want to access.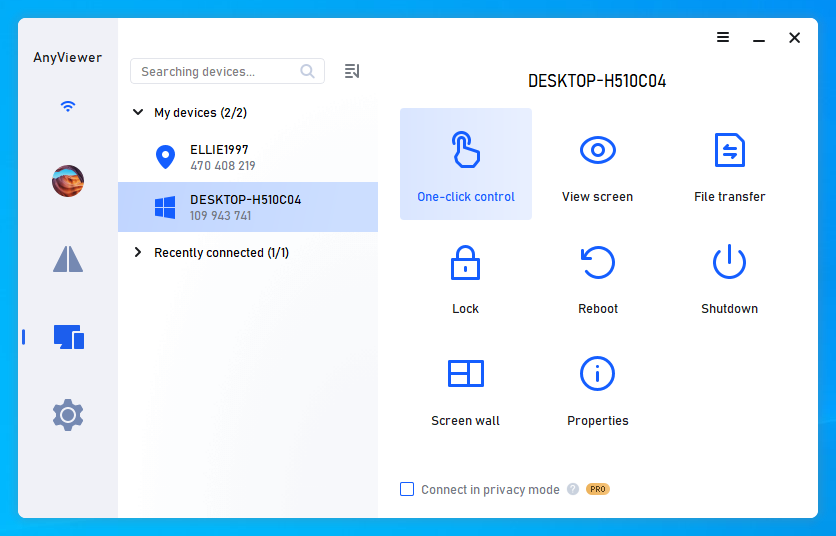 Note: If you can upgrade your account to a Professional or Enterprise plan, then you'll have more rights. You can assign more devices. Also, you can connect to another computer in privacy mode, which means you can black the screen and block the mouse and keyboard of the remote computer.
The bottom line
This post primarily answers the question, "Is there an AnyDesk session time limit?". The answer is NO. AnyDesk free version doesn't have a session time limit. But it has other limitations like limited features, limited device access, and for non-commercial use only.
Therefore, consider using an AnyDeskalternative, for example, AnyViewer. AnyViewer is a free remote desktop software. It provides more features than AnyDesk. Besides, it is free for both personal and commercial uses. Try it right now.