Why is my PC showing AnyDesk.exe - Entry Point Not Found?
"Whenever I try to open AnyDesk, I get an error which is titled AnyDesk - Entry Point Not Found. The detailed information is AnyDesk The procedure entry point ReleaseSRWLockExclusive could not be located KERNEL32.dll. Is there anything that could be done about this?"
An Entry Point Not Found error indicates that a file within a specific process is missing or corrupted, preventing the program from launching. This is especially true when a DLL file is involved. For example, you are unable to open Remote Desktop Connection if "mstsc.exe Entry Point Not Found". Similarly, you are unable to open AnyDesk if "AnyDesk.exe Entry Point Not Found".
Howto fix AnyDesk.exe Entry Point Not Found
Don't worry. Here in this part, we provide you with 5 methods to fix AnyDesk.exe Entry Point Not Found.
Method 1. Run the System File Check
System File Check is a Windows utility that scans the operating system installation for missing or corrupt files. Windows has a database of what files should be present, and SFC compares what it finds to what should be present. If a match is found, the utility will obtain a new copy of the file and replace it.
Step 1. Click Start, find Windows System, and expand it. Right-click Command Prompt, select More, and click Run as administrator.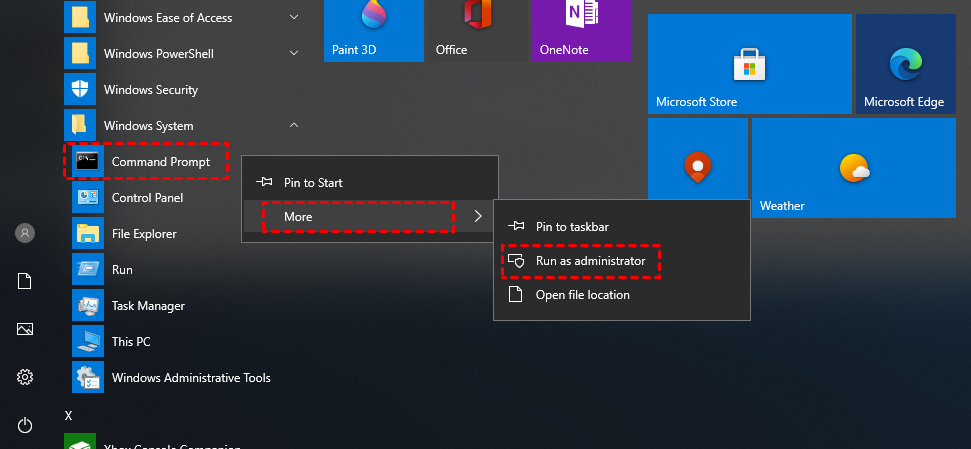 Step 2. In the Command Prompt window, enter "sfc /scannow" and then press Enter to execute the command.
Step 3. After that, restart the computer. Now check if the Entry Point Not Found issue has been fixed.
Method 2. Perform a System Restore
Microsoft's System Restore feature is a complete lifesaver for Windows 10 system users who are experiencing such an issue. This feature allows you to rewind time and then restore the system to a previously created system restore point. Restoring your system to a System Restore Point before receiving the Entry Point Not Found error will undoubtedly resolve the problem.
Step 1. Type "create a restore point" in the Search box and then click Create a restore point.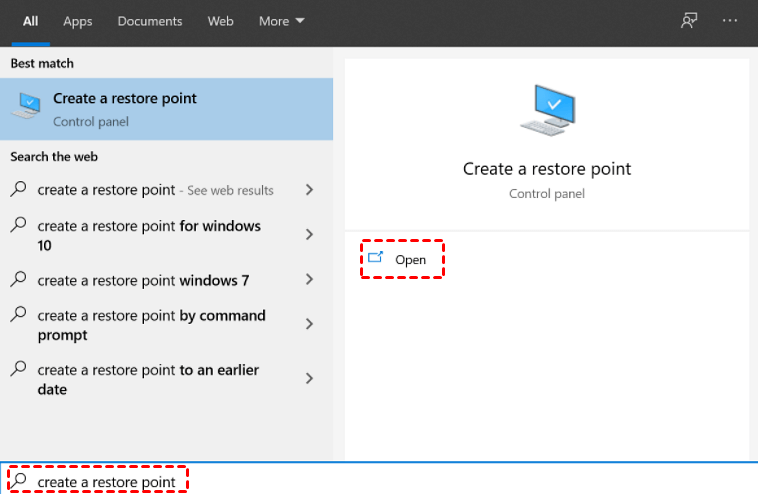 Step 2. In the System Protection tab, click the System Restore.
Step 3. Click Next.
Step 4. Select a restore point that you want to revert your system to and click Next. The most recent working restore point is ideal.
Step 5. Click Finish.
Step 6. After the System Restore process is completed, check if the error "Entry Point Not Found" has been fixed.
Method 3. Install the correct DLL file
If you know which DLL file of the program is missing or damaged, it should be easy to fix this Entry Point Not Found error. In this case, the corrupted DLL file. You'll need to search for the name of that DLL file online, then download the correct file and install this file manually. Let's see how to fix Entry Point Not Found error KERNEL32.dll on Windows 7.
Step 1. Go tothe DLL-files.com website.
Step 2. Input the name of the DLL file"KERNEL32.dll" and click the Search for DLL file button.
Step 3. Choose the file that you want to install and click the Install button. You will need to buy or register the license key to start to install the file.
Step 4. Wait until the installation is completed. Then check if the Entry Point Not Found error in Windows has been fixed.
Method 4. Reinstall AnyDesk
If AnyDesk is constantly throwing up the Entry Point Not Found error, it might be easiest to just reinstall that program entirely. Sometimes a fresh install is the best solution for entry point errors and other errors.
Step 1. Open Control Panel > Programs > Programs and Features, right-click AnyDesk > Uninstall.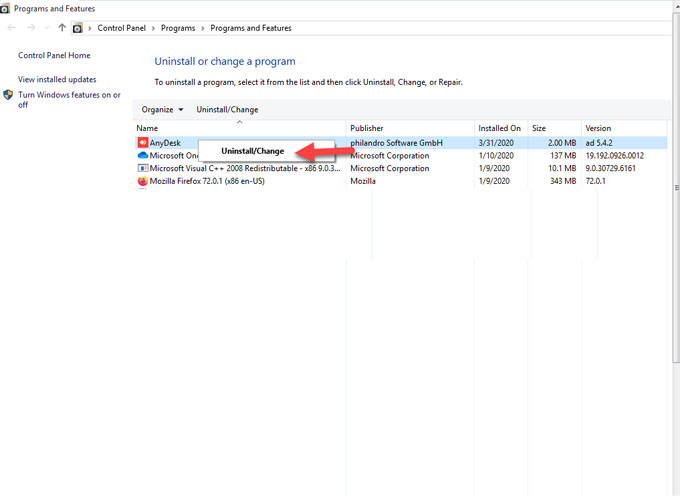 Step 2. Download AnyDesk from its official website.
Method 5. Scan for viruses and malware
You can also check if it is viruses or malware that block the program.
Step 1. Press the Win + Ito open Windows Settings. Click Update & Security.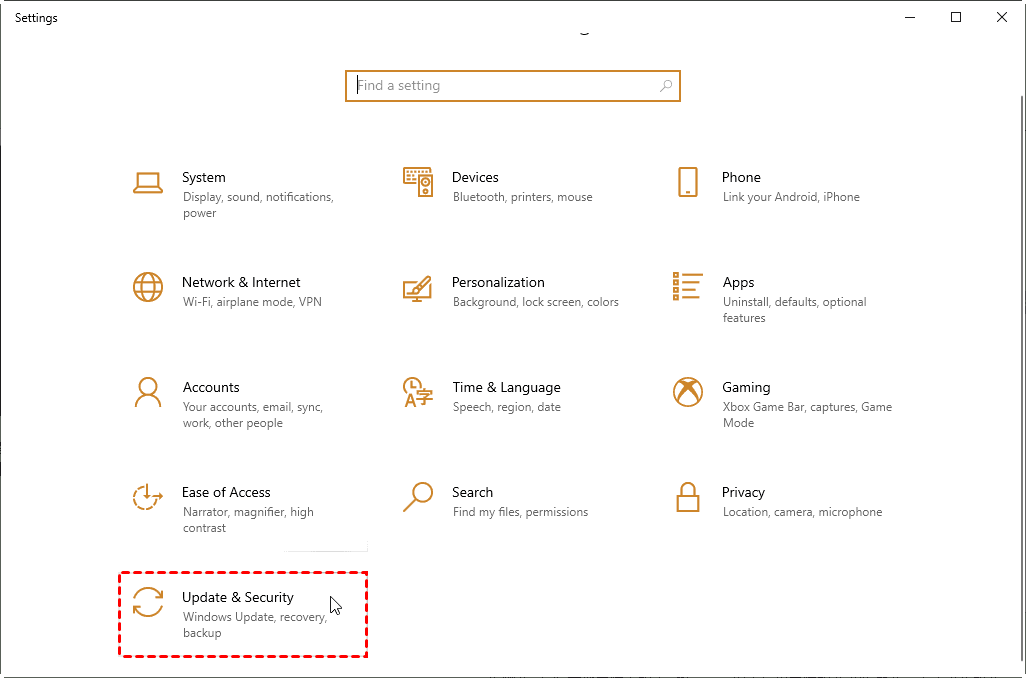 Step 2. Navigate here: Windows Defender > Open Windows Defender Security Center > Virus & threat protection. Click Quick scan.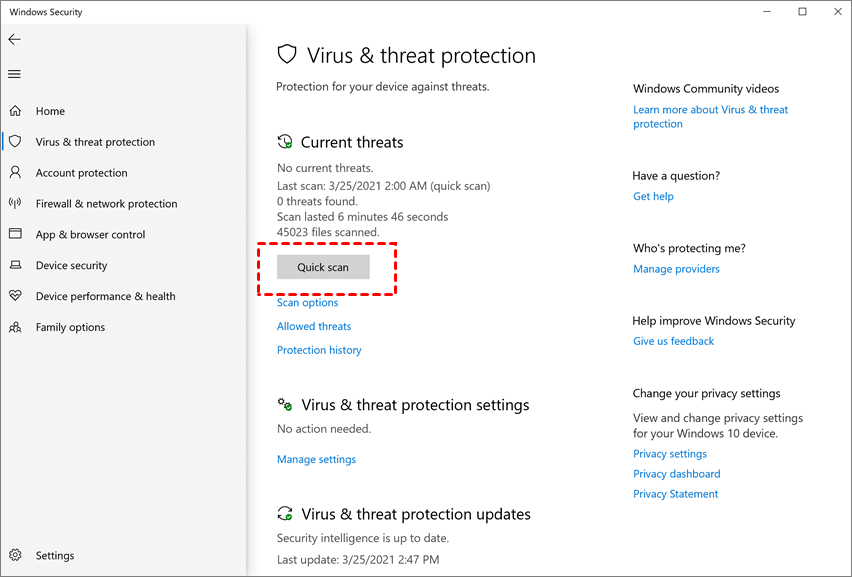 Step 3. Check Full scan and click Scan now.
Step 4. Wait for the scan to complete and then remove the viruses or malware according to the instructions. After this, reboot the computer and check if the error "Entry Point Not Found" has been fixed.
Free AnyDesk alternative: AnyViewer
If you still can't fix AnyDesk.exe Entry Point Not Found, you are advised to choose an AnyDesk alternative. Like AnyDesk, AnyVieweris the free remote desktop software. According to some user feedback, AnyViewer works really fast and stable.Among many other AnyDesk alternatives, it is the most worthy-trying one.
✍ Advantages
▪ Quick installation.
▪ Fast connection speed.
▪ One-click for unattended remote access.
▪ Chat available in the remote session.
▪ File transfer support.
▪ Shortcuts of essential apps like Task Manager.
▪ Support controlling multiple computers at the same time.
▪ Mobile support is for both iOS and Android devices.
Now, download the AnyDesk alternative, free remote access software - AnyViewr, and walk through how it works.
Step 1. Install and launch AnyViewer on both computers. Go to Log in, and then click Sign up. (If you already have signed up on its official website, you can log in directly.)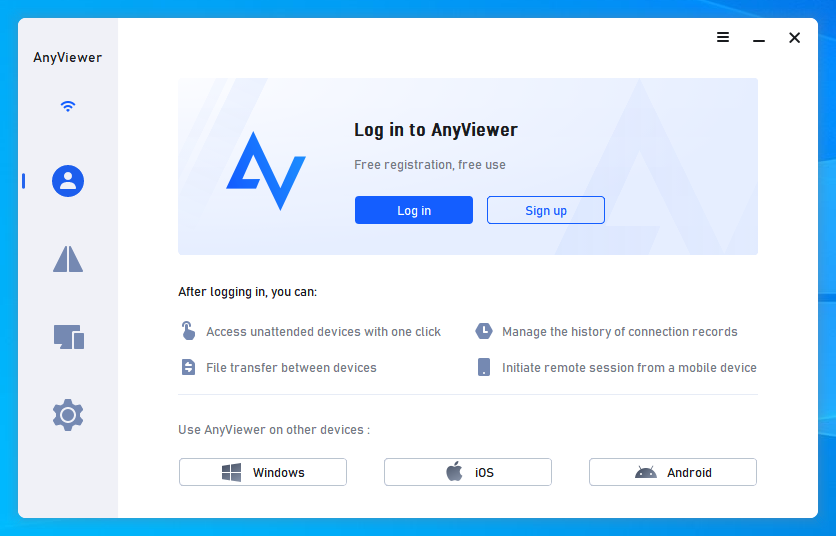 Step 2. Fill in the signup information and click Sign up to create an AnyViewer account.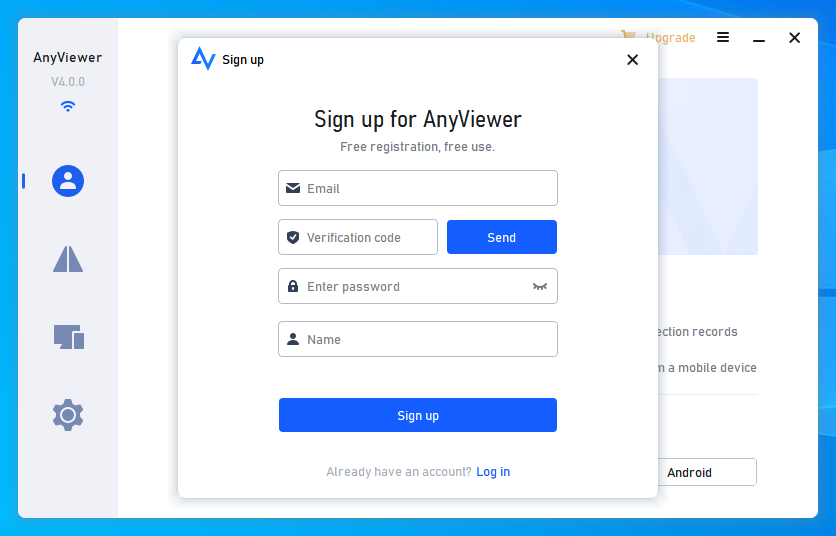 Step 3. Then you can see you successfully logged in to AnyViewer. Your device will automatically be assigned to the account you've logged in to.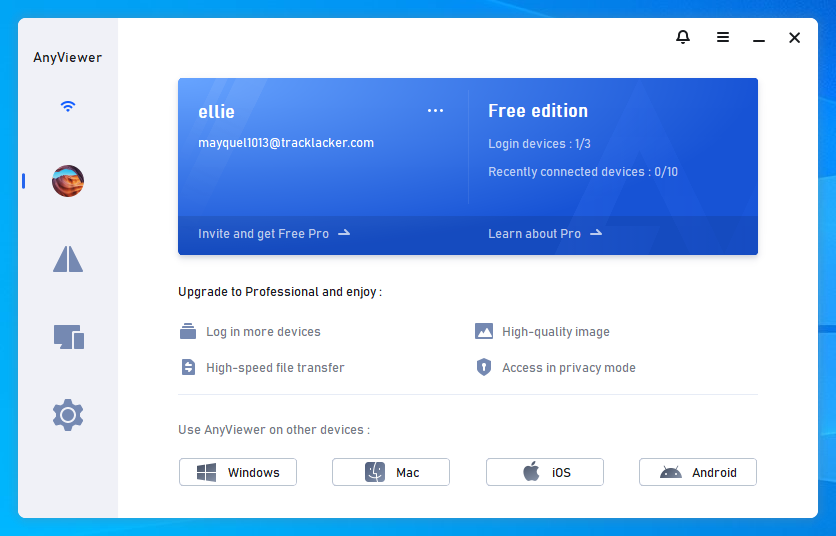 Step 4. Log in to the same AnyViewer account on the two computers. Then you can achieve a one-click connection by clicking One-click control after going to Device and clicking the computer that you want to access.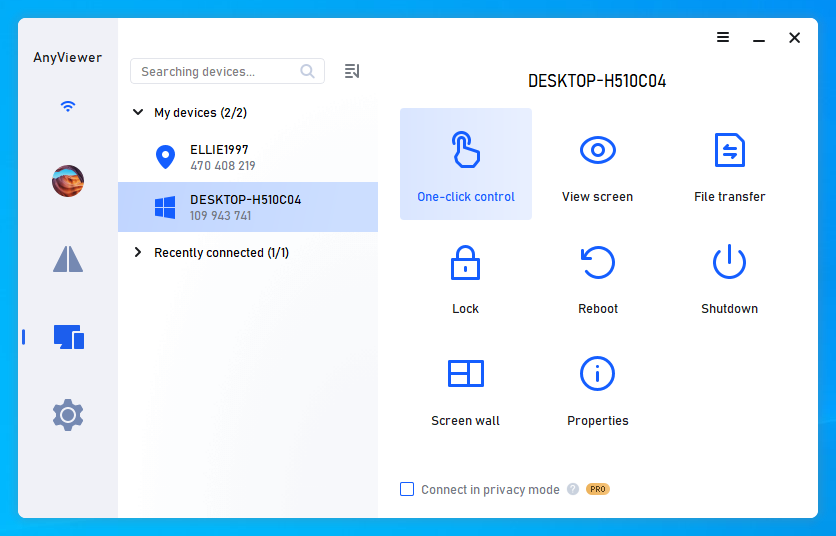 Note: If you can upgrade your account to a Professional or Enterprise plan, then you'll have more rights. You can assign more devices. Also, you can connect to another computer in privacy mode, which means you can black the screen and block the mouse and keyboard of the remote computer.
Conclusion
This post mainly introduces 5 methods to fix AnyDesk.exe Entry Point Not Found. If the problem still exists after trying them, you can try to use the free third-party remote desktop software AnyViewer to replace AnyDesk.