Why are phone lines and ISDN not used today for Remote Access Services (RAS)? Phone lines and ISDN (Integrated Services Digital Network) were once widely used for RDS in the past to allow users to access and connect to a computer from a remote location, but they have largely been replaced by newer technologies. Why? Because they have the following limitations:
Limited Bandwidth: Phone lines and ISDN offer lower data transfer capacity compared to modern technologies like DSL, cable, fiber optics, and 4G/5G cellular networks. This limits their ability to handle today's data-heavy internet applications and services.
Slower Speeds: Dial-up connections using phone lines and ISDN are much slower than broadband connections. This is impractical for most users as internet content and apps demand faster speeds.
Inefficient Use of Resources: ISDN requires a costly dedicated digital line, while modern technologies allow shared infrastructure use, making them more cost-effective.
Technological Obsolescence: ISDN is outdated and mostly phased out by telecom providers in favor of advanced and cost-efficient technologies.
Compatibility Issues: Newer devices and services may not work with ISDN or traditional phone lines, making integration into modern computing environments challenging.
Higher Costs: ISDN installation and maintenance could be expensive for providers and customers. Broadband options often offer higher speeds at lower prices.
Mobile and Wireless Connectivity: People rely more on mobile and wireless tech for remote access, like cellular networks (3G, 4G, 5G) and Wi-Fi, offering flexibility and convenience over traditional lines.
Fiber Optic and Cable Networks: Fiber optic and cable networks are the modern internet backbone, providing high-speed, reliable connections that surpass ISDN and traditional phone lines.
In summary, the shift away from phone lines and ISDN for remote access services is driven by the need for higher speeds, greater bandwidth, cost-effectiveness, and compatibility with modern technologies. As a result, newer and more efficient technologies have largely supplanted these older methods for internet access and remote connectivity.
In the midst of this transformation, there's a shining star that's revolutionizing the way we access remote resources: AnyViewer.AnyViewer is a free remote desktop software that combines user-friendliness with exceptional performance. It offers:
Low latency: Enjoy a seamless and lag-free remote access experience.
High-quality remote access: Experience your unattended remote desktop as if you were right in front of it.
Cross-platform compatibility: Whether youneed to access aWindowsfrom another Windows, iOS, or Android, AnyViewer has you covered.
Feature-rich: AnyViewer comes with a comprehensive set of tools to enhance your remote access capabilities, including file transfer, screen sharing, remote shutdown, etc.
For effortless remote access using AnyViewer, follow these straightforward steps:
Step 1. Installation
Begin by downloading and installing AnyViewer on both your local and remote devices.
Step 2. Account Setup
Register for an AnyViewer account and log in on both your local and remote devices.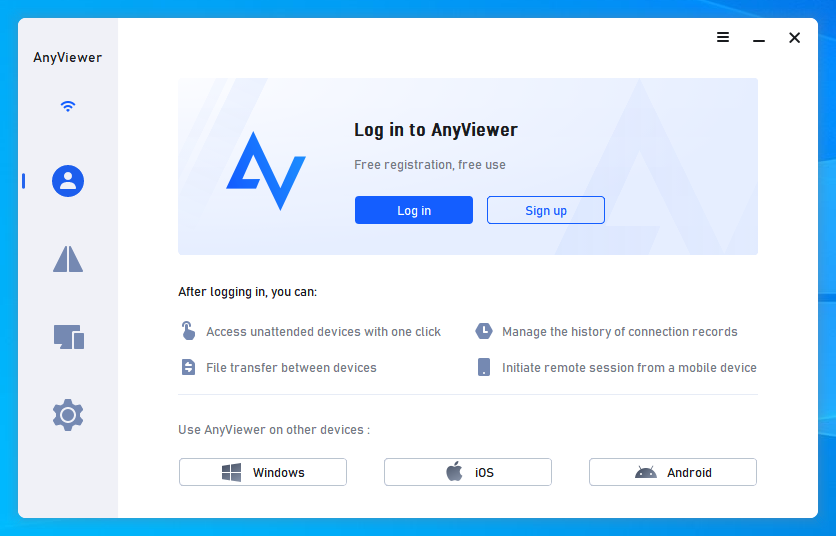 Step 3. Establishing the Connection
On your local device, head to the Device section, select your remote device and click One-click control to securely establish a connection.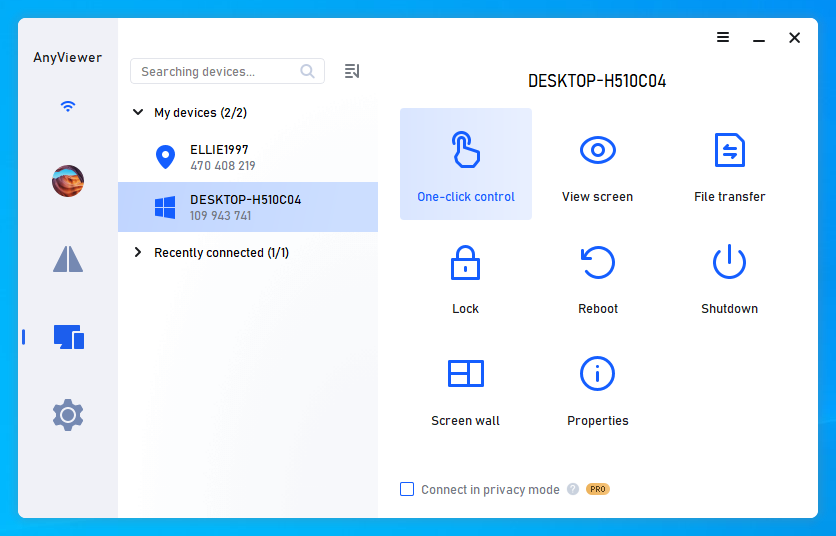 Additionally, upgrading to a Professional or Enterprise plan unlocks a range of extra benefits, such as:
Efficiently managing a larger number of devices through simplified One-click control.
Speedier file transfers for seamless data exchange.
The option to establish connections with privacy mode enabled on another computer.
Enhanced image quality, providing a clearer and more satisfying remote access experience.
And much more...