Ever wondered about the essence of two fundamental queries: What is remote desktop and what is remote desktop used for? Continue perusing if you harbor a curiosity for the subject.
Remote desktop, often abbreviated as RDP (Remote Desktop Protocol), is a technology that allows you to access and control a computer or a server from a different location, typically over a network or the internet. It enables you to interact with a remote computer as if you were physically sitting in front of it.
What is remote desktop software used for, or say what is Remote Desktop Protocol used for? Remote desktop is used for various purposes, including remote administration, remote support, remote work, accessing data and files, education and training, data center management, secure access, and personal use. It enables tasks like troubleshooting, remote work, and software testing, but security measures are essential to protect remote connections and data.
There are many remote desktop software available on the market. Among the top contenders in the free category is AnyViewer. AnyViewer stands out as a no-cost, yet highly proficient remote desktop solution compatible with Windows, iOS, and Android platforms. It boasts a comprehensive feature set that renders it an ideal choice for both remote work and remote support scenarios:
Unattended access: Effortlessly establish connections with unattended computers, enabling smooth workflow continuity from any location.
Effortless file transfer: Simplify file exchange with remote counterparts through intuitive drag-and-drop functionality or by utilizing AnyViewer's user-friendly file manager.
Multi-session capability: Enhance productivity by concurrently connecting to multiple computers, streamlining multitasking.
Screen sharing: Access remote systems and engage in screen sharing for collaborative endeavors and effective communication.
Real-time text chat: Foster instant and efficient conversations with remote users via a built-in chat box, facilitating seamless collaboration.
…
To connect to an unattended remote computer for remote work, follow the steps below:
Step 1. Begin by downloading, installing, and launching AnyViewer on your devices.
Step 2. Create an AnyViewer account and ensure you sign in to it on both your local and remote devices.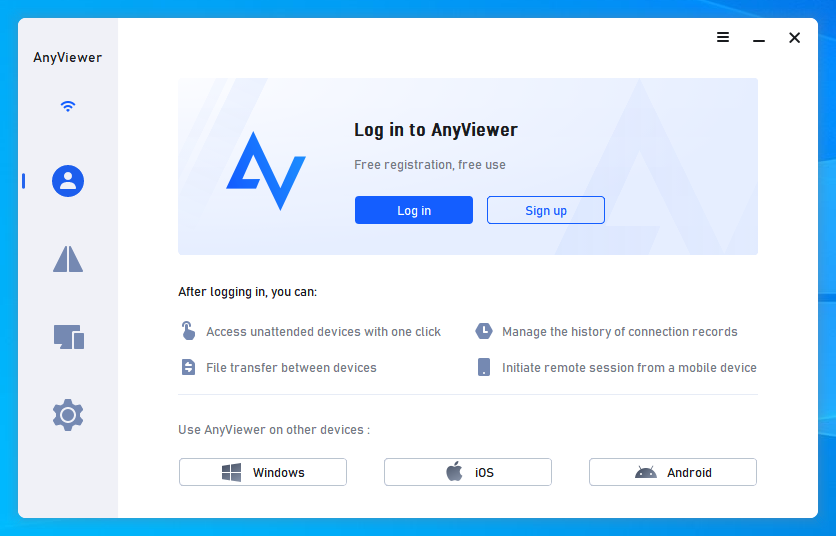 Step 3. This is what it looks like when you log in successfully.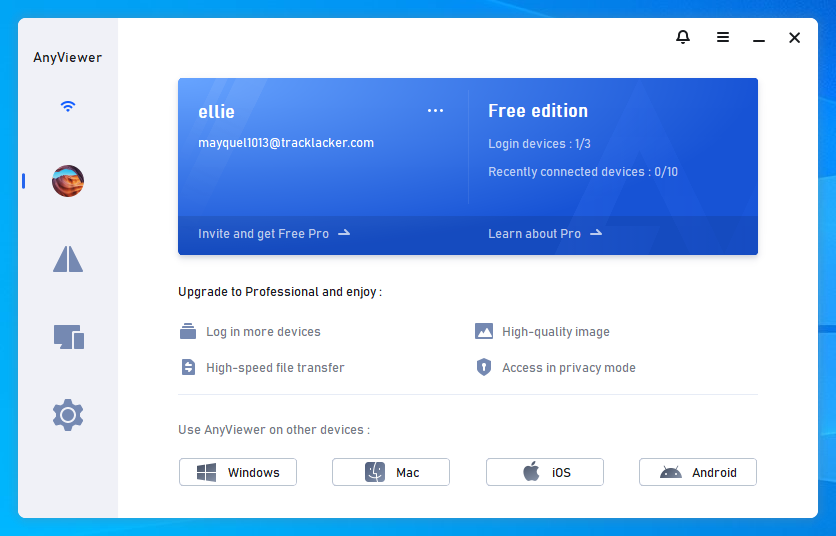 Step 4. On your local device, navigate to the Device section within the application to access the list of available devices. Select your desired remote computer from the list and initiate the connection by clicking on One-click control.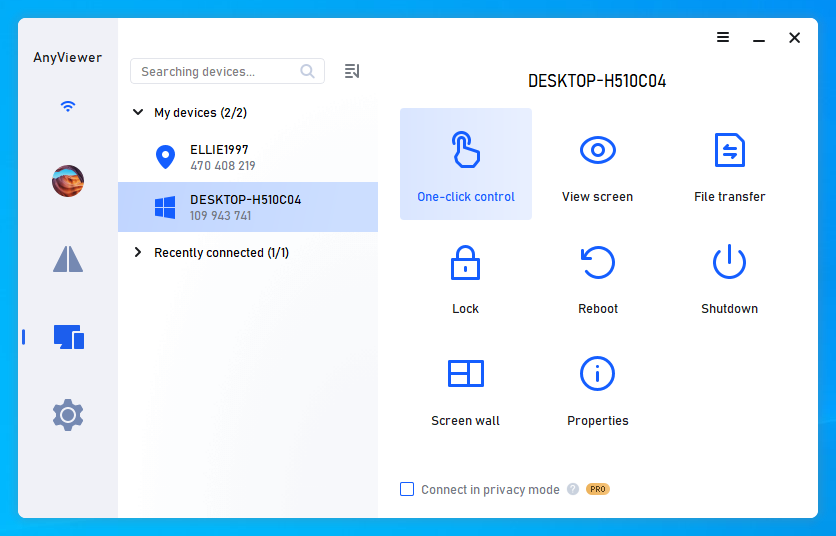 ★Tips:

Please take note that by upgrading to a Professional or Enterprise plan, you can unlock additional privileges, including:

Allocate more devices for simplified One-click control.
Enjoy faster file transfer capabilities.
Establish connections with privacy mode to another computer.
Experience improved image quality.
...