Remote Desktop is a remote access solution that lets you connect to another computer and operate numerous machines from a single device or PC. By using remote desktop technology, users can easily view the computer screen, control the cursor, and access files and software. But is Remote Desktop secure over public WiFi?
Unfortunately, using Remote Desktop on an untrusted network is very dangerous. In recent years, vulnerabilities (particularly remote code execution vulnerabilities) have enabled cybercriminals to gain unauthorized access to computers and servers. Cybercriminals who compromise user accounts by exposing weak or reused passwords through brute force attacks can easily access user workstations via Remote Desktop. So the question of is Remote Desktop secure over public WiFi network is of great concern to many users. No need to worry, keep reading you will get help in this article.
The answer to the question "Is Remote Desktop secure on public WiFi" is clear. However, additional security measures can be taken to protect your data and access.
Enable Network Level Authentication (NLA): NLA is a security feature in the Remote Desktop that requires users to authenticate themselves before establishing a connection. It provides an additional degree of security against unauthorized access.
Avoid saving passwords: Do not save your Remote Desktop credentials on a public computer or in the Remote Desktop client, as this could lead to unauthorized access if your device is compromised.
Use two-factor authentication (2FA) on remote computers: If you have control over a remote computer, enable 2FA for the user account that is used to log on remotely. This provides an additional degree of security.
As for the complexity of enhancing the security of RD, you can use a safe alternative to Remote Desktop. AnyViewer is a free and extremely secure remote desktop software. It specializes in providing a comprehensive remote desktop solution for Windows, iOS, and Android users.
In addition, AnyViewer has many impressive features such as file transfer, screen sharing, multi-session functionality, and more.
AnyViewer is appreciated by users for its all-in-one functionality and high level of security:
End-to-end encryption. AnyViewer encrypts your data from end to end with a robust 256-bit Elliptic Curve Cryptography (ECC) technique.
Two-factor authentication. If you enable this option, whenever you need to access a new device, you will be required to enter the authentication code that was sent to your e-mail, thereby increasing account security.
Locked Interfaces. You can lock the computer interface at any time with AnyViewer. Unlocking the locked program interface necessitates the use of a password, which ensures the device's security.
Privacy Mode. To further protect host data, AnyViewer Privacy Mode allows the user to deactivate the keyboard and mouse on the remote computer, turn off the remote screen via the receiver, and disable the mouse and keyboard on the remote computer.
Not only that, AnyViewer is not limited to the same LAN, which means you can access it remotely at any time, from anywhere. With AnyViewer you don't have to worry about security when using public WiFi connections anymore.
Step 1. On both computers, install AnyViewer and launch it.
Step 2. Log into the same AnyViewer account on both devices after creating one.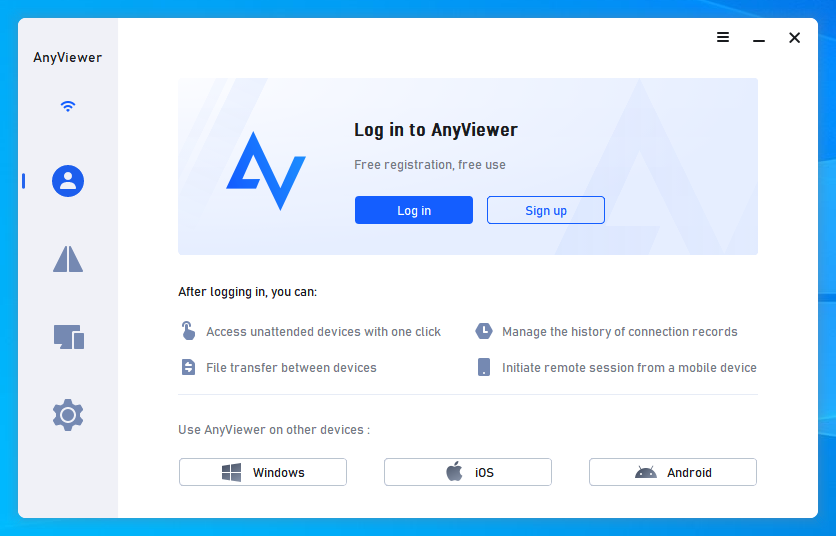 Step 3. On your local device, find the "Device" and click your target computer.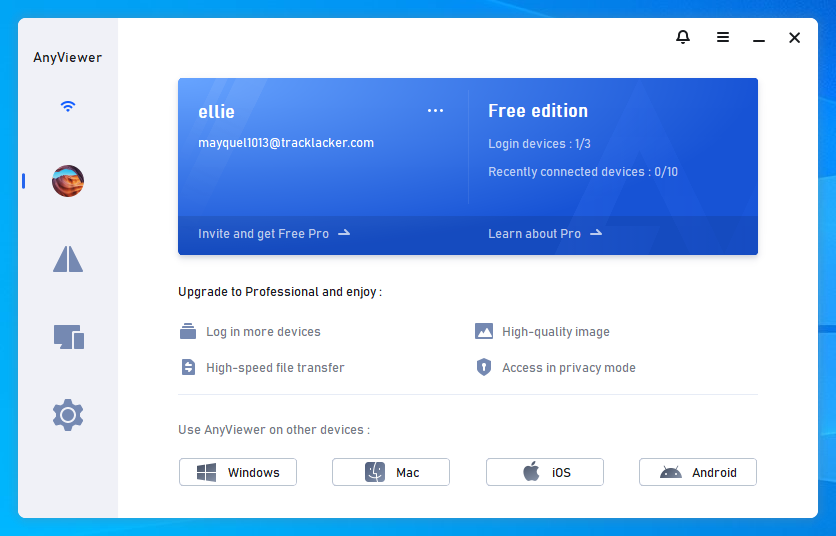 Step 4. Then you can click "One-click control" to gain unattended remote access.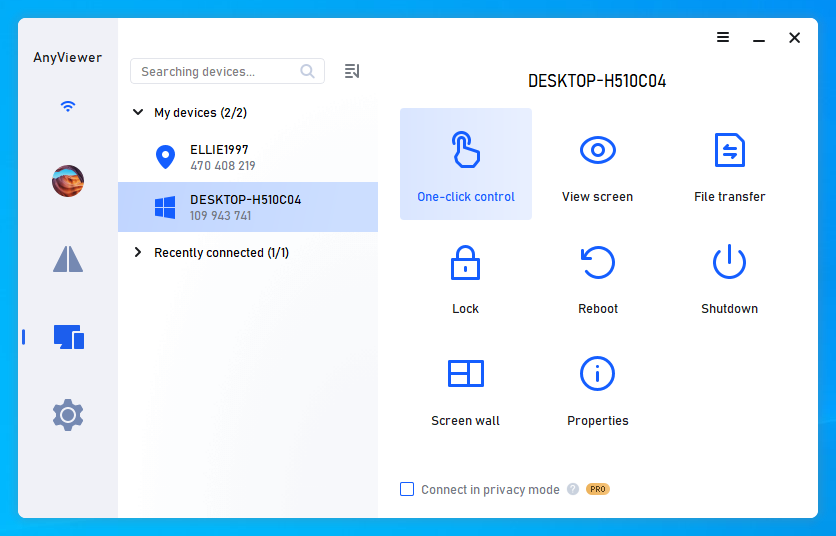 ★Tips: To access the following rights, upgrade your account to a Professional or Enterprise plan:

Assign more devices. You can control more computers with secure one-click control.
Control more computers. Multiple computers can be controlled simultaneously by a single computer.
Connect in privacy mode. When accessing a remote computer, you can close the screen and disable the mouse and keyboard of the remote computer.
Faster file transfer speeds. 500 KB/s for accounts that have not been paid and 10 MB/s for those who have.
...