Could not remote control Android tablet
After installing the TeamViewer QuickSupport app on an Android mobile phone, I have achieved both a successful connection and remote control. However, on an Android tablet, while installation of TeamViewer QuickSupport permits connection, remote control functionality is absent, limiting the ability to guide the user with just a pointer. Is this the intended behavior of the application?"
- Question from TeamViewer Community
How to fix TeamViewer remote side does not support remote input
When TeamViewer remote side does not support remote input on Android, this could be due to different reasons. To address this issue effectively, consider the following three helpful tips.
Solution 1. Verify Android device compatibility with TeamViewer
Before proceeding, ensure that your Android device is compatible with TeamViewer's features. While TeamViewer allows screen sharing and remote control for a wide range of Android devices, certain manufacturers or ROMs might not support these functionalities, particularly remote control.
Screen Sharing: Screen sharing is accessible on all Android devices running Android 5.0 or higher.
Remote Control: Unfortunately, not all Android devices support remote control. To check if your device is compatible, refer to the list of supported manufacturers available in Supported manufacturers for remotely controlling Android devices.
If your Android device is listed among the supported manufacturers, compatibility is not the issue. If it is not listed, proceed to Solution 2, which involves installing the Universal Add-on for Android.
Solution 2. Install Universal Add-on for Android
To overcome the limitation of certain Android devices lacking tailor-made add-ons for TeamViewer remote control, the Universal add-on serves as a solution, designed to cover all devices without dedicated add-ons. To activate the Universal add-on on your device, follow these simple steps.
Step 1. Download either the TeamViewer QuickSupport or TeamViewer Host app on your Android device.
Step 2. Launch the downloaded app. If your device's manufacturer does not provide a specific add-on, a prompt will appear, guiding you to download the Universal Add-on. Click Download to continue.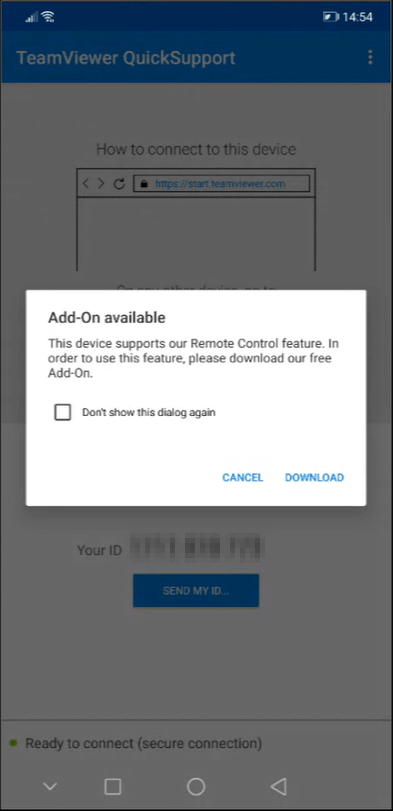 Step 3. Upon download completion, click Enable to install the Universal Add-on.
Step 4. In the Accessibility menu, look for the Universal Add-on Accessibility Service and tap on it.
Step 5. With the Universal Add-on now successfully installed and enabled, your device is fully prepared for seamless utilization with TeamViewer (Classic).
Step 6. Check if the remote side does not support remote input on TeamViewer has solved.
Solution 3. Restart the Android phone and computer
If the TeamViewerAndroid remote side does not support remote input problem still exists even after confirming compatibility with a supported manufacturer or installing the Universal Add-on for Android, one last step worth attempting is to restart both the Android phone and the computer involved in the remote connection. Sometimes, initiating a fresh new start can miraculously resolve underlying problems and restore functionality.
By restarting both devices, any temporary glitches or conflicts that might have been hindering the remote input feature could potentially be cleared, allowing TeamViewer to operate smoothly as intended. It's a simple yet effective troubleshooting measure that could make a significant difference in resolving the remote input problem on your Android device.
Bonus tip: How to remotely control a computer from an Android
For those seeking an alternative to TeamViewer QuickSupport or TeamViewer Host app for remote computer control from an Android device, AnyViewer comes highly recommended. AnyViewer stands out as a professional and free remote desktop program, providing a secure and reliable means of accessing Windows devices from both Android and iOS devices.
With AnyViewer's Android app, users gain access to a comprehensive suite of remote support, remote access, and digital collaboration features. IT personnel, in particular, can leverage this app to deliver extensive remote support by managing unattended computers directly from their mobile devices. This capability proves invaluable when handling equipment failures or responding to impromptu requests while on the move.
Moreover, AnyViewer Android impresses with its array of features, including unattended remote access, built-in chat functionality, seamless multi-monitor integration, and more. Such functionalities make it an ideal companion for day-to-day tasks, whether you're working on the go or remotely from home, all through the convenience of Android remote access.
Part 1. Setting up AnyViewer on a Windows computer
Step 1. Begin by downloading and installing AnyViewer on your Windows computer.
Step 2. Go to the Log in tab and click Sign up. If you already possess an account from the official website, simply log in directly.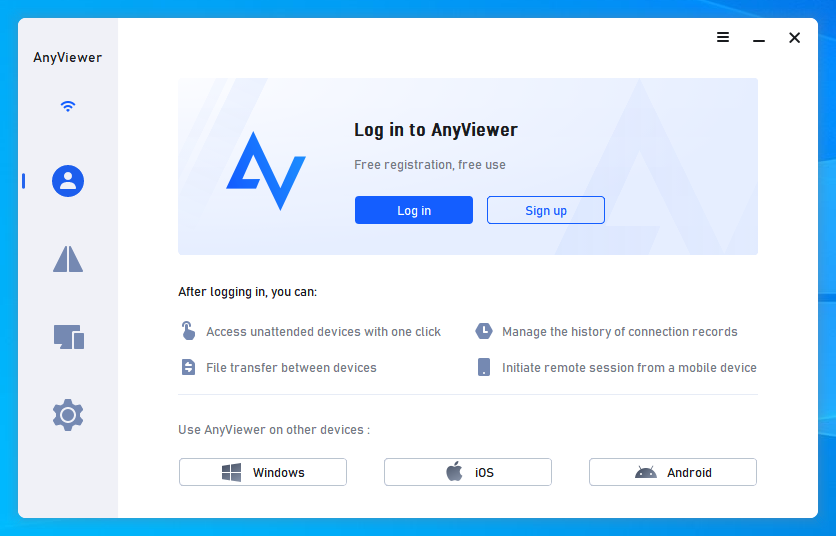 Step 3. Complete the sign-up form to finalize the registration process.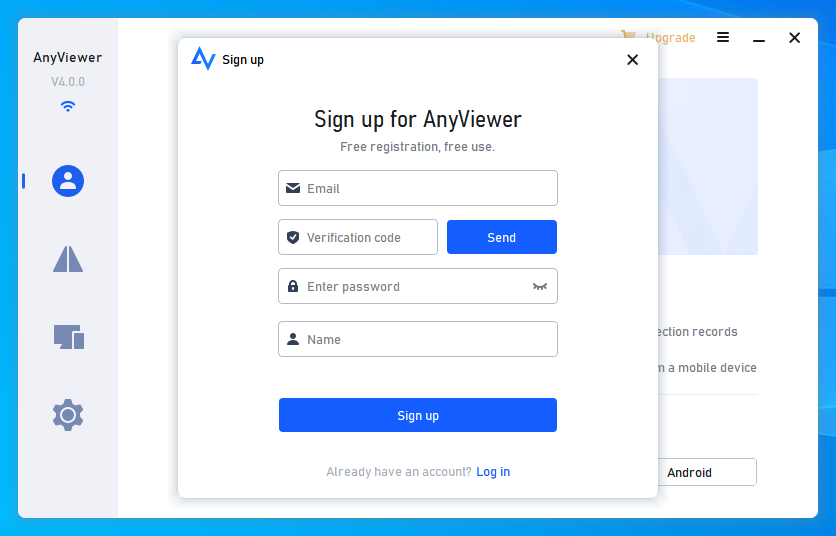 Step 4. Congratulations! You are now successfully logged into AnyViewer, and your device is automatically associated with the logged-in account.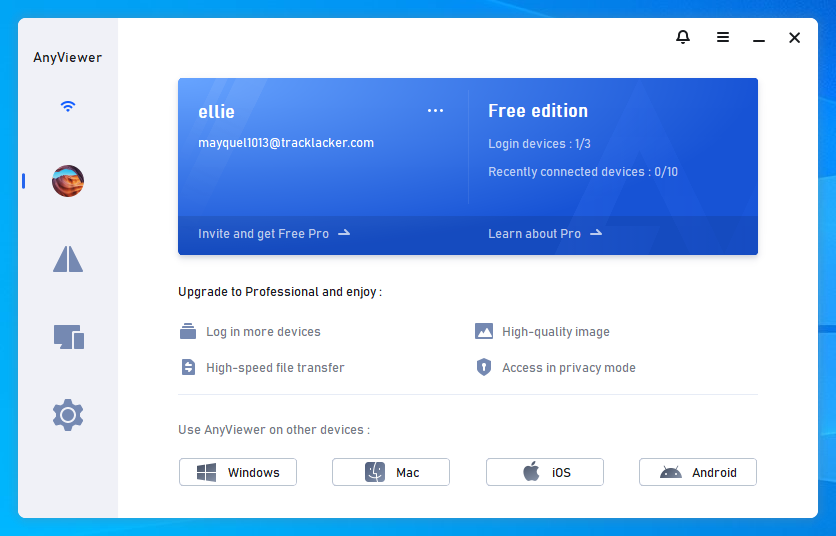 Part 2. Initiate control from your Android phone
Step 1. Install AnyViewer on your Android device.
Step 2. Log in using the account you created during the earlier steps.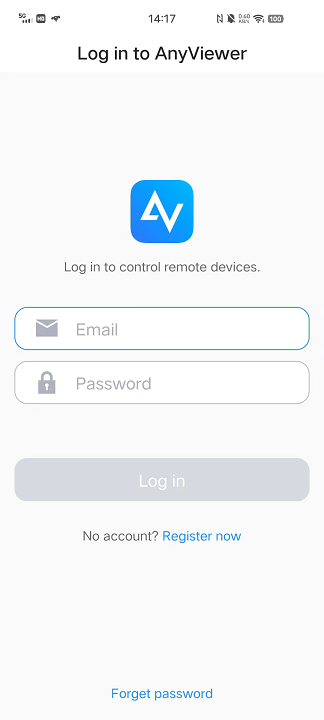 Step 3. Within the My devices list, you'll find all devices associated with the same account.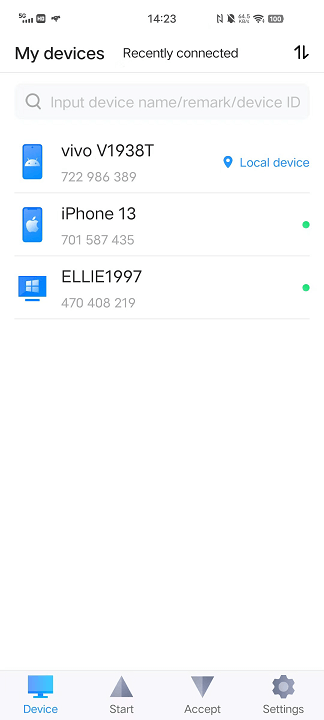 Step 4. Select your desired PC from the list and utilize the convenient One-click control feature to establish a quick and effortless connection.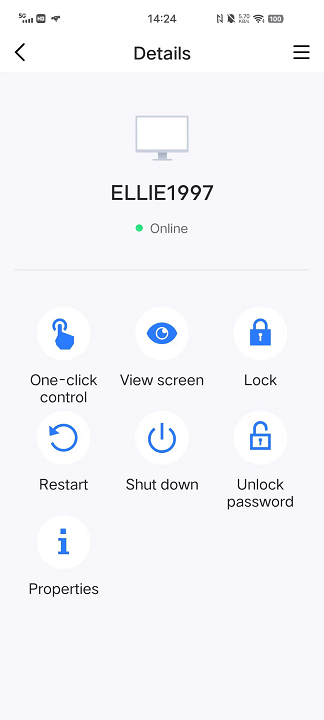 Step 5. Once the connection is established, your Android device controls the Windows computer completely.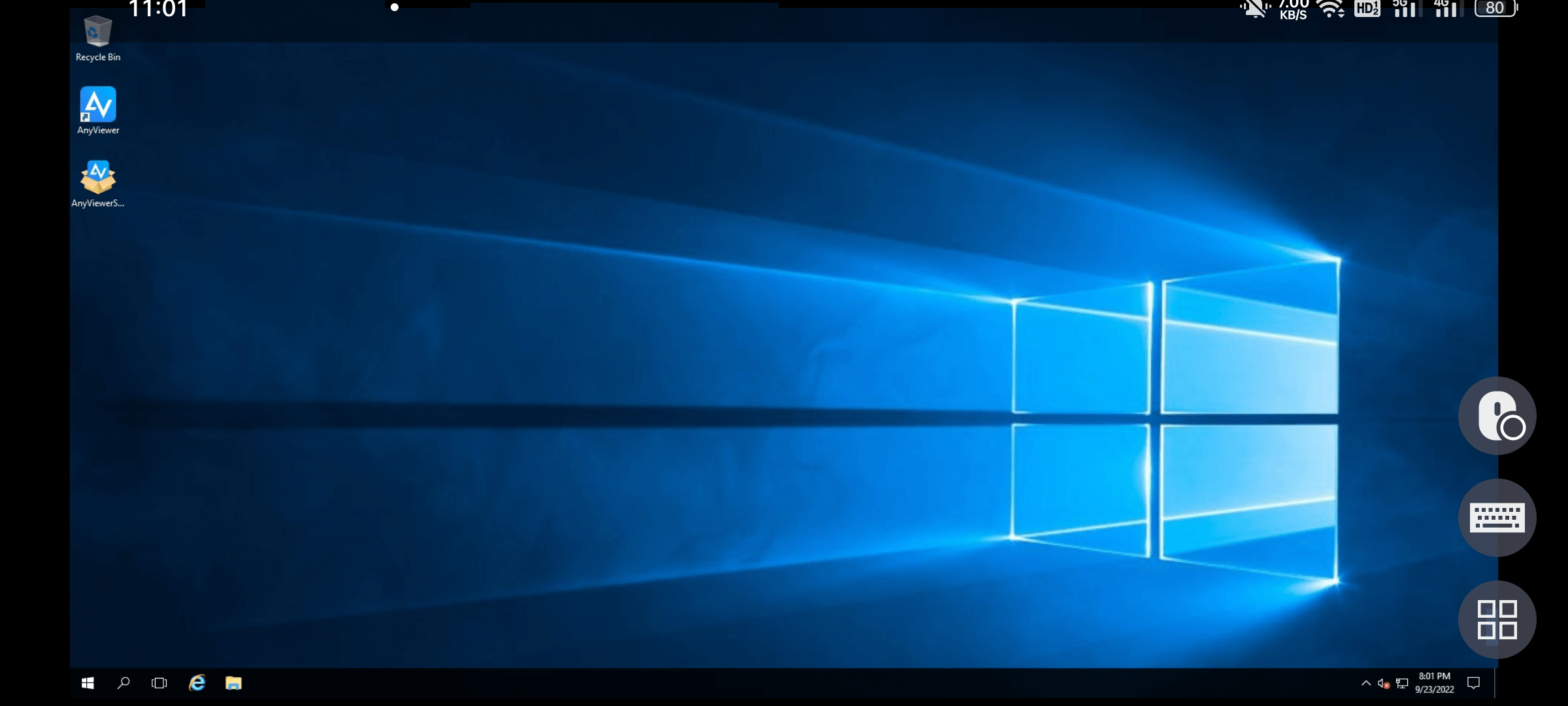 ★Tips: For an enhanced experience, consider upgrading your account to a Professional or Enterprise plan. With this upgrade, you'll enjoy the following privileges and benefits:

Increased device assignment: The ability to assign a greater number of devices to the same account for unattended remote access.
Privacy mode: Unlock the option to connect to another computer in privacy mode. This feature allows you to black out the remote computer's screen and block mouse and keyboard inputs, ensuring a private and secure connection.
...
The bottom line
In conclusion, when TeamViewer remote side does not support remote input, try the above-mentioned solutions. Additionally, for remote access to a Windows computer from an Android device, consider AnyViewer as a recommended alternative to TeamViewer, providing secure and efficient connections for enhanced remote control capabilities. By exploring various options, users can find the best-suited solution to overcome the limitation and optimize their remote access experience.