How do I connect to Remote Data Access in Sage?
I'm a small business owner looking to connect to Remote Data Access in Sage for seamless access to critical data. Can someone guide me through the Sage Remote Data Access setup process step-by-step? I want to ensure efficient collaboration with my team and optimize workflow. Thanks in advance!"
- Question from a user
Is Sage Remote Data Access setup necessary?
In today's modern era, many work-from-homeapps have emerged in the market, offering businesses the flexibility to work from virtually anywhere. One such tool is Sage Remote Data Access, a cloud-based service that enables secure sharing of company account data. With this service, you and your fellow users can conveniently access your company accounts from any location, even in the comfort of your home.
The data is transmitted securely through the cloud, allowing Remote Data Access users to connect to the company's data using their computers equipped with Sage 50cloud Accounts. This tool is particularly advantageous when you and your colleagues are based in diverse geographical locations.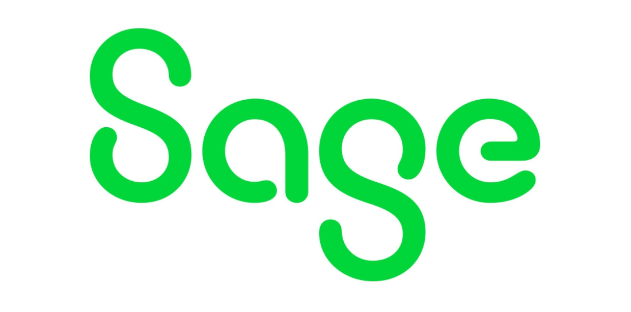 How to set up Sage Remote Data Access
This post offers a comprehensive guide to setting up Sage Remote Data Access. You need to check if you can use Sage Remote Data Access, backup your data, and enable Remote Data Access.
Part 1. Check if you can use Sage Remote Data Access
Before embarking on the setup process for Sage Remote Data Access, it is crucial to ensure that you meet the following requirements:
►Internet connection: It is highly recommended to have a minimum download speed of 4Mbps and an upload speed of 2Mbps at all sites. It is also advisable to avoid using a wireless Internet connection.
►Version numbers: Verify that all computers involved have the same version number installed, along with the latest updates.
Part 2. Backup your data
To ensure the safety of your data and mitigate any potential issues, it is strongly advised to create a backup of your Sage 50 Accounts software before making any significant changes.
Step 1. Launch the Sage software and navigate to the "File" tab. Then, select "Back up."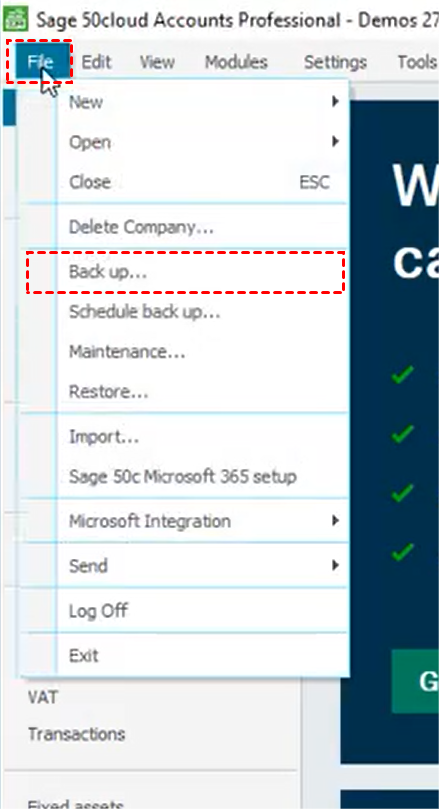 Step 2. Please take note of the suggested file name or modify it according to your preference. Click the "Browse" button to choose a specific location to save the backup file. Once done, click "OK."
Step 3. If you receive a prompt to verify your data, click "Yes."
Step 4. Click "Close." when there is no detected error.
Step 4. When the backup process is complete, click "OK."
Part 3. Enable Remote Data Access
Now you need to perform Sage Remote Data Access log in, and enable Remote Data Access.
Step 1. Launch Sage 50 Accounts and log in as MANAGER.
Step 2. Navigate to the "Settings" section and click on "User Management," followed by "Users."
Step 3. Locate and select the MANAGER user, then click on "Edit."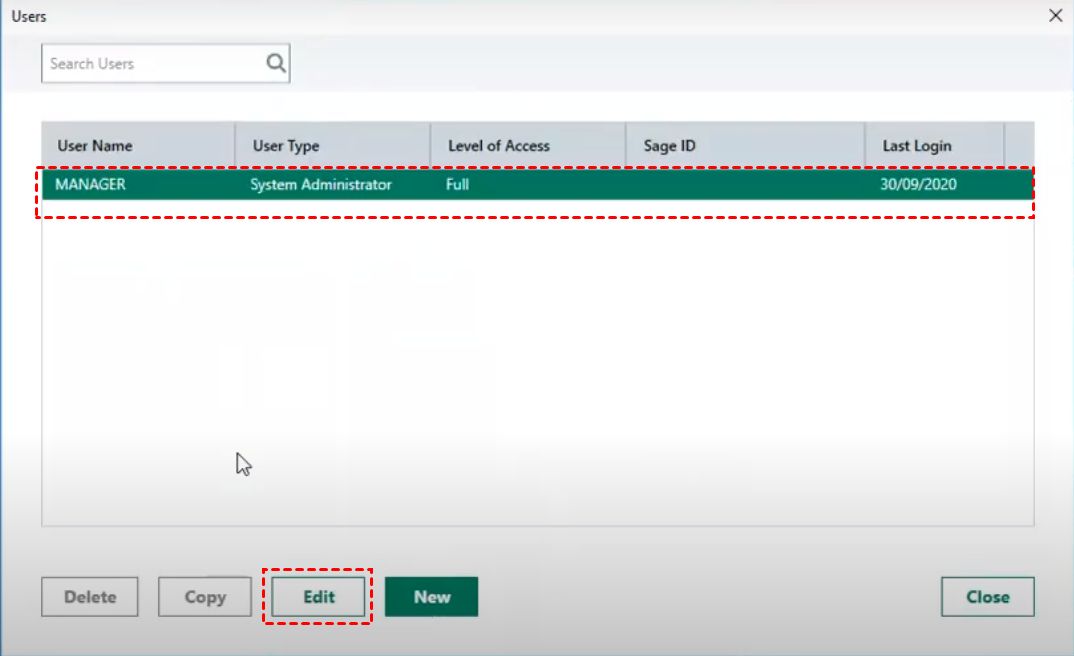 Step 4. If your company data is already linked to your Sage Account, ensure that the "Allow Remote Data Access" checkbox is selected.
Step 5. If you cannot select the checkbox, it implies that you need to establish a link between your company data and your Sage Account. To initiate this process, click "Get started now with your Sage account."
Step 6. Click Continue.
Step 7. Enter your first and last name, then affirm your identity by selecting "Yes, I am the right person."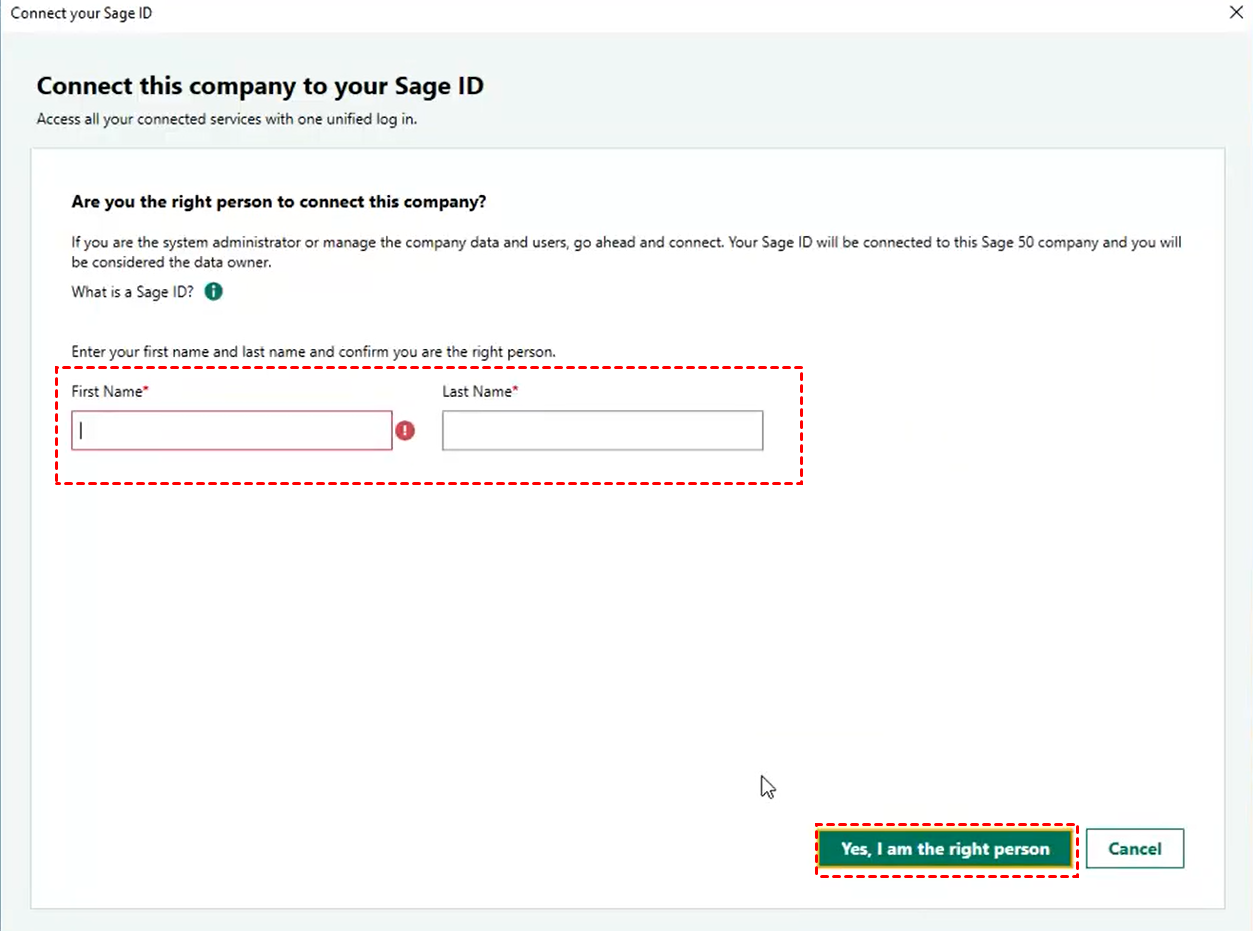 Step 8. Verify your company information and click "Continue."
Step 9. Log in to your Sage account.
Step 10. Now that you have successfully linked your company data, you can select the "Allow Remote Data Access" checkbox. Enter the required user details and click "Save."
Step 11. Generate a passphrase to enhance the security of your data, and finalize the process by clicking "Upload data."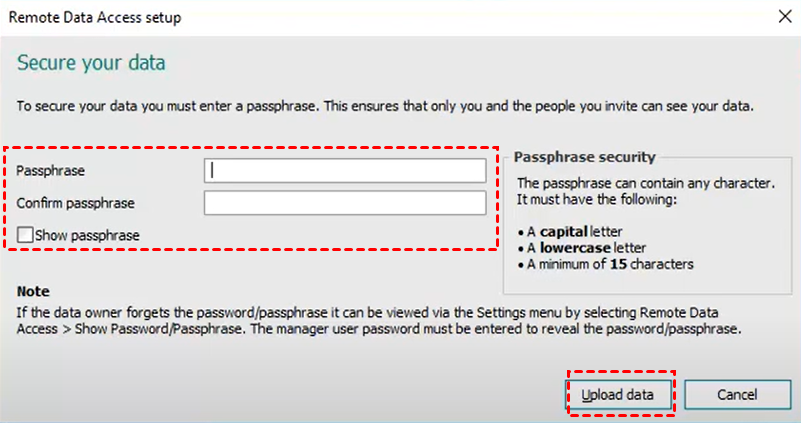 Once all the data has been successfully uploaded, your Sage Remote Data Access is now fully configured and ready for use.
Work smarter: One-click remote access to company resources
Are you tired of wrestling with complex Sage Remote Data Access setups and intricate procedures to gain access to your remote computer? Say goodbye to the hassle and switch to the powerful remote access software AnyViewer. With just a single click, you'll find yourself in complete control of your remote device, effortlessly accessing files, running applications, and managing tasks from anywhere in the world.
AnyViewer is designed with simplicity in mind, offering a user-friendly interface that even the least tech-savvy individuals can navigate with ease. No more dealing with convoluted instructions or spending precious time on tedious configurations.
In addition, AnyViewer presents a range of advanced features designed to enhance your productivity while working remotely. These key features include convenient one-click unattended access, flexible file transfer capabilities, handling multiple sessions simultaneously, and real-time chat functionality,etc.
Let AnyViewer be your ultimate solution for remote data access, and unlock the power of your computer with unparalleled convenience.
Step 1. Open AnyViewer on the remote computer. Proceed to create a new account and log in.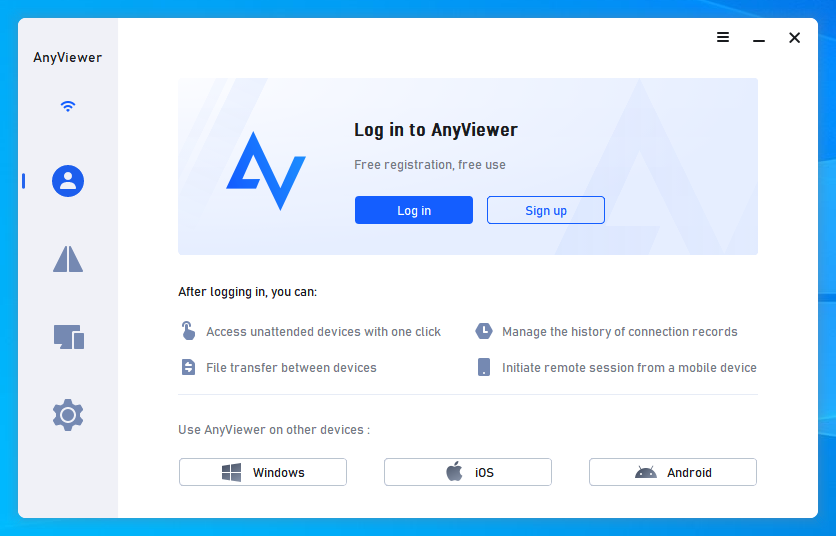 Step 2. On the local computer, open AnyViewer and sign in using the same account you just created. The program will automatically assign the computer to your account.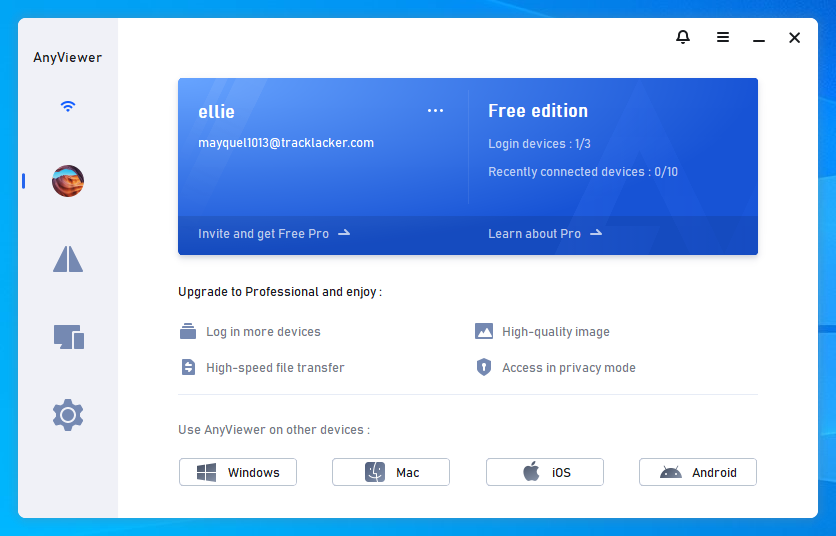 Step 3. Navigate to the Device section. Select the desired computer you wish to connect to and choose the One-click control option to establish a connection.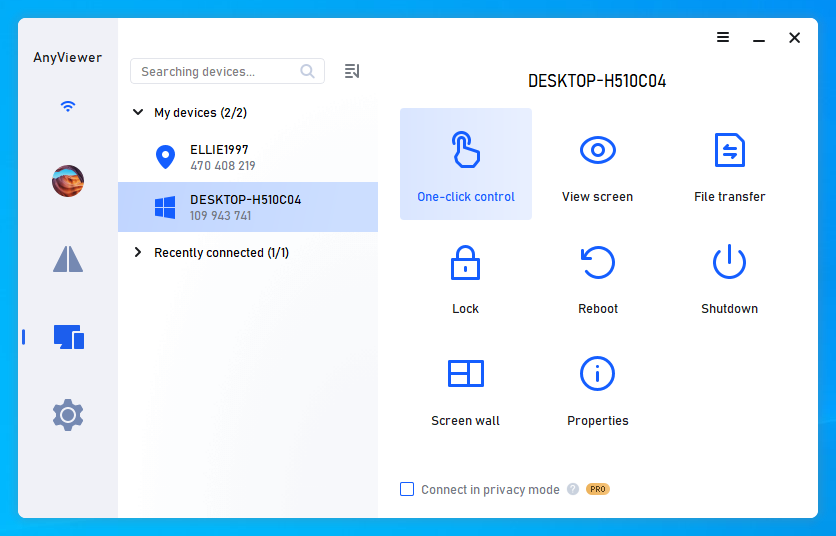 Notes:✎...If you manage multiple remote PCs, AnyViewer offers flexible and cost-effective licensing options tailored to diverse needs. These licenses provide several benefits, including:

Easy access to a maximum of 100 assigned devices with just a single click.
Simultaneous connections to up to 10 devices, enabling efficient multitasking.
Seamless file transfers without any limitations, allowing for file sizes of up to 1TB per file.
Enhanced security through the privacy mode feature, which conceals the host PC screen and disables the keyboard and mouse, ensuring increased privacy and protection.
Conclusion
That all for Sage Remote Data Access setup. If you are looking for an easier way to remotely access work resources, there's one standout choice: AnyViewer. With its seamless and user-friendly setup, accessing your data remotely has never been easier.