Brief introduction of PC remote control software
Present remote control software is of all kinds. No matter what kind of operating systems you are using, you can find suitable software for your computer to help you achieve remote control.
For example, Chrome Remote Desktop developed by Google can apply to iOS, OS X, Chrome OS, Android, Windows, and Linux systems. If you are a Windows 7 user, you'll have a wider range of choices. You can use the free Microsoft Remote Desktop. It is a self-contained remote control solution for the Windows system. Of course, there is also much third-party remote control software like AnyViewer which can provide you with remote control of Windows 7 PC.
How to configure your PC remote control for Windows 7 over RDP?
Microsoft Remote Desktop is also known as RDP. Before getting to the final part, you need to set up computers for a Remote Desktop session. First, you need to enable remote connection on the host computer. Second, you need to remember the IP address and User name of the host computer. Then you can start to connect to another computer.
Enable remote connection
Step 1. Click Start and then find Computer. Right-click Computer, then click Properties.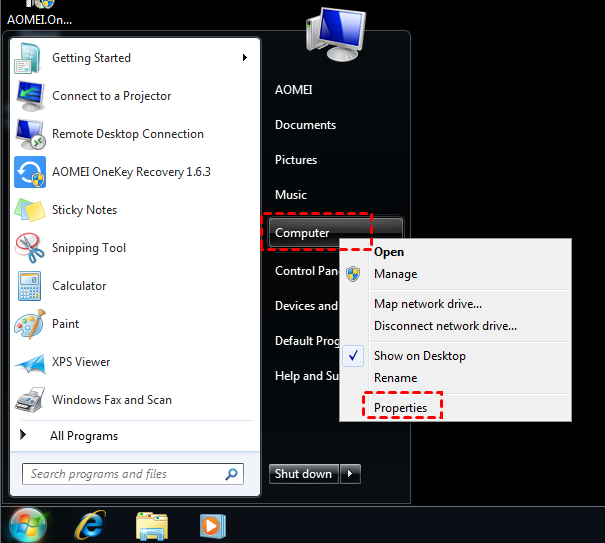 Step 2. Locate and then click Remote settings.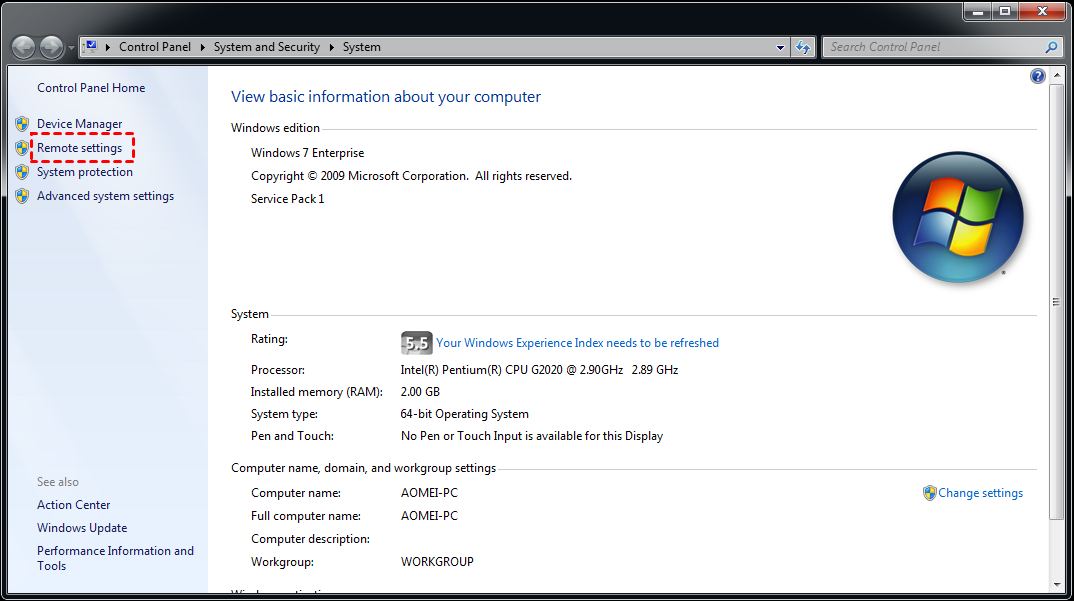 Step 3. On the Remote tab, tick Allow Remote Assistance connection to this computer and chose Allow connections from computers running any version of Remote Desktop. Then click Apply and OK.
Note down the IP address
Step 1. Press Windows key + R to invoke the Run dialog box. Type in "cmd" and press OK.
Step 2. Type "ipconfig" at the blinking cursor and press Enter.
Step 3. Make note of the IP Address, you will need this number when you access your work computer from home.
Connect to another computer
Step 1. From the Start menu, choose All Programs, Accessories, Remote Desktop Connection.
Step 2. In Remote Desktop Connection, type the name of the PC you want to connect to in the box (introduced above), and then select Connect.
Note: If you are trying to achieve remote control over RDP, there are a few things you need to know. On the one hand, RDP is only included in certain versions of Windows, like Pro, Business, or Ultimate version. Windows 7 Starter Edition and Windows 7 Home Edition do not support RDP. On the other hand, if you're planning to use RDP outside your office network, you'll need to configure the remote network to accept incoming connection requests through VPN or forward ports on your router.
How to configure your PC remote control for Windows 7 over AnyViewer?
Of course, if you feel the configuration process is too complicated and tedious, or if you are running a Windows Home edition on a PC to which you want to make a connection, you can always use a third-party software AnyViewer, which is a free PC remote control software for Windows 7. Not only Windows 7, but it also supports other different versions of Windows. Like Microsoft Remote Desktop, you need to first set up the software. But the process is quite simple.
Setting up AnyViewer  
Step 1. Install and run AnyViewer on both the client and the host computers.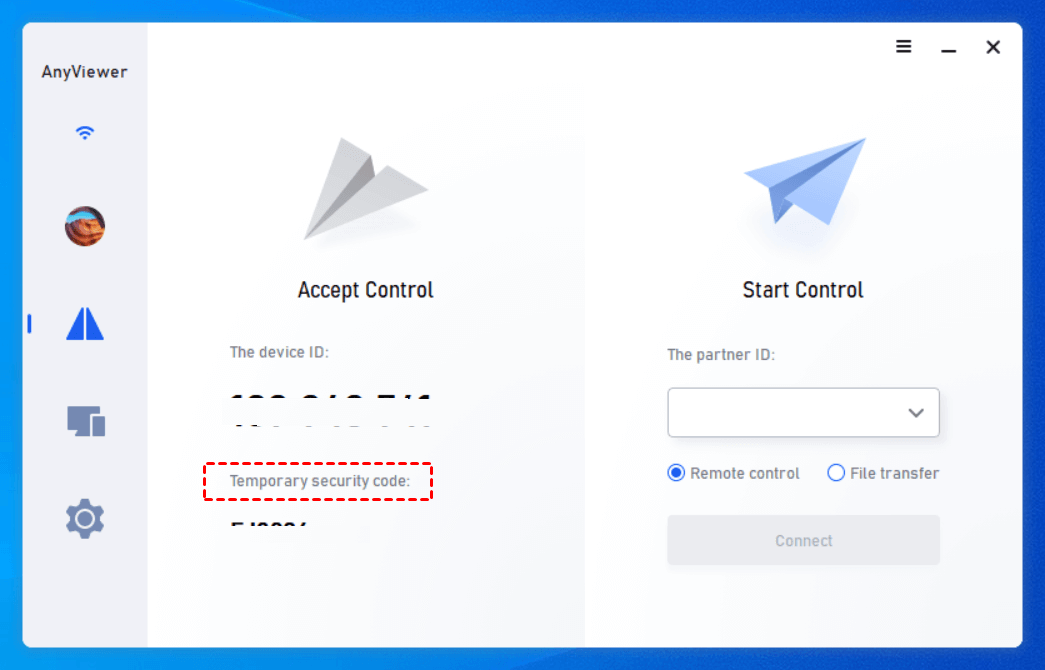 Step 2. Click on Setting and then Recipient. Tick the third option. Then set the security code you want in the box. Then click OK to finish the set-up process.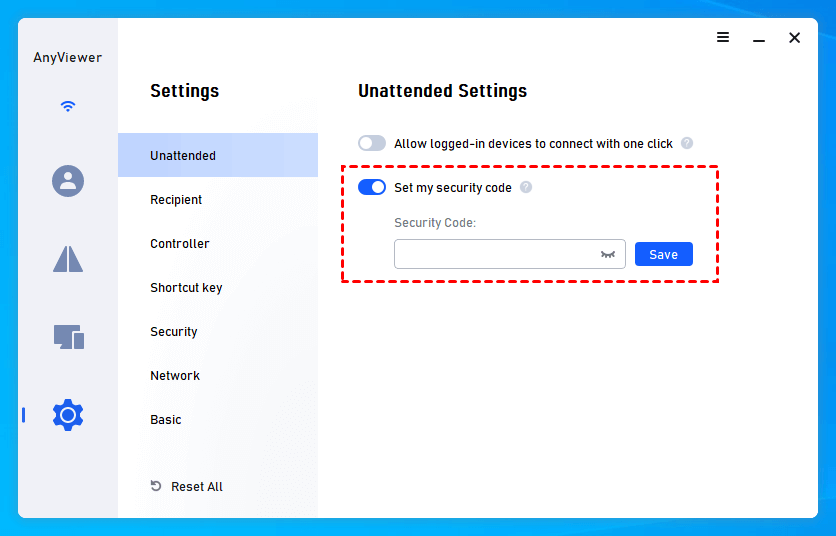 Remote control over AnyViewer
You've already configured it for remote access. If you want to connect to another computer, you must first figure out its device ID. After entering the device ID, you'll be given two options:
Option 1: You can send a control request; the recipient will receive a pop-up request to remotely control his device. Your partner can either allow the request or deny it.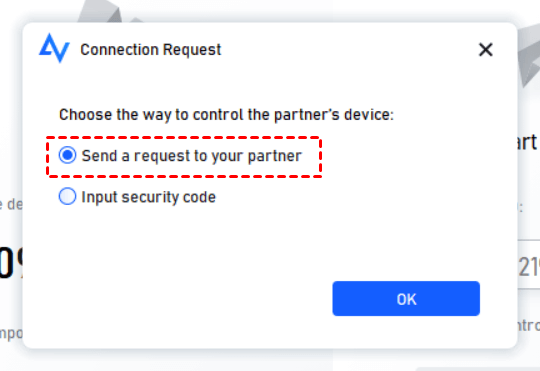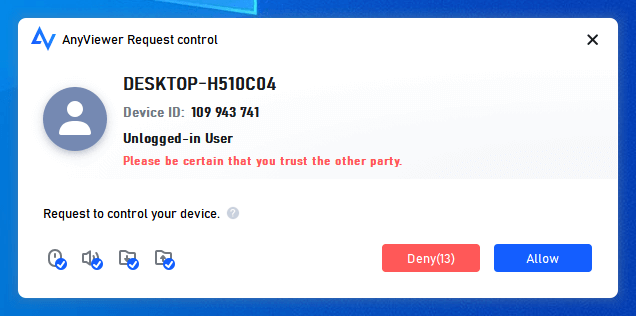 Option 2: You could also input a security code of the host computer to achieve remote connection directly. You can either input a permanent security code or a temporary security code. A permanent security code is set by the recipient. A temporary security code is automatically generated and will change every time. Both security codes allow you to establish connection directly.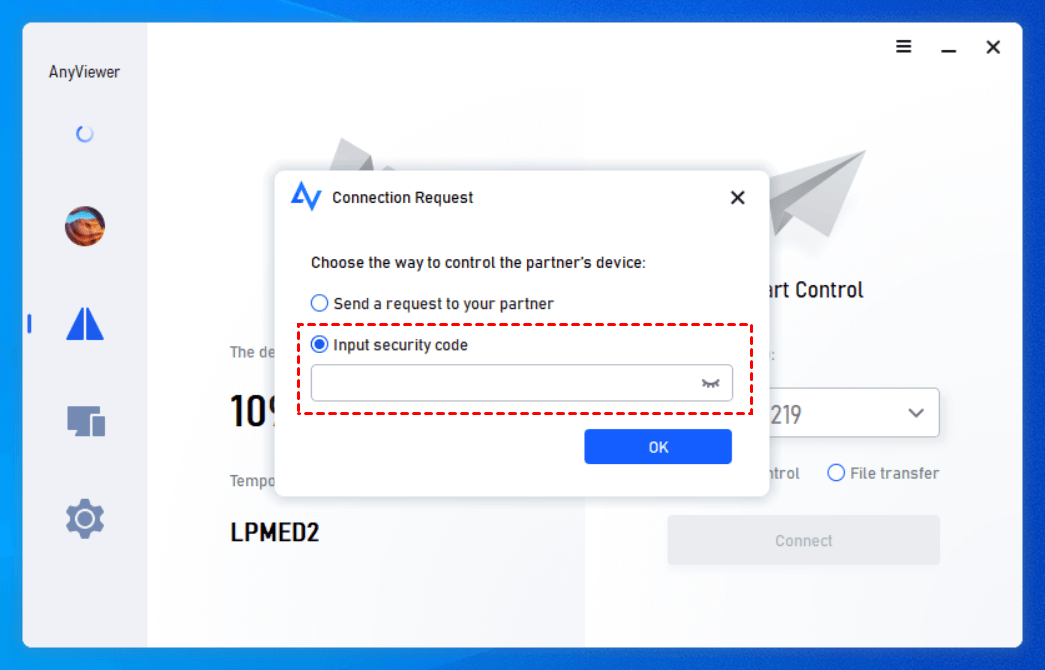 In addition, AnyViewer can also provide users with some practical functions for remote control after a successful connection. Such as lock, logout, restart, command prompt (cmd), etc.

Users can choose image quality according to the network connection speed. If the network connection speed is better, it can provide a higher image quality. The default wallpaper hiding function makes the remote connection smoother.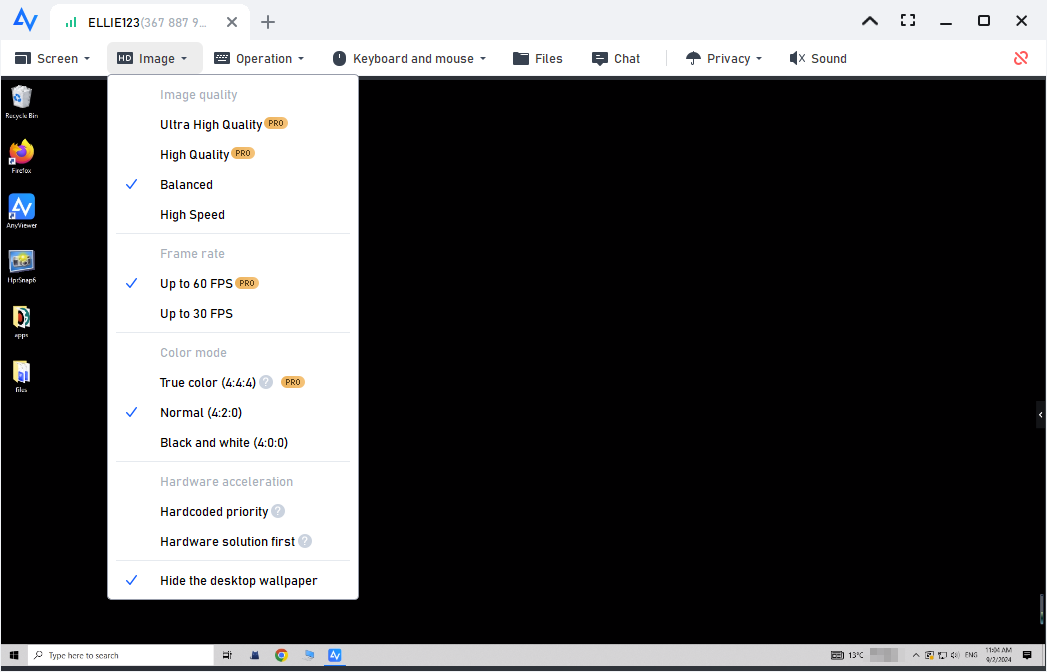 AnyViewer also provides users with different resolutions. Users can choose according to their preferences.