Help with failure to set up Chrome Remote Desktop
Attempting to configure Chrome Remote Access on a fresh Windows PC. When utilizing the web application, I encountered an issue: 'No response will be received since the channel is disconnected' What should be the subsequent steps? How might I establish the setup for remote access?"
- Question from Microsoft Community
How to fix Chrome Remote Desktop "No response will be received since the channel is disconnected" [2 solutions]
In order to address the Chrome Remote Desktop "No response will be received since the channel is disconnected" when configuring Chrome Remote Desktop, it is advisable to explore the effectiveness of the following pair of tried-and-true methods:
Solution 1. Uninstall & reinstall Chrome Remote Desktop
One reliable approach to tackle the persistent Chrome Remote Desktop error "No response will be received since the channel is disconnected"involves an uninstallation and reinstallation process. Follow these steps based on your operating system:
On a Windows:
Step 1. To begin, press and hold the Windows key while simultaneously tapping the R key, unveiling the Run dialog. Input "control panel" and hit OK.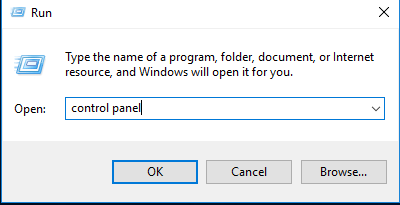 Step 2. Navigate to "Programs and Features," then double-click "Chrome Remote Desktop Host" in the list of installed applications, initiating the uninstallation.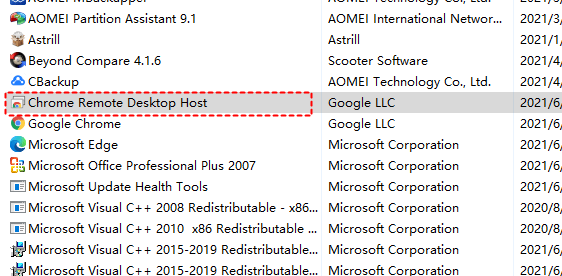 Step 3. Revisit https://remotedesktop.google.com and restart the setup process for a smoother experience.
On a Mac:
Step 1. Go to Macintosh HD / Library / PrivilegedHelperTools and remove the two GoogleChromeRemoteDesktopHost files.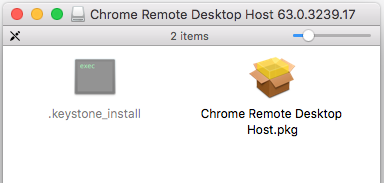 Step 2. Return to https://remotedesktop.google.com/access/ and start the process anew. Download the dmg file to reinstall the necessary components, granting appropriate privileges.
Solution 2. Try a Chrome Remote Desktop alternative
If you're stuck while trying to make Chrome Remote Desktop work, it's a good idea to explore another option that doesn't cost anything. Let me introduce you to AnyViewer, a great free alternative to Chrome Remote Desktop. AnyViewer is one of the best free remote desktop software that works well with Windows, iOS, and Android - the devices many of us use daily. Interestingly, AnyViewer has some unique benefits that are even better than what Chrome Remote Desktop offers:
Unlike Chrome Remote Desktop, AnyViewer includes a helpful in-session text chat feature, allowing seamless communication.
AnyViewer distinguishes itself with user-friendly file transfer options, making the process much simpler compared to the limitations posed by Chrome Remote Desktop.
With AnyViewer, you can anticipate swift and steady remote connections, coupled with superior image quality. This optimization is particularly noteworthy for tasks demanding a lot of resources, an advantage that Chrome Remote Desktop might not provide.
Step 1. Begin by installing AnyViewer on the devices that require remote access.
Step 2. Proceed to register or log in to your AnyViewer account, setting up the foundation for your usage.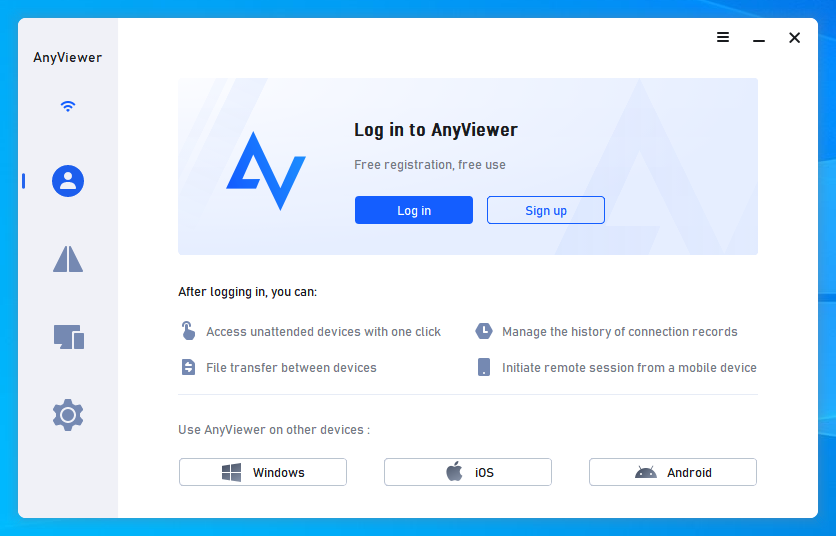 Step 3. Ensure a successful account login to establish strong connections between devices.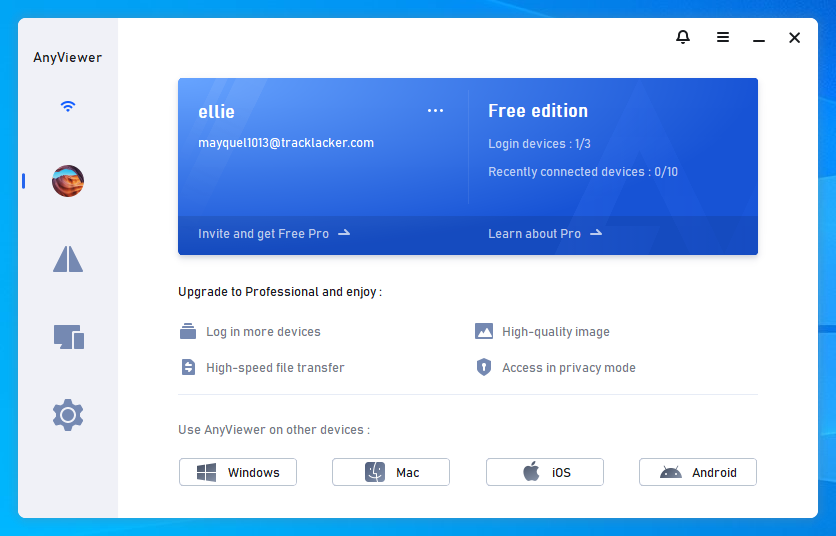 Step 4. Navigate to the "Devices" section and find the specific remote computer you want to connect to.
Step 5. Activate "One-click control" to initiate a connection effortlessly, streamlining the linking process.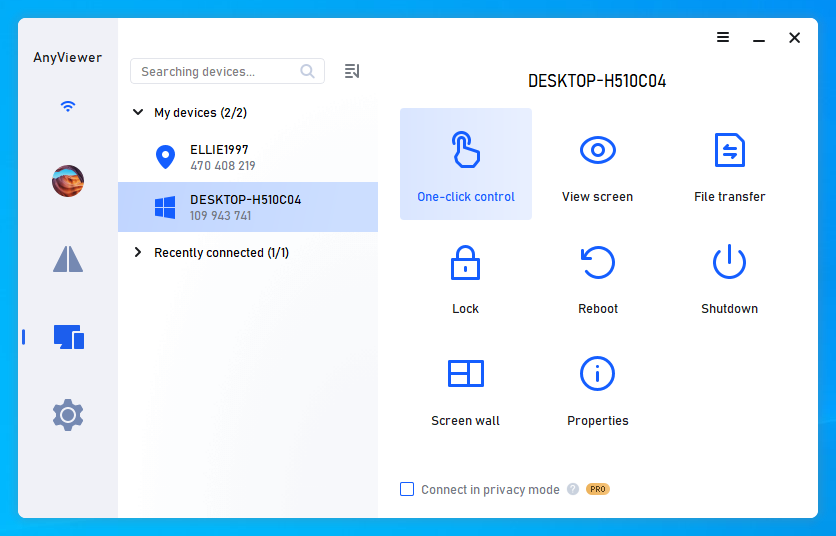 ★Tips:

To take your experience up a notch, delve into AnyViewer's Professional or Enterprise plan, packed with an array of valuable advantages:

Increased allocation for managing unattended access devices.
Effective handling of multiple remote sessions happening simultaneously.
Quick and smooth file transfers, streamlining data exchange seamlessly.
Enhanced security through the integration of privacy mode.
... and a host of other features to explore and enjoy.
The bottom line
Addressing the challenge of "No response will be received since the channel is disconnected" in Chrome Remote Desktop is feasible through well-tested solutions. Whether it's through tried-and-true reinstallation or by embracing the capabilities of AnyViewer, you can conquer this issue and set up remote access without frustration. AnyViewer shines as a beacon of convenience and efficiency, guiding you toward smoother remote connectivity.