Is Supremo safe?
Is Supremo safe? As an application for secure remote access, Supremo can be considered a dependable and trustworthy option. It prioritizes data transmission safety by employing a robust encryption algorithm, ensuring that all information transferred through Supremo over the internet remains encrypted. Additionally, Supremo takes advantage of the secure HTTPS (SSL) protocol, which guarantees high security during data transfer.
In terms of safeguarding remote desktop connections, Supremo provides configurable parameters to prevent unauthorized access. Users can implement an IP filter, blocking or permitting specific IP addresses. Additionally, users can set a password, allowing remote users to connect only if the correct password is provided.
Do hackers use Supremo?
Is Supremo used by hackers? Yes. While Supremo is indeed a legitimate and secure software with various security measures in place, it has unfortunately been utilized by hackers and scammers for unauthorized access to victims' computers. It is crucial to remain vigilant and informed about potential scams that aim to exploit Supremo's reputation.
Scammers frequently employ deceptive tactics, such as impersonating Supremo's support team or creating fraudulent websites to distribute malicious versions of the software. However, Supremo takes steps to address this issue by displaying a warning message when the software is launched for the first time. This is a precautionary measure to alert users about the potential risks and encourages them to exercise caution while using Supremo.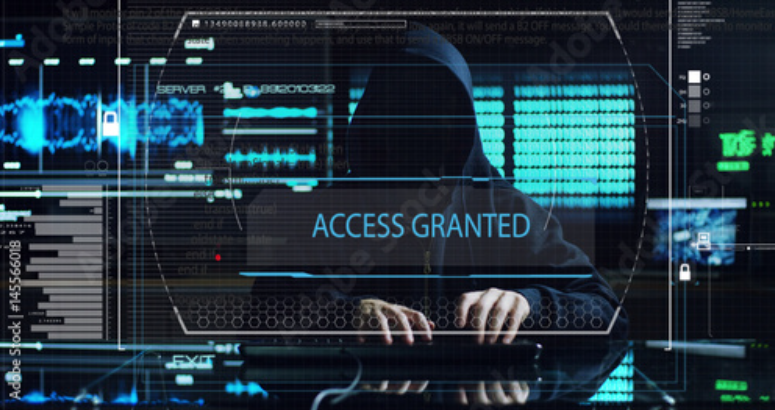 How to protect yourself from Supremo scams
To protect yourself from Supremo scamsand secure network connection at a remote site, consider the following precautions:
►Official website: Is Supremo a legit site? Yes. Only download Supremo from the official website can ensure you are getting the authentic and secure version of the software. Avoid downloading from third-party sources, as they may contain altered or infected versions.
►Verify the sender: If you receive an email or message claiming to be from Supremo's support team, exercise caution. Legitimate communication from Supremo will come from an official email address, and they will never ask for your personal information or payment details through email.
►Be wary of unsolicited calls: Scammers may cold-call unsuspecting individuals, claiming to be Supremo representatives. Remember that Supremo will not initiate unsolicited calls to sell or promote their software. If you receive such a call, hang up and report it to the appropriate authorities.
►Stay informed: Keeping yourself updated about the latest scams and security threats can help you recognize potential risks associated with Supremo or any other software. Regularly visit Supremo's official website or reputable cybersecurity sources to stay informed.
Don't miss your ultimate solution for secure & free remote access
If you're in search of an alternative to Supremo that surpasses it in terms of both security and performance, look no further than AnyViewer. This exceptional remote access software offers a comprehensive solution for secure and free remote connections.
With AnyViewer, you can enjoy a seamless and protected remote connection to your devices from anywhere. Its state-of-the-art technology ensures end-to-end encryption, safeguarding the privacy and security of your sensitive data.
One of the standout advantages of AnyViewer lies in its lightning-fast connection speeds and optimized performance. In addition, AnyViewer provides an array of free features, including one-click unattended access, file transfer capabilities, the ability to handle multiple sessions simultaneously, and real-time chat functionality
Experience secure remote access, unparalleled performance, and a range of free features that will elevate your remote access capabilities by downloading AnyViewer today!
To get started with AnyViewer, simply follow these straightforward steps:
Step 1. Open AnyViewer on the remote computer, create a new account, and log in using your credentials.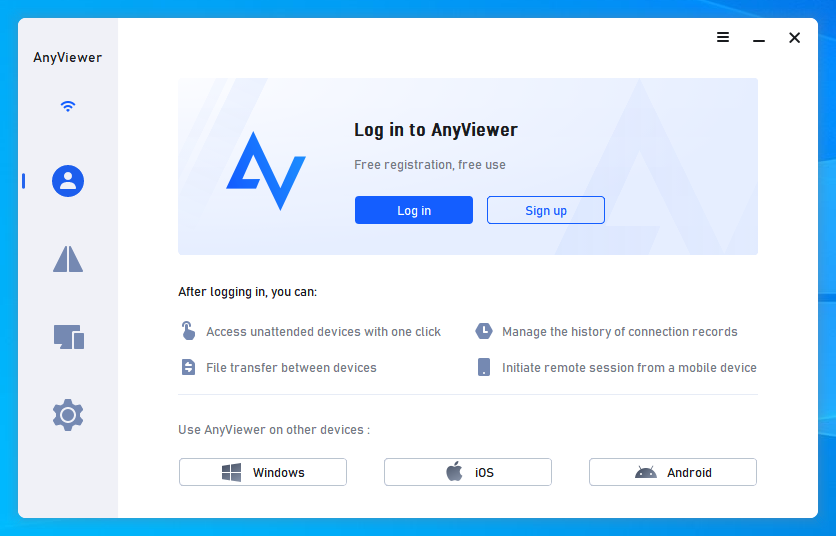 Step 2. On your local computer, open AnyViewer and sign in using the same account you created. The program will automatically assign the computer to your account.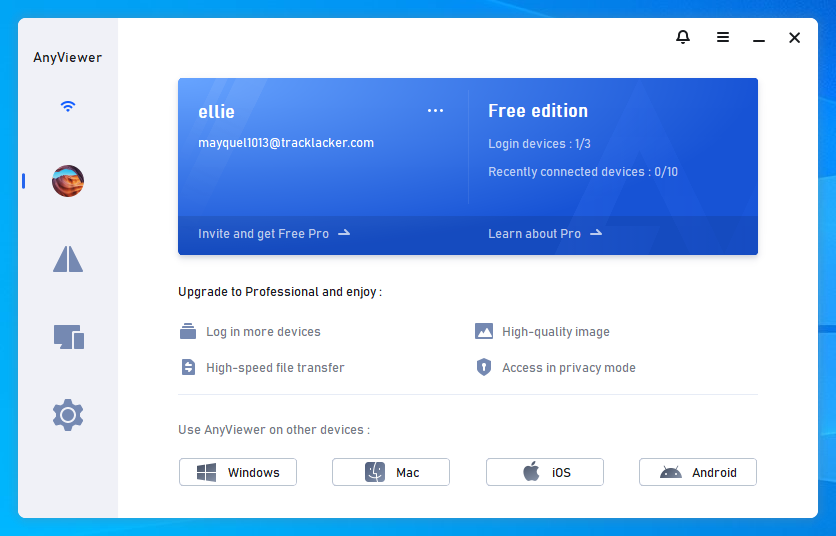 Step 3. Navigate to the Device section, select the desired computer you wish to connect to, and choose the One-click control option to establish a connection.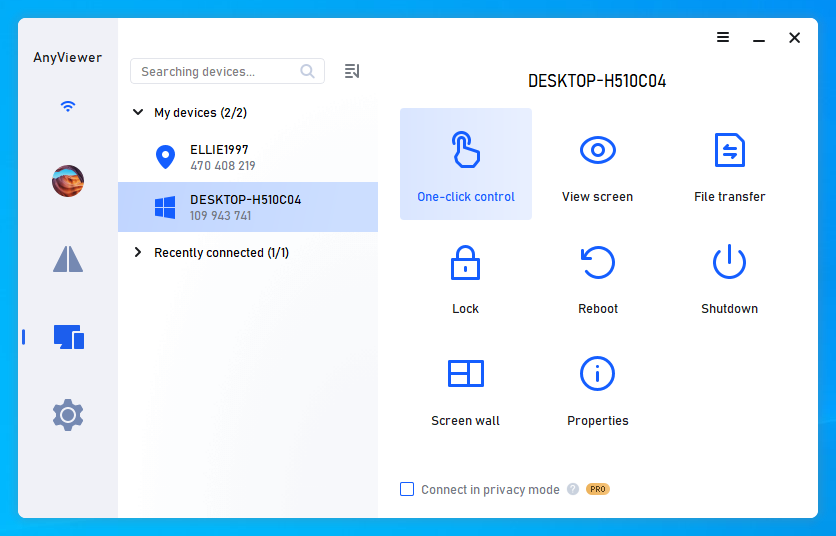 Notes:✎...It's worth noting that if you manage multiple remote PCs, AnyViewer offers flexible and cost-effective licensing options tailored to diverse needs. These licenses provide several benefits, including:

Easy access to a maximum of 100 assigned devices with just a single click.
Simultaneous connections to up to 10 devices, enabling efficient multitasking.
Seamless file transfers without any limitations, allowing for file sizes of up to 1TB per file.
Enhanced security through the privacy mode feature, which conceals the host PC screen and disables the keyboard and mouse, ensuring increased privacy and protection.
Conclusion
Is Supremo safe? You may get an answer after reading this post. However, if you are seeking a remote access solution with enhanced security, we wholeheartedly recommend AnyViewer. Equipped with robust encryption protocols and advanced security features, AnyViewer guarantees the confidentiality and protection of your data.