Want to create a Remote Desktop Connection shortcut
"I'm looking for a way to make my remote connection to a specific PC easier. In other words, are there any Remote Desktop shortcut keys or ways to create a Remote Desktop Connection shortcut on Windows 10 desktop? Thanks in advance."
Two quick ways to create a Remote Desktop Connection shortcut
There's no doubt that the keyboard shortcuts in remote sessions provide many benefits for us. At the same time, some users of RDP are seeking a way to create a Remote Desktop shortcut to a specific server so that they can realize remote sessions with an easy click. The reason is that inputting the user name and IP address each time when RDP to a Server seems a little bit time-consuming. In this post, we'll explore 2 ways to teach you how to create a Remote Desktop Connection shortcut on Windows 11,10, 8, 7...
Way 1. Create an RDC shortcut by saving it as a file
Step 1. Search Remote Desktop Connection in the search box and then open it.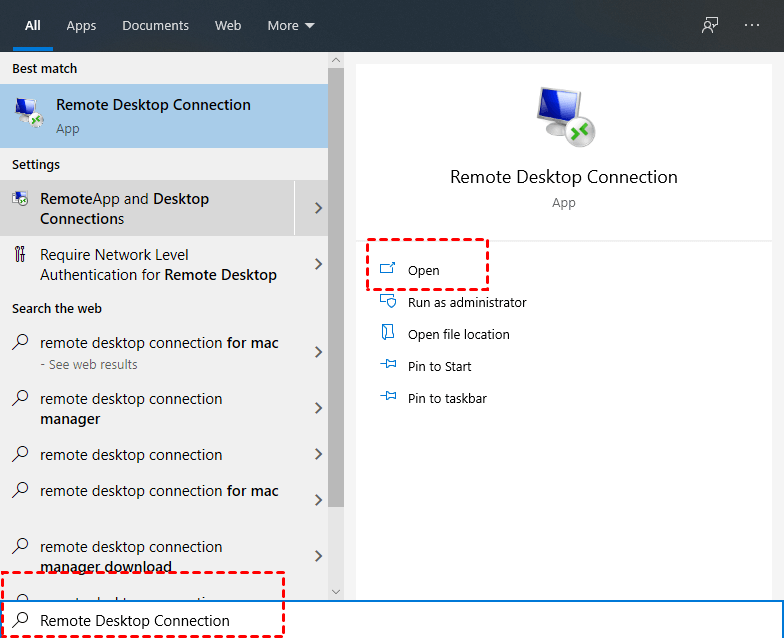 Step 2. After entering the IP address and the username, click on Show Options and then tick Allow me to save credentials.
Step 3. Then, click on the Save As button, and you can choose to save on your desktop. Name as PC-240 and select Save.
Step 4. Return to the desktop, and then double click on the save file. Now enter the password and check Remember me. Click on OK.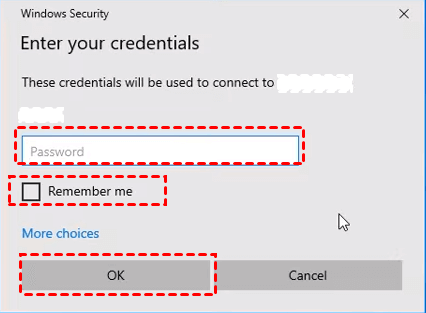 Step 5. And then the connection is established. Next time, you can connect the remote PC directly with an easy click.

Way 2. Create an RDC shortcut on the desktop
Step 1. On the desktop, right-click and then select New > Shortcut.
Step 2. Enter: mstsc.exe /v:PC-name or mstsc.exe /v:IP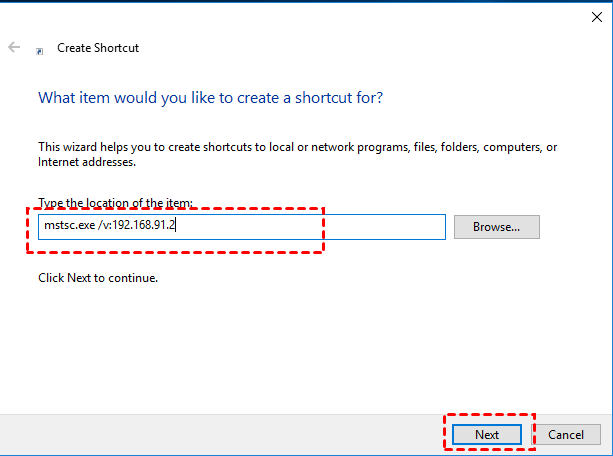 Note: Take place of the PC name or IP with the real username and IP address.
Step 3. Click on the Next, and then enter a name like "PC-240". And then click on Finish.
Step 4. Now the shortcut is created successfully. (Double click on it and then you can connect successfully.)

A way to realize the quickest remote connection-- AnyViewer
Creating a Remote Desktop Connection shortcut surely brings about super convenience for most users. However, in the course of connecting, we may also meet with the RDP problems like RDP can't connect to the remote computer. For the sake of saving your time, I think the best way to have a remote session is to use third-party free remote access software, AnyViewer.
With AnyViewer, there's no need for creating a Remote Desktop Connection shortcut completely, because its operation of it is quick and easy enough. You can save the credentials in the Settings, and then you can successfully connect to the remote PC just by clicking the "Connect". Moreover, it's worth mentioning that you won't need to input the username and the IP address and won't be limited on the same LAN.
Step 1. Download, install and launch AnyViewer on both computers.
Step 2. Go to Log in, and then click Sign up. (If you already have signed up on its official website, you can log in directly.)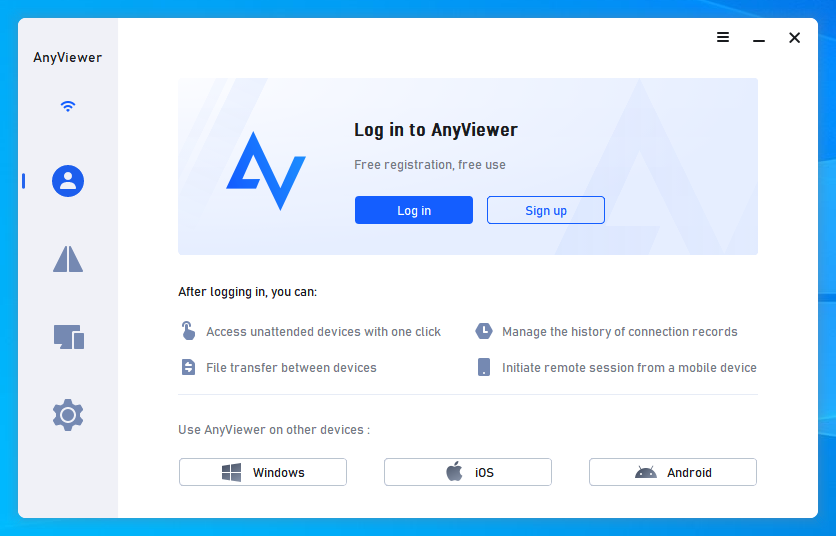 Step 3. Fill in the signup information.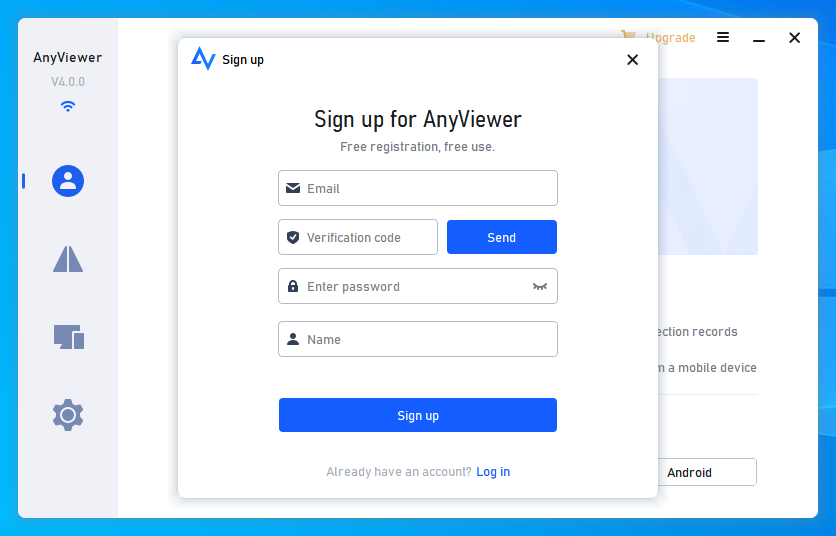 Step 4. Then you can see you successfully logged in to AnyViewer. Your device will automatically be assigned to the account you've logged in to.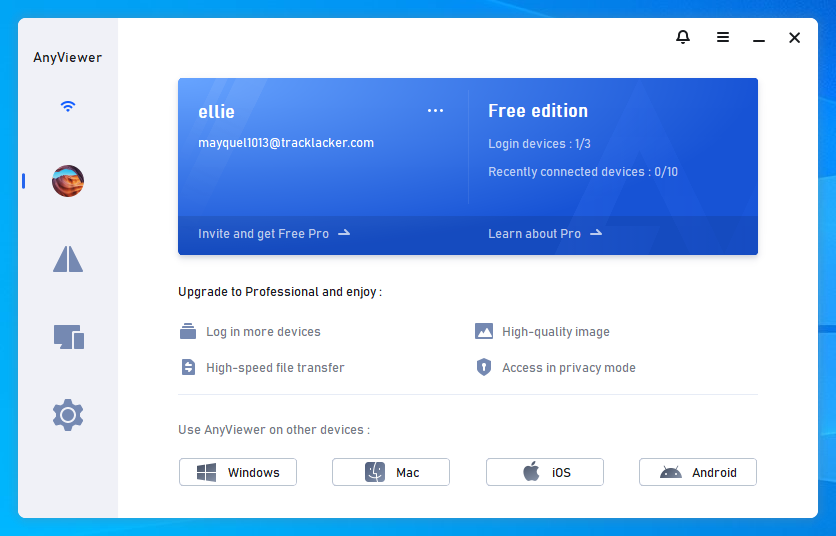 Step 5. Log in to the same AnyViewer account on the two devices, then you can achieve a direct connection by clicking One-click control.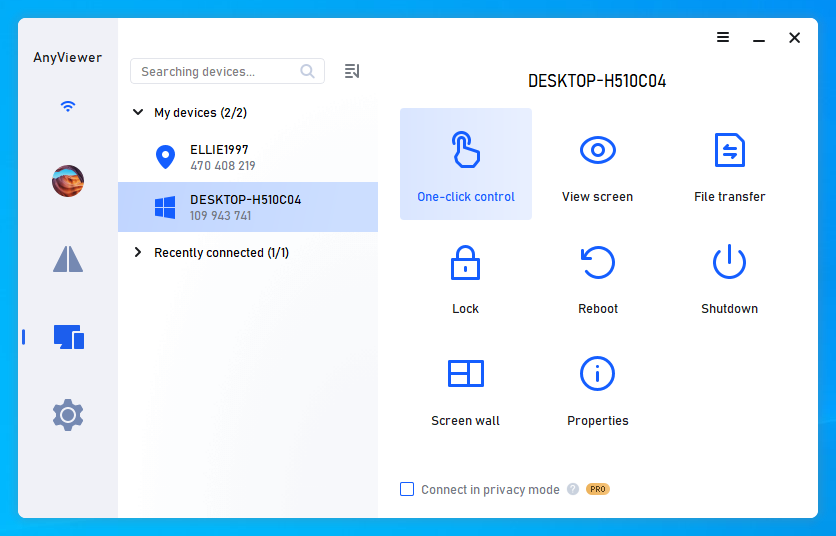 Step 6. Now you can see many shortcuts under the "Operation".

Note: You can also upgrade your account to Professional or Enterprise edition to assign more devices and to connect to another computer in privacy mode.
Conclusion
Here we provide 2 top ways like saving files, creating in the desktop to guide you to create a Remote Desktop Connection shortcut on Windows 11, 10... Of course, the most recommended one is to use AnyViewer, which can help you realize the quickest remote connection.