Overview of AnyDesk vs RDP
Remote Desktop Protocol (RDP) is a solution for remote connections between computers and/or servers provided by Microsoft. It is a built-in remote desktop tool and does not require additional installation. To establish a remote connection, two separate software versions are required. The machine that is being controlled (the host computer) must have RDP server software installed, while the machine controls (the client computer) must have RDP client installed.

AnyDesk is a third-party remote desktop software that can be regarded as an alternative to RDP. It can be used in a variety of operating systems. To connect remotely, both computers need to download and run AnyDesk. Once successfully connected, you can fully take control of the keyboard and mouse of the remote computer.
AnyDesk vs RDP: a detailed comparison
The comparison of AnyDesk and RDP can be made from many aspects, for example, AnyDesk vs RDP functions, AnyDesk vs RDP bandwidth, AnyDesk vs RDP price, etc. Here, we pick the very typical four aspects to compare AnyDesk and RDP on performance.
Operating Systems
RDP is a Windows built-in tool. But it not only works on Windows. For RDP clients, they exist for most versions of Microsoft Windows (including Windows Mobile), Linux, Unix, macOS, iOS, Android, and other operating systems. While RDP servers are built into Windows operating systems, Unix, and OS X only.
Not like RDP, AnyDesk can be used on a wide range of platforms on devices. For example, Windows, macOS, Andriod, iOS, Linux, FreeBSD, Raspberry Pi, and Chrome OS.
Features
RDP allows you to fully access, transfer and even print all your files stored on the remote computer. In addition to the desktop version, RDP also has a mobile application. With a mobile device, you can still access traditional keyboard shortcuts using corresponding gestures. If you would like to run audio over the RDP, you can also you could also set it on the Remote audio section in Remote Desktop Connection.
We're glad to tell you that AnyDesk supports all the features supported by RDP we mentioned above. Besides, it also provides users with some additional features. For example, text chat, voice and video conferencing, and automatic remote desktop session recording. drawing tool whiteboard which allows for drawing on the screen to share ideas.
Security
RDP employs the RC4 encryption algorithm, the data is encrypted with a 128-bit secret key and supports TLS (transport layer security). Every inbound connection must be verified for security risks. Users can control who has access to their computer by adding the contacts to the trusted list.
AnyDesk provides military-grade TLS 1.2 Standardized Protocol Technology, preventing all connections from unauthorized access. They use RSA 2048 asymmetric key exchange encryption to verify every connection. In addition, it provides 256-bit AES Transport Encryption to perfectly encrypt the data stream.
Price
RDP is a free remote desktop solution. But if you need to connect to multiple computers simultaneously, you need to buy an RDS Cal license from a qualified supplier.
AnyDesk comes in two types: paid and free. While the free version is for personal and non-commercial use, the premium version is offered in three different plans: Essential is $9.90 per month, Performance costs $19.90 per month, and the Enterprise package is tailored to your needs.
How to use AnyDesk and RDP
After learning enough about AnyDesk and RDP, let's see how they work.
How to use AnyDesk?
Step 1. Download and install AnyDesk on the client and host computers respectively.
Step 2. Open it, then you can see your address which can be used for remote access. On the client computer, enter the address of the host computer in the blank box and then click Connect.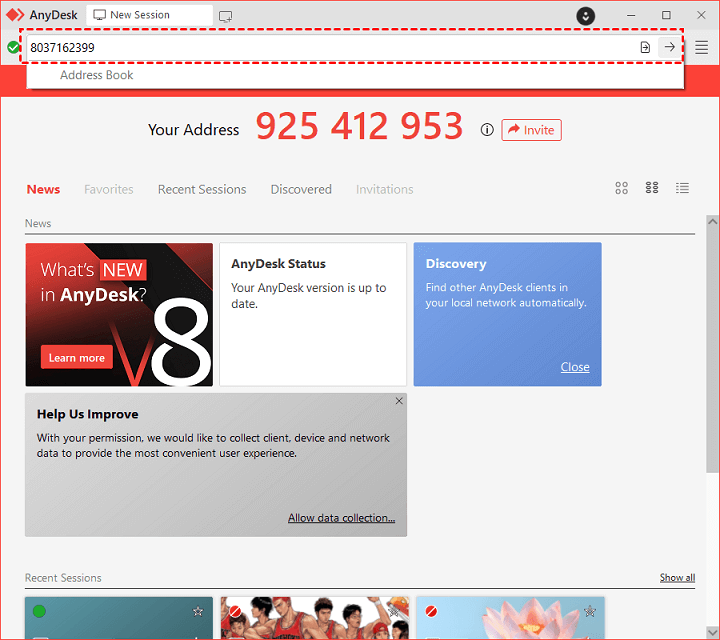 Step 3. On the host computer, the recipient will receive a pop-up window. Click Accept to establish the remote connection.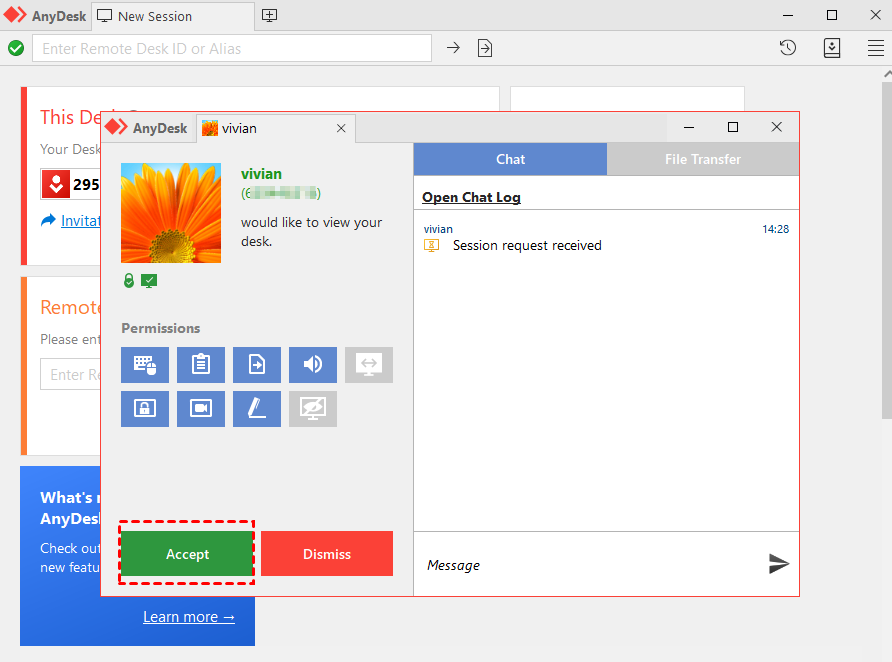 ✍Note: AnyDesk also supports unattended remote access. You can enable it and set your password for unattended remote access in settings.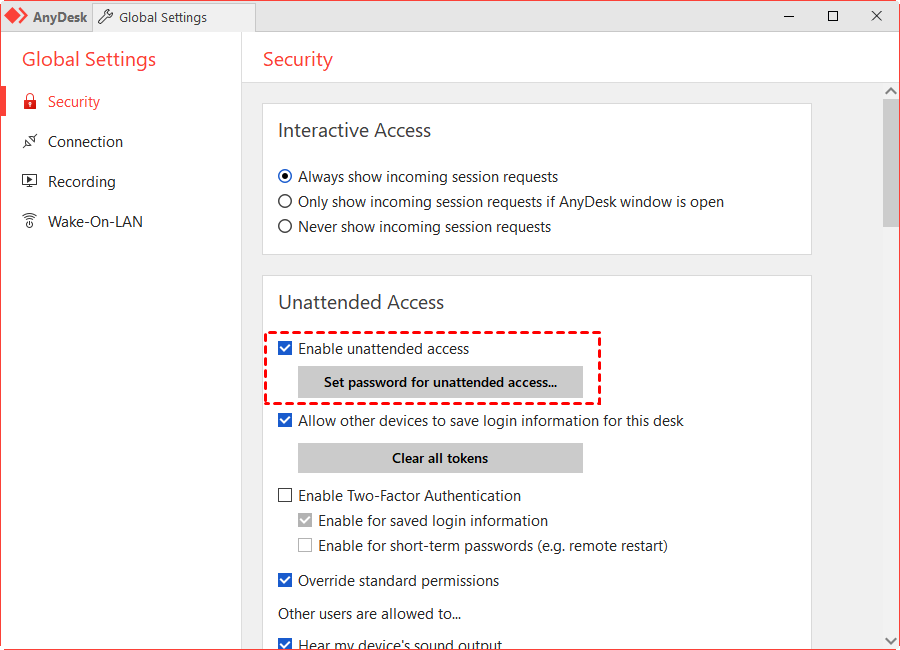 How to use RDP
Step 1. On the host computer, right-click This PC and select Properties. Then click Remote Desktop in the left sidebar, and switch the Enable Remote Desktop option to On.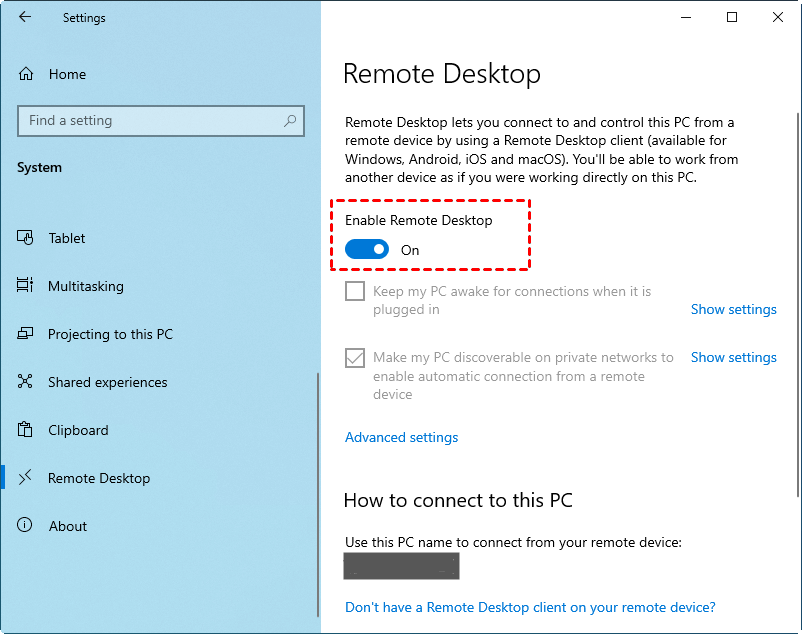 Step 2. Find User accounts and click Select users that can remotely access this PC.
Step 3. After opening the Remote Desktop Users window, click Add to add users who are allowed to access this computer.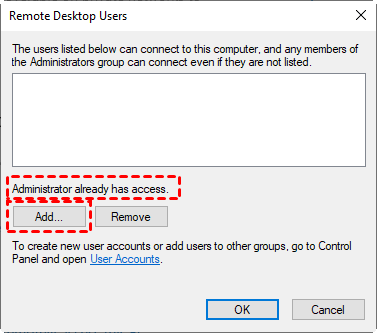 Step 4. On the client computer, search for Remote Desktop Connection in the Search box. And then open it.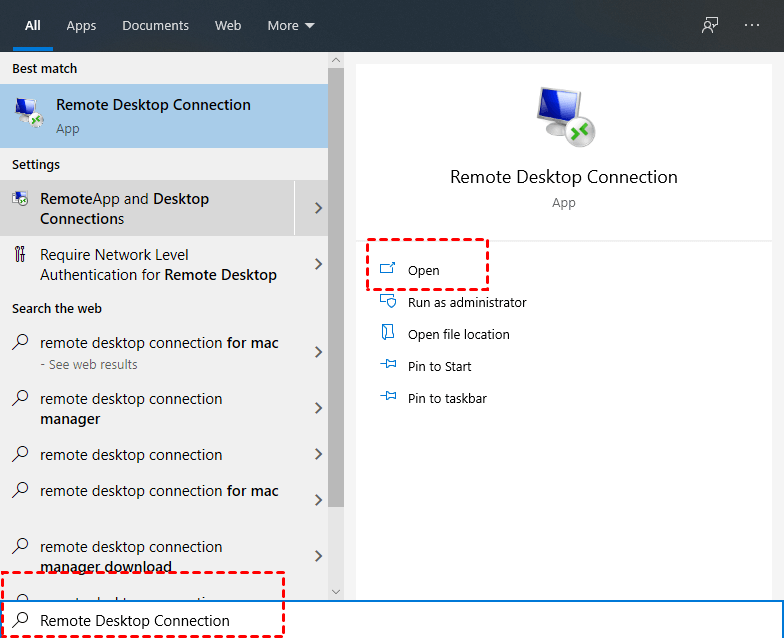 Step 5. Enter the IP address and User name in the Remote Desktop Connection interface to achieve connection.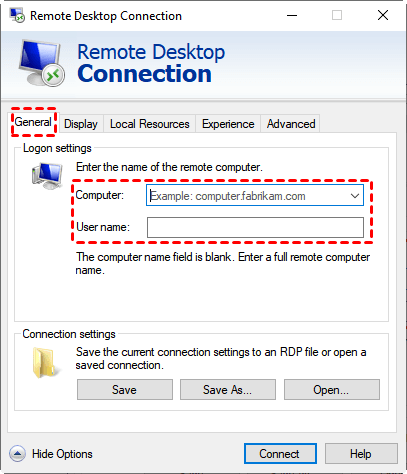 Step 6. In the pop-up Windows Security window, find the user name you just entered and enter the power-on password. If there is no power-on password, click OK.
Step 7. In the authentication pop-up window, click Yes directly to realize remote access (it is recommended to check Don't ask me again for connection to this computer).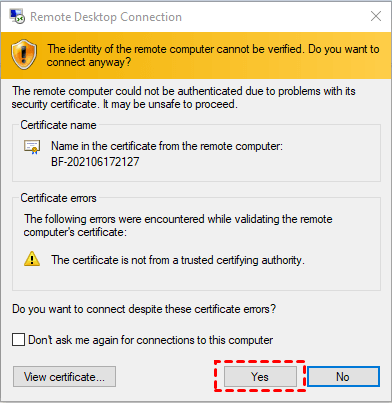 AnyViewer: Free remote desktop software
Both AnyDesk and RDP are useful tools for remote connections. Here, we want to introduce another free, safe, and easy remote desktop software, AnyViewer. Like AnyDesk and RDP, it allows users to remotely access another computer from anywhere. Here are its benefits:
It is a professional Windows remote desktop software, supporting Windows 11/10/8.1/8/7 and Windows Server 2022/2019/2016/2012 R2.
It is secured by Elliptic Curve Cryptography (ECC) encryption, protecting your data from leakage.
It has a toolbar, which provides quick access to many programs like Task Manager, CMD, etc. It has a chatbox, allowing instant communication.
It supports stable multiple remote access simultaneously with high image quality.
It has an intuitive and simple interface, which is very user-friendly.
It supports unattended remote access.
It is free of charge.
Step 1. Download, install and launch AnyViewer on both computers.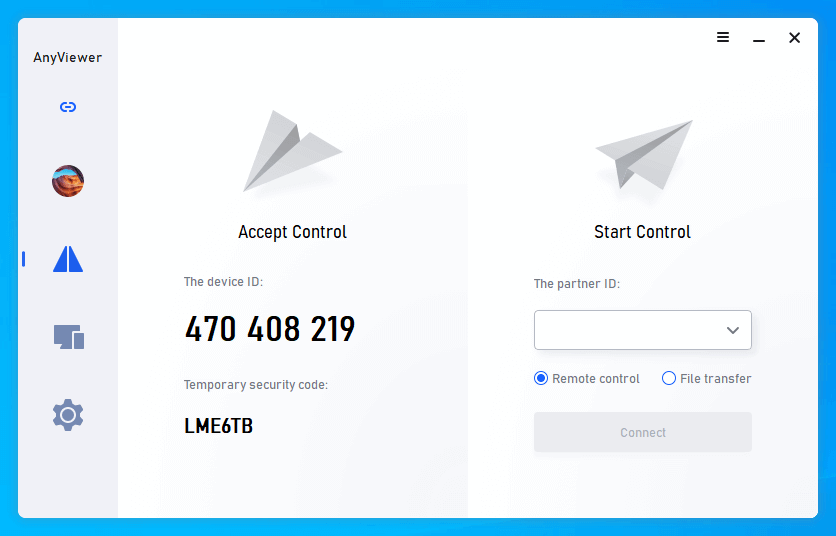 Step 2. Go to Log in, and then click Sign up. (If you already have signed up on its official website, you can log in directly.)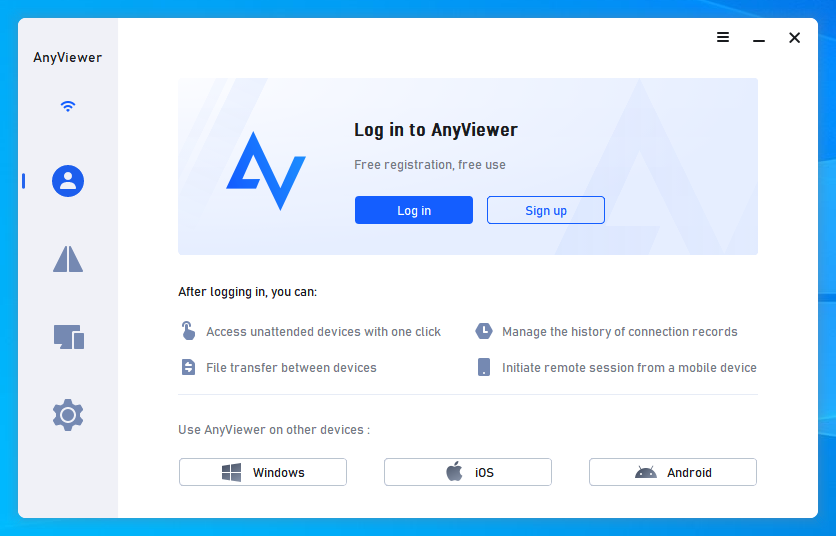 Step 3. Fill in the signup information.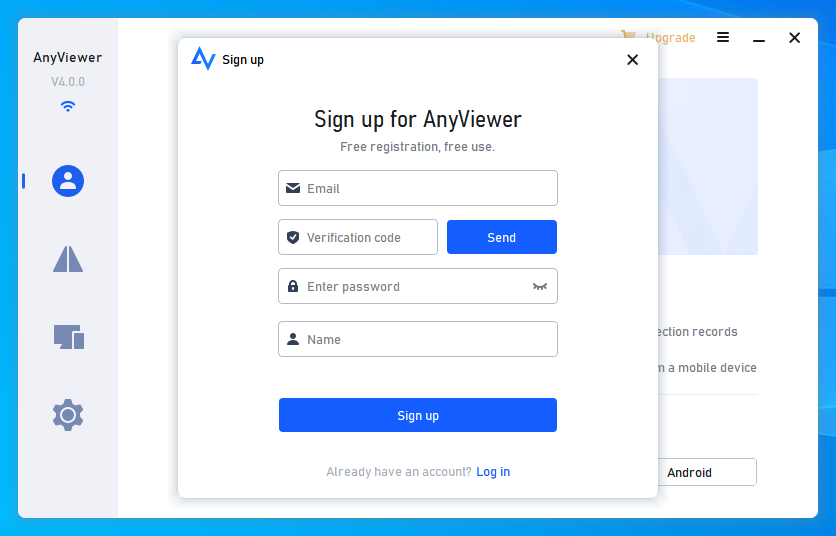 Step 4. Then you can see you successfully logged in to AnyViewer. Your device will automatically be assigned to the account you've logged in to.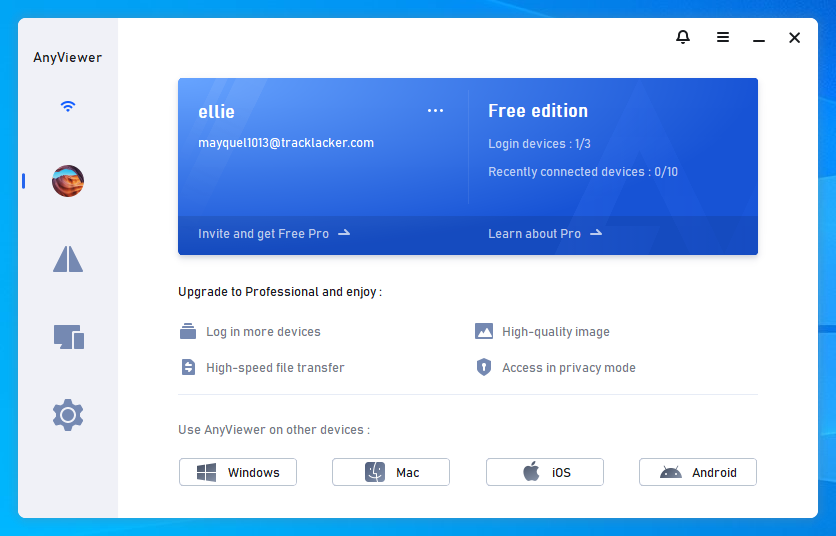 Step 5. Log in to the same AnyViewer account on the two devices, then you can achieve a direct connection by clicking One-click control.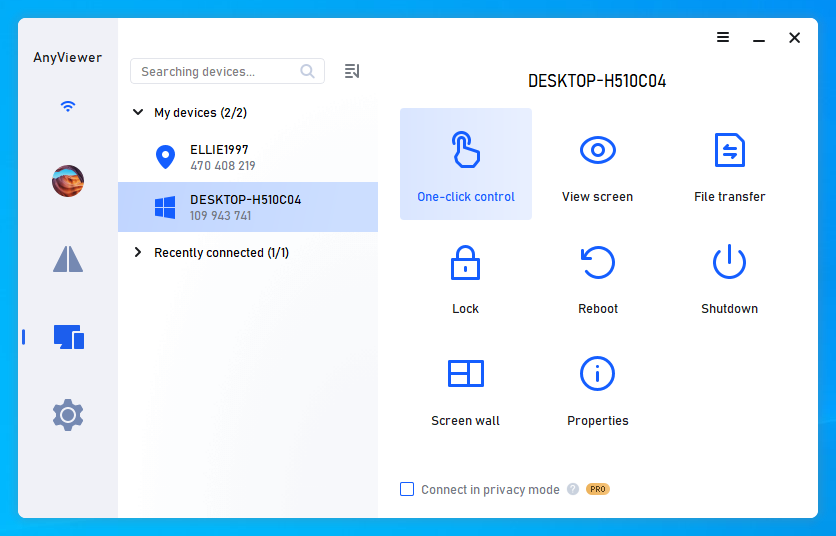 Notes:✎...

You can upgrade your account to a Professional or Enterprise plan. Then you'll have the following rights:

Assign more devices to achieve unattended remote access to more devices.
Connect to another computer in privacy mode, which means you can black the screen and block the mouse and keyboard of the remote computer.
Transfer files at a faster speed. Transfer speed for a free account is 500 KB/s, and for a paid account is up to 10 MB/s.
Conclusion
AnyDesk vs RDP, which one is better? While both are useful tools for remote access, you can choose according to your own preferences. Also, at last, we introduce another remote access solution, AnyViewer, which is quite easy to use. If you want stable and secure remote sessions with great image quality, give AnyViewer a try.