Why is AnyDesk not connecting to my network?
I am trying to connect to Android but it's giving me this error" network connection has timed out". Will disabling blockade (adblocker) solve the problem? Also, I have disabled direct connection.
- Question from 77ashish
AnyDesk is a remote support tool that allows you to remotely connect to unattended computer and access its screen and files from anywhere in the world. However, users may experience troubles such as "AnyDesk network timeout" from time to time. If you are one of these users and can't figure out the problem, in this article, we will provide 6 effective solutions.
How to fix AnyDesk network timeout [6 solutions]
If you find yourself experiencing challenges when trying to establish a connection with the AnyDesk server and those pesky error messages start to get on your nerves, don't worry. In this article, we'll look at solutions for resolving AnyDesk network timeout. Here are six solutions you can choose when AnyDesk network timeout.
Solution 1. Configuring Firewall Settings
An improperly configured firewall may cause errors in AnyDesk network timeout. Therefore, you need to ensure that the firewall is configured correctly.
Step 1. In the Control Panel, go to "System and Security" > "Windows Defender Firewall". In the left pane select "Allow applications or features to pass through Windows Defender Firewall".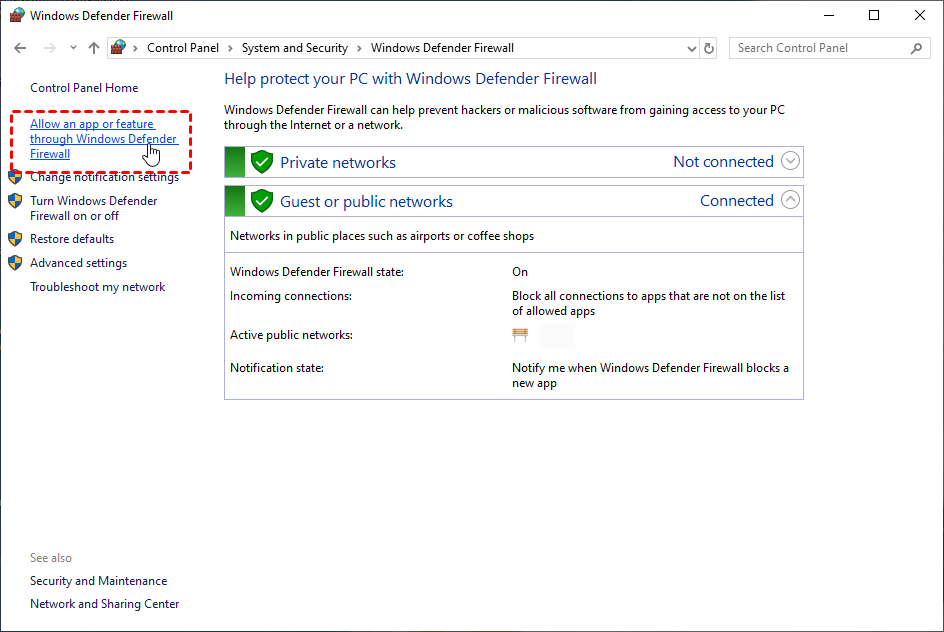 Step 2. Click "Change Settings", find and check "AnyDesk", and click "OK".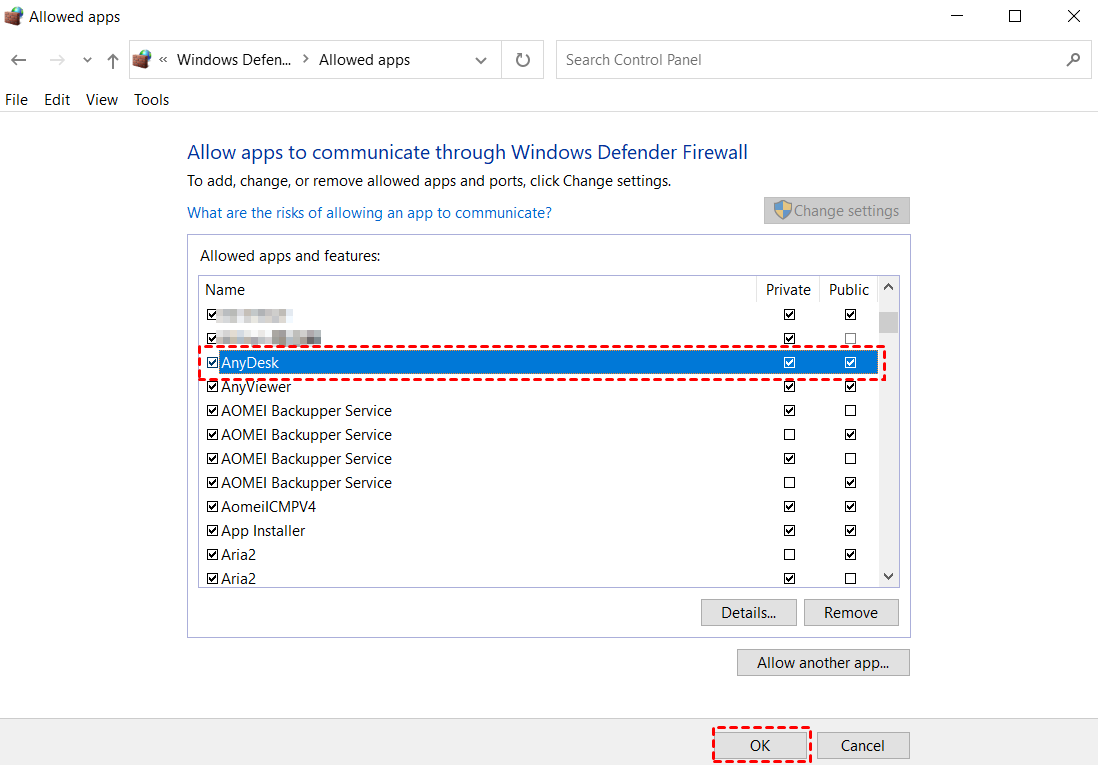 Solution 2. Check your internet connection
One of the main reasons that trigger the AnyDesk network timeout error is a network-related issue. To resolve this issue, make sure that your Internet connection is stable and fast enough.
Step 1. Navigate to "Network & Internet" in the Windows Settings application.
Step 2. In the "Status" tab on the left side, you can check the current connection status.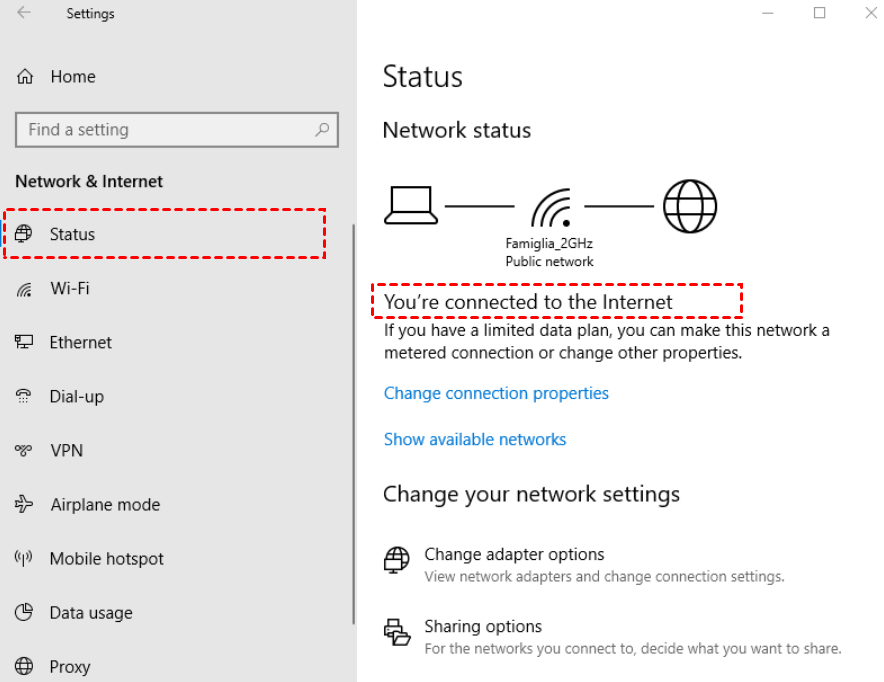 Step 3. If you encounter any network-related obstacles, scroll down the "Status" screen until you find the "Network troubleshooter" option. When you select this option, Windows will activate its diagnostic features to identify and resolve any problems affecting your network connection.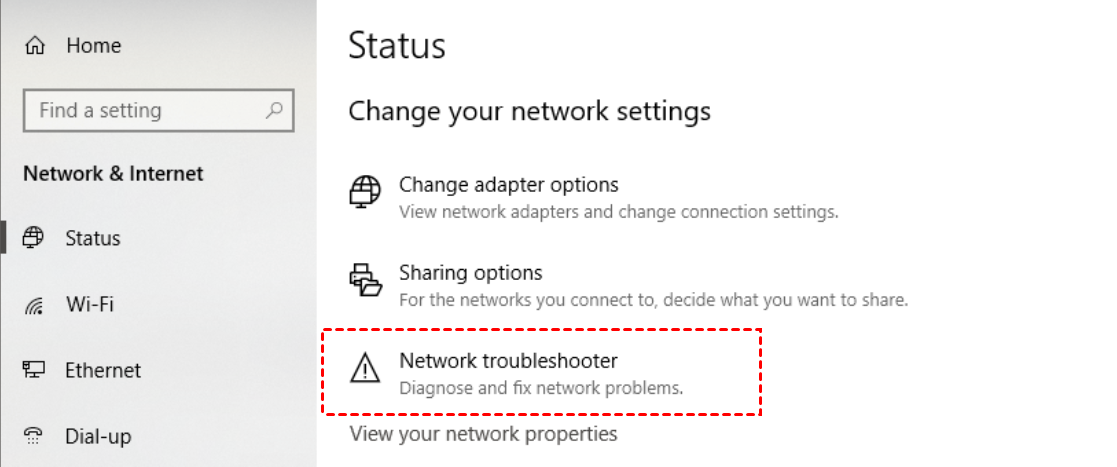 Solution 3. Restart the computer
When you try the above methods and they don't work, you can try restarting your computer. You need to open the "Start" menu and click on the Shutdown button and then select "Restart".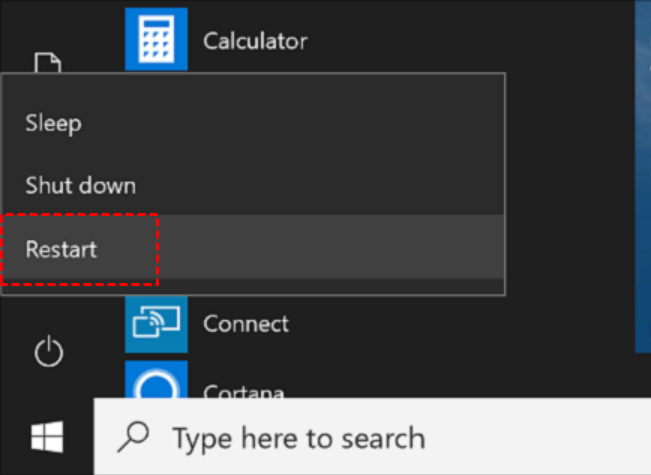 Solution 4. Check AnyDesk server status
If the previously mentioned solutions do not resolve the "AnyDesk network connection has timed out" issue, the next step involves checking the status of the AnyDesk server.
Step 1. Launch AnyDesk on your computer.
Step 2. Navigate to the "News" section within the application. In the "News" section you will find the option to check the "AnyDesk Status", which will provide you with the necessary information about the current status of the server.
Solution 5. Reinstall AnyDesk
If AnyDesk network connection has timed out, the easiest solution may be to completely reinstall the program. Sometimes a fresh install is the best solution for AnyDesk network timeout error and other errors.
Step 1. Simultaneously press the "Win+R" keys to open the Run dialog box.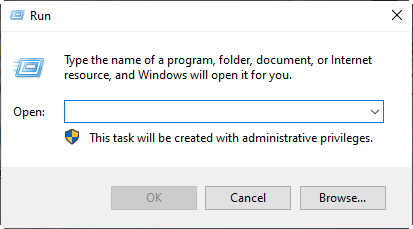 Step 2. Copy this uninstall string and paste it into the Run command window, then click "OK".
"C:\Program Files (x86)\AnyDesk\AnyDesk.exe" --uninstall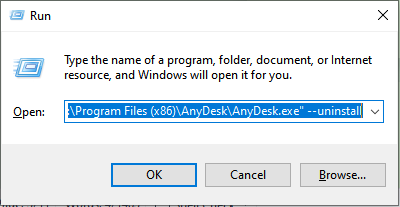 Step 3. Please follow the instructions to complete the uninstallation task.
Step 4. Download AnyDesk from its own official website.
Solution 6. Contact AnyDesk support
The last option you have is to contact AnyDesk Support. You can contact AnyDesk for help by visiting the AnyDesk Help page at the following address. You need to describe to them the entire incident and your efforts to resolve the issue; this will help them better understand and help you. Please attach a tracking document to assist the support team in resolving the issue. The AnyDesk tracking document can be found at the following locations:
Windows: %appdata%\AnyDesk\ad.trace
macOS: var/log/anydesk.trace
Linux: var/log/anydesk.trace
AnyViewer: Free & stable AnyDesk alternative
Have any of the above six methods helped you solve your AnyDesk network timeout problem? If not, it is recommended that you use the AnyDesk alternative.
AnyViewer is a free remote desktop program that provides fast and stable remote access. It uses improved connection technology to automatically connect to the best servers for a faster and smoother remote control experience.
In addition, AnyViewer has a significant advantage over AnyDesk because it is free for personal and commercial use. Anyone who has used AnyDesk knows that AnyDesk charges a lot of money. But with AnyDesk's free version, the functionality is again very limited. But you can enjoy these features for free with AnyViewer.
Step 1. Install and launch AnyViewer on both of your computers. Navigate to "Log in" on both computers and then "Sign up" (if you have already joined its official website, you can log in immediately).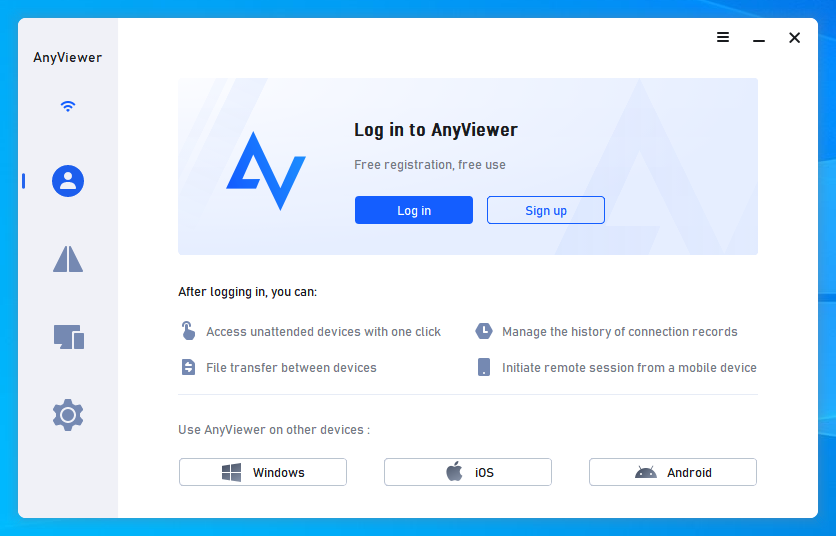 Step 2. Fill out the sign-up form and click "Sign up" to set up an AnyViewer account.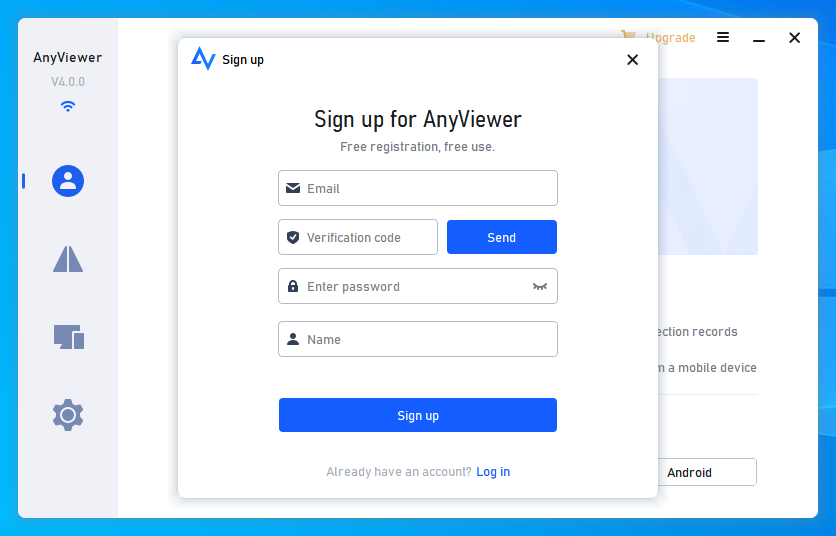 Step 3. After that, you'll see that you've successfully logged into AnyViewer. Your device will be allocated to the account you login into automatically.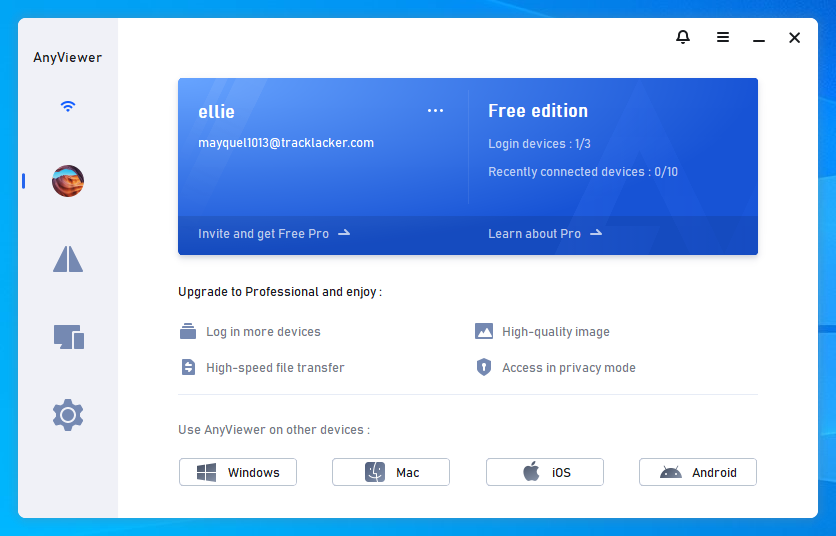 Step 4. On both computers, sign in to the same AnyViewer account. Then find "Devices" and select the computer you want to connect to. Click on it and select "One-click control" to achieve a one-click connection.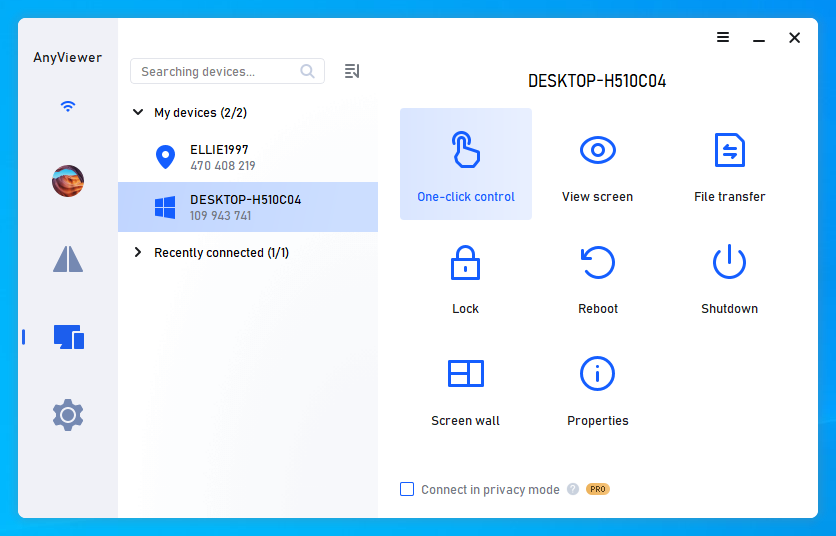 ★Tips: It is strongly suggested that you update your account to a professional or enterprise plan. Then you'll have the following rights:

Connect to up to 10 devices simultaneously.
Manage up to 100 unattended devices.
At the same time, you can transfer an unlimited number of huge files (1TB per file).
Enjoy numerous handy features, such as Privacy Mode, which allows you to deactivate the remote PC's keyboard and mouse and black out the remote screen.
Enjoy high-image quality.​​​​
Conclusion
This post primarily introduces six solutions to fix the AnyDesk network timeout. Trying to solve this problem can be a bit tricky, and you'll need to try the above methods one by one to know which one works. However, a faster solution is to use an AnyDesk alternative, such as AnyViewer. You can enjoy a free, fast, and stable remote connection. Try it now!