Question about AnyDesk "desk_rt_ipc_error"
After successfully installing AnyDesk on my Linux RHEL PC, I encountered the 'desk_rt_ipc_error'after a few days, and unfortunately, the error persists. Whenever I log out, switch users, or reboot the machine, AnyDesk displays my ID as online. However, attempting to connect always results in the frustrating 'desk_rt_ipc_error'message. How can I resolve this issue?"
- Question from Reddit
What is the meaning of desk_rt_ipc_error?
The "desk_rt_ipc_error" is often triggered by external applications, like operating systems or security tools, terminating AnyDesk sessions. The specific causes and solutions differ depending on the operating system in use.
For Windows users, this issue often arises due to security solutions, like anti-ransomware features, and disconnecting AnyDesk, or other remote connections.
Linux users might encounter the error due to an unsupported display server.
How to fix AnyDesk "desk_rt_ipc_error"
For Windows and Linux users, the potential solutions to fix AnyDesk "desk_rt_ipc_error" are different.
How to fix AnyDesk "desk_rt_ipc_error" on Windows
Windows users can explore three potential solutions to address the "desk_rt_ipc_error".
Solution 1. Whitelist AnyDesk on the firewall
You'll need to whitelist AnyDesk on the firewall.
Step 1. Navigate to "System and Security" > "Windows Defender Firewall" in Control Panel.
Step 2. Select "Allow an app or feature through Windows Defender Firewall" on the left pane.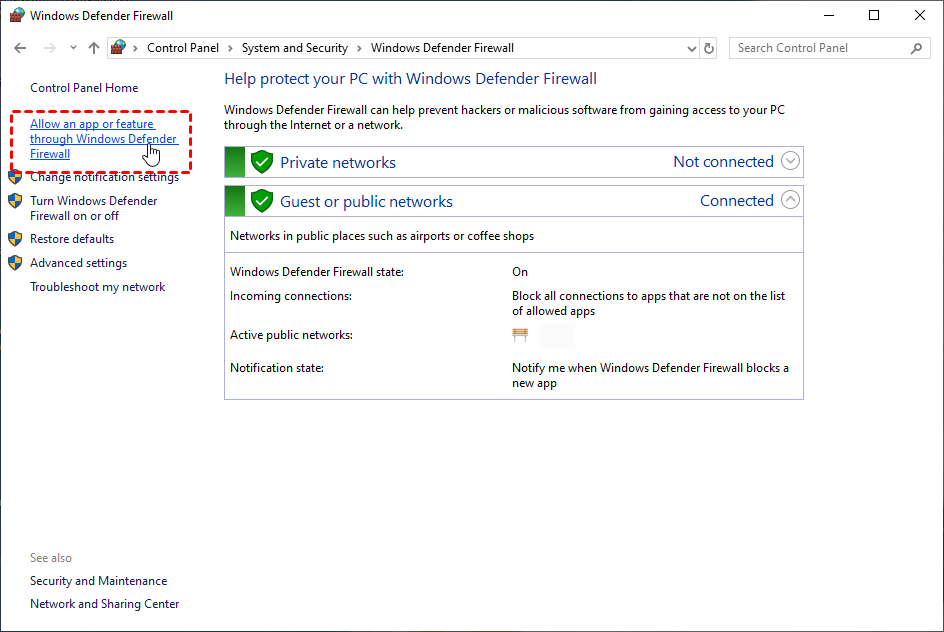 Step 3. Click Change settings, locate and select AnyDesk, then click OK.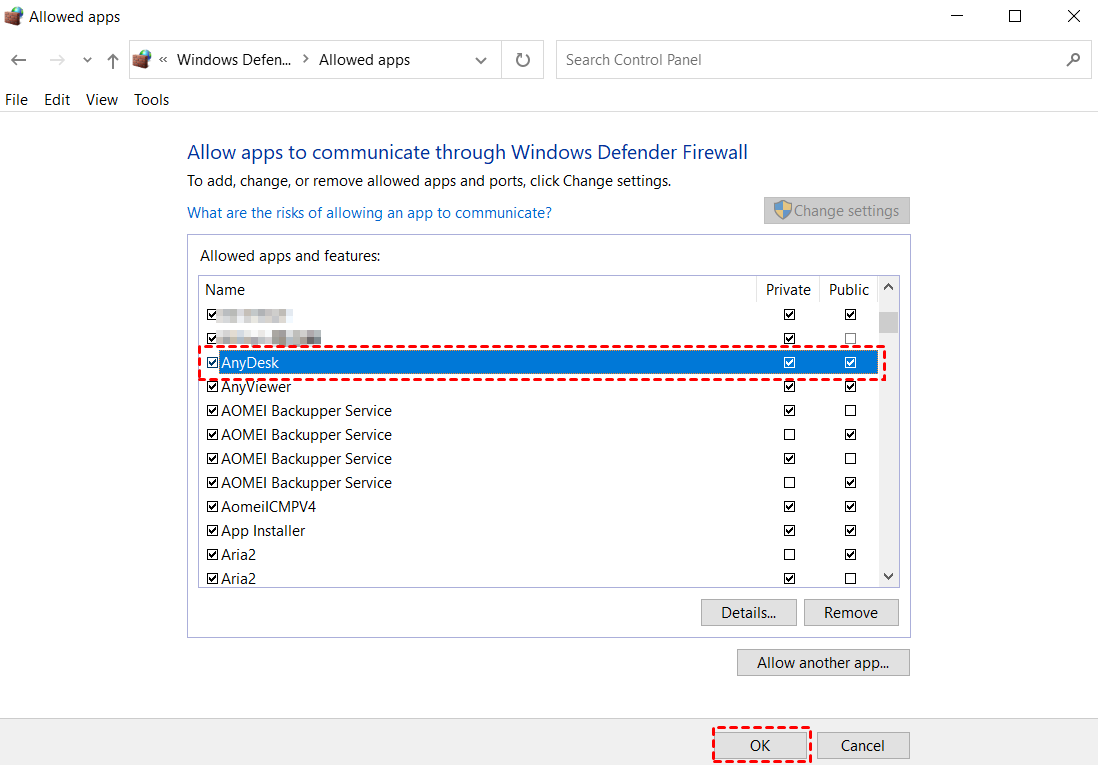 Solution 2. Disable anti-ransomware features
You'll need to disable anti-ransomware features on the device. We'll show you how to disable anti-ransomware features.
Step 1. Search for "Windows Security" and open it.
Step 2. Click "Virus & threat protection."
Step 3. Scroll to "Ransomware protection" and click "Manage ransomware protection."
Step 4. Turn off the "Control folder access" option by toggling the button. Confirm the change if prompted.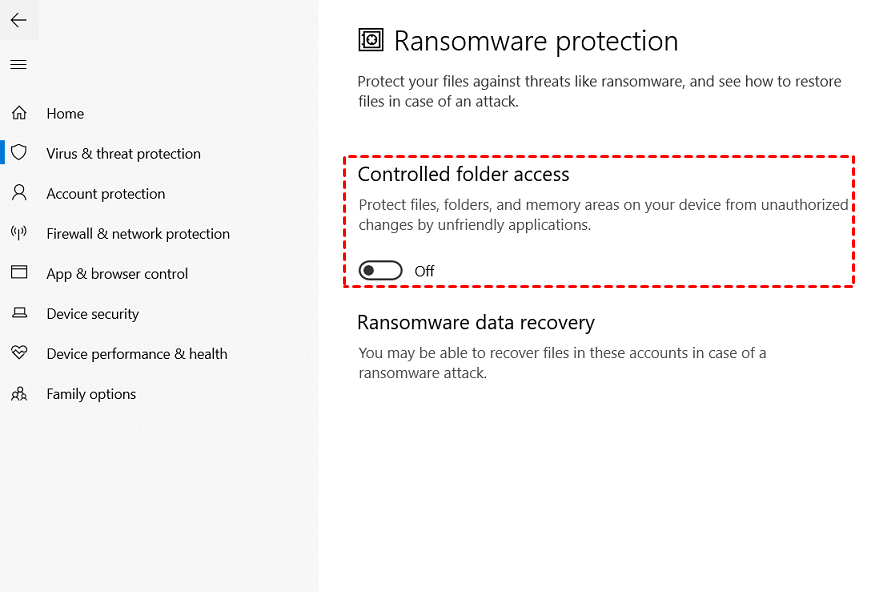 Solution 3. Reinstall AnyDesk
Additionally, you can attempt to uninstall and reinstall the AnyDesk software. This process helps eliminate any potential corrupt files and replaces them with fresh, error-free ones, which could resolve the "desk_rt_ipc_error" issue.
Step 1. Open "Control Panel" > "Programs" > "Programs and Features."
Step 2. Right-click AnyDesk and choose "Uninstall."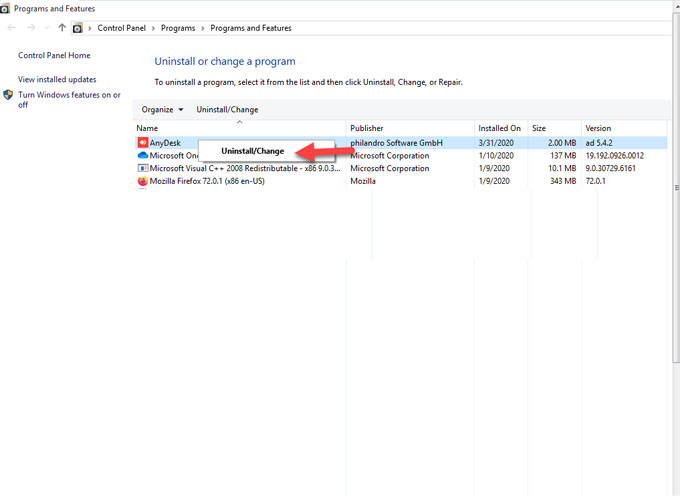 Step 3. Download AnyDesk from the official website.
Solution 4. Try an AnyDeskalternative for Windows
In case you're seeking a cost-free alternative to AnyDesk on Windows, consider giving AnyViewer a try. This remarkable free remote desktop software is specifically designed for Windows computers, ensuring a smooth and efficient remote experience.
One significant advantage of AnyViewer over AnyDesk is that it does not limit user connections for commercial purposes. AnyViewer is completely free to use for all types of scenarios. Whether you need to transfer files between your home and work computers or offer remote assistance to clients, AnyViewer provides a comprehensive solution. Its versatility makes it an exceptional tool for remote work and support, catering to a wide range of needs with utmost ease.
Step 1. Install and launch AnyViewer on both computers. Go to Log in, and then click Sign up. (If you already have signed up on its official website, you can log in directly.)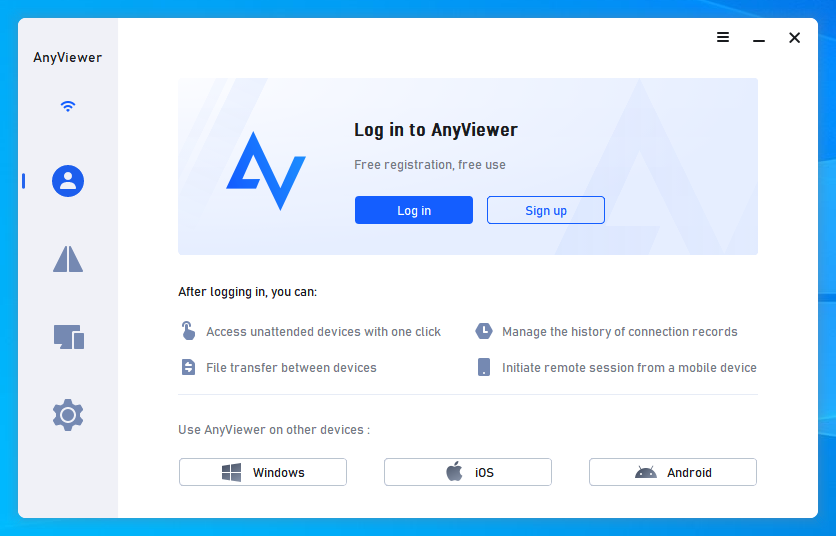 Step 2. Fill in the signup information and click Sign up to create an AnyViewer account.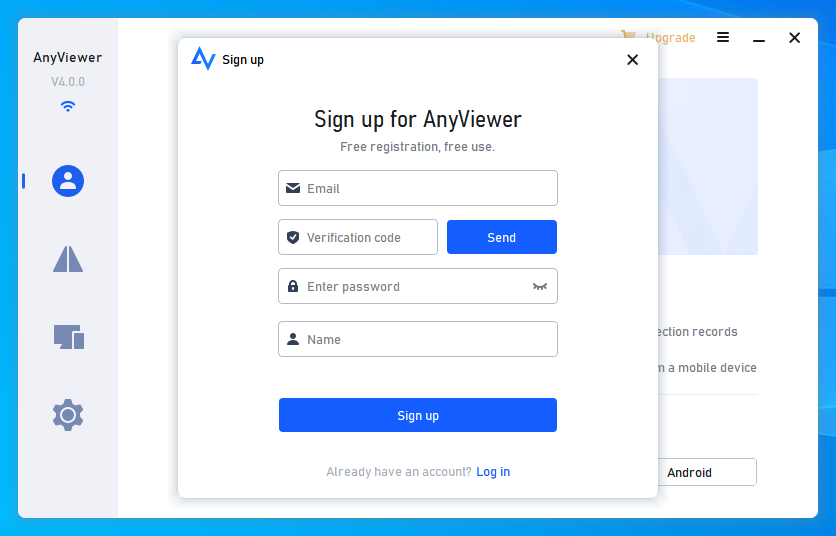 Step 3. Then you can see you successfully logged in to AnyViewer. Your device will automatically be assigned to the account you've logged in to.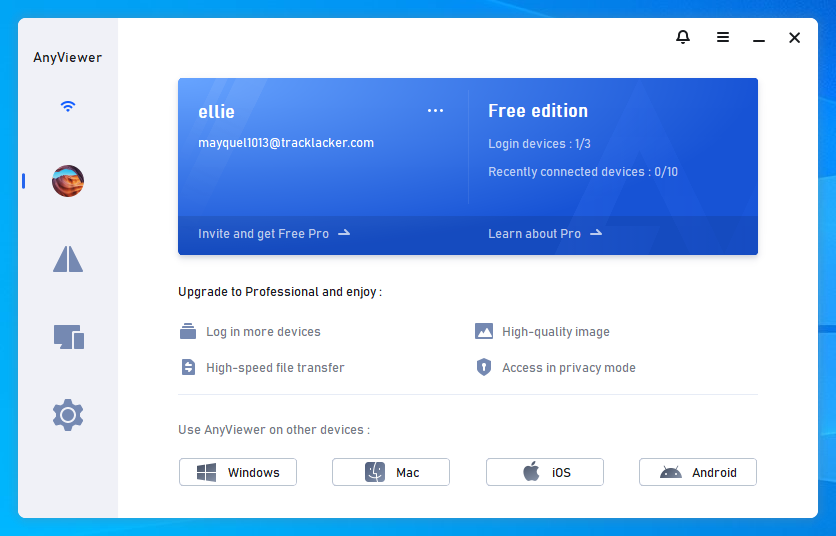 Step 4. Log in to the same AnyViewer account on the two computers. Then you can achieve a one-click connection by clicking One-click control after going to Device and clicking the computer that you want to access.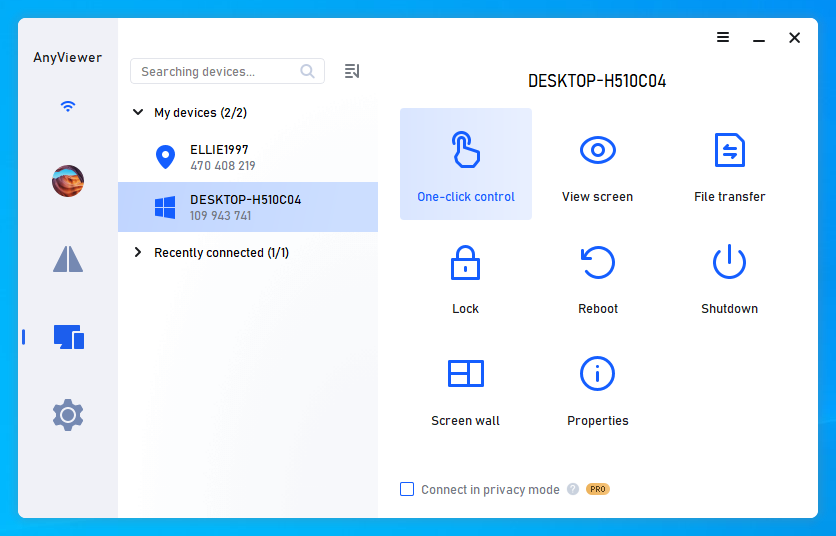 Note
: By upgrading your account to either the
Professional or Enterprise plan
, you gain access to enhanced privileges and features:
Allocate a higher number of devices, enabling greater flexibility and scalability.
Enjoy the privacy mode feature, granting you the ability to connect to another computer while ensuring confidentiality.
Access to higher file transfer speed.
How to fix AnyDesk "desk_rt_ipc_error" on Linux
For Linux users, there are two potential solutions to fix AnyDesk "desk_rt_ipc_error" on Linux.
Solution 1. Ensure both managers are using Xorg
To address the AnyDesk "desk_rt_ipc_error" on Ubuntu, consider switching the display server from Wayland to Xorg/X11. Xorg is a well-established, open-source implementation of the X window system with broader support compared to Wayland.
Step 1. Restart your computer.
Step 2. At the login screen, click the gear icon, and select "Ubuntu on Xorg" to switch your display server. This change may resolve the AnyDesk issue.
Solution 2. Verify AnyDesk URL addresses resolution
To ensure proper functionality, verify that the DNS resolver correctly resolves AnyDesk URL addresses. If you encounter an external hardware firewall, like those commonly found in routers, you may need to whitelist AnyDesk for specific scans such as "HTTPS Scanning" or "Deep Packet Inspection." Please note that the names of these scans may vary depending on the manufacturer.
These scans can occasionally interfere with AnyDesk's secured TLS signal, resulting in periodic connection drops. By resolving these address-related issues, you can potentially resolve the "desk_rt_ipc_error" and enjoy a stable remote connection.
The bottom line
In conclusion, by following the provided solutions, you can effectively address the AnyDesk "desk_rt_ipc_error" for both Windows and Linux platforms. These solutions will enable seamless remote access. Additionally, exploring AnyViewer as a free alternative for Windows offers an excellent option for various remote work and support needs. Embrace these solutions to overcome the error and enhance your remote desktop experience.