The issue: AnyDesk keeps crashing
Hey everyone, I've been encountering AnyDesk keeps crashing and closing while using it for remote desktop access. It's frustrating and disrupting my work. Has anyone else experienced this issue? If so, please share any solutions or tips to fix AnyDesk crashes. Your assistance would be greatly appreciated. Thank you!"
- Question from a user
How to fix AnyDesk crashes on Windows 10, 11 [7 ways]
AnyDesk is a popular remote desktop solution that enables users to connect and control devices remotely. However, some users have experienced frustrating crashes while using AnyDesk on Windows 10 and the newer Windows 11. This article will delve into the detailed methods and steps to fix AnyDesk not working in Windows 10, 11.
Way 1. Update AnyDesk
Ensure that you are using the latest version of AnyDesk. Updates often include bug fixes and improvements that can resolve crashing issues.
Step 1. Open up AnyDesk and log into your account. Once you're logged in, navigate to the Settings option.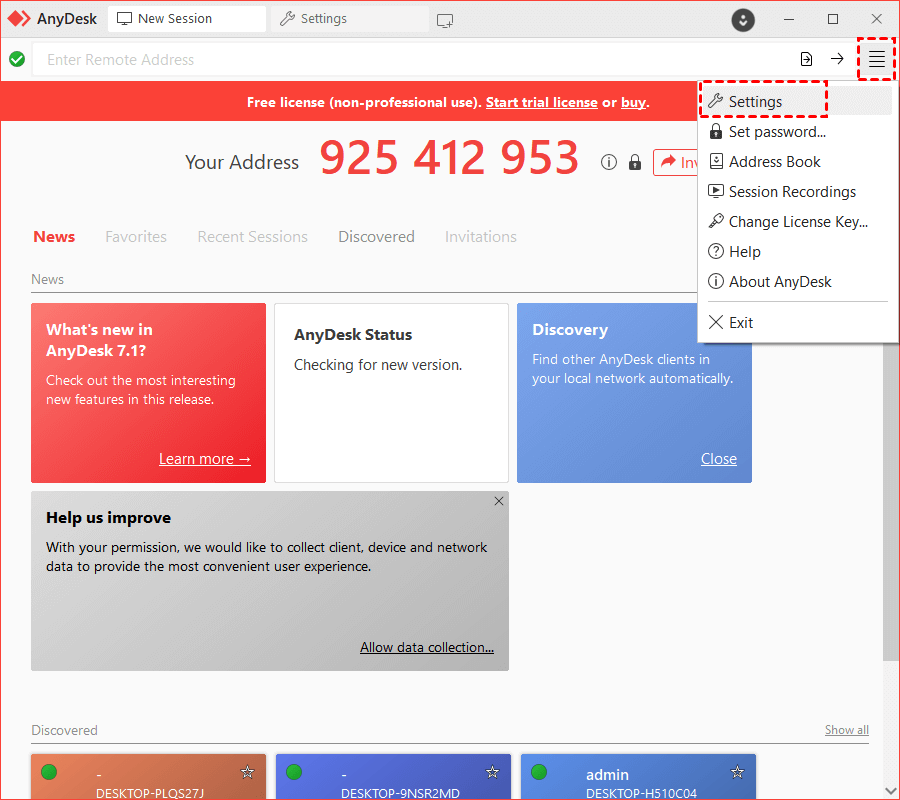 Step 2. Click "About AnyDesk" in the left pane to check if you have the latest version.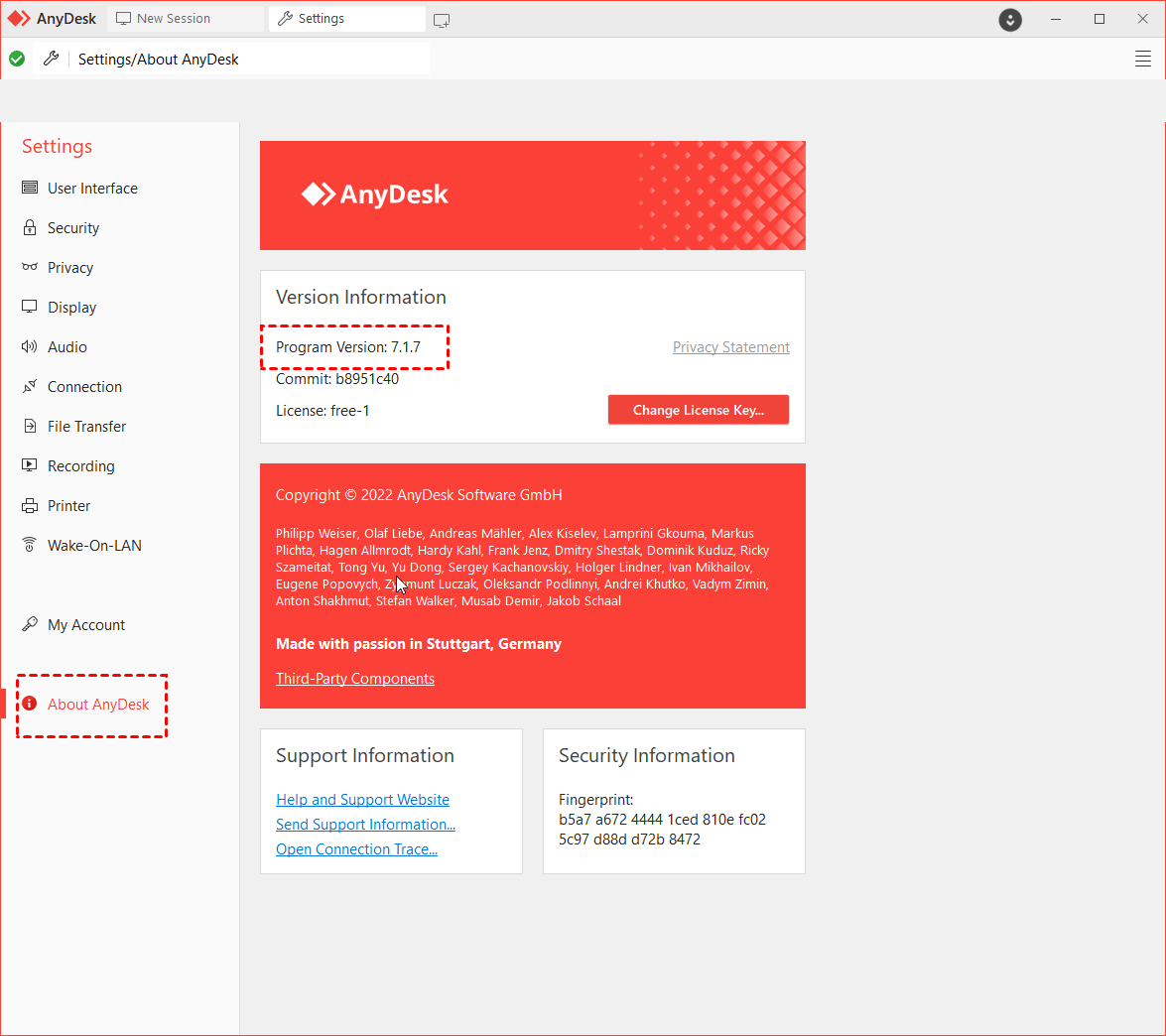 Another convenient option is enabling the auto-update feature, which will automatically update the software. To do this, go to the Security section in the Settings menu and locate the Update option. Check the box next to "Enable Auto-Update - Main Channel."
Way 2. Check system requirements
Verify that your Windows 10 or 11 system meets the minimum requirements for running AnyDesk. Inadequate system specifications can lead to instability and crashes.
The minimum system requirements for AnyDesk:
►A minimum of 1GB of system memory is required.
►For optimal performance, it is recommended to have a dual-core processor and 2GB of system memory, along with a graphics card capable of hardware acceleration.
►Your graphics card should support Direct3D or DirectDraw, with at least 32MB of video memory.
►In the case of single-core systems, AnyDesk will automatically switch to a lower-quality rendering mode (16 bits per pixel) to conserve system resources.
Way3. Disable graphics acceleration
Sometimes, conflicts between AnyDesk and graphics acceleration settings can cause AnyDesk keeps closing and crashing. Disable hardware acceleration by following these steps:
Step 1. Right-click on the AnyDesk shortcut or executable file and select "Properties."
Step 2. Go to the "Compatibility" tab and check the box that says "Disable fullscreen optimizations."
Step 3. Click on "Change high DPI settings" and check the box "Override high DPI scaling behavior." Choose "Application" from the drop-down menu and click "OK" to save the changes.
Way 4. Check firewall and antivirus settings
AnyDesk might be blocked by your firewall or antivirus software, leading to crashes. Add AnyDesk as an exception or temporarily turn off your security software to determine if it resolves the crashing issue.
Step 1. Launch the Control Panel and navigate to System and Security. From there, select "Windows Defender Firewall." In the left pane, click "Allow an app or feature through Windows Defender Firewall."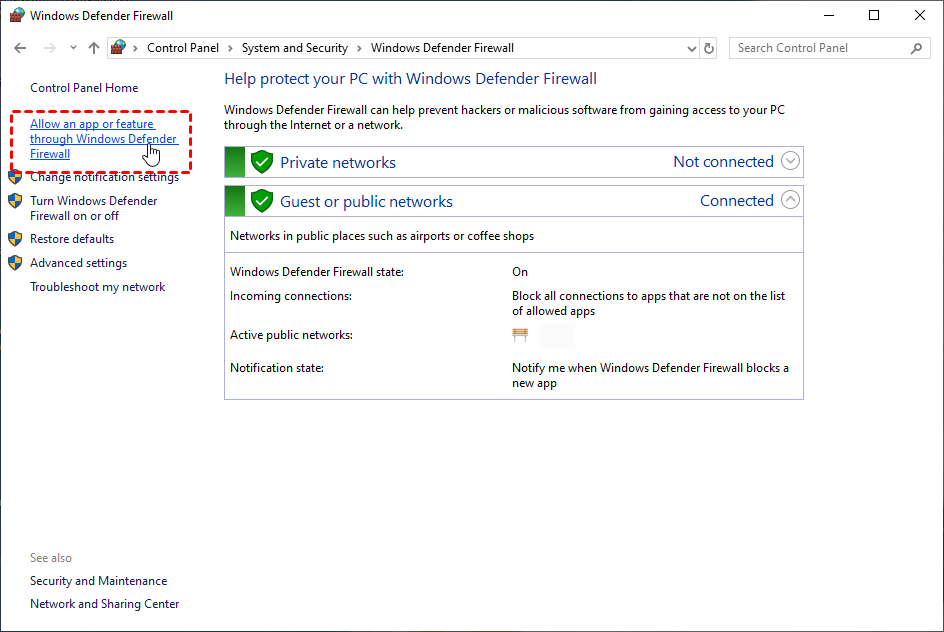 Step 2. Next, click "Change settings" and locate AnyDesk from the list. Tick the box next to it, and then click "OK."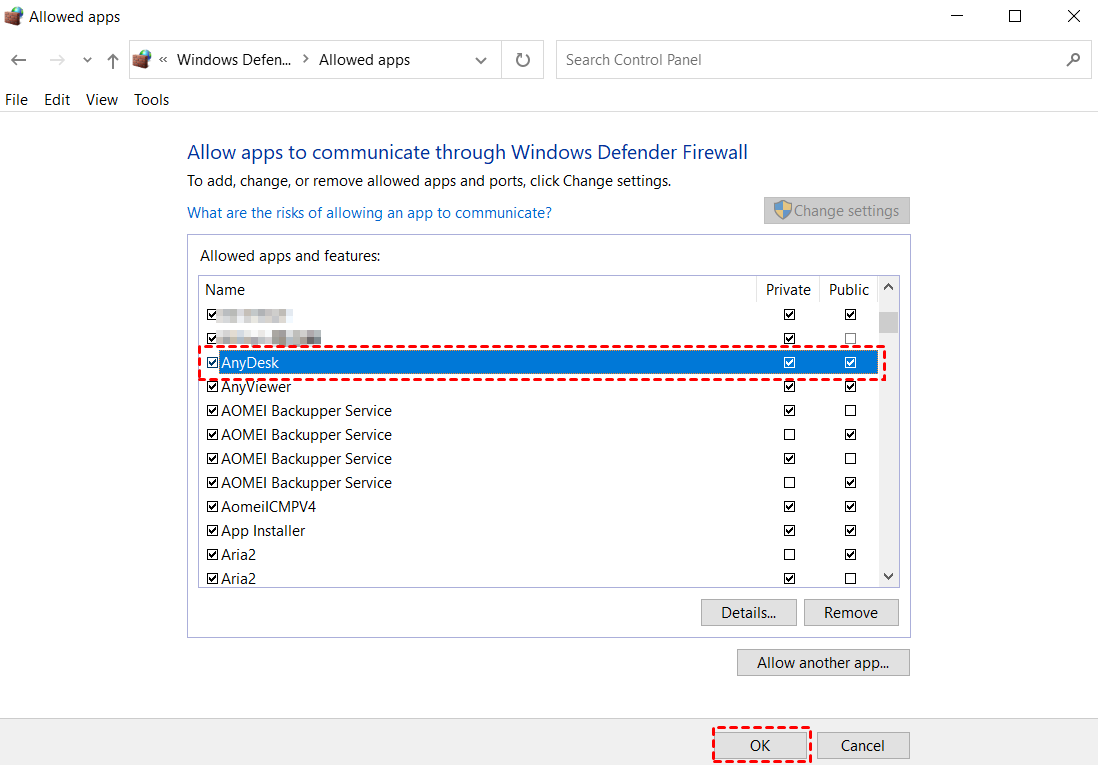 Step 3. Now, open your antivirus software. Look for the appropriate icon on the left-hand side and click on it. Once opened, navigate to the shield settings tab and disable the protection accordingly.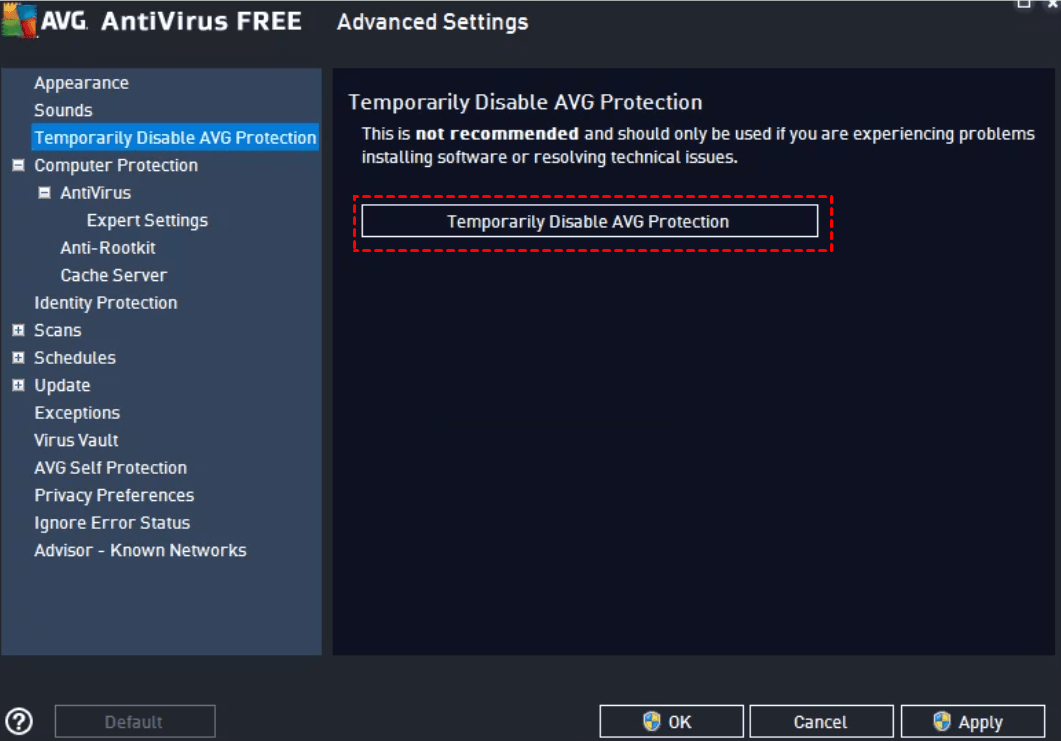 Way 5. Run AnyDesk as administrator
Running AnyDesk with administrative privileges can often resolve crashing problems.
Right-click the AnyDesk shortcut and select "Run as administrator."
Way 6. Reinstall AnyDesk
If the crashing issue persists, try uninstalling AnyDesk and reinstalling it from scratch. This can help resolve any corrupted files or settings causing the crashes.
Step 1. Open the Control Panel and navigate to "Programs" > "Programs and Features." Locate AnyDesk from the list of installed programs and right-click on it. Then, select "Uninstall".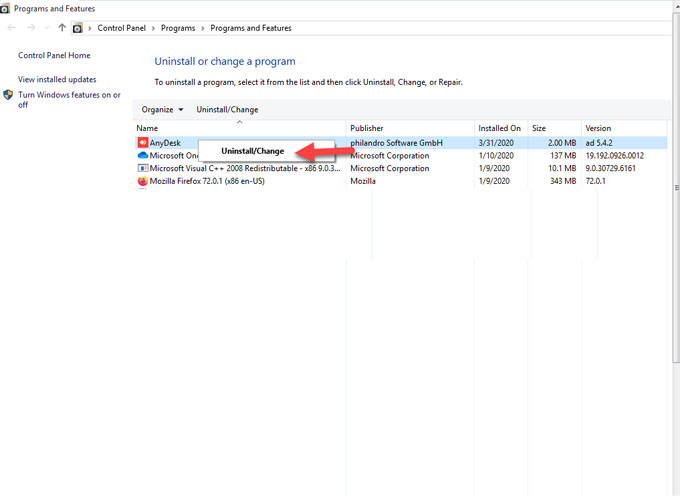 Step 2. Visit the official website of AnyDesk and download the software again.
Way 7. Switch to a reliable AnyDesk alternative
Tired of dealing with AnyDesk keeps crashing? Look no further than AnyViewer - the perfect AnyDesk alternative that addresses your remote access needs.
With the powerful remote access software AnyViewer, say goodbye to frustrating crashes and enjoy a stable and reliable connection. Experience the benefits of simple operational steps, a user-friendly interface, and hassle-free remote access.
Plus, AnyViewer offers robust free features like unattended access, allowing you to manage devices effortlessly. With one-click access, connecting to remote devices has never been easier. Seamlessly transfer files, manage multiple computers simultaneously, view multiple monitors, keep real-time chatting with your partner, and ensure advanced security.
Don't let crashes hinder your productivity – switch to AnyViewer today and unlock a superior remote access experience.
Step 1. Launch AnyViewer on the host computer. Create a new account and use the provided credentials to log in.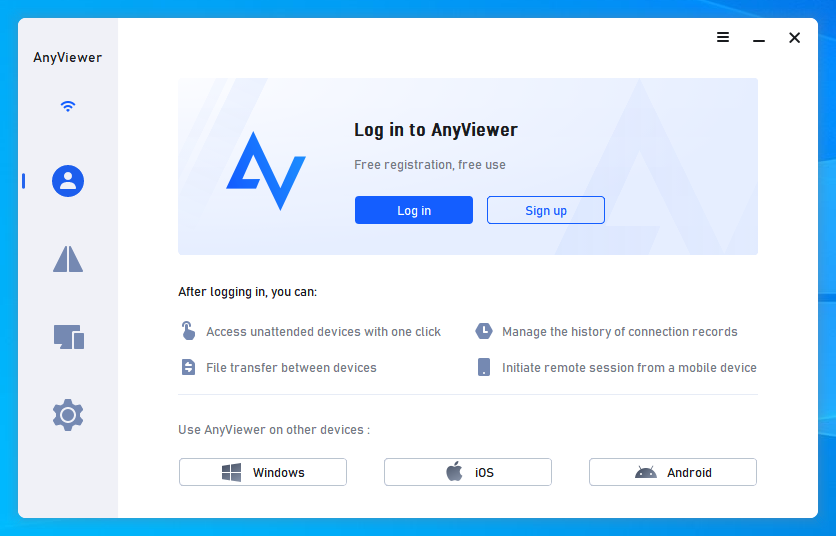 Step 2. On the client computer, start AnyViewer and sign in using the newly established account details. Once logged in successfully, the client computer will automatically assign itself to your account.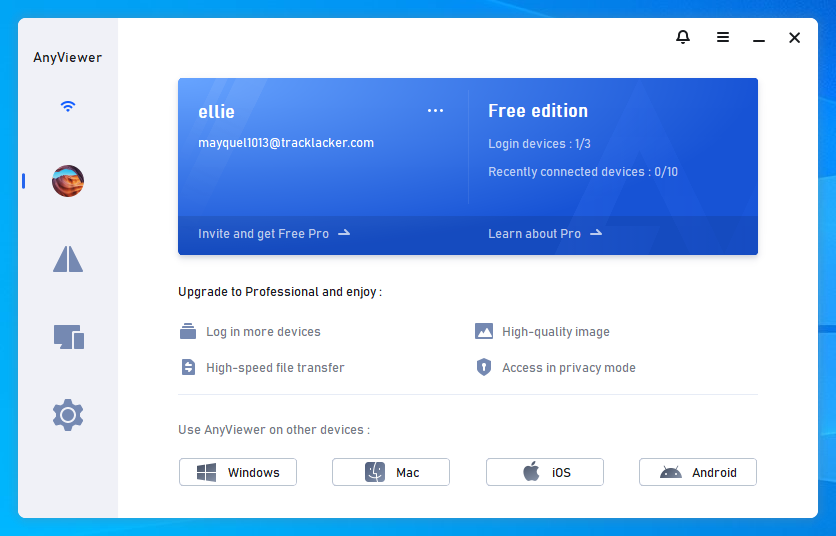 Step 3. Navigate to the Device section, where you'll find a comprehensive list of available devices. Identify the device you wish to connect to and establish a connection by selecting the One-click control option.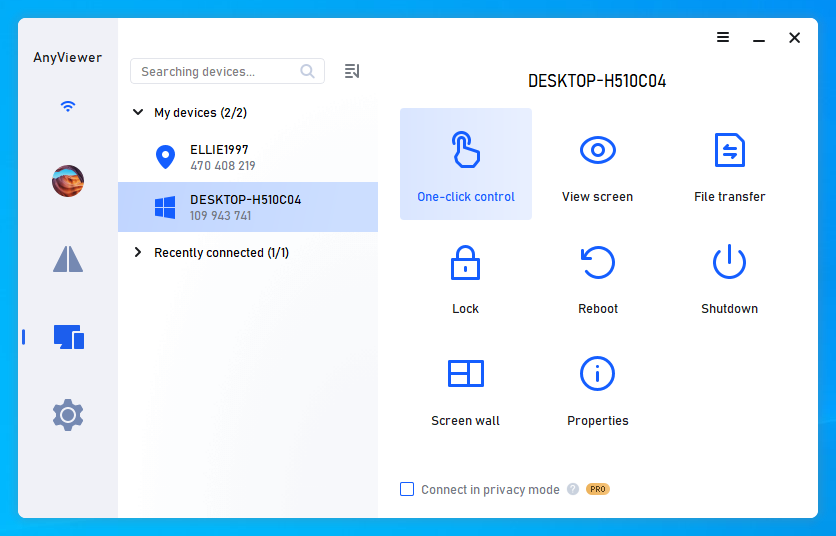 Notes:✎...If you have more than two remote PCs, it's worth noting that AnyViewer offers a range of flexible and cost-effective licensing options tailored to meet diverse requirements. These licenses come with various benefits, including:

Streamlined connectivity to up to 100 devices with just a single click.
Effortlessly manage and connect to 10 devices simultaneously.
Seamlessly transfer large files without limitations, supporting up to 1TB per file for frictionless data exchange.
Enhanced security through the privacy mode feature, which obscures the host PC screen and disables the keyboard and mouse for added peace of mind.
Conclusion
That's all for fixing AnyDesk keeps crashing.If you're tired of AnyDesk crashes, consider giving AnyViewer a shot. Its stability and smooth remote access experience might be the solution you've been searching for. Give it a try and say goodbye to frustrating disruptions during your remote desktop sessions.