AnyDesk file transfer access denied
I'm using the paid version of AnyDesk and trying to transfer a file from a remote PC with the free version. Both sessions started in administrator mode. However, I'm getting a 'permission denied' message when I attempt the transfer. Is there a security setting on the remote PC that needs adjustment for file transfers? Can this be done remotely or must it be changed on the remote PC itself?"
- Question from Reddit
AnyDesk "The feature File Transfer is currently not available (permission denied)" error can occur due to various factors, with permissions being a common culprit. To resolve this issue, follow the steps below.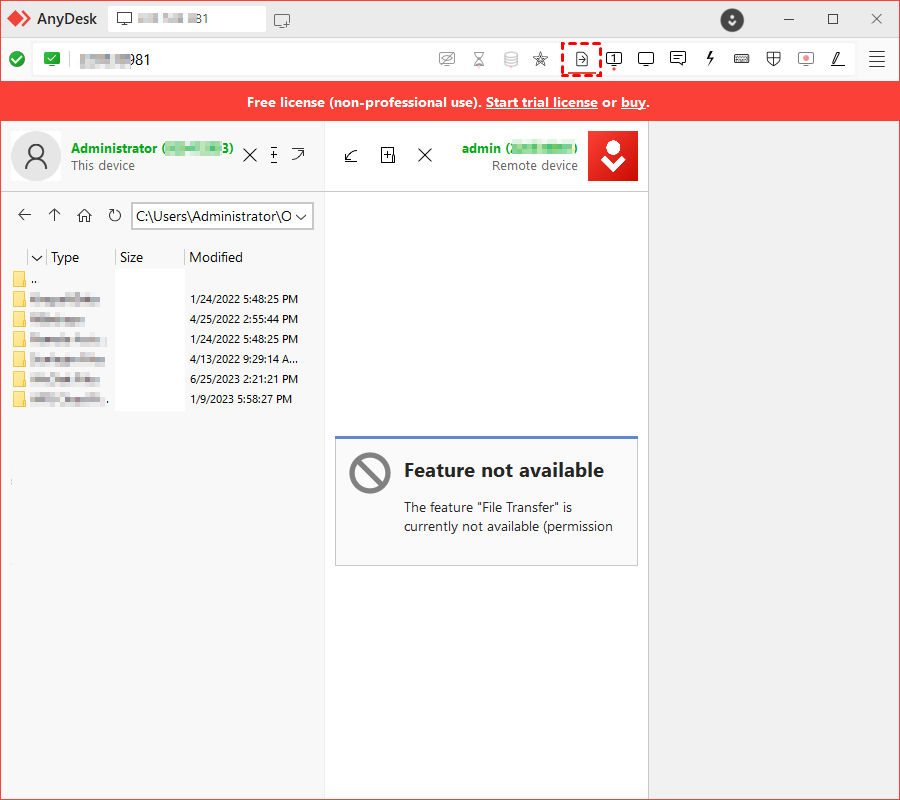 How to fix the AnyDesk file transfer feature not available [3 solutions]
Below are three highly effective methods that can assist you in resolving the issue of the AnyDesk file transfer feature not available.
Solution 1. Check out the file transfer permission
At times, you might encounter the "Access Denied" message when attempting to transfer files through AnyDesk. This issue often arises from a lack of permission to utilize the file transfer feature. To address this, the initial step is to ensure that you've been granted permission for file transfers by the remote user upon accepting your connection request.
Before you accept remote connections on your computer, be sure to activate File Transfer by clicking on the designated button.
Solution 2. Reinstall AnyDesk
If you suspect there may be an issue with your current AnyDesk installation when AnyDesk can't transfer files, it's a good idea to perform a complete uninstallation and then reinstall the software. Here's how you can go about it:
Step 1. Open the "Control Panel" and proceed to "Programs," and then select "Programs and Features."
Step 2. Right-click on AnyDesk and choose the "Uninstall" option.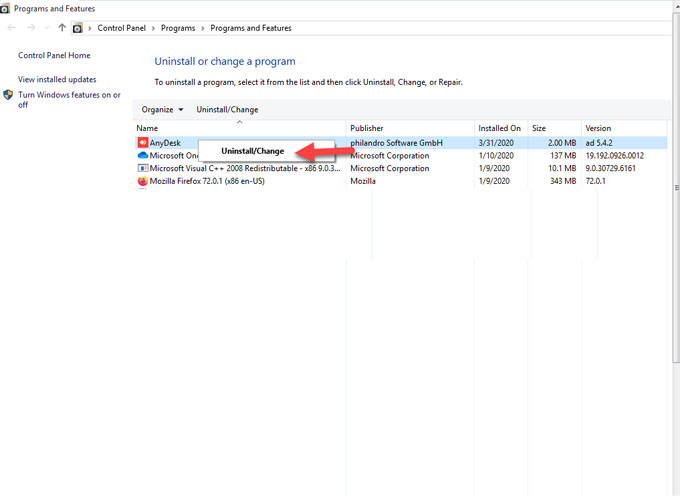 Solution 3. Try an AnyDesk file transfer alternative
If you're in search of a free file transfer alternative to AnyDesk for your Windows computer, consider trying out AnyViewer. This practical and cost-free remote desktop software is tailor-made for facilitating remote control and file transfers between Windows PCs.
AnyViewer offers several convenient ways to transfer files:
Unattended file transfer
In-session file transfer
Drag and drop file transfer
One notable advantage that sets AnyViewer apart from AnyDesk is its lack of restrictions on usage. AnyViewer is completely free, regardless of your intended use, while AnyDesk is only free for personal use. Whether you need to exchange files between your personal and work computers or share files with clients remotely, AnyViewer has you covered. Its versatility makes it an excellent tool for remote work, adeptly catering to a wide spectrum of requirements.
Step 1. Start by downloading and installing AnyViewer.
Step 2. Launch AnyViewer and sign in using your account credentials.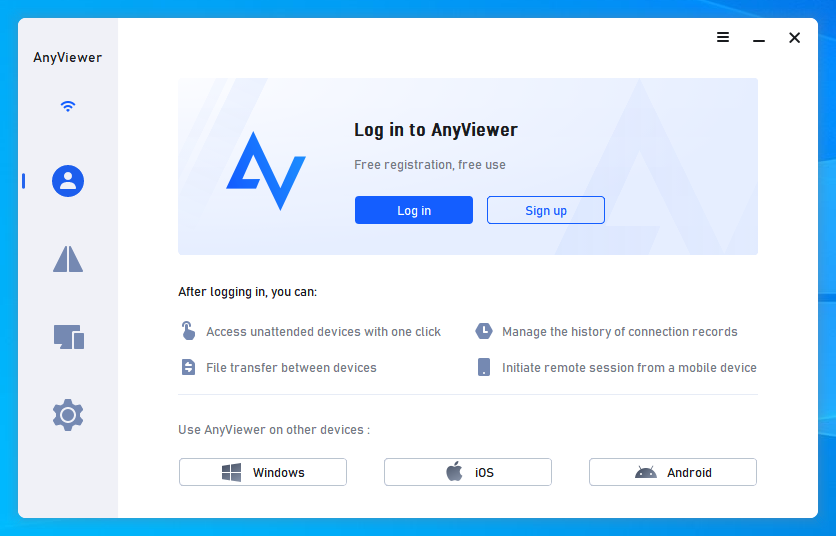 Step 3. After logging in, you'll be directed to the user interface.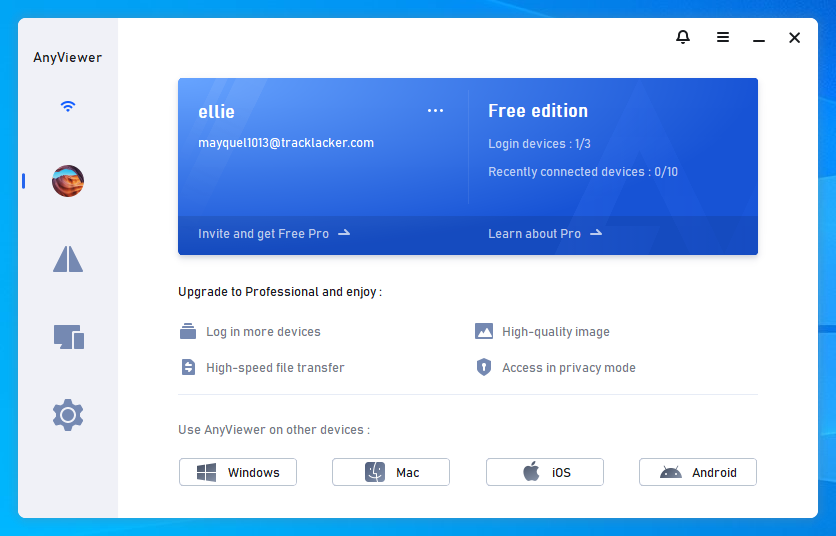 Step 4. On your local computer, head to the "Device" section. Here, you can select the target computer and select "File transfer".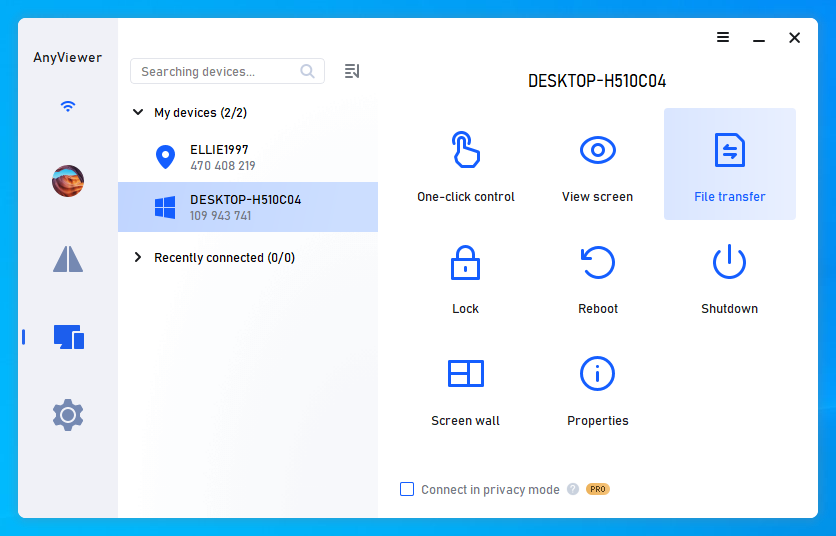 Alternatively, you can click One-click control to remotely control a computer, then you can:
Drag files from the local computer and drop them on the remote computer
★Tips:

For enhanced features, consider upgrading to AnyViewer's Professional or Enterprise plan, which offers:

Large file transfers: Send files as large as 1TB.
Speedy transfers: Enjoy rapid file transfer speeds up to 10MB/s.
Efficient multitasking: Easily manage multiple file transfers simultaneously with multi-threading.
No limits: Send as many files as you need, granting you maximum flexibility.
The bottom line
In conclusion, encountering the AnyDeskfile transfer feature not available issue can be a source of frustration for users. However, this post has provided three well-tested solutions to help you overcome this problem. Whether it's addressing permission settings, considering a complete reinstallation of AnyDesk, or exploring the versatility of AnyViewer as a free file transfer alternative, there are practical steps you can take to regain control over your file transfers.