Can you remote control on Active Directory?
Can Active Directory remote control be enabled? I'm looking for a way to manage user accounts, group policies, and other Active Directory functions without physically accessing the server. Are there any recommended tools or methods for remote administration of Active Directory that allow for efficient management and troubleshooting? Any information or advice would be much valued. Thank you!"
- Question from a user
What is Active Directory?
Active Directory (AD), developed by Microsoft, is a server-centric solution utilized for the administration of network-connected devices, including computers. In the past, it played a crucial role in governing extensive clusters of Windows machines within a local area network (LAN), and it continues to be a prominent component of Windows Server, an operating system catering to both local and remote/cloud servers. AD offers a comprehensive framework for enforcing object-oriented policies that oversee various aspects such as network hardware, resources, virtual resources, user permissions, and beyond.
How to enable Active Directory remote control
Whenever you find yourself needing to perform tasks like changing passwords, creating new users, resetting passwords, or adding members to a group within Active Directory, you typically have to connect to the Domain Controller and manually access Active Directory Users and Computers. However, with the Remote Server Administrator Tools, you can access Active Directory Users and Computers without the need for multiple steps.
In this article, we will delve into the process of enabling Active Directory remote accessusing the Remote Server Administrator Tools.
Part 1. Install Remote Server Administrator Tools
If you have already set up the Remote Server Administration Tools, you can proceed to Part 2.
Step 1. Depending on your Windows operating system, download the Remote Server Administration Tools from the provided link. Choose the appropriate version for:
Step 2. Initiate the installation process.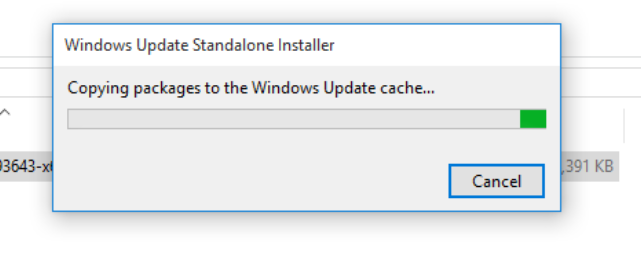 Step 3. After a while, a Windows prompt will appear. Click on "I Accept" to proceed.
Step 4. Wait for the installation to complete. Once finished, you will be prompted to restart your PC.
Part 2. Configure Active Directory Remote Server Administration Tools
After restarting your PC, it is time to enable the Remote Server Administrator Tools for Active Directory, allowing remote users to access it. Follow these steps:
Step 1. Right-click on the Start button and choose "Control Panel."
Step 2. In the Control Panel, select "Programs and Features." From the left side menu, choose "Turn Windows Features On or Off."
Step 3. Scroll down and look for "Remote Server Administration Tools."
Step 4. Expand "Remote Server Administration Tools" and then "Role Administration Tools." Select the checkboxes next to "AD DS and AD LDS Tools." Click "OK" and wait for the procedure to finish.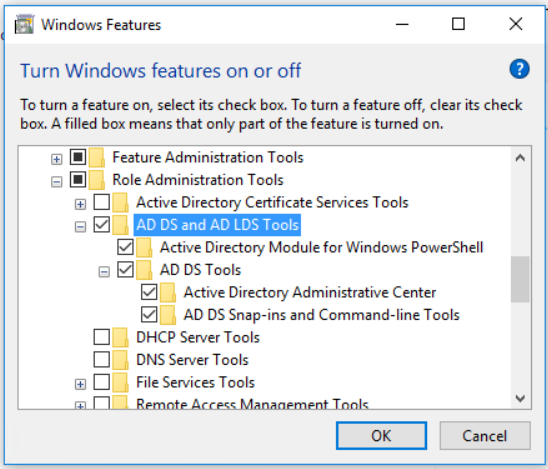 Step 5. A prompt may appear asking you to restart your PC. After restarting, navigate to Control Panel and access "Administrative Tools." Here, you will find all the tools related to Active Directory.
You can now open Active Directory Users and Computers to begin your work.
AnyViewer: Your ultimate network management solution
AnyViewer, a globally renowned remote control software, offers unparalleled features that seamlessly complement the capabilities of Active Directory. With its intuitive interface and robust functionalities, AnyViewerempowers administrators to take charge of their networks like never before.
►Enhanced remote access: AnyViewer eliminates geographical boundaries, enabling you to remotely access your Active Directory environment from anywhere in the world. Whether you're away on a business trip or working from the comfort of your home, AnyViewerensures uninterrupted network management. Simply connect to your designated AD server through TeamViewer's secure platform, and you're all set to administer your network with ease.
►Unrivaled security: When it comes to managing sensitive networks, security is of utmost importance. AnyViewer offers state-of-the-art security measures, including end-to-end encryption and multi-factor authentication, ensuring that your Active Directory environment remains secure and protected from unauthorized access.
►Advanced functionality: AnyViewer boasts an extensive array of advanced capabilities that have been thoughtfully crafted to enhance work collaboration and maximize productivity. Its notable features include one-click remote control, file transfer, support for multiple sessions, effortless multi-monitor navigation, real-time chat, and a host of other innovative features.
Don't wait another minute—embrace the future of network management. Try AnyViewertoday and unlock the true potential of your Active Directory environment. Your network, your control, from anywhere, anytime!
Step 1. Launch AnyViewer on your host computer.Provide your email address and select a strong password to create a new account and log in using your credentials.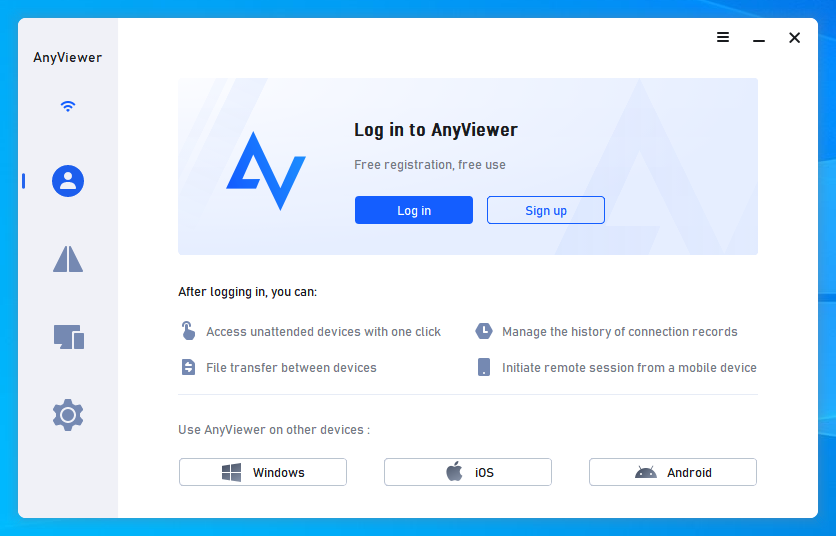 Step 2. On the client computer, launch AnyViewer and log in using the same account credentials you just created. As you successfully log in, the client computer will automatically assign itself to your account.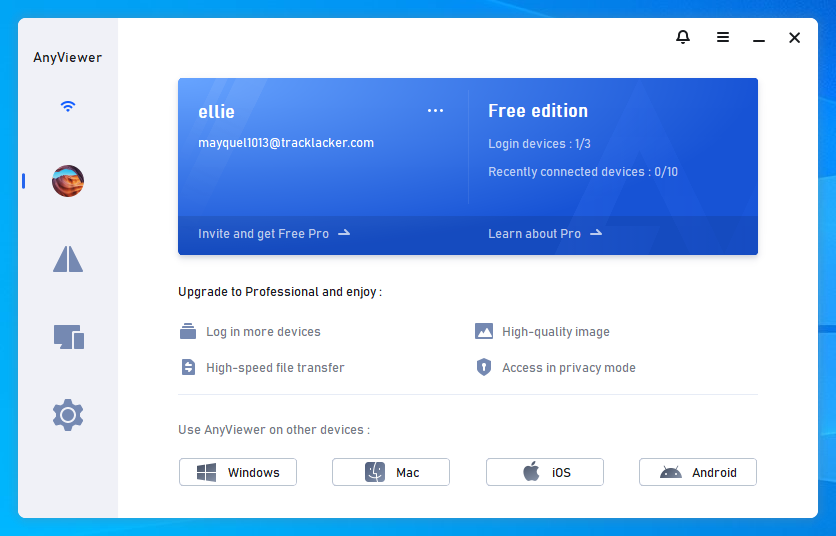 Step 3. Navigate to the Device section. A list of available devices is provided here. Select the specific device you wish to connect to. To establish the connection, simply click on the One-click control option.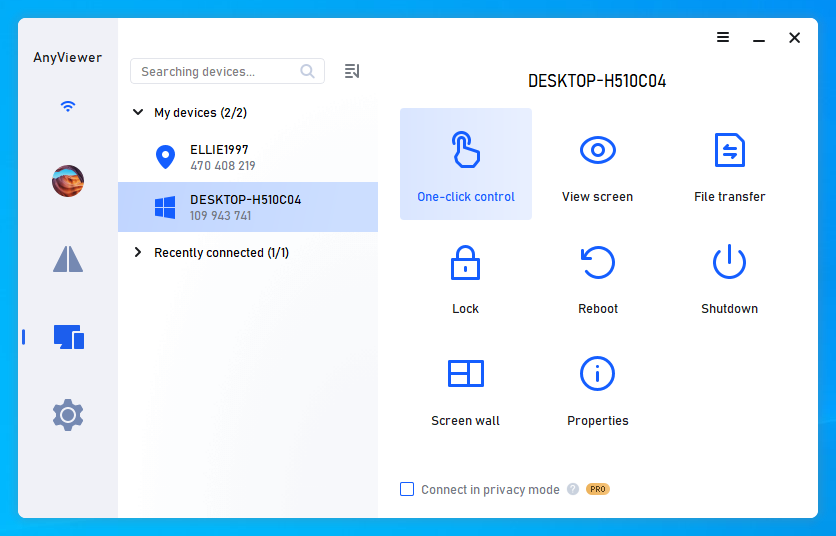 Notes:✎...To meet the diverse requirements of businesses, AnyViewer provides flexible and cost-effective licensing options with a range of benefits:

One-click connectivity to up to 100 devices.
Simultaneously connect to and manage up to 10 devices.
Unlimited simultaneous transfers of large files, with an impressive capacity of up to 1TB per file.
Utilizethe privacy mode feature, which blackens the screen and disables the keyboard and mouse of the host PC, ensuring a confidential and secure remote connection.
...
Conclusion
Now you can achieve Active Directory remote control with the help ofRemote Server Administration Tools. If you're searching for a remote control tool that combines simplicity, security, and advanced functionality, look no further than AnyViewer, which is the go-to solution for IT professionals seeking efficient Active Directory management.