VPN error: Can't connect to VPN
In Windows 10, I encountered an unusual problem where all VPN connections ceased functioning, accompanied by an error message stating: A connection to the remote computer could not be established. You may need to modify the network settings for this connection. Could you kindly provide me with guidance on how to proceed? I appreciate your assistance."
- Question from Reddit
A VPN (Virtual Private Network) is commonly used for office networks or to establish a more secure connection with the internet. However, there are occasions when setting up a VPN connection can come with a set of issues. One common problem users encounter is an error message stating, "A connection to the remote computer cannot be established. You might need to change the network settings for this connection".
How to fix VPN "A connection to the remote computer cannot be established" [3 solutions]
If you face this error, there's no need to worry, as it can be easily fixed. Let's explore the solutions.
Solution 1. Using Device Manager
Step 1. Press Windows + R, and then type in "devmgmt.msc".
Step 2. Open the Device Manager window and navigate to the Network Adapter section. Locate WAN Miniport (IKEv2) and right-click on it. From the options provided, select Uninstall device.
Step 3. Repeat the previous step for each Miniport listed below individually, ensuring that you uninstall the device for each one:
WAN Miniport (PPTP)
WAN Miniport (PPPOE)
WAN Miniport (Network Monitor)
WAN Miniport (L2TP)
WAN Miniport (IPv6)
WAN Miniport (IP)
WAN Miniport (SSTP)
Step 4. Locate the Action tab located at the top of the window and click on it. From the options presented, select "Scan for hardware changes". By doing so, the system will initiate the reinstallation process for all the WAN Miniports, effectively restoring them to their previous state. As a result, your VPN connection should now be functioning correctly.
Solution 2. Disable Proxy
Step 1. Press the Windows key + R to open the Run command box. Type "inetcpl.cpl" and click OK.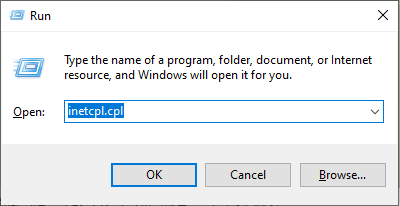 Step 2. Click on the Connections tab at the top. Next, click on LAN Settings.
Step 3. Ensure the option "Use a Proxy server for your LAN" is unchecked.
Solution 3. Turn off the firewall on the server and client side
Step 1. Press Win + R to open the operation dialog box, enter "control panel" and click OK to open the Control Panel.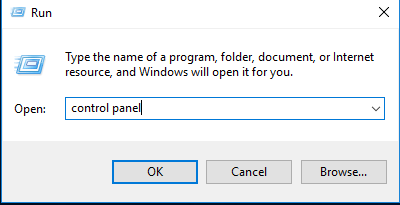 Step 2. Find and click System and Security on the main interface of the control panel, and then select Windows Defender Firewall.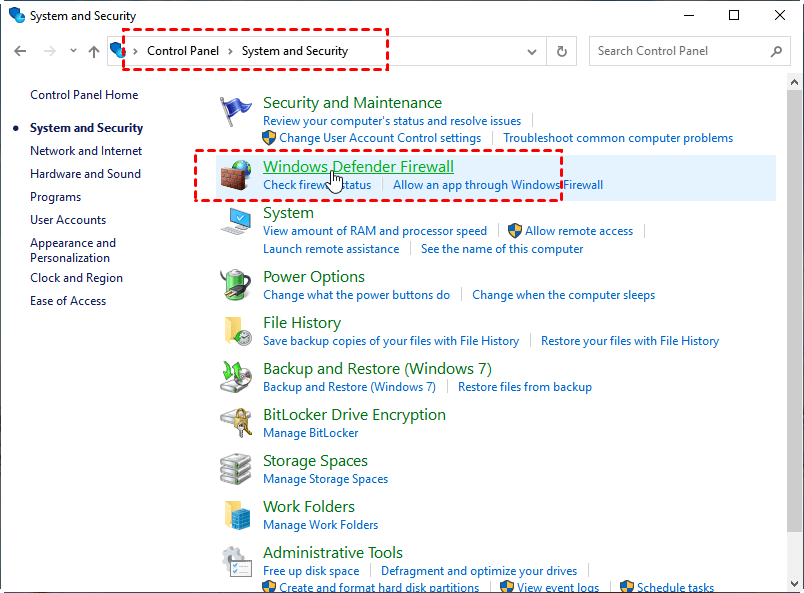 Step 3. Find and click Turn Windows Defender Firewall on or off in the left sidebar.
Step 4. Select Turn off Windows Defender Firewall under the Private network settings and the Public network settings, respectively and then click OK.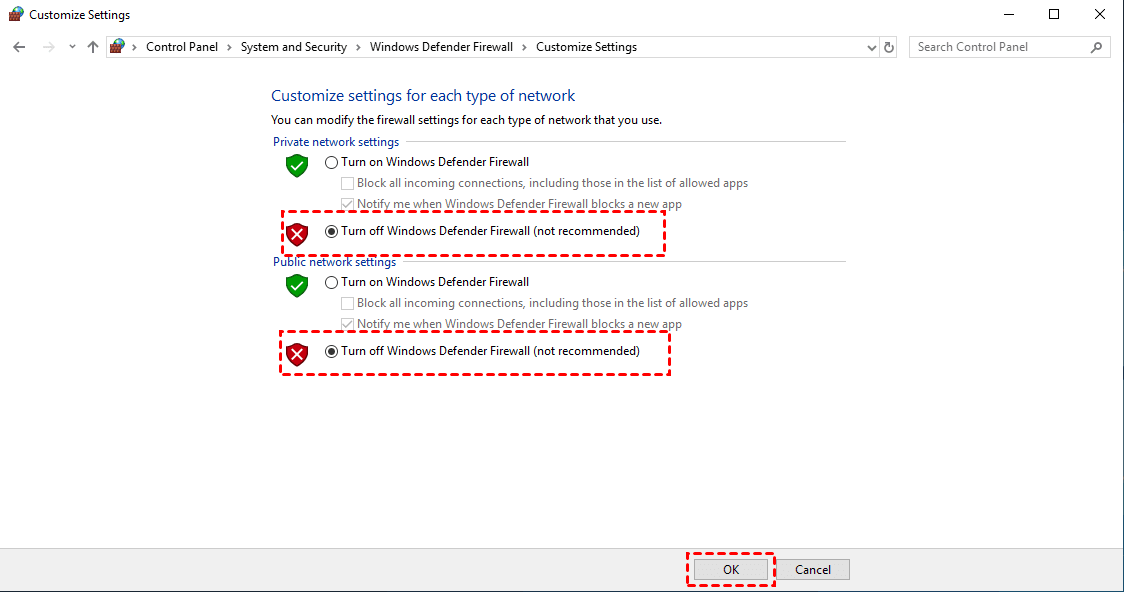 AnyViewer: Easy way to avoid VPN connection failure on Windows 10/11
If none of the above 3 solutions can solve the "A connection to the remote computer cannot be established" VPN problem, you might as well find a free and powerful remote control software alternative, such as AnyViewer.
The similarity between AnyViewer and VPN is that both of them can realize remote access. But the differences are:
AnyViewer is completely free to use. However, most VPNs need to be paid for.
AnyViewer can connect to remote devices and access remote resources without any restriction, while VPN only allows you to remotely access the shared resources on the network, including shared folders and printers.
AnyViewer offers features like file transfer, text chat, remote restart, etc., while VPN lacks functionalities.
Step 1. Install and launch AnyViewer on both computers. Go to Log in, and then click Sign up. (If you already have signed up on its official website, you can log in directly.)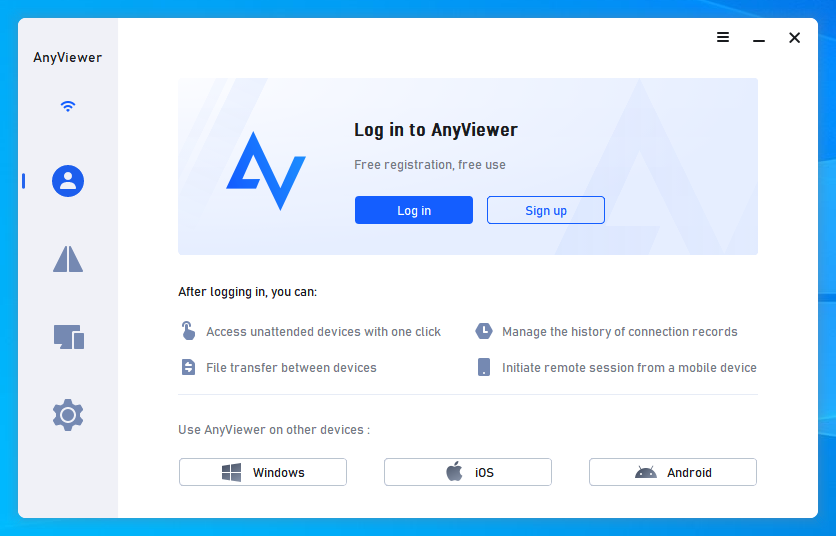 Step 2. Fill in the signup information and click Sign up to create an AnyViewer account.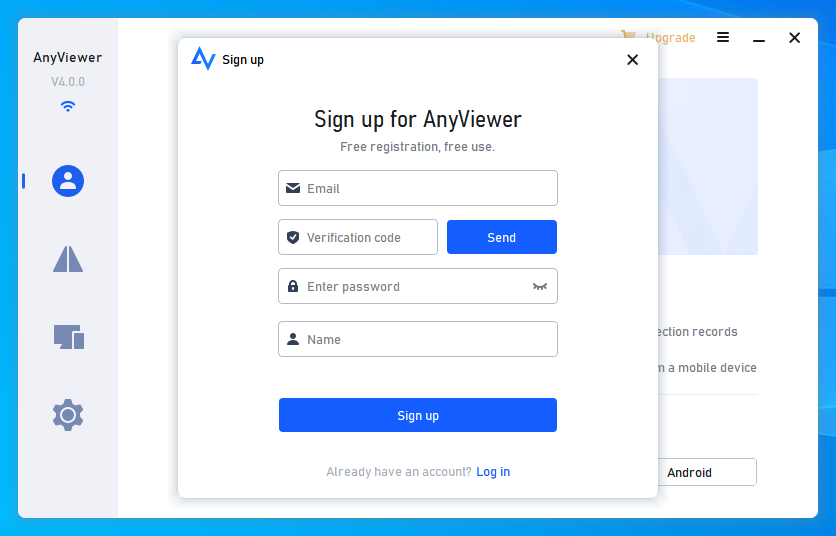 Step 3. Then you can see you successfully logged in to AnyViewer. Your device will automatically be assigned to the account you've logged in to.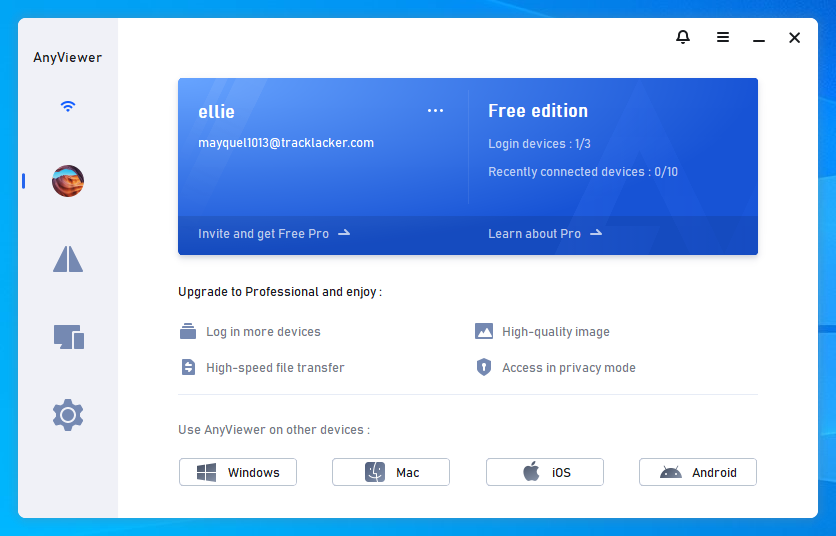 Step 4. Log in to the same AnyViewer account on the two computers. Then you can achieve unattended remote access by clicking One-click control after going to Device, and clicking the computer you want to access.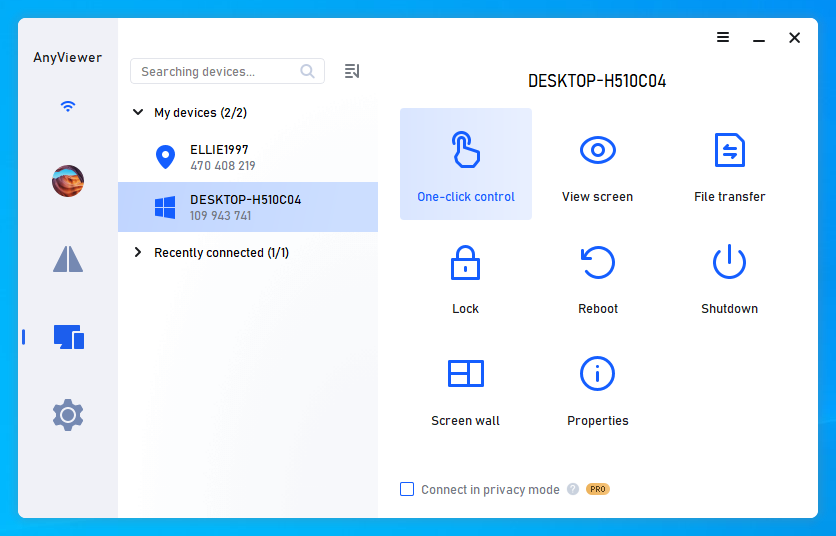 Note
: If you can upgrade your account to a
Professional or Enterprise plan
, you'll have more rights. You can assign more devices. Also, you can connect to another computer in privacy mode, which means you can black the screen and block the mouse and keyboard of the remote computer.
The bottom line
The provided explanation outlined different methods to address the problem of establishing a connection with a remote computer. In the event that the three aforementioned solutions prove ineffective in resolving the VPN issue, an alternative option is to consider AnyViewer, which is regarded as the top VPN "A connection to the remote computer cannot be established" alternative. By resorting to AnyViewer, you may find a suitable solution for your connectivity needs.