Remote desktop vs virtual desktop
Remote desktop vs virtual desktop, what are they and what are their differences? If you have difficulty in choosing between a windows virtual desktop or remote desktop services, then you need to read this post. Here we provide a brief introduction and comparison of remote desktop and virtual desktop to you.
What is a remote desktop?
Remote desktop services (RDS) is a program that allows you to connect to computers on the other side of the world while also allowing you to control multiple computers from a single device or PC. Simply put, users can connect to a remote computer and interact with its desktop through a graphical interface making them feel like they were actually sitting in front of it.
Remote desktop infrastructure (VDI) solutions can be used to connect to a company computer while away from their typical workstation, connect to a home computer while away from home, or remotely fix a computer problem.
What is a virtual desktop?
Virtual desktop is a desktop virtualization technique that allows a distant server to execute and control a desktop operating system (OS). Users connect to the remote server, which produces a different virtual OS for each user, which runs on top of a hypervisor.
Virtual desktops provide a preset image of an operating system that is independent of the device that is used to access it. Users can use any endpoint device, no matter a laptop, tablet, or smartphone, to access the virtual desktop over the internet.
What are the differences between remote desktop and virtual desktop?
After understanding what they are, let's have a look at the differences between virtual desktop vs remote desktop.
Operating system. Remote desktop functions on the server-based operating system. The end-user accesses the operating system on their personal device, similar to the server OS. Virtual desktop functions on the desktop-based operating system. It provides a central public cloud network for hosting your desktops and apps and comes with a scalable desktop OS that is multi-session Windows 10.
Security. Remote desktop runs entirely on a server. It is deployed on a private cloud or from on-premise by managed service providers, it gives you more data security. Virtual desktop runs on a public cloud network. Hence, the Internet, patching, or firewalls will be shared amongst multiple users, which is less secure compared to remote desktop.
Performance. Remote desktop offers good bandwidth. As a result, numerous users can connect to the same server. The remote connection can be established without the use of any additional devices. Virtual desktop offers auto-adjustable bandwidth, which means that your connection will not break even if the Internet connection is unstable.
Cost. In remote desktop, a Windows server OS license is included with the service. Hence you may not need any additional licensing. In virtual desktop, a Windows OS license has to be purchased separately. It may cost some additional amount from your pocket.
Safe & secure remote desktop software: AnyViewer
With its safety, simplicity, and cost-effectiveness, remote desktop has been chosen by many users. To help you better understand remote desktop, here we want to take the free remote desktop software as an example to show you how to remotely access another computer. For example, AnyViewer, the free and fast third-party remote desktop software for Windows and iOS devices. Follow the steps below to get started.
Part 1. For unattended remote access with one-click
Step 1. Download, install and launch AnyViewer on both computers. Go to Log in, and then click Sign up. (If you already have signed up on its official website, you can log in directly.)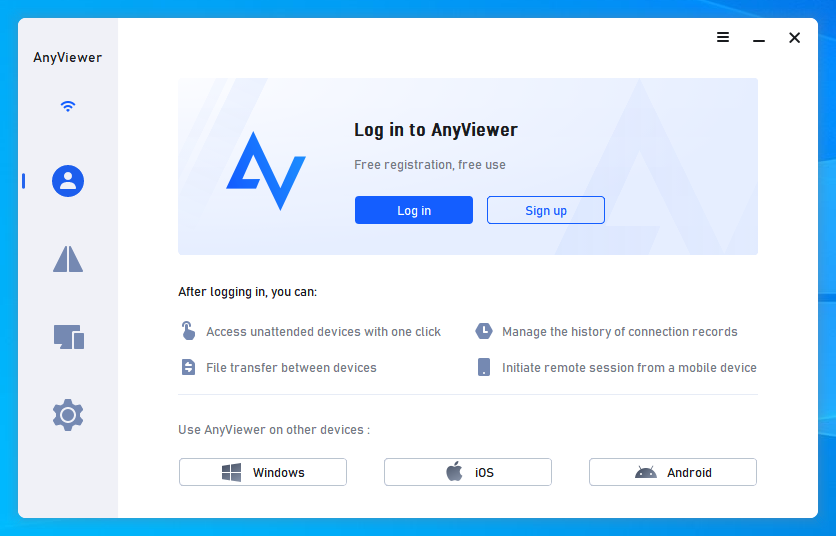 Step 2. Fill in the signup information.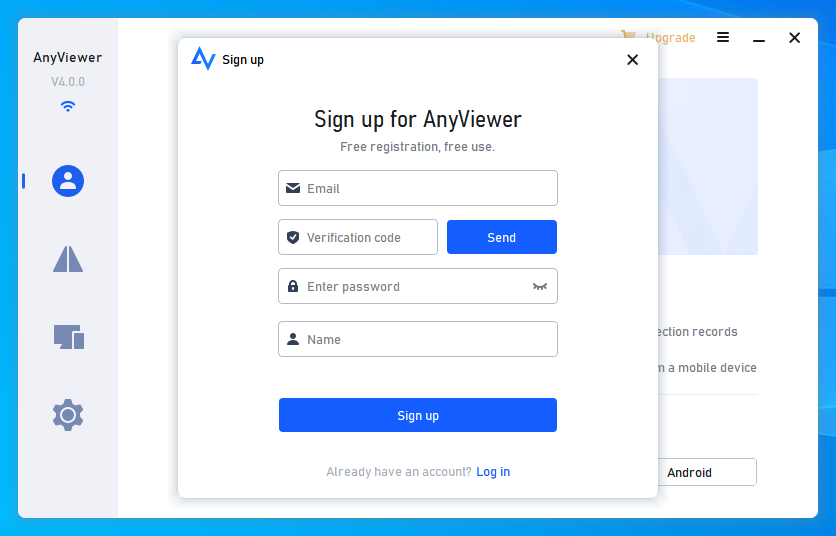 Step 3. Then you can see you successfully logged in to AnyViewer. Your device will automatically be assigned to the account you've logged in.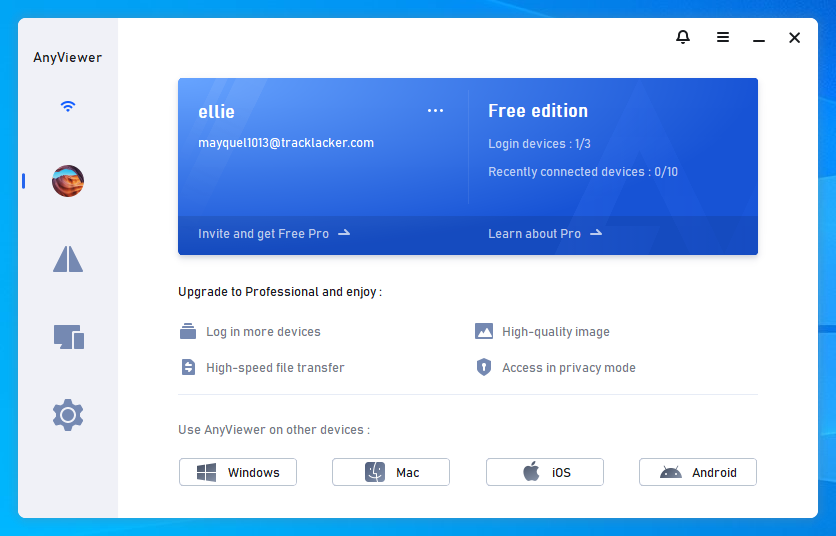 Step 4. If you have logged in to the same AnyViewer account on the two devices, then you can achieve a direct connection by clicking One-click control.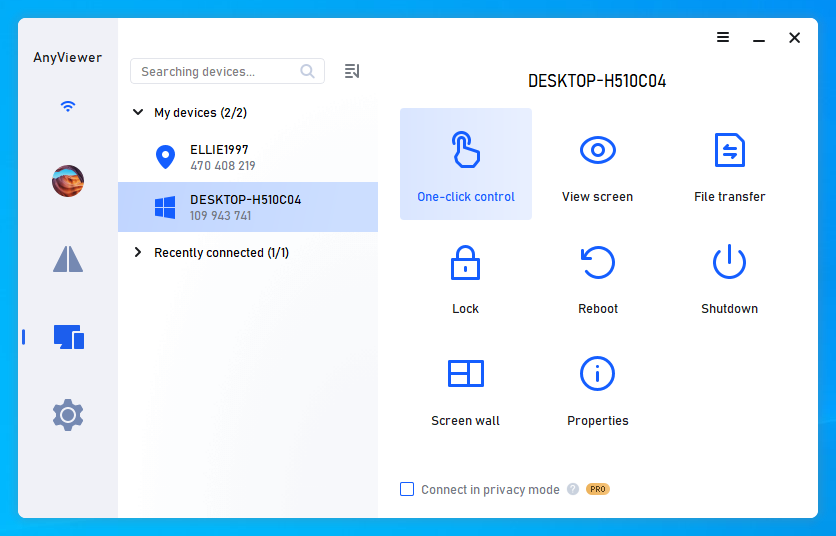 Part 2. Two connection methods of AnyViewer
If you don't want to log into the same account on the two computers, you can also use the following two methods to achieve remote connections. But we should note that you're not allowed to use certain features like file transfer using these two methods, as some features are designed for logged-in users.
Connection method 1. Send a control request
Step 1. On the client computer, input the device ID of the host computer and then click Connect.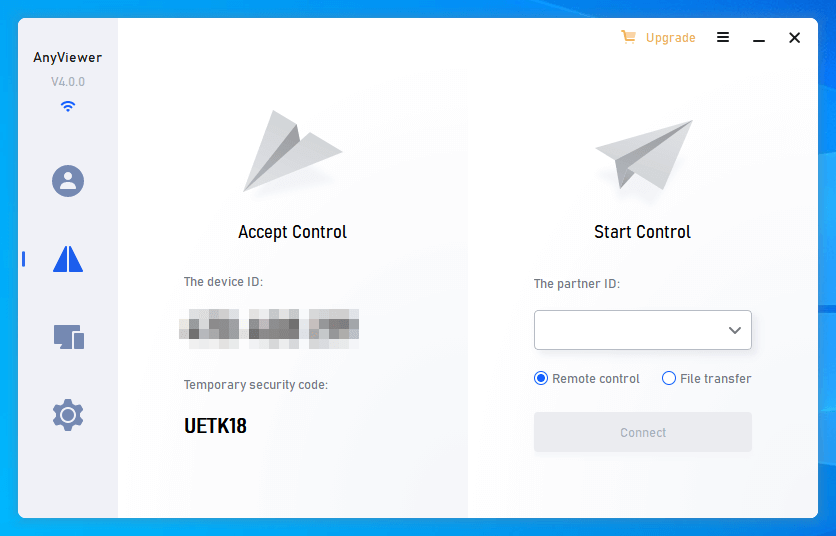 Step 2. Click Send a control request to your partner.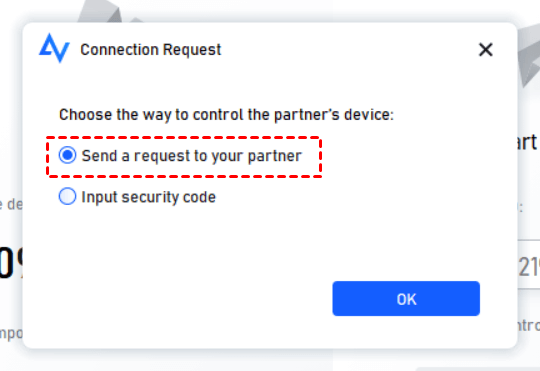 Step 3. On the host computer, click Allow to make the connection successful.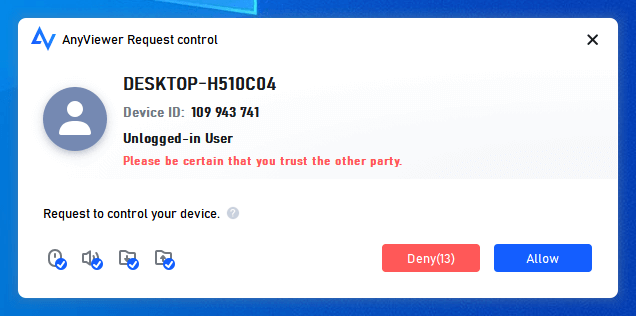 Connection method 2. Input security code
Step 1. On the host computer, go to Settings > Recipient. Tick the third option and then set the permanent security code.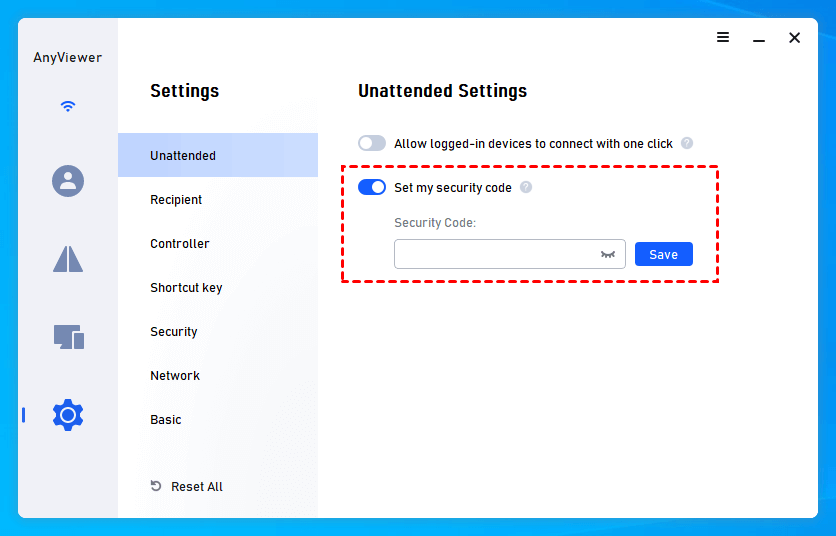 Step 2. On the client computer, input the device ID of the host computer and then click Connect. Choose Input security code and enter the code. Click OK to achieve remote access.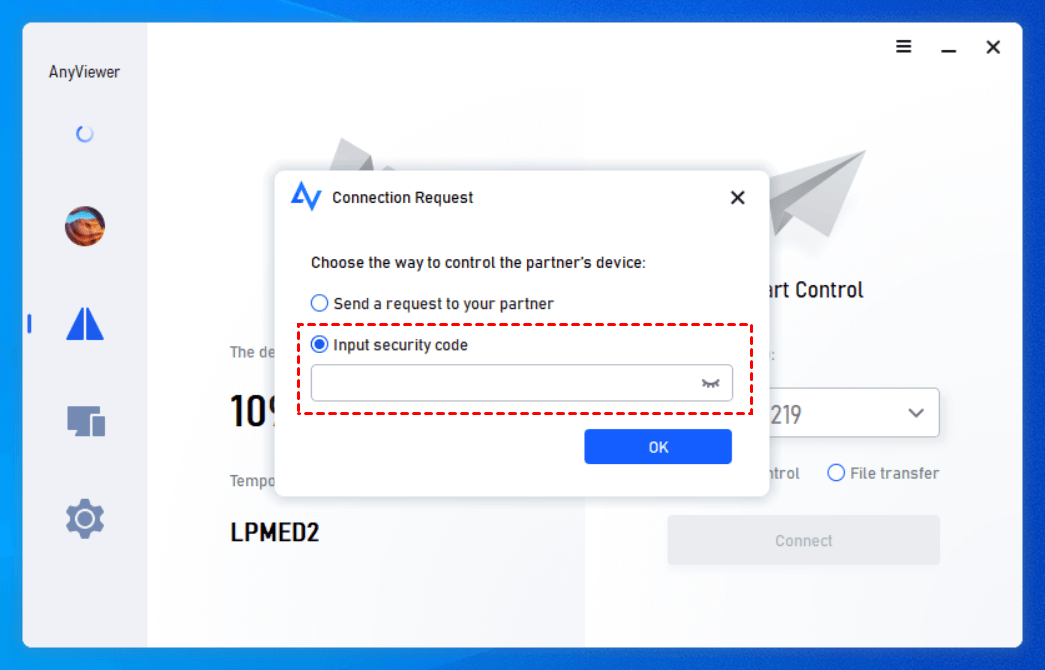 Conclusion
This post mainly introduces the definitions of remote desktop vs virtual desktop and the differences between them from four aspects, namely, operating system, security, performance, and cost. In the end, we take AnyViewer as an example to show you how to use remote desktop software to achieve remote access.