How do I enable audio on Remote Desktop Server 2019?
Sound is operating on the server, however, when I log in using an RDP client, there is no sound. I am new to Windows Server 2019. Any help will be appreciated.
- Question from Spiceworks
As remote work becomes more and more important, users are demanding more and more remote control software, and remote audio is one of the user's concerns. To use RDP audio on Server 2019, you first need to log in to the remote computer via Remote Desktop and then enable Remote Audio Server 2019 by starting Windows Audio Services on the remote computer among other steps.
However, many users often encounter problems when using Windows Server 2019, such as black screen RDP Windows Server 2019, and Windows Server 2019 remote audio not working. Don't worry, read this article and you will get the solution for Windows Server 2019 remote audio not working.
How to fix Windows Server 2019 remote audio not working [3 solutions]
Usually, Windows Remote Desktop Connection allows you to play the sound of the remote end on the local computer when you control the computer remotely. When encountering Window Server 2019 remote sound not working, you can try the following three solutions to fix it.
Solution 1. Starting the Windows Audio Server
To fix the Windows Server 2019 Remote Sound Not Working issue, first check the status of Windows Audio Service. Please take the following actions to help:
Step 1. Search for "Administrative Tools" in the "Control Panel" of your local computer and open it.
Step 2. In Administrative Tools, right-click "Services" to open it.
Step 3. Right-click "Windows Audio" to open it in the Services pane.
Step 4. In the Startup Type box on the General tab, select Automatic. Then, in the "Service Status" box, select "Started". Finally, click "OK".
Solution 2. Check the Edit Group Policy on the remote computer
Ensure that the Group Policy of the remote computer does not block remote audio playback by performing the following grass action:
Step 1. On the remote computer, press and hold "Win + R" to open the "Run" dialogue box, then type "gpedit.msc" and press OK to open the Local Group Policy editor window.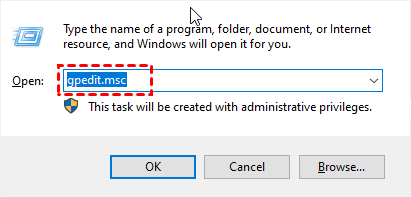 Step 2. Then in the pop-up window, follow these steps: "Local Computer Policy"> "Computer Configuration"> "Administrative Templates"> "Windows Components"> "Remote Desktop Services"> "Remote Desktop Session Hosts"> "Device and Resource Redirection".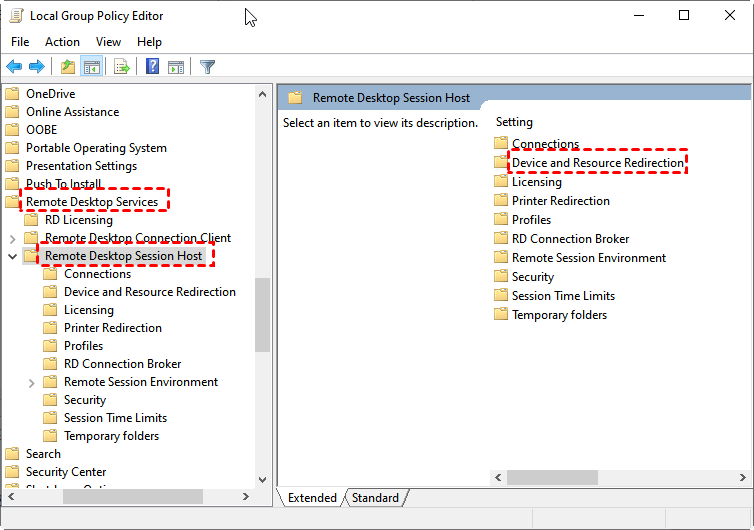 Step 3. Select "Device and Resource Redirection" to access it. Click the "Allow audio and video playback redirection" and "Allow recording redirection" options in the right pane respectively.
Step 4. Then make sure they are all set to "Enabled".
Solution 3. Enable remote audio playback & recording
To fix Remote Audio Not Working Window Server 2019, you also need to check if the RDP client allows sound playback option. Please do this according to the following method:
Step 1. Press "Win+R" at the same time to open the "Run" box and type "mstsc.exe", then click "OK".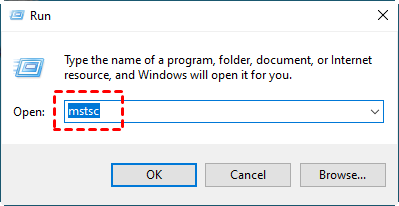 Step 2. Then select "Show Options" in the Remote Desktop Connection dialogue box and turn it on.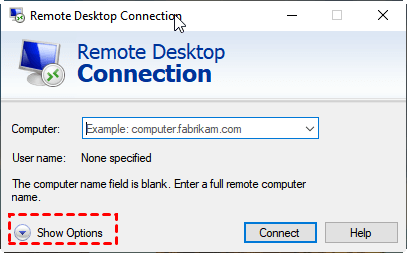 Step 3. Then click the "Local Resources" button and select the "Settings" option under Remote Audio.
Step 4. To enable remote audio playback, make sure that Remote Audio Playback is set to "Play on this computer". Then click "OK".
AnyViewer: The best free remote control software for Windows Server 2019
If you find that you're stuck in a rut where Windows Server 2019 remote audio not working and there's no way to resolve the dilemma. You might consider finding a remote control alternative.
AnyViewer will be your best choice. It is an all-in-one, free remote control software. It supports not only Windows and Windows Server systems but also iOS and Android. It allows the user to synchronize the sound of the remote device in real-time during remote control and without any complex operation with difficult-to-solve problems.
Not only that, AnyViewer allows users to transfer files during remote control, real-time text chat, unattended remote access, and multi-session capabilities. It also provides users with a fast and stable connection and has a clean and simple interface.
Download it and easily open a remote control connection:
Step 1. Install and launch AnyViewer on both of your Windows, navigate to "Log in" and click "Sign up".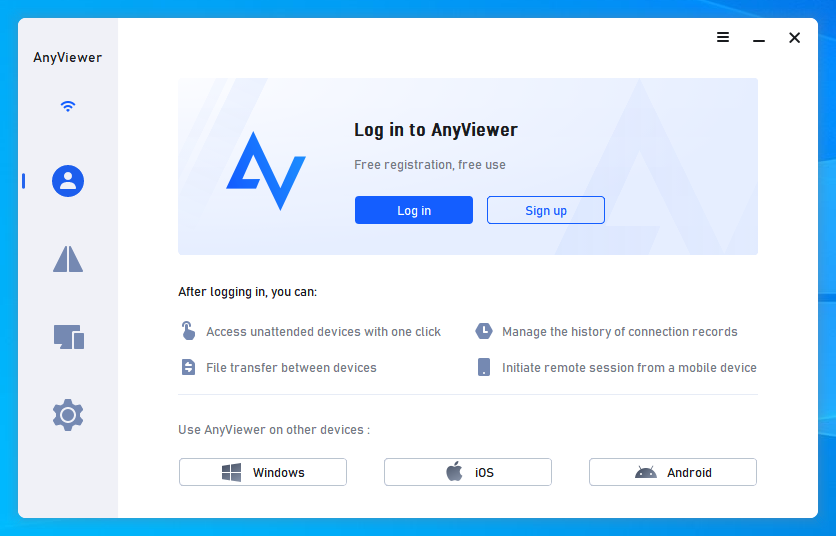 Step 2. Fill out the signup form to create a new AnyViewer account.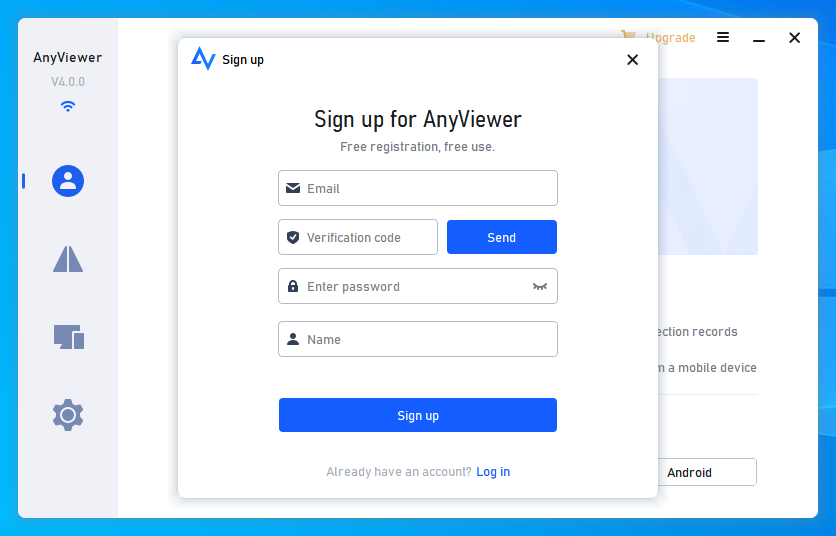 Step 3. After registering successfully, log into your account. You will see that your device has been automatically assigned to your account.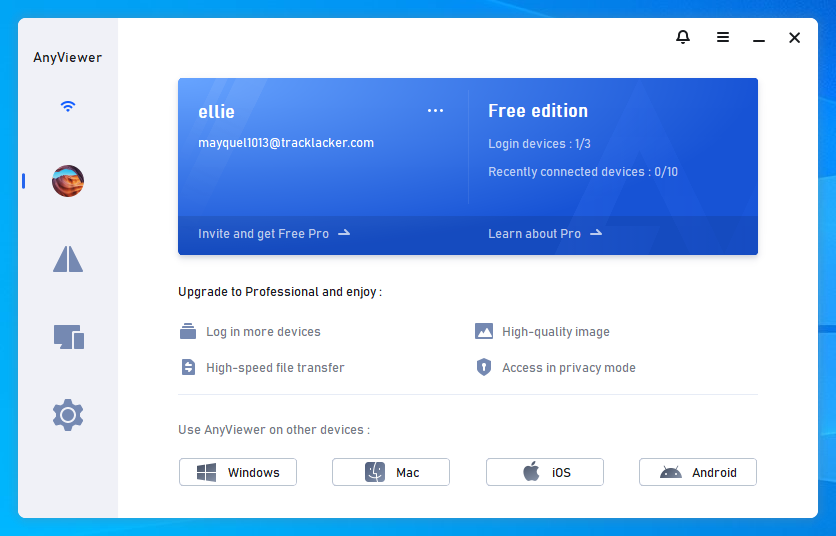 Step 4. Log in to the same account on both of your devices. Navigate to "Device", choose your target device, and click "One-click control" to establish unattended remote access.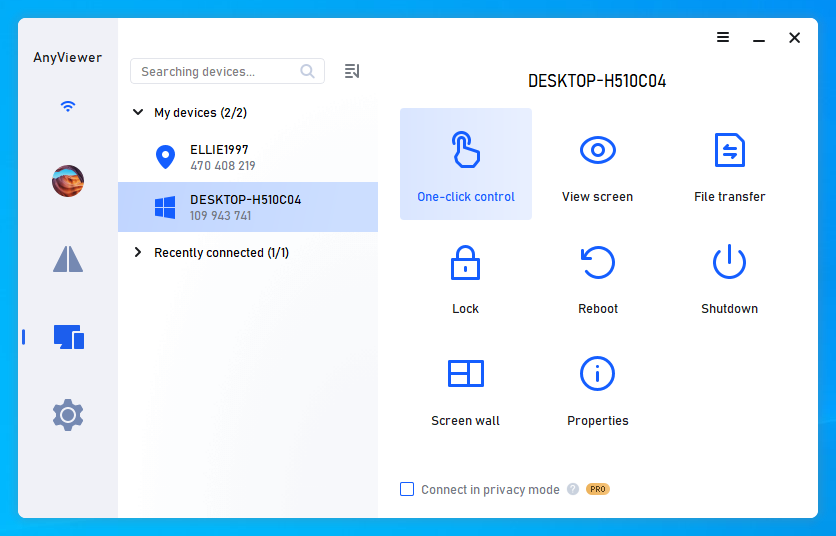 Step 5. Finally, to turn on remote sound, simply activate the sound icon in the toolbar.

★Tips: To unlock more benefits, you can upgrade your account to a professional or enterprise plan:

Increase the number of devices that can be controlled with one-click control.
Increase the number of devices controlled by one computer to an unlimited number.
Have faster file transfer speeds.
Connect in a more secure privacy mode.
Create groups to manage large numbers of devices.
High-quality image.
...
Conclusion
All in all, the above methods can be a viable solution for you when facing Windows Server 2019 remote audio not working. However, it is an annoying thing to have problems all the time, so it is highly recommended that you use AnyViewer. it offers a much more satisfying remote control experience and can be used as a perfect alternative.