What is the best Unified Remote alternative?
Hello, I've been using Unified Remote for a while now, and I find it to be very helpful. However, I was wondering if there might be a better option out there."
- Question from Reddit
Unified Remote
Before learning the best Unified Remote free alternative, let's get to know better about Unified Remote. Unified Remote is a mobile app that lets you control your computer from wherever you are. In a nutshell, it turns your device into a WiFi or Bluetooth remote control for every program on your computer. A simple mouse and keyboard, media players, and other external devices that can be connected to your computer can all be controlled by this app.
What are the pros and cons of Unified Remote?
Let's look at the pros and cons of Unified Remote first.
Pros:
Its client side is available for iPhone, Android, and Windows Phone mobile operating systems.
Its server-side is more compatible with all systems, for example, Windows, Linux, and macOS.
Cons:
It doesn't provide a GUI of the PC on your phone. You can only send specific commands to your PC from your phone.
It doesn't support long-distance remote connections. It only works with WiFi on your home network or using Bluetooth. Connections over the network are not allowed.
Its free version comes with annoying ads.
How to use Unified Remote
Let's see how to set up Unified Remote via WiFi. Besides using WiFi, it also supports controlling PC from Android via Bluetooth.
Part 1. Set up Unified Remote on your PC
Step 1. Go to the Unified Remote website and follow the instructions to download the most recent server software.
Step 2. Run the setup package.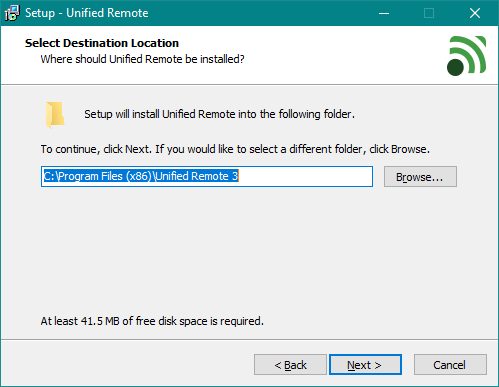 Step 3. Accept its installation by clicking on Install.
Part 2. Control PC from Android phone
Step 1. On your Android phone, download and install the most recent version of Unified Remote.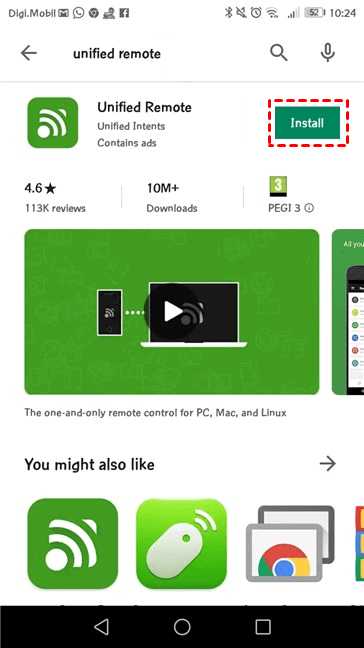 Step 2. On the app's first screen, select SIGN IN WITH GOOGLE or SKIP THIS STEP to skip creating an account. Signing in with your Google account will back up your configuration and remote settings, so it's a good idea to do so.
Step 3. You will see a list of devices to which you can connect. If you've previously completed the server setup without complications, the app automatically detects the computers connected to the LAN on which the server is running.
Step 4. Tap on the name of your PC, and you should get a notification telling you that your device is connected to it.
Step 5. Now you can control your PC via WiFi.
Step 6. After installing the app, you can immediately use the installed default remotes. Each one of them does the following:
✍Basic Input is the virtual mouse. You can move the cursor on your desktop computer by swiping your finger across the screen of your smartphone.
✍File Manager displays a window of the computer's hard drives, allowing you to access the files and open or launch them on the computer.
✍Keyboard is a standard QWERTY virtual keyboard with function keys.
✍Media Remote contains media keys such as volume, previous and next track, and play/pause.
✍Power contains power options, such as log off, restart, shutdown computer from the Android phone.
Best free Unified Remote alternative: AnyViewer
Some of you may want to find a Unified Remote alternative for different reasons, for example, you don't like in-app ads, or you want to remotely control your PC from your phone thousands of miles away. If you do, AnyViewer is your best choice.
It is an iOS, Android, and Windows remote control app. Regardless of whether the devices are connected via WiFi or the internet, it allows users to remotely control their PCs at any time from their Android or iOS devices.
Why would we say AnyViewer is the best Unified Remote alternative? The reasons are listed as follows:
It allows you to directly see your computer screen on your phone when you control it remotely.
It also supports remote connections over the local network and the internet without any specific configurations.
It is free without annoying in-app ads.
Here we'll take Android as an example. The steps of remotely accessing a PC from an iPhone or iPad are pretty much the same as Android.
Part 1. Set up AnyViewer on the PC you want to control
Step 1. Install AnyViewer on your computer and start it up.
Step 2. Click Sign up after going to Log in. (You can log in directly if you have already registered on the website.)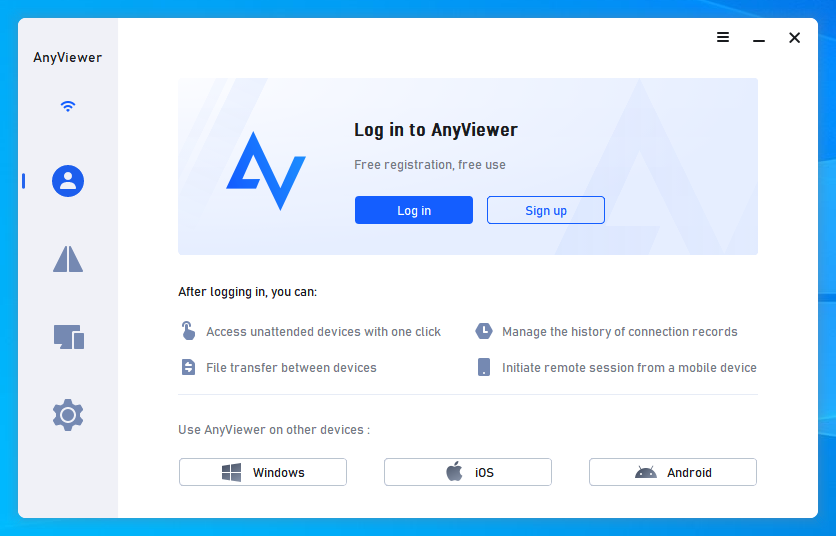 Step 3. Complete the signup form.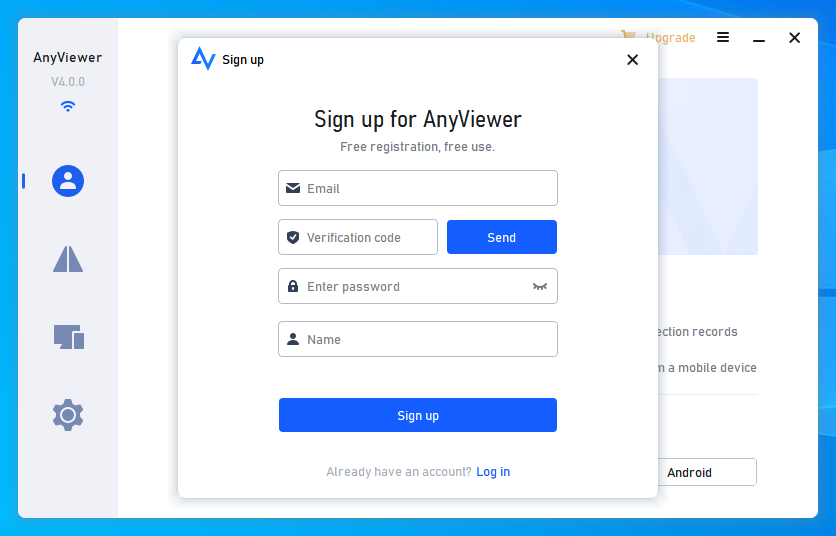 Step 4. At this point, AnyViewer will show that you have successfully logged in. The account you've logged in to will be automatically assigned to your device.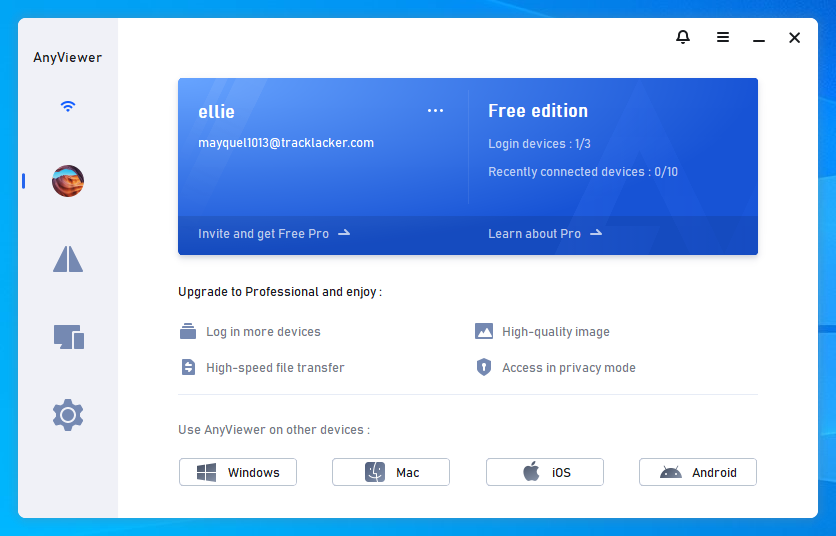 Part 2. Start control on your Android phone
Step 1. On the Android device, download AnyViewer for Android.
Step 2. Sign in to the account you created earlier.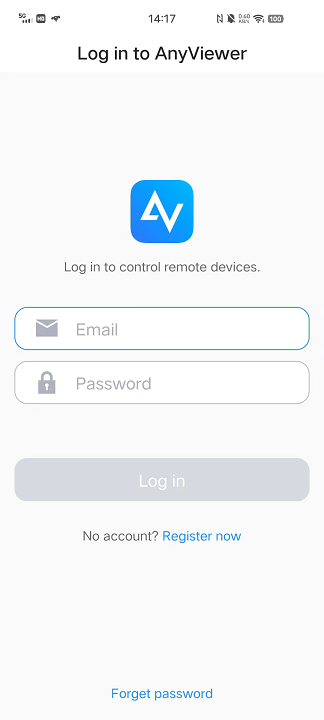 Step 3. The My devices list will display the devices that have been logged into the same account.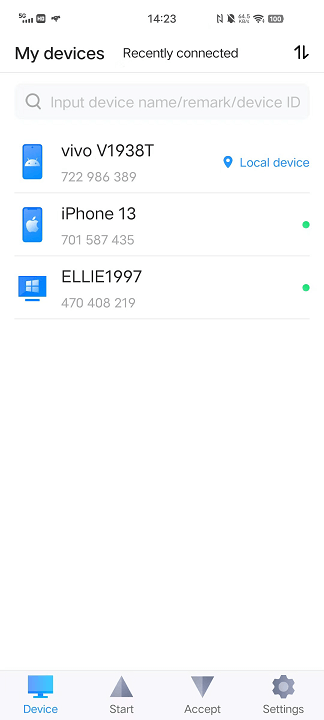 Step 4. Tap your target PC and then Remote Control to quickly connect to the PC.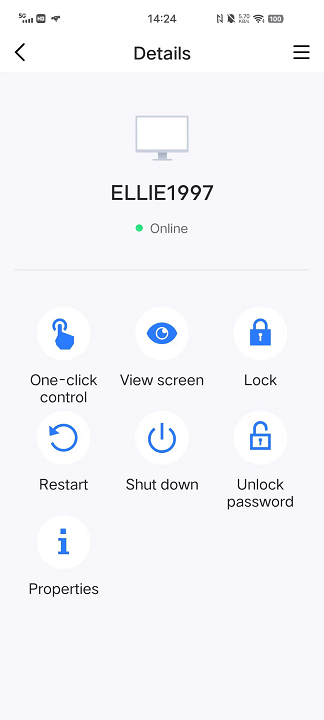 Step 5. From the Android device, you can fully control the remote PC. You can even use your Android phone to run Windows apps.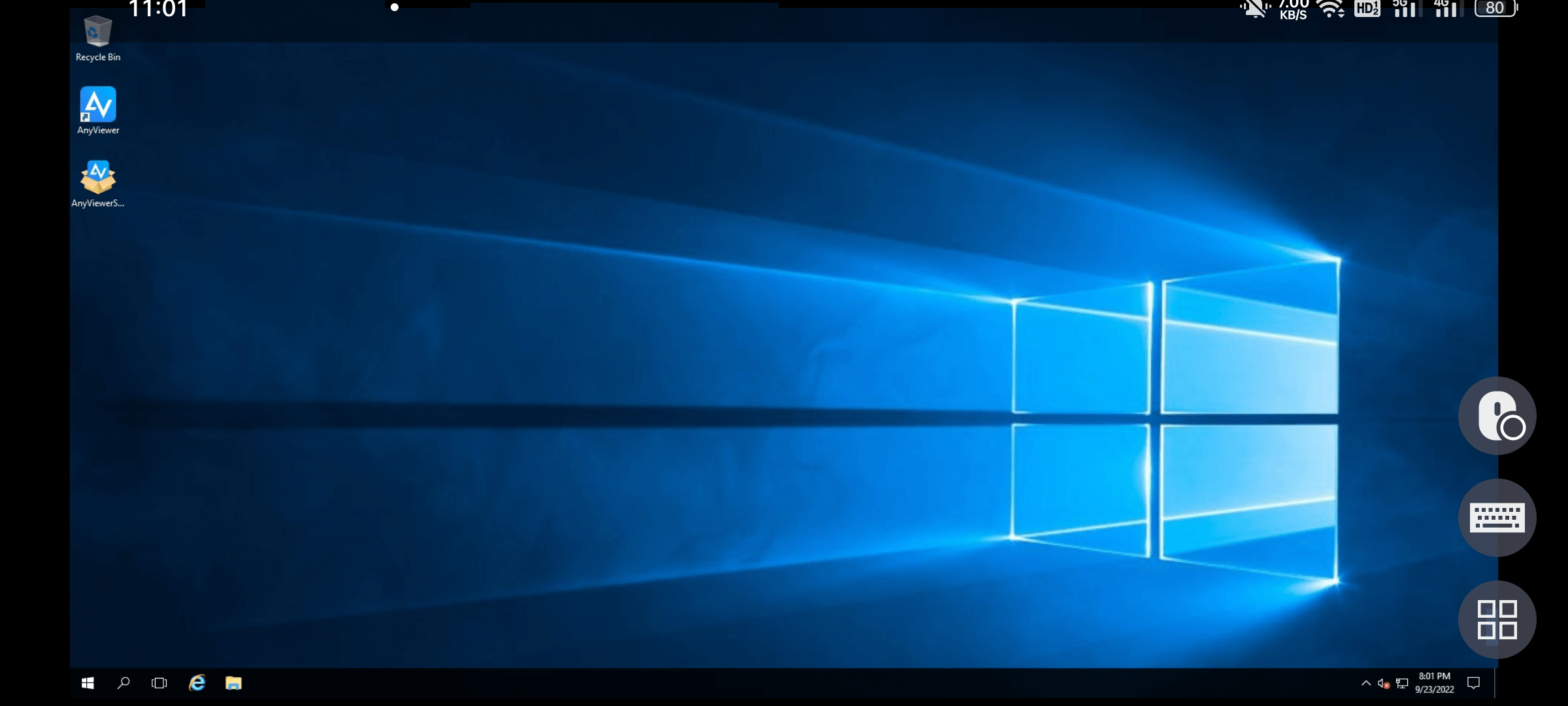 FAQs
Q1. Is Unified Remote free?
It has both a free version and a pro version. You can use Unified Remote for free with the free version. But you should note that the free version comes with on-screen ads on the bottom.
Q2. Can I use Unified Remote without WiFi?
Besides WiFi, Unified Remote is also designed to work with Bluetooth.
Q3. Why is Unified Remote not working?
Make sure your computer and smartphone/device are connected to the same network. It doesn't matter if your computer has wired internet as long as they are connected to the same box! Update to the latest version. Make sure both your app and server are updated to the latest versions.
The bottom line
This post primarily introduces how to use Unified Remote and what is the best Unified Remote alternative. Here we recommend AnyViewer for 3 reasons. First, you can completely see your computer screen and control it on your phone. Second, you can access your computer from a long distance. Third, it doesn't have annoying ads.