RDS Server "There are no available computers in the pool"
My users are trying to access our Windows 2019 RDS server internally. They keep getting an error message 'There are no available computers in the pool. Try connecting again'. I need assistance to fix it."
- Question from Reddit

How to fix "There are no available computers in the pool" [3 ways]
There are three ways to fix "There are no available computers in the pool" on Windows Server 2016/2022/2012/2008.
Way 1. Restart the services & reboot the server
The first way is quite easy to operate. According to some users who have encountered the same problem, restarting the services and rebooting the server help sort the problem out.
Step 1. Press Ctrl + Shift + Esc to open the Task Manager.
Step 2. Go to the Services tab. Find TermService, right-click it, and then choose Restart.
Step 3. Reboot the computer to see if the problem has been solved.
Way 2. Disable IPv6 on the NIC
Some users also reflected that disabling IPv6 on the NIChelp fixed the DNS issue and restored access to the license server. Try this.
Step 1. Click Start and then click Settings.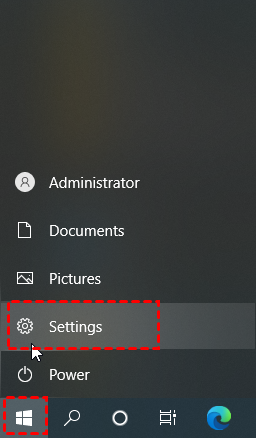 Step 2. Find Network & Internet and then click it.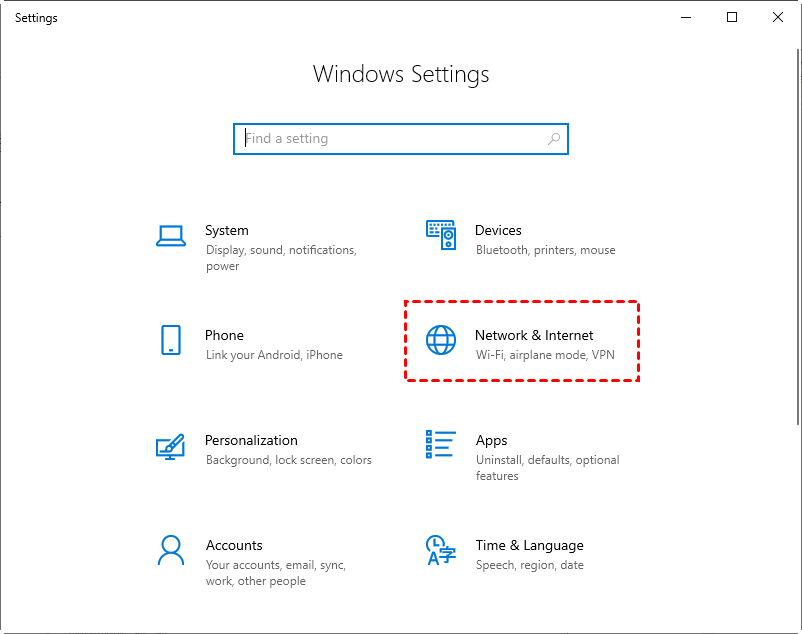 Step 3. On the Network & Internet interface, find Advanced network settings, and click Change adapter options below.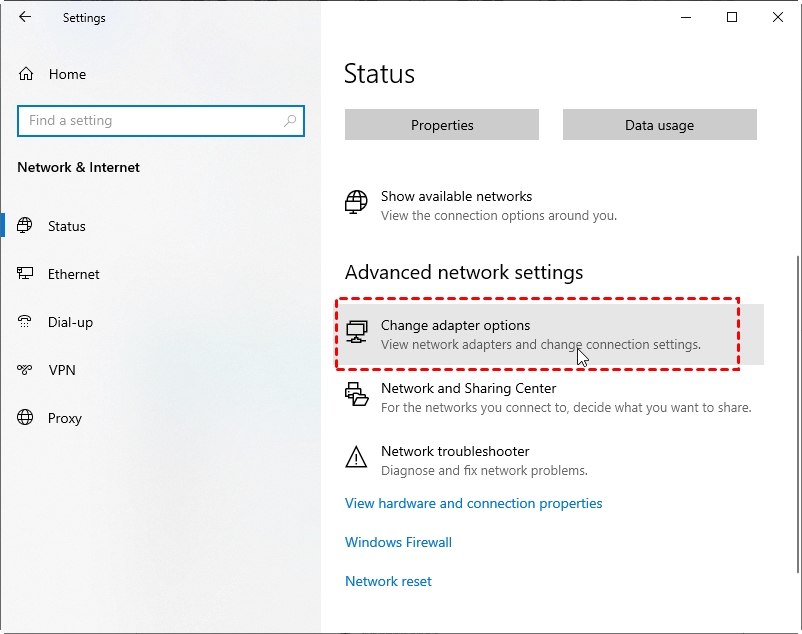 Step 4. Right-click your network and then click Properties.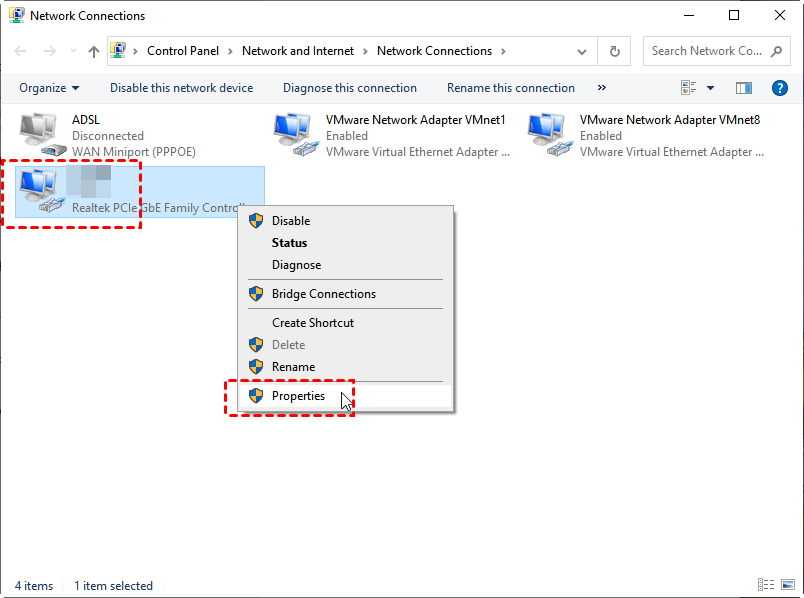 Step 5. Untick Internet Protocol Version 6 (TCP/IPv6), and click OK.
Way 3. Remove the server and then re-add it
The final way is to remove the RD session host server from the server list and re-add it. Let's check it out.
Step 1. Go to RAS Console > Farm > RD Session Hosts. Select the servers that should be decommissioned, right-click on them and click Delete.
Step 2. Launch Server Manager. Expand All Servers. Click Manage > Click Add Servers. Enter the hostname of the server you want to add.
Step 3. Select Remote Desktop Services > Overview from the menu. Right-click RD Session Host and select Add RD Session Host Servers from the menu that appears.
Step 4. Select the recently added server and press the Add button.
Step 5. If necessary, choose Restart the target server automatically. Select Add.
Step 6. Wait for the deployment of the RD Session Host role service and the restart of the new RD Session Host server. Close the window.
AnyViewer: Professional remote desktop software for Windows Server
If you want an easier way to remotely access Windows Server, we highly recommend you use AnyViewer. AnyViewer is a free remote access software for Windows Server. It has an intuitive interface and is easy to set up. Even computer novices can quickly get started. Besides, it provides users with a totally free service.
✔ Widely compatible with Windows Server 2022/2019/2016/2012 R2 and Windows 11/10/8/8.1/7.
✔ Mobile devices supported, iOS & Android.
✔ Unattended remote access supported.
✔ Chat in session supported.
✔ Multiple monitors supported.
✔ File transfer support.
✔ Multiple connection sessions supported.
✔Operation shortcuts supported, like opening Task Manager and launching CMD quickly.
Step 1. On both computers, download, install, and launch AnyViewer. Go to Log in on the Controller computer, and then click Sign up (if you have already signed up on its official website, you can log in directly).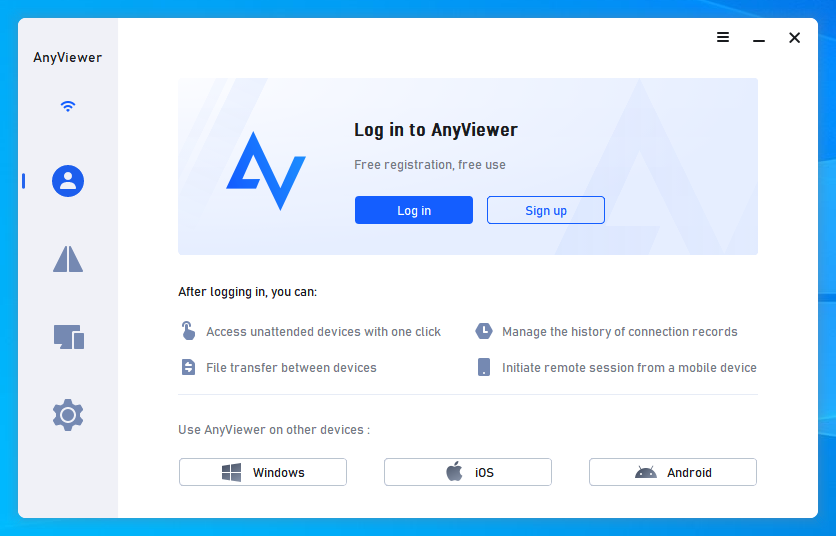 Step 2. Fill out the signup form.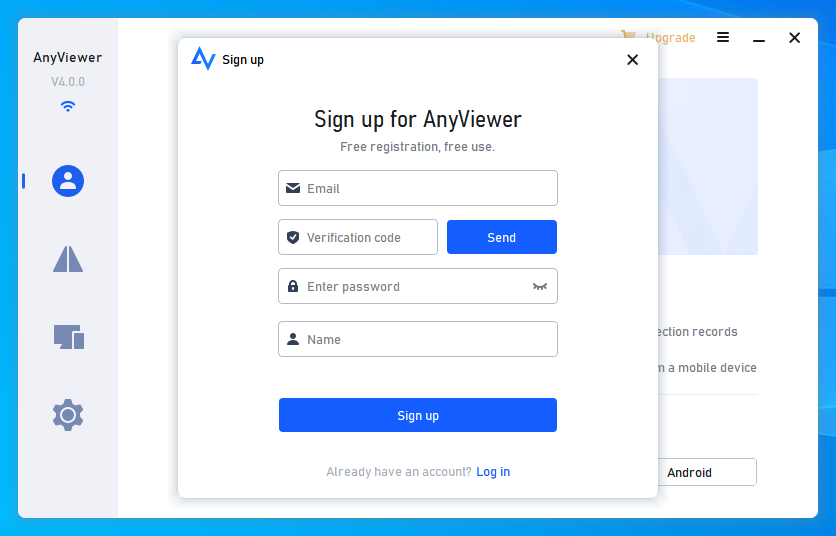 Step 3. You should now see that you have successfully logged into AnyViewer. Your device will be assigned to the account to which you have logged in automatically.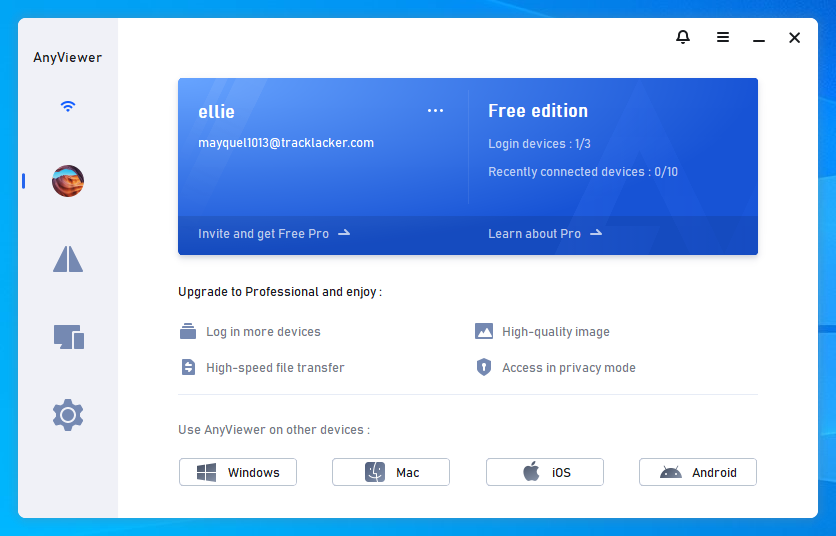 Step 4. Sign in with the same AnyViewer account on both computers, then click the One-click control for unattended remote access.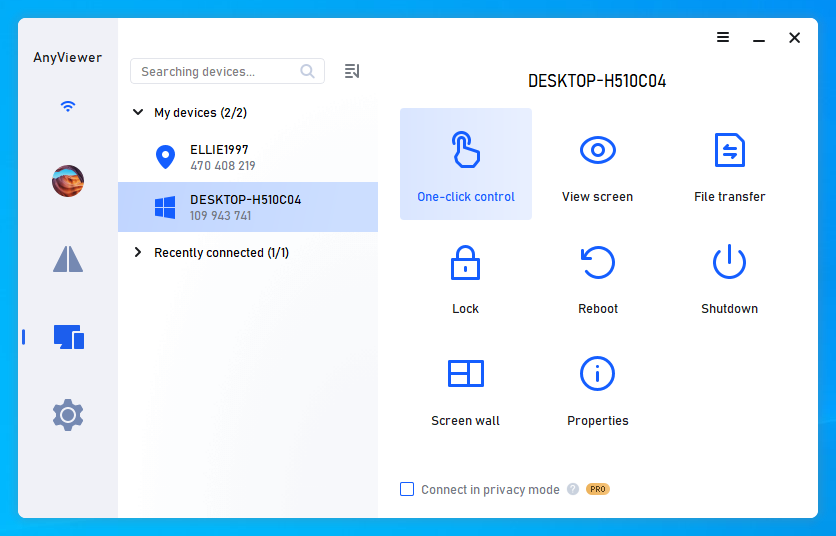 Step 5. The remote desktop will appear once the connection is established. After that, you have complete control over it.
Notes:✎...

It is recommended to upgrade your account to a Professional or Enterprise plan. What can a professional or enterprise plan brings to you:

More devices can be assigned to the same account for unattended remote support.
Connect in privacy mode to protect your privacy. This means the Controller can black out the remote PC screen and disable the remote keyboard and mouse click.
File transfer speed will be increased. Transfer speed is 500 KB/s for a free account and up to 10 MB/s for a paid account.
The bottom line
This post will primarily offer three methods for resolving the error "There are no available computers in the pool" on Windows Server. I hope you are able to resolve the issue. If it doesn't work, you might try another remote desktop solution, such as AnyViewer.