RemoteApp vs RDP, what are the differences?
Could anyone explain the differences between RemoteApp and RDP to me? I have a problem choosing between them."
- Question from Reddit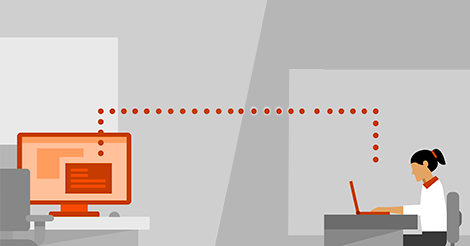 RemoteApp vs RDP
Both RemoteApp and RDP are solutions provided by Remote Desktop Services (RDS), enabling users to gain access to a distant computer or virtual machine over a network connection. But there are differences between RemoteApp and RDP. Let's go ahead.
What is RemoteApp?
RemoteApp is a virtual application solution. It enables users to run Windows-based applications on any OS. Users have the option to launch virtual programs from a server that seems to be locally installed on their computer despite really running on a remote server.
For example, a user is working from home and would like to use Photoshop but does not have Photoshop installed on his local computer. By setting up access to RemoteApps, the user can use Photoshop as if it is installed on their local computer.
How to use RemoteApp
Setting up a new connection via RemoteApp is simple. Just follow these steps:
Step 1. Press Win+ S. In the Search bar, search for "remoteapp" and open RemoteApp and Desktop Connections.
Step 2. On the left-hand side, select Set up a new connection with RemoteApp and Desktop Connections.
Step 3. Type in the connection's URL. Typically, this URL will look like this:
https:///rdweb/feed/webfeed.aspx
The hostname of the RD Web Access server is indicated here as "". The wizard should appear as follows:
Step 4. To complete configuring the connection to the RemoteApp server, click Next.
Step 5. Click Next. The client software for RemoteApp and Desktop Connections will now make contact with the RD Web Access server to establish the connection. A request to log in to the web server will be made.
Step 6. Type in your credentials. The connection will now be set up by the RemoteApp and Desktop Connections client software.
Step 7. The procedure will soon be finished, and you will see a wizard page with a summary of the outcomes.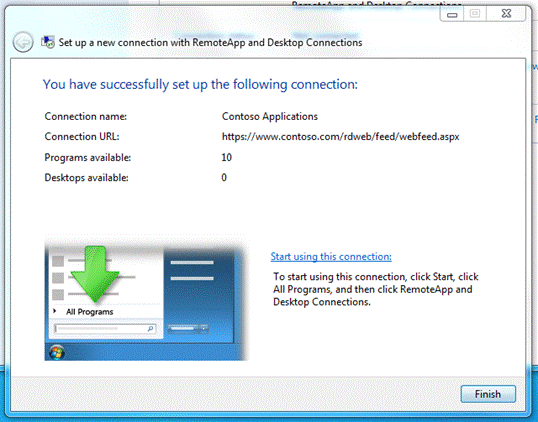 Step 8. Select Finish. Your newly created connection will now be displayed in the RemoteApp and Desktop Connections Control Panel.
Step 9. Whenever you need to manage your connections, you can come back to this summary page. The RemoteApp applications from the new connection will now be available on the Start menu.
Step 10. Windows Search can also be used to find these programs.
What is RDP?
RDP, also called Remote Desktop, as its name implies, allows a user to connect to a completely different desktop from their current device and provides full control of the remote server on the local device. The local device can be a computer, an iOS device, or an Android device. This is how you can run Windows on an Android device or an iOS device. Once connected, the user is able to see the remote screen and completely control the remote computer with the local device.
For example, a user needs to upgrade his Windows version, but he is a thousand miles away from his computer. He can use Remote Desktop to remotely access his computer either from another computer or a mobile device, and upgrade to the Windows version just as he is sitting in front of the remote computer.
How to use RDP
Here are the steps for creating a new Remote Desktop connection:
Step 1. Right-click This PC on the host computer's desktop and select Properties.
Step 2. Next, in the left sidebar, click Remote Desktop and toggle the Enable Remote Desktop option to On.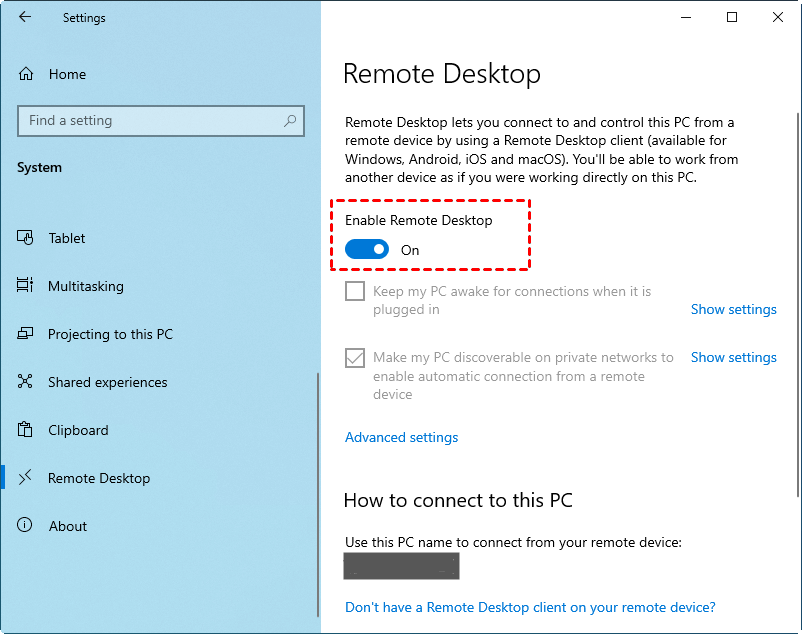 Step 3. Locate User accounts and select Select users who can remotely access this computer.
Step 4. After you've opened the Remote Desktop Users window, click Add to add users who can access this computer (you need to add already existing users to realize remote desktop).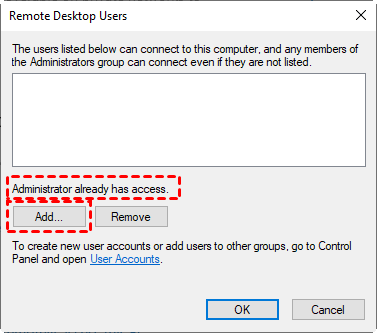 Step 5. On the client computer, search for Remote Desktop Connection in the Search box and then open it.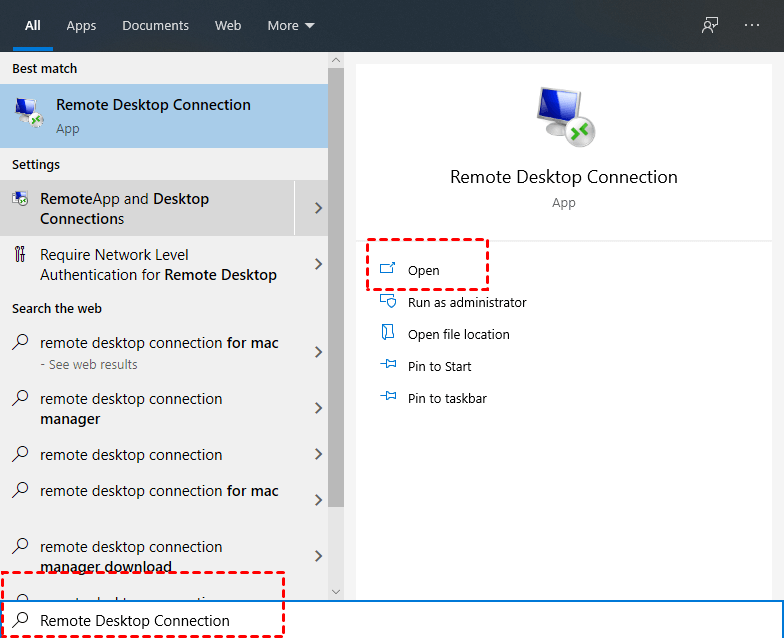 Step 6. Enter the IP address and user name in the Remote Desktop Connection interface to achieve connection (just in case you don't know how to find your computer's IP address and user name).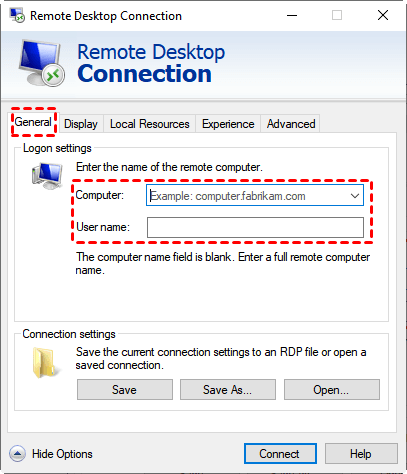 Step 7. In the Windows Security window that appears, locate the user name you just entered and enter the power-on password. Click OK if there is no power-on password.
Step 8. In the authentication pop-up window, directly click Yes to enable remote access (it is recommended that you check the box Don't ask me again for connection to this computer).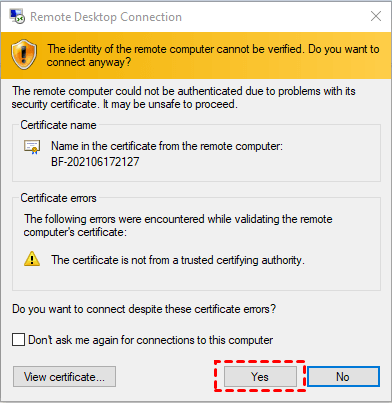 What is the major difference between RemoteApp and RDP?
It is obvious that RemoteApp and RDP have many differences in different aspects, for example, RemoteApp vs RDP performance. But what is the major difference between RemoteApp and RDP? For a quick summary recap:
✍RemoteApp allows you to deliver applications remotely. The application appears to be any other app running on the end user's device.
✍Remote Desktop means the ability to deliver a full desktop experience. Full desktop delivery enables you to provide a "new" virtual desktop experience to which the user connects for all work.
Which do you choose?
RemoteApp vs Remote Desktop, which do you choose? It is dependent on your end users and the delivery context. Since both can accomplish the goal of offering a consistent solution to end users, the answer could be either; there is no right or wrong answer here.
RemoteApp is probably sufficient to meet your needs if you only want to deliver a single application to your end users. Only the specific application is delivered by RemoteApp to the end user's device.
Remote Desktop is probably the best option if you want to give your end users a fully managed desktop solution. This gives IT complete control over everything, including the installation of applications, security guidelines, and even the location of data storage.
Bonus tip: An easier remote desktop choice
As mentioned above, Remote Desktop provides users with full control of the remote devices. Here we would like to introduce a free remote desktop choice that would provide users with an easier and better user experience.
AnyViewer is a free remote desktop software for Windows, iOS, and Android. Like RDP, it allows you to completely control your remote computer from your local computer. But it has some advantages over RDP:
AnyViewer is easier to use. RDP requires an IP address and computer name to achieve remote connections, while AnyViewer doesn't.
AnyViewer has fewer restrictions. RDP requires that the two devices be on the same network, while AnyViewer doesn't.
AnyViewer is more compatible with Windows versions. RDP can't be used to connect to computers running Windows Home and standard editions, while AnyViewer is fully compatible with both.
Step 1. On both computers, download, install, and launch AnyViewer. Go to Log in on the Controller computer, and then click Sign up (if you have already signed up on its official website, you can log in directly).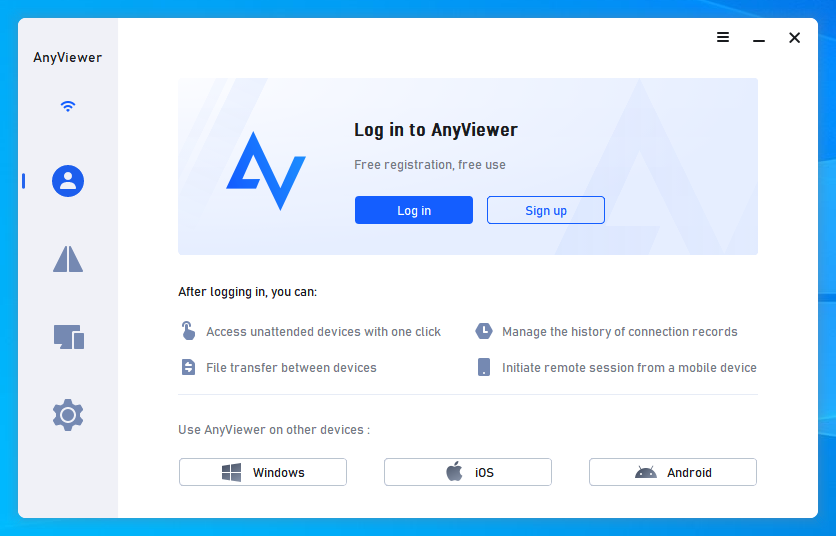 Step 2. Fill out the signup form.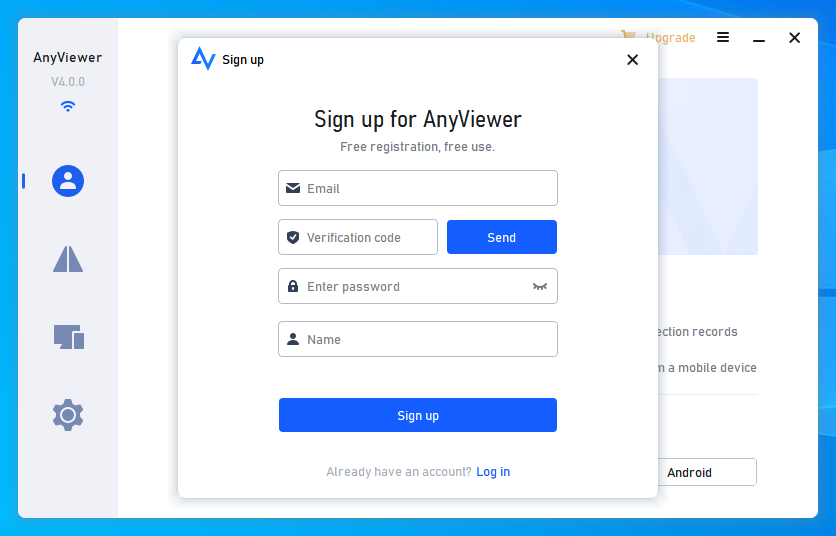 Step 3. You should now see that you have successfully logged into AnyViewer. Your device will be assigned to the account to which you have logged in automatically.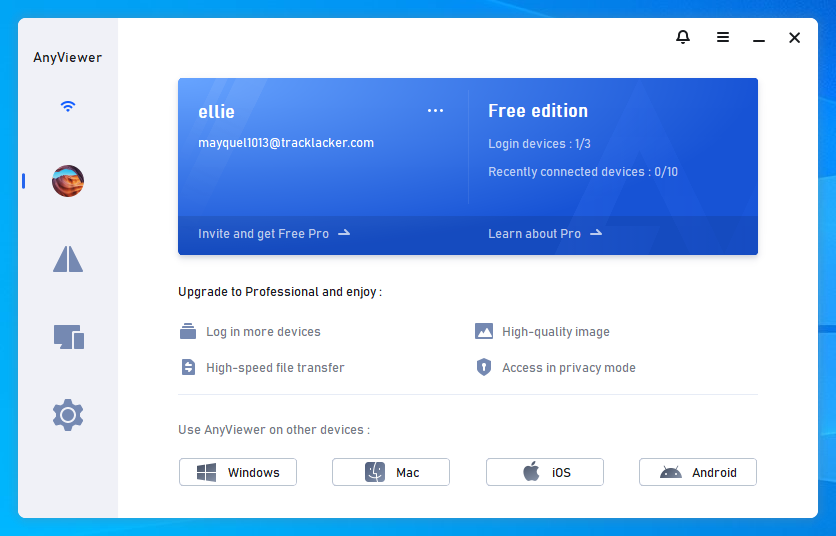 Step 4. Sign in with the same AnyViewer account on both computers, then click the Remote control for unattended remote access.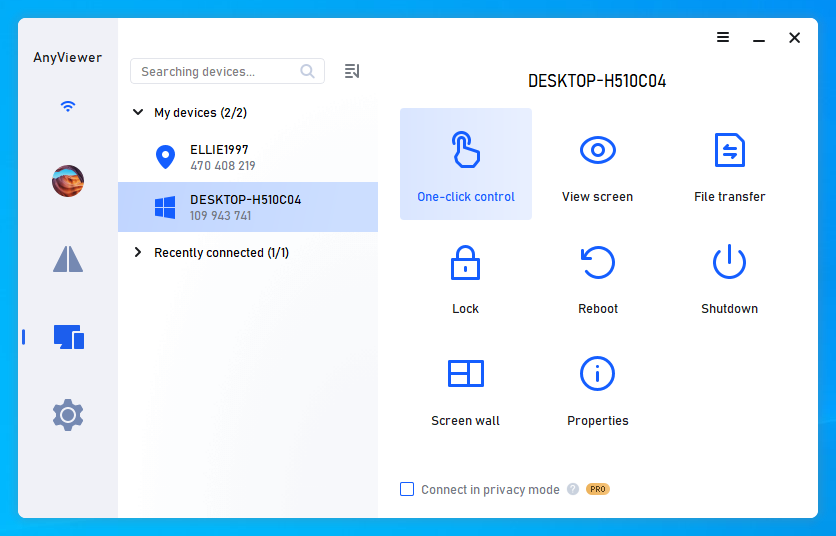 Step 5. The remote desktop will appear once the connection is established. After that, you have complete control over it.
Notes:✎...

It is recommended to upgrade your account to a Professional or Enterprise plan. What can a professional or enterprise plan brings to you:

More devices can be assigned to the same account for unattended remote support.
Connect in privacy mode to protect your privacy. This means the Controller can black out the remote PC screen and disable the remote keyboard and mouse click.
File transfer speed will be increased. Transfer speed is 500 KB/s for a free account and up to 10 MB/s for a paid account.
Closing words
RemoteApp vs RDP, what are the differences? We uncovered the answer in this post and pointed out that, the biggest difference between RemoteApp and RDP is that RemoteApp only provides the ability to deliver applications remotely, while RDP allows for full desktop delivery of the remote desktop.
We also gave you a preview of AnyViewer, another remote desktop program. Compared to RDP, it has a lot of benefits. You can try it if you want an easier way to establish remote connections.