Scenario: Remote Desktop connection fails on some computers and not others
We have some Windows 10 Pro work computers on the network. The problem is Remote Desktop connection fails on some computers and not others. Sometimes I will receive the following error message. Any help is greatly appreciated accepted. Thanks."
- Question from Windows Ten Forum
How to fix Remote Desktop connection error [5 solutions]
RDP remote connections to computers are helpful when they go well but frustrating when they don't. This section will explain how to resolve Remote Desktop connection not working Windows 10/11. The below solutions are also practicable to the situation "Remote Desktop connects but nothing happens."
Solution 1. Check the network connection
A client may be unable to connect to a Remote Desktop session if there is no working communications channel. You can first check the network connection.
Step 1. Open Control Panel, and click View network status and tasks under Network and Internet.
Step 2. Click Connections to check the network status.
Solution 2. Check Windows update
RDP connectivity can occasionally fail due to difficulties with the out-of-date CredSSP protocol, which allows a client to communicate user credentials to a host while an RDP session is active. Making sure both machines are running fully updated versions of Windows is the easiest method to resolve issues.
Step 1. Open Settings, and click Update & Security.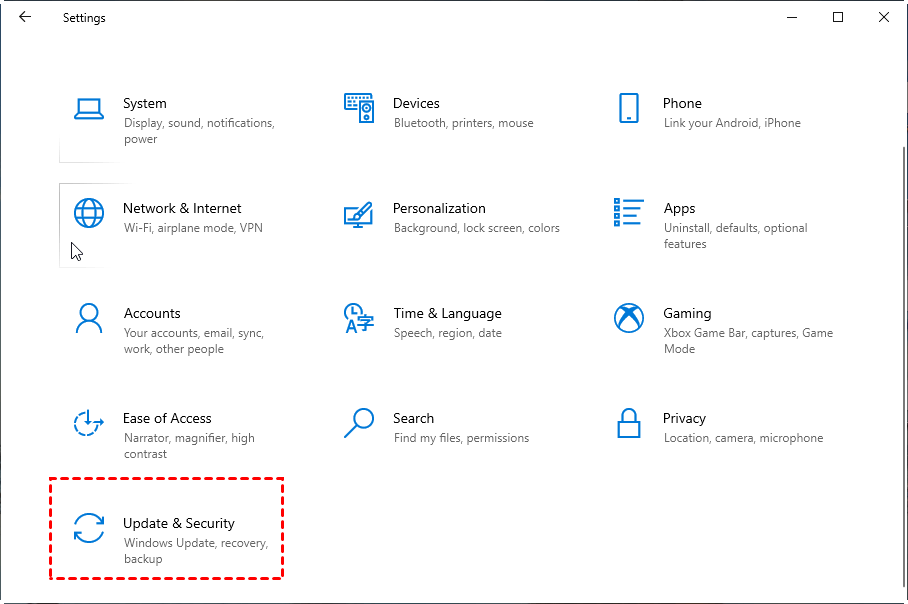 Step 2. Download and install if there is any new Windows version.
Solution 3. Check Firewall settings
The Windows Firewall may also be a factor in the failure of a Remote Desktop connection. Use the steps below to confirm that RDP traffic is allowed through the Windows Firewall.
Step 1. Follow the path: Control Panel > System and Security > Windows Defender Firewall.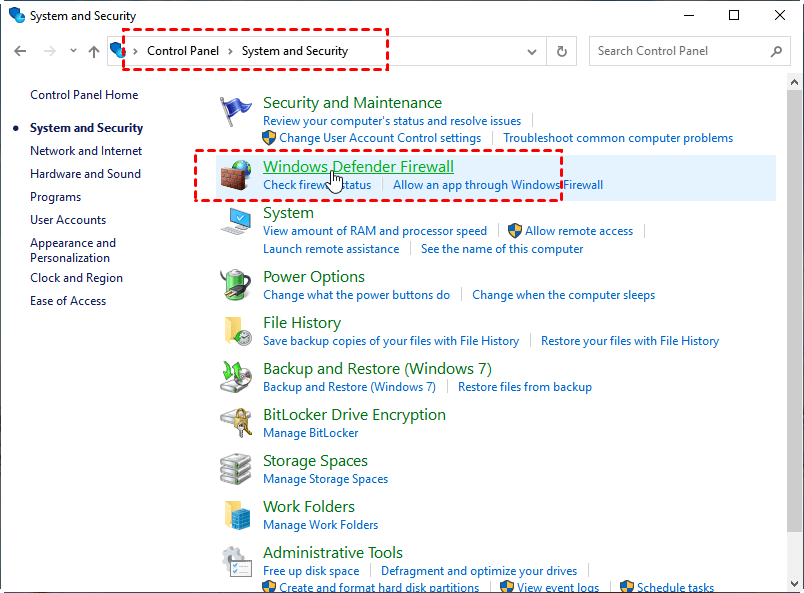 Step 2. From the left pane, click Allow an App or Feature Through Windows Defender Firewall.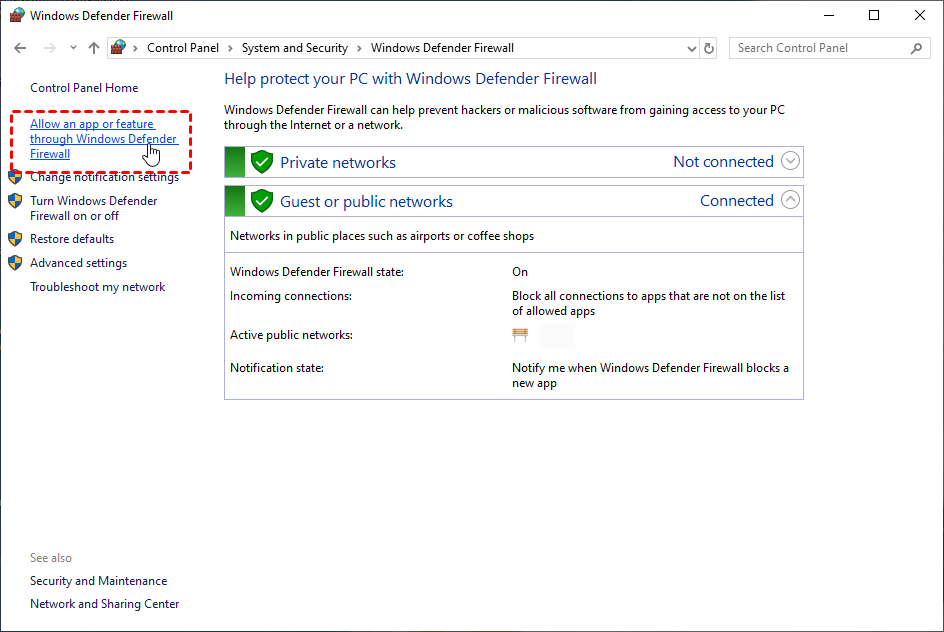 Step 3. Tick Remote Desktop on both Private and Public, then click OK.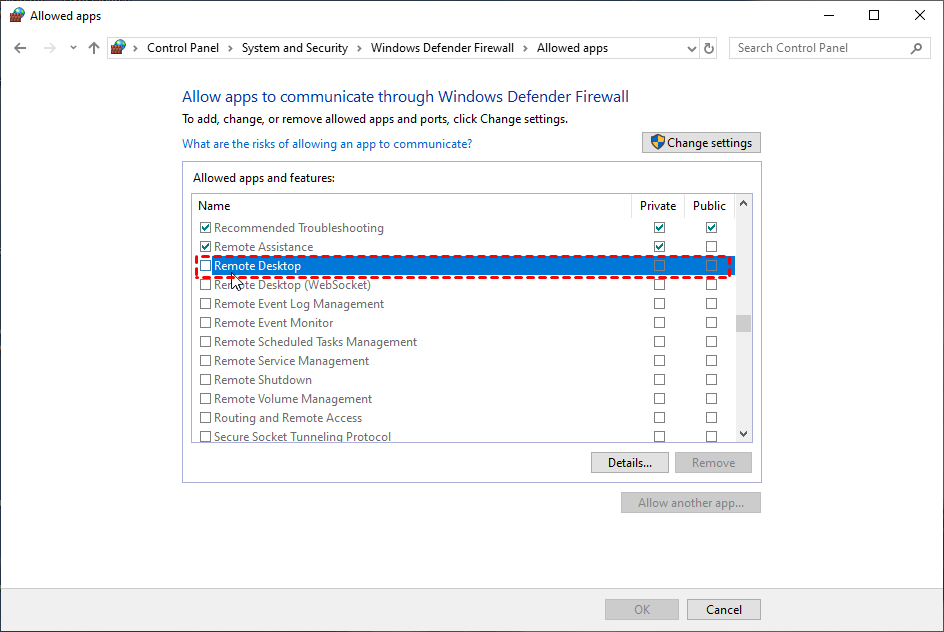 Solution 4. Allow RDP port on 3389
The default RDP port number is 3389, make sure the port is accessible on your Windows computer before establishing a connection.
Step 1. Search Windows Firewall with advanced security and open it.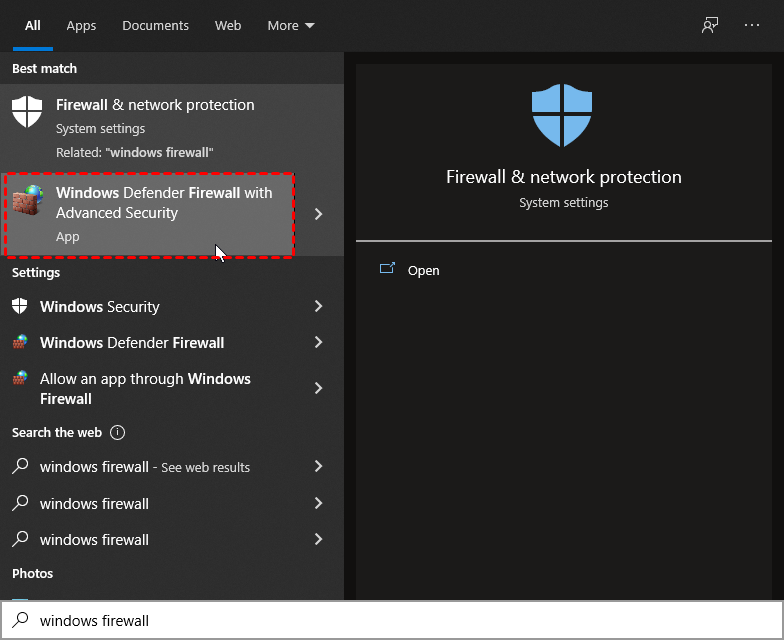 Step 2. Click Inbound Rules > New Rule.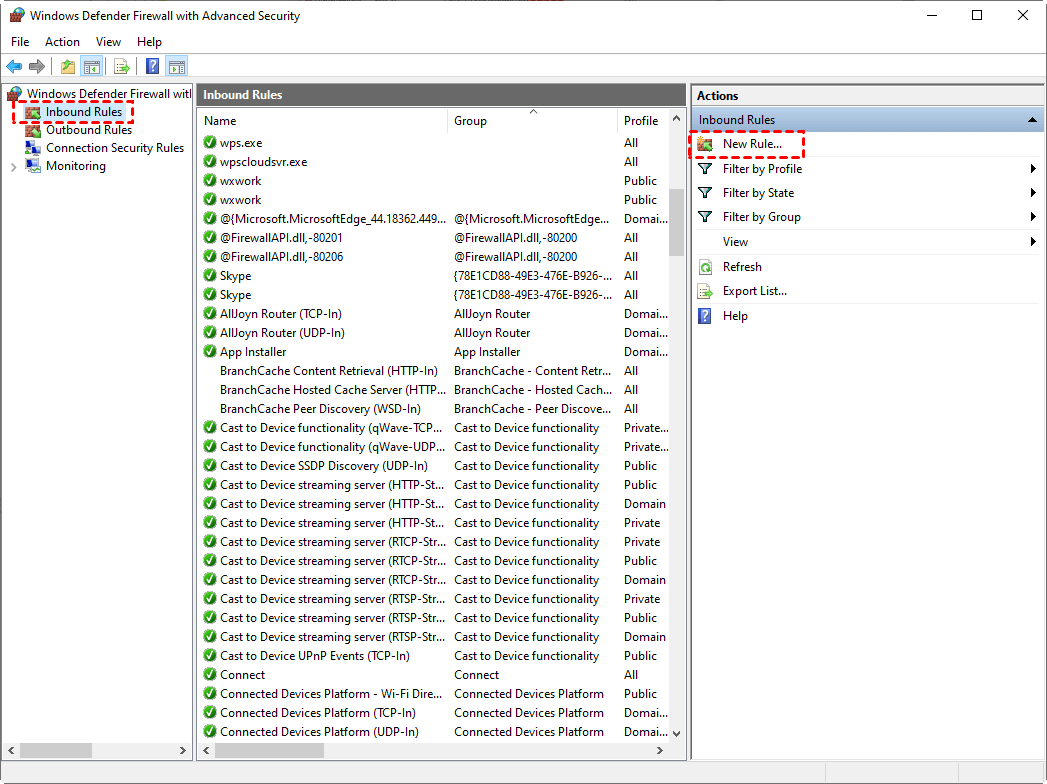 Step 3. Select Port and click Next.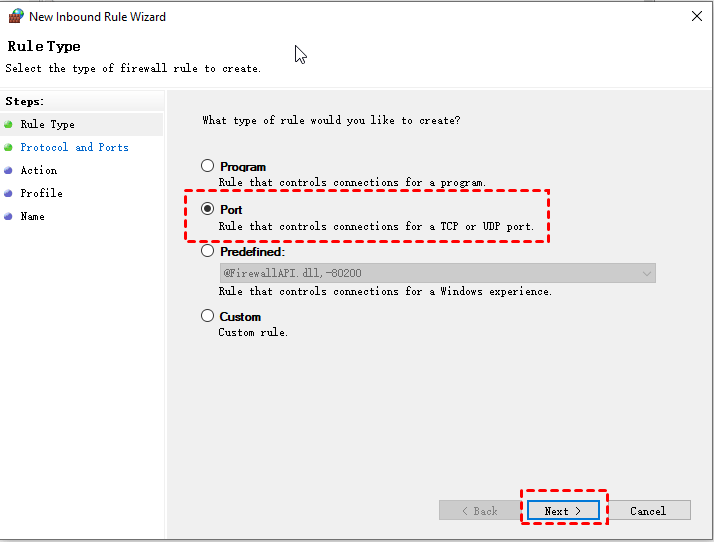 Step 4. Tick Specific local ports and enter "3389". (If you changed the RDP port, enter the available one)
Step 5. Tick Allow the connection and click Next.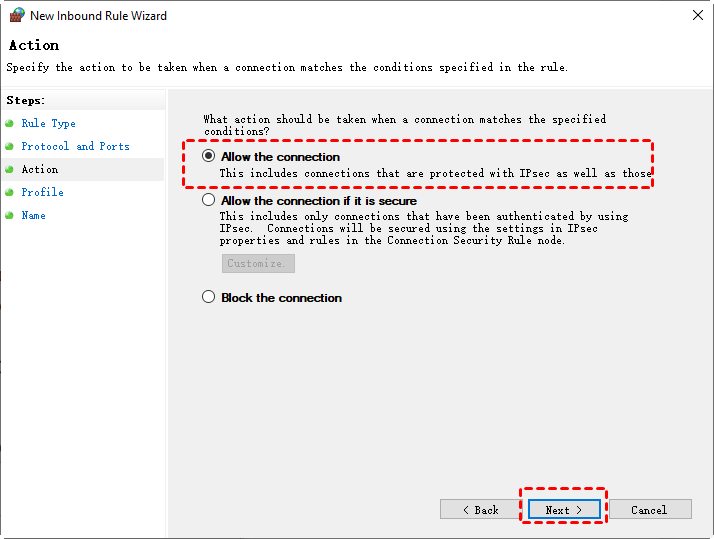 Step 6. Select the network types according to your demands.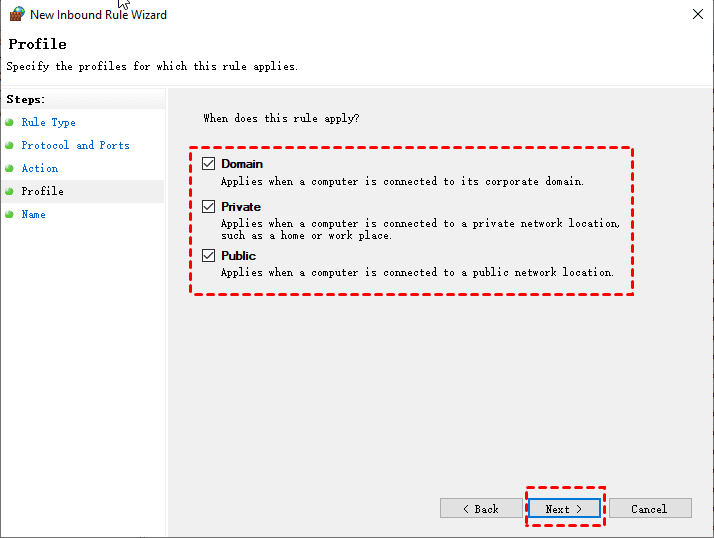 Solution 5. Add RDP log on permissions
For a successful Remote Desktop connection, you need to assign permissions to users to access the remote side.
Step 1. Press Win + R and enter "gpedit.msc", then hit OK.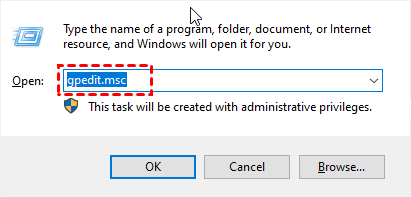 Step 2. Go to the path: Computer Configuration > Windows Settings > Security Settings > Local Policies > User Rights Assignment.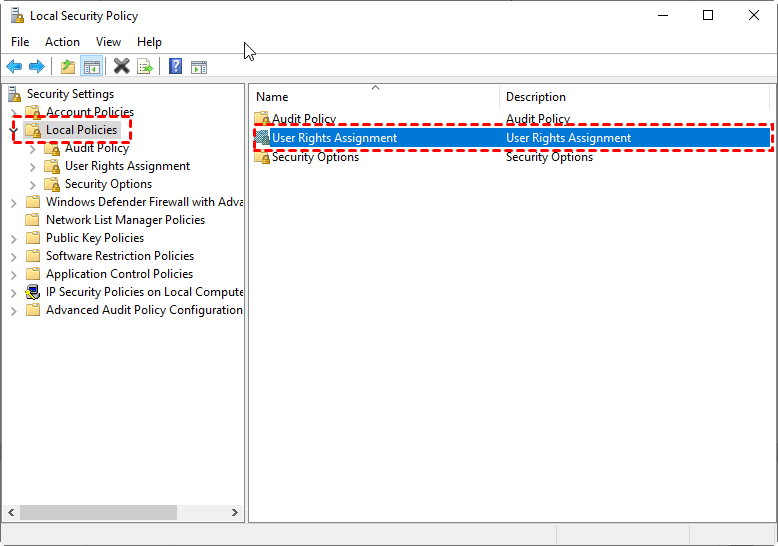 Step 3. Double-click Allow log on through Remote Desktop Services.
Step 4. Click Add User or Group to add the users you want to give permission to and click OK.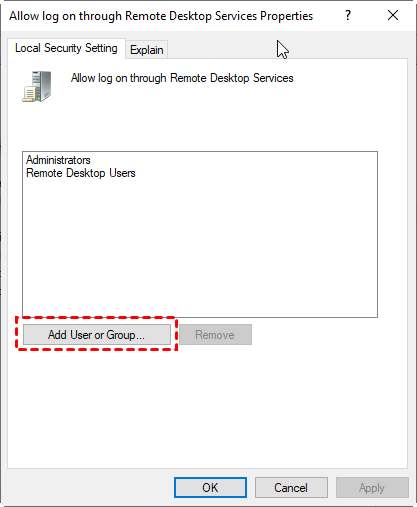 Solution 6. Configure RDP security layer
RDP security layer can occasionally have an impact on "Remote Desktop connection fails on some computers and not others". As a result, you can configure the RDP security layer to resolve this issue.
Step 1. Press Win + R and enter "gpedit.msc" to launch Local Group Policy Editor.
Step 2. Go to Computer Configuration > Administrative Templates > Windows Components > Remote Desktop Services.
Step 3. Click Remote Desktop Session Host > Security, then double-click Require use of specific security layer for remote (RDP) connection on the right pane.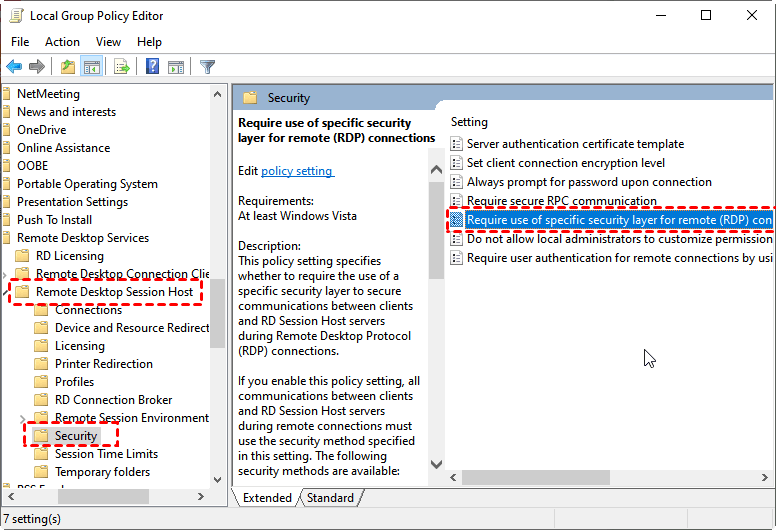 Step 4. Tick Enabled. In the Security Layer section, select RDP, and click OK.
Reliable RDP alternative without errors [safe & stable]
It usually takes a long time to fix errors in the RDP connection. Therefore, we recommend you switch to a reliable RDP alternative AnyViewer to perform remote tasks safely and easily without errors.
AnyViewer allows over-Internet unattended remote access, file transfer, simultaneous multiple sessions, etc., which can meet all your requirements for a remote desktop tool.
Download AnyViewer on your devices and have a look at how to establish a remote connection.
Step 1. On the host computer, go to Log in on the left pane,and then click Sign up.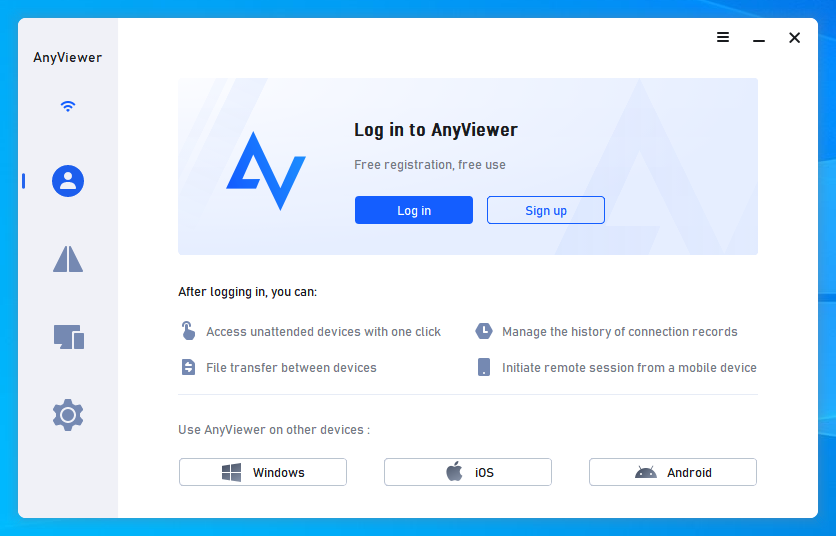 Step 2. Fill in the required information and click Sign up.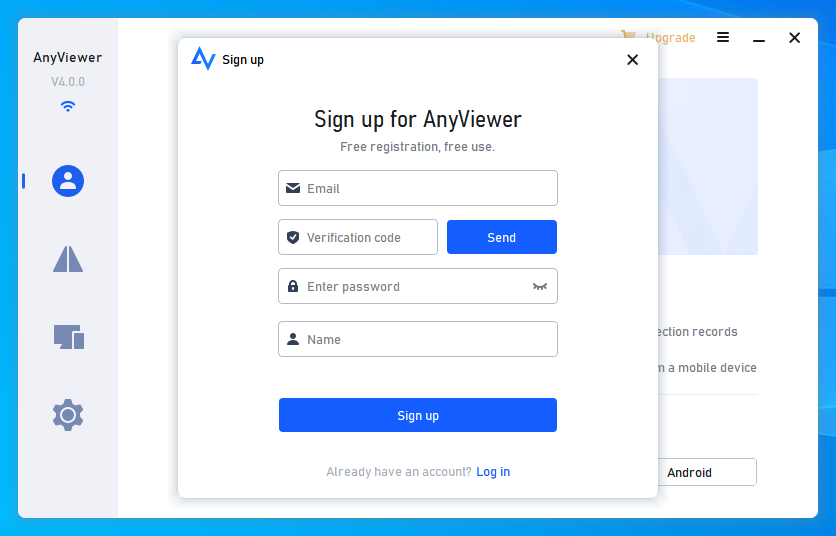 Step 3. On the client computer, log in to the same account, and here you can also see the assigned devices.
Tip: You can upgrade to a Professional or Enterprise plan to assign up to 100 devices at once, which is more convenient for you to manage these devices with one click.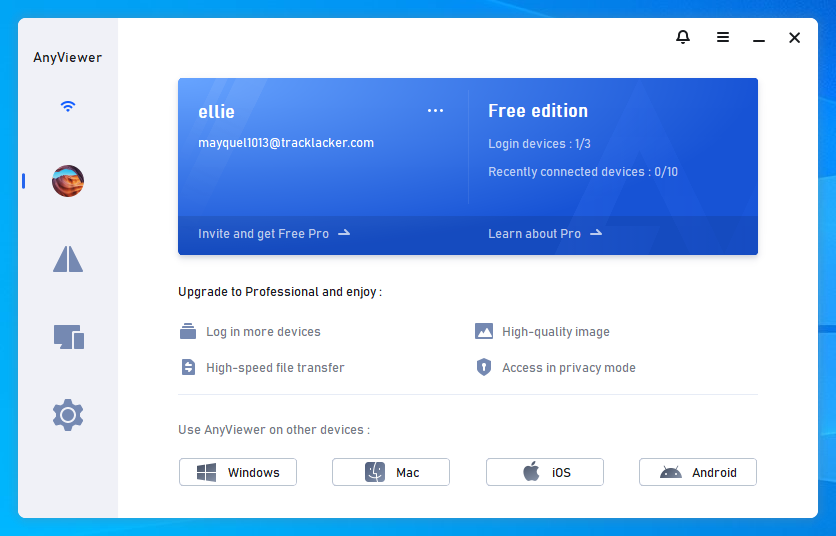 Step 4. Go to Device, click the computer you want to connect to, and click One-click control to achieve unattended remote access.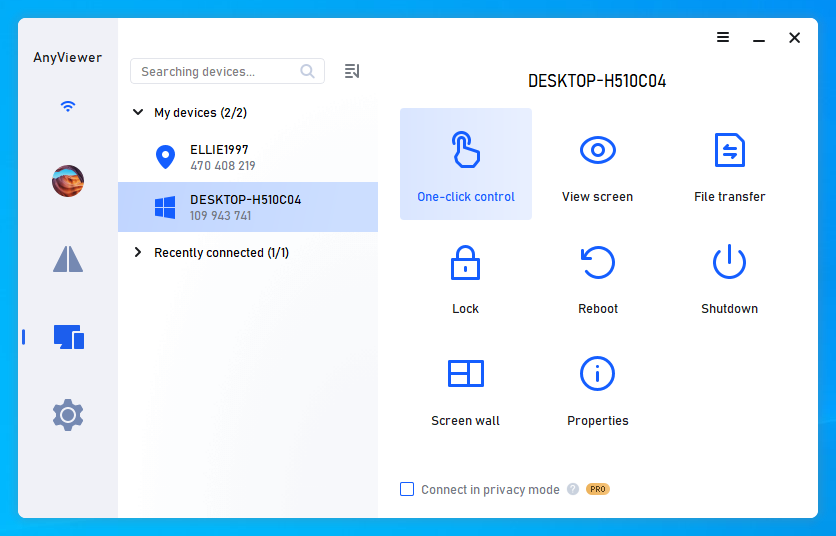 Now you can see the remote computer and control it. There are several built-in features you can use: change image quality, transfer files, lock/shut down/restart remote computer, etc.
Conclusion
This page explains how to resolve Remote Desktop connection errors such as "Remote Desktop connection fails on some computers andnot others." You can attempt several options to fix the issue. We advise switching to the trustworthy remote access software AnyViewer to permanently avoid such errors.