How do I fix Windows Remote Access Service error?
I experience this issue when I try to access the VPN via Sonicwall NetExtender (version 9.0.274) in Windows 10. Also, the issue is intermittent and it gets fixed after I reboot but I am looking for a permanent fix. Has anyone else experienced the same issue? Any suggestions on how to get a permanent fix? Thanks."
- Question from Jul
A Remote Access Server (RAS) is a server that provides a set of services to users connected to a network or the Internet, but users may sometimes encounter NetExtender Windows remote access service error. In this article, we provide some solutions that can help you solve your problem.
How to fix NetExtender Windows remote access service error [6 solutions]
Remote Access Service (RAS) is a network service on Windows that provides remote access to remote clients. It acts as a remote gateway or server, connecting remote users to the organization's local area network. A computer with Windows and RAS running installed is called a RAS server.
Some users have encountered Sonicwall NetExtender Windows remote access service error when trying to access the VPN through Sonicwall NetExtender. If you are struggling with this issue, try the following fixes.
Solution 1. Remove any recently installed software
If you have recently installed any programs that may be interfering with your network settings, you will need to uninstall them. This may have been the cause of the error in the first place. After uninstalling the program, restart your computer and check to see if it has been fixed.
Solution 2. Uninstall WAN Miniport adapters
This is a straightforward solution for many people who experience RAS errors. You will need to uninstall the WAN microport adapter in Device Manager to resolve the RAS error.
Step 1. Search for Device Manager in the Start menu and click on it.
Step 2. Find the "Network adapters".
Step 3. Next, uninstall the "WAN microport (IP)" and "WAN microport (PPTP)" devices.
Step 4. Once the uninstallation is complete, restart your computer and see if the error still appears.
Solution 3. End svchost.exe Service
This solution works for many users. You need to manually terminate the svchost.exe service to get rid of the error.
Step 1. Open the "Task Manager".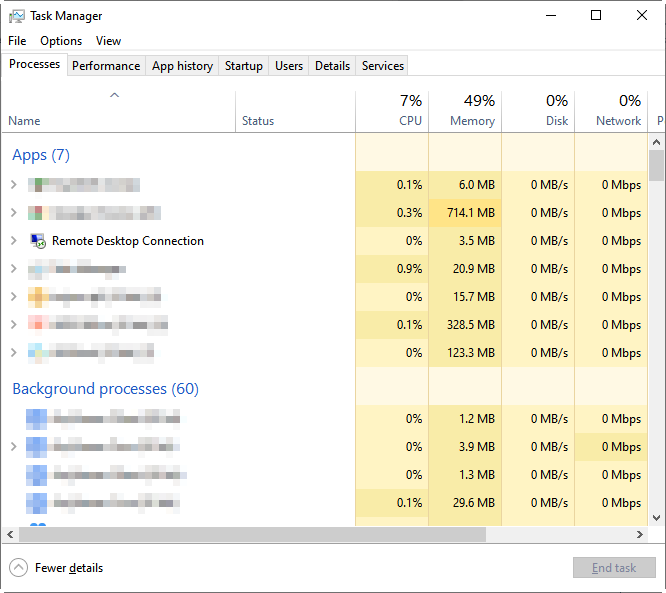 Step 2. Navigate to"Services", find "Remote Access Service" and right-click on it. Then select "Go to details".
Step 3. Next, you have entered the correct svchost.exe process. Right-click on it and select "End Task".
You can now start RAS manually. this fix will remain in effect until you reboot your computer. You will need to do this every time you see an error, as svchost.exe will run automatically after a restart.
Solution 4. Restart the computer
Restarting your computer is the easiest way to fix any problem. Please consider restarting it first to see if the Remote Access Service error is fixed before moving on to more complex solutions.
You will need to open the Start Menu, click the Shutdown button, and then select Restart.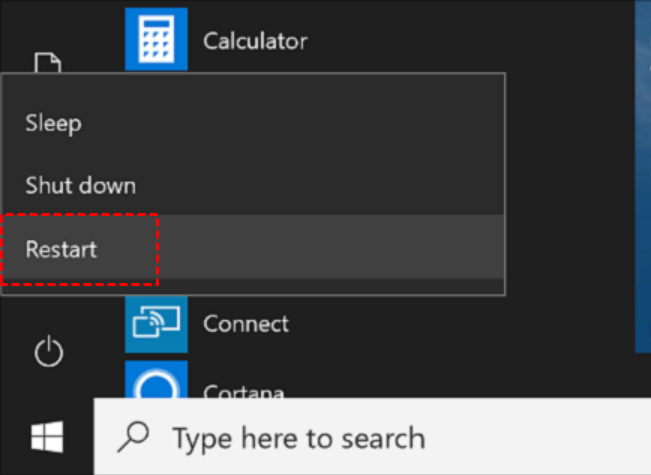 Solution 5. Update Windows Server
Before performing any action, check the Windows server for new available updates. If an update is available for the Windows server, update the service and restart the computer.
Step 1. Select "Update and Security" in Settings.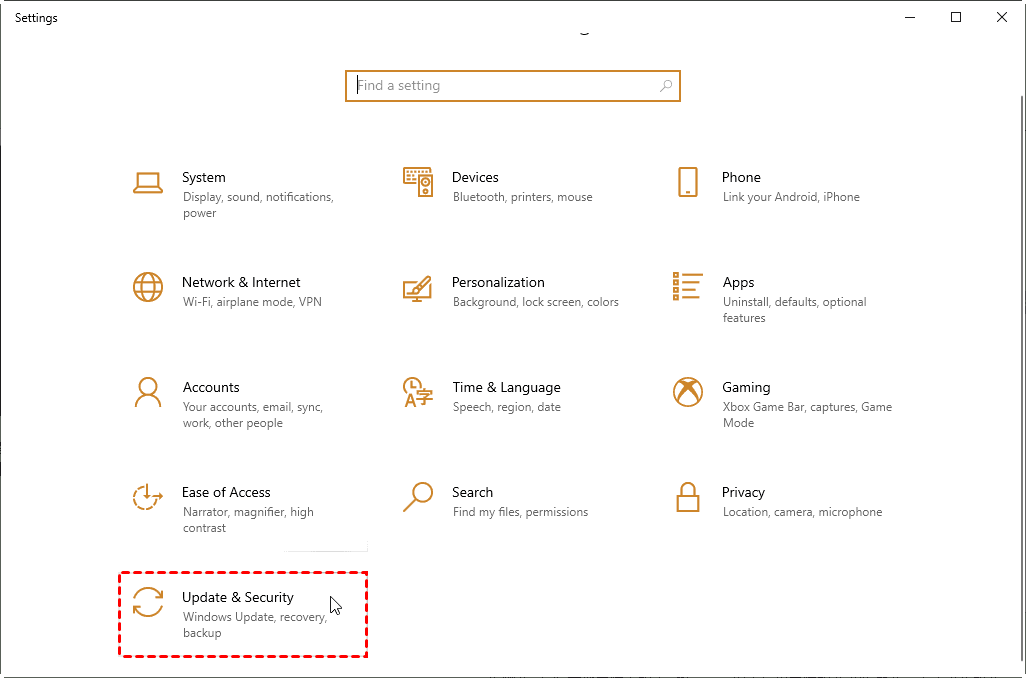 Step 2. Then select "Windows Update" on the left. And click "Check for updates".
Step 3. If an update is required, click on the "Install Now" option.
Solution 6. Reinstall NetExtender
After performing the previous fixes, if you still encounter Windows remote access service error NetExtender, try uninstalling and reinstalling the NetExtender application.
Step 1. Press "Win+R" simultaneously to open the Run prompt. And type "appwiz.cpl" and press "OK".
Step 2. Right-click NetExtender and select "Uninstall".
Step 3. Next, restart your system.
Step 4. After restarting your system, reinstall the NetExtender from their official website.
AnyViewer: The best NetExtender remote access alternative
Did the above six methods help you resolve the NetExtender Windows remote access service error? If not, then it is recommended that you use an alternative to NetExtender Windows remote access.
AnyViewer is a free remote access software that provides fast and stable remote access. Remote connections in AnyViewer are not limited to the same LAN, which means you can have remote access anytime, anywhere. It uses improved connection technology to automatically connect to the best servers for a faster, smoother remote control experience.
On top of that, AnyViewer offers many useful features during remote access, including file transfers, multi-monitor navigation, multiple sessions, live chat, and more.
Next, we will see how easy and fast remote access is with AnyViewer.
Step 1. Download, install, and launch AnyViewer on both of your devices. Navigate to "Log in" on both computers and then"Sign up" (if you have already joined its official website, you can log in immediately).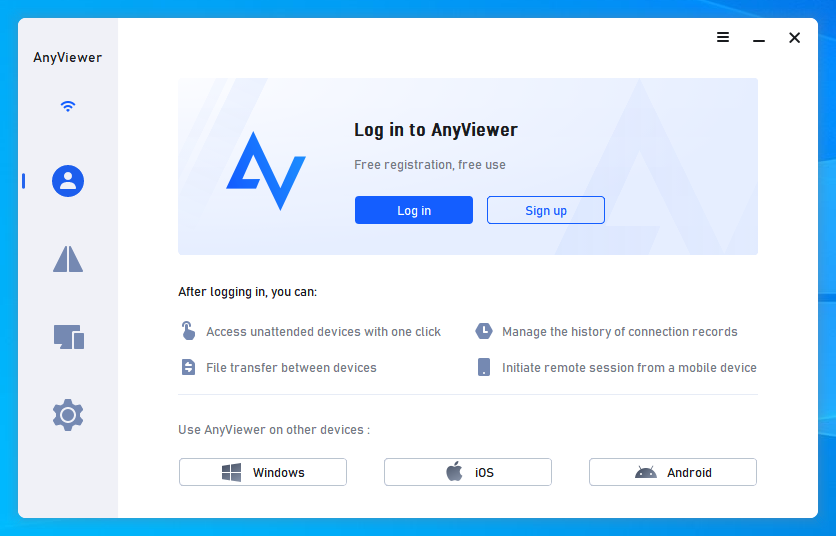 Step 2. Fill in the signup information.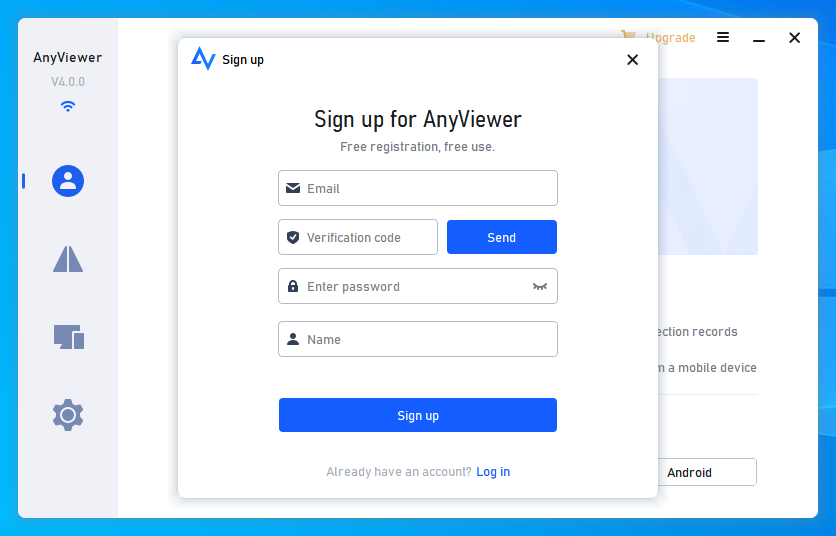 Step 3. You can then see that you have successfully logged into AnyViewer and your device will be automatically assigned to the account you logged into.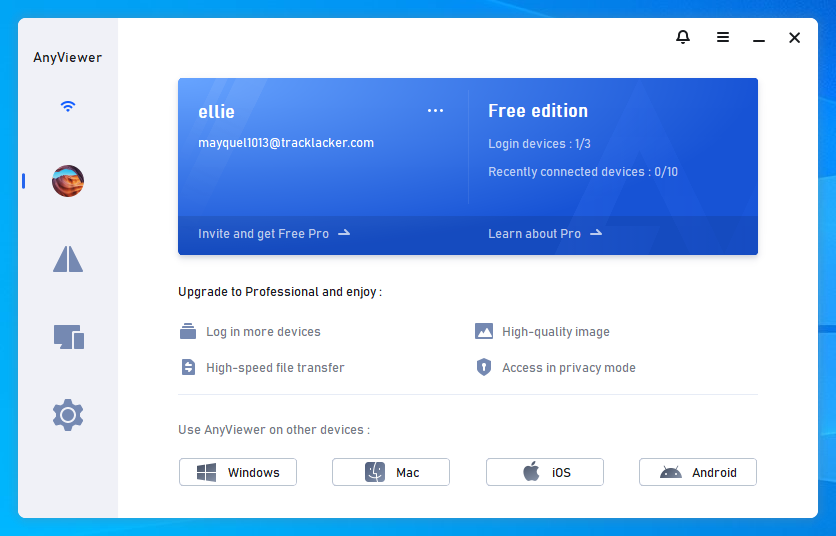 Step 4. Log in to the same AnyViewer account on both devices and then find "Devices" and select the computer you want to connect to. Click on it and select "One-click control" to achieve unattended remote access.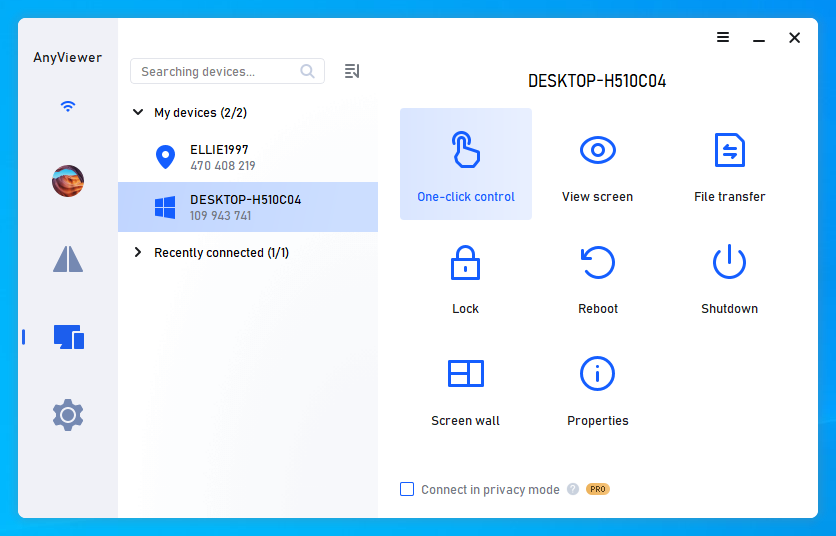 ★Tips: It is strongly suggested that you update your account to a professional or enterprise plan. Then you'll have the following rights:

Connect to up to 10 devices simultaneously.
Manage up to 100 unattended devices.
At the same time, you can transfer an unlimited number of huge files (1TB per file).
Enjoy numerous handy features, such as Privacy Mode, which allows you to deactivate the remote PC's keyboard and mouse and black out the remote screen.
Enjoy high-image quality.
...​​​​​
Conclusion
This article focuses on six solutions to NetExtender Windows remote access service error. Trying to solve this problem can be a bit of a hassle, and you may have tried all of the above methods but they didn't work. However, a faster solution is to use NetExtender Windows remote access alternatives such as AnyViewer. you can enjoy a safe, fast, and stable remote connection. Try it now!