What is RDP Wrapper?
Many users of RDP may have heard of RDP Wrapper before. RDP Wrapper works as a layer between Service Control Manager and Terminal Services. Or say, it's like a pipe, which connects Service Control Manager and Terminal Services. It enables Remote Desktop Host support and concurrent RDP sessions. Instead of modifying termsrv.dll file, the original termsrv.dll file remains untouched.
Is RDP Wrapper safe and legal?
There has been heated discussion about the security and legality of the RDP Wrapper. Let's find out the answer.
Is RDP Wrapper safe?
Some of you may wonder if RDP Wrapper is safe or not? The answer is No. When you want to download RDP Wrapper, you may find that Chrome Browser does not allow you to download it and says that it is a virus and harmful to your computer. Why would Chrome Browser do that?
In fact, RDP Wrapper adds a weakness to the system by opening a gateway for potential hackers to attack and introducing Trojan horse software to steal and take control over a user's data. This is pretty dangerous. Thus, for the protection of your computer and the data on your computer, you are not recommended to use RDP Wrapper.
Is RDP Wrapper legal?
Then is RDP Wrapper legal? Next, let's talk about the legality of the RDP Wrapper. As the original license agreement states, "You may remotely access and use the software installed on the licensed computer from another computer to share a session using Remote Assistance or similar technologies." The "session" here refers to the experience of interacting directly or indirectly with the software through any combination of input, output, and display peripherals.
On the one hand, RDP Wrapper is a separate application that allows Remote Desktop with concurrent terminal sessions. According to the above-mentioned statement, the license agreement isn't violated. On the other hand, although termsrv.dll remains unmodified, RDP Wrapper doesn't implement these functions. They all are controlled by Terminal Services, which were loaded with different parameters. It seems that it's difficult to classify it.
However, it violates the End User License Agreement (EULA) of the Microsoft Windows desktop operating systems. While connecting multiple users to a Windows operating system, the legal way is to use a server version of Microsoft Windows with appropriate Client Access Licenses (CALs) and Remote Desktop Services Client Access Licenses (RDS CALs). You are supposed to purchase the necessary CALs and RDS CALs for your remote desktop deployments.
A safe alternative to RDP wrapper
If you are looking for a safe and legal remote control solution, here we recommend AnyViewer, which also allows you to achieve concurrent connections.
Security is one of the most important things that AnyViewer is concerned about. It is secured by Elliptic Curve Cryptography (ECC) encryption, protecting your data from leakage. Developed by a strong technical team, AnyViewer can also provide you with a completely stable and fast remote connection.
It allows you to safely remote into PCs or Servers and establish a remote desktop connection for different versions of Windows and Windows Servers. The intuitive interface of AnyViewer makes it an easy-to-use remote desktop software. The sample system operation and clean interface of AnyViewer have been praised by many users.
Step 1. Download, install and launch AnyViewer on both computers. Go to Log in, and then click Sign up. (If you already have signed up on its official website, you can log in directly.)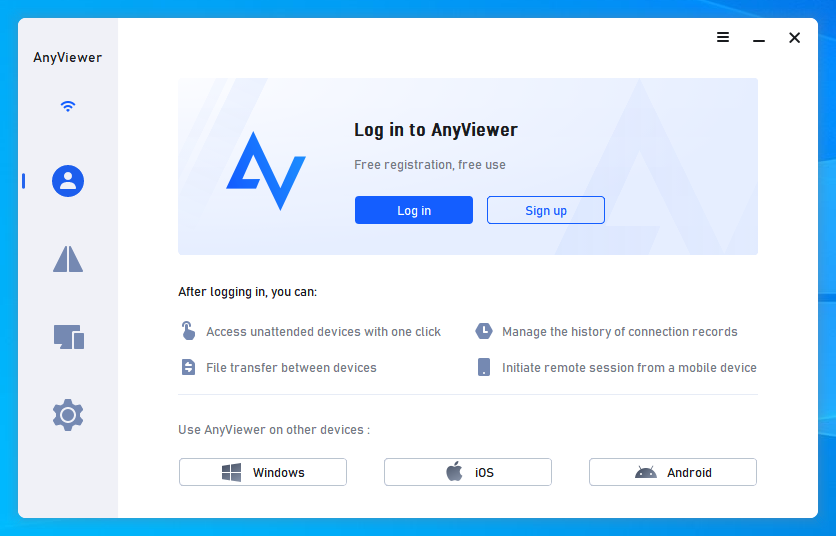 Step 2. Fill in the signup information.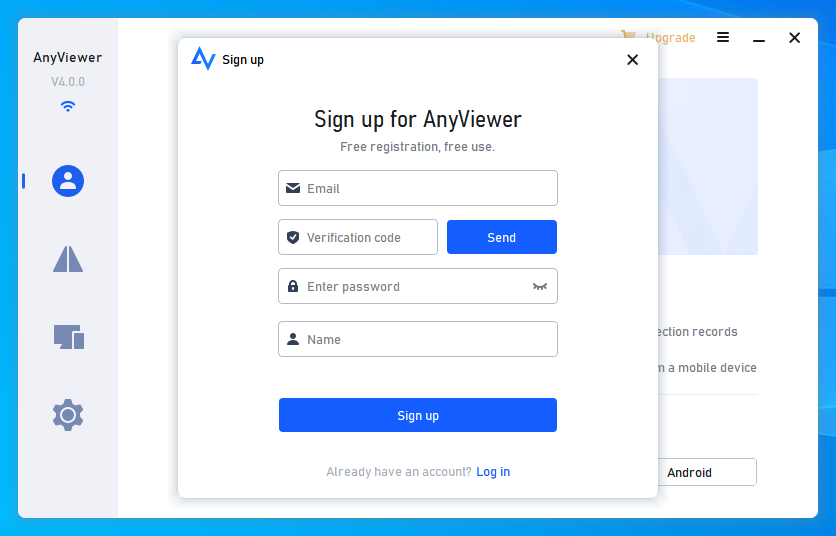 Step 3. Then you can see you successfully logged in to AnyViewer. Your device will automatically be assigned to the account you've logged in.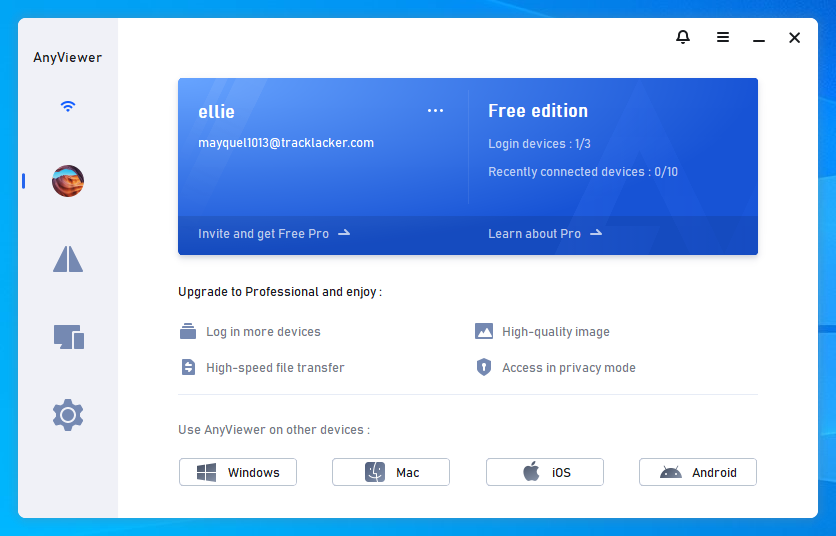 Step 4. Log in to the same AnyViewer account on the two devices, then click One-click control to achieve unattended remote access.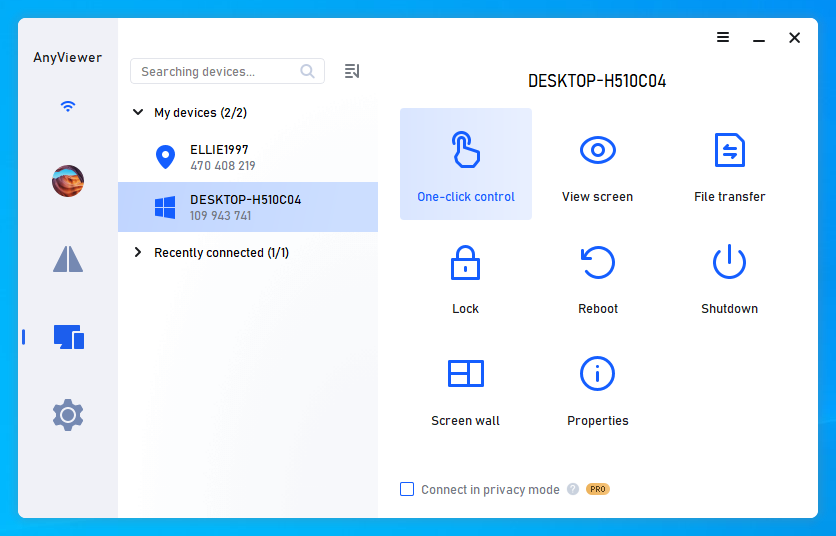 Note: If you want to assign more devices, you can upgrade your account to a Professional or Enterprise plan. Professional or Enterprise edition users can also connect to another computer in privacy mode, which means they can black the screen and block the mouse and keyboard of the remote computer.
Conclusion
This post mainly introduces what is RDP Wrapper and is RDP Wrapper safe and legal. After reading this post, you may already have the answer. If you're looking for a safe and legal way to remotely access another computer, we offer you the third-party remote desktop software AnyViewer as well. With AnyViewer, you can achieve a safe and secure remote connection easily.